Instagram Stories witnesses 500 million regular users looking for the latest trends, products, and services. 58% of these users say they created a special liking for the products, services, and companies they found on Stories. There are others of the view that they have become regular visitors to company sites after finding their services on Stories.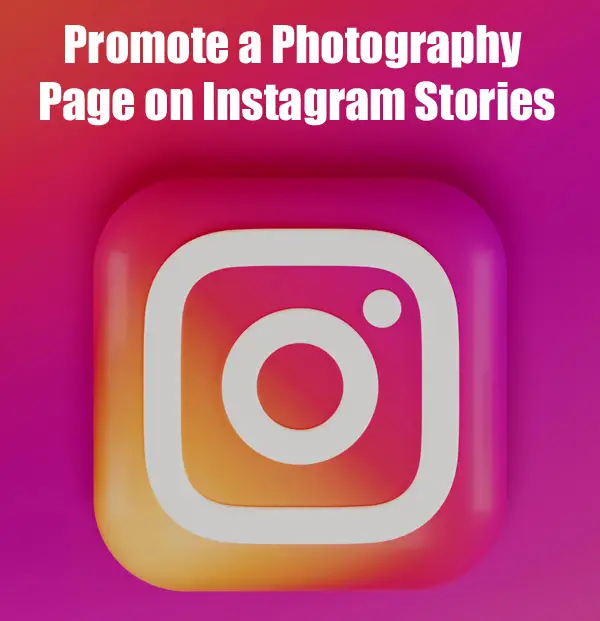 So, there's no doubt why more than 4 million brands use Stories for product promotions. In fact, 96% of the professionals using Stories say they will continue with this process even in the years to come, which speaks of the effectiveness of promoting a brand on Instagram Stories.
You can even promote your photography on Stories. You can use Stories to share your work in detail without worrying about engagement and taking the whole thing seriously because the lifespan of Stories is just 24 hours.
And with the right promotional technique, you can catch the interest of your followers and prospects even within this limited time.
Ways to Use Instagram Stories for Photography Marketing
Here are different ways to use Instagram Stories for photography marketing:
Use Type Mode to Insert Text in your Photography
You can use the Type Mode in Stories to add text in different hues and patterns to your photography. This is a good way to express your thoughts through text styles that perfectly showcase your visual product personality.
The "Aa" key in the top corner at the right will give you the keyboard and different font styles. To alter text background, choose A key and alter text hue with the color wheel key. Alter text placement with the lines key and use a slider to alter text size.
If you want to make your images more artful, add lines to specific parts using the combination of the arrow button and wiggly lines key. This will give an arrow right at the line end. Alter line thickness with the slider itself.
Insert Interactive Decorations to Your Photography with Doodles and Different Stickers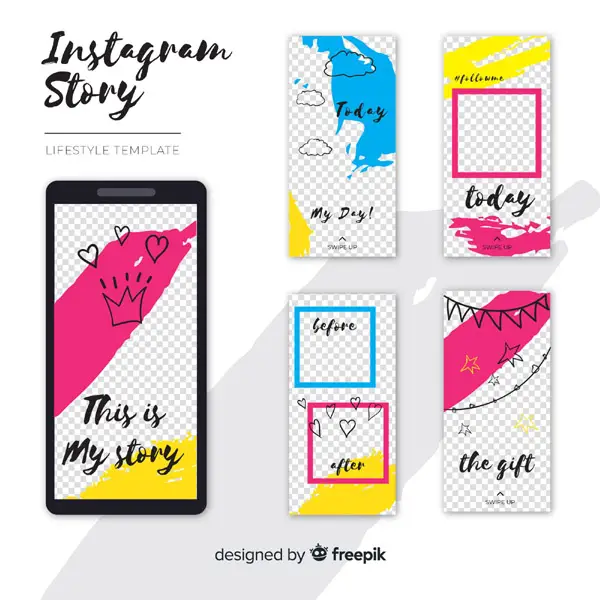 Interactive decorations like doodles and stickers will offer relevance and attention to Stories. At the maximum, you can expect raised engagement on your photography and increased viewers while being there in the followers' minds is the minimum.
Use the location stickers available on Instagram for your BTSs or behind-the-scenes and to the on-location clips.
For example, you can add Instagram location stickers to on-location clips and behind-the-scenes. Also, insert them in the shots clicked earlier and posted on the platform without pointing out their specific locations. This feature not only helps the viewers know the location of the shots but also brings in new followers.
After all, some Instagram users explore by location to know an area's whereabouts. Varied locations have varied stories; new followers will come to you if you make it to these stories.
Get Found Using Mentions, GIFs, Sliders, and Hashtags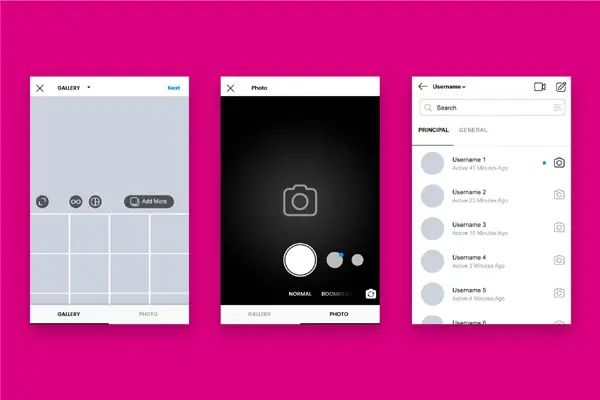 There are different methods to help viewers find your photography on Stories. Begin with the Hashtags you think prospects will use commonly. These are the ones related to your photography genre and location.
Start with Hashtags that your prospects might use commonly. These will be specifically those that include your location and photography genre.
Next, use Mentions to notify others that they are a part of your online talk and make efforts so they share this particular story of yours on their Instagram profile. The result is an excellent exposure to your photography.
GIFs are small animated clips that add extra fun and sparkle to your Instagram Stories. GIFs can be used to target a particular attribute of your photography with animated arrows.
"Link in Bio" and "Swipe Up" GIFs are great for directing viewers to your photography. It is better to use GIFs instead of boring text as they are perfect for making announcements and updates.
Even sliders are useful in accentuating follower interaction with Stories. Use them to know what people think about your photography. You can either have them empty or fill them in with questions based on target audiences.
Swipe the slide sticker on Instagram to get hold of the perfect options for promoting photography.
What About Hosting a Poll?
Do you know that hosting polls can boost audience engagement in your photography story? Use polls to ask viewers relevant questions about your pictures and get their votes. More audience indulgence in these polls means an automatic boost in engagement.
Use Poll Sticker to include an easily tappable A/B poll that automatically adds a Yes or No.
Click on the Poll sticker to include an easy-to-tap A/B poll with a Yes or a No added automatically. Instagram Stories' Quiz feature is useful when you want feedback on your photography from your followers.
Though using quizzes and polls to create buzz around your photography can take a lot of time, it will get you more audiences that interact with your story. Do not go for anything complex; include a questionnaire of five to six questions for a highly interactive game.
Though it will be a bit time-consuming to use quizzes and polls to create more engagement in your story, the process will have more audiences interacting with you. It does not need to be complex; just five to six questions will be enough for an interactive game.
Start Exciting Conversations and Do Much More with Question Boxes
Want to start exciting conversations with viewers? Use Instagram Stories' Question sticker. Use it to ask longer and more open-ended questions to the viewers. This can further help you understand their preferences. And if you think the replies you get from the audience will be useful for others, share them.
You can even start interesting Q&A sessions using this same feature. Swiping up on your story will help you understand the requirements of your audience, and you can give them relevant answers. Use any interesting picture from your personal gallery of photos as the story background.
Get to the interaction page and swipe up to learn about the performance of your story. On this page, you get to know the number of viewers for your story along with those that have exited the story after watching it for some time. If you find the results satisfactory, share them.
Create Excitement Around Updates and Announcements Using Countdown Clock
Use Stories' Countdown Clock to make the best out of launches, announcements, and end of sales. This feature in your photography story can help interested audiences share and tap on the same for setting reminders regarding announcements and launches to take place recently. However, this feature works on just one story for 24 hours.
So, you have now got an idea of various tools on Instagram Stories that can market your pictures in the best way. Next, let us get to more useful concepts for posting Instagram Stories:
Use Different Pictures to Share Story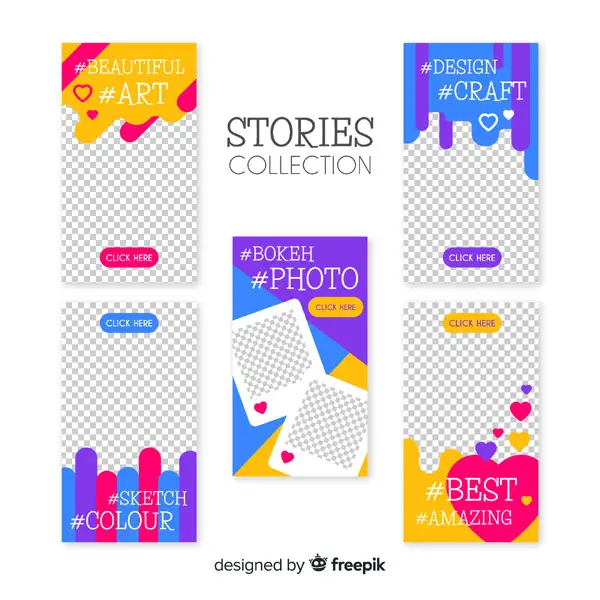 Your pictures should make a perfect impression, and this requires working on well-written stories. Use the ideal blend of powerful words and strong pictures to affect the viewers emotionally. This will further help them associate with your work easily.
Pay special attention to sharing the details of everything that went into clicking the pictures. It will bring in really interactive feedback from audiences who will share how your pictures and text influenced them along with the experience they had.
Using stimulating captions and carefully selected words, narrate a story with the subject of your photography in focus or why you clicked the photos.
Make Sure Your Photography Has a Personal Hint
You need not share all the details of your life but only a glimpse and a bit of your personality. This will be advantageous for your picture promotion as people like indulging in interactions.
No, it's not about sharing everything you are doing in your personal life but just a glimpse of your life and you as a person. This can benefit your photography because people always like interacting with others.
How about adding teasers to give audiences an insight into your shoots? Choose to capture crucial moments in your life, or you can even use some engaging regular scenes. Go by the 80-20 rule where 80% of your photography contains pictures and 20% extracts of your life.
Giving a personal hint to your pictures means reminding the audience of a real human behind the camera. This will further motivate the viewers to engage with your pictures in a better way.
Brave enough? Speak to the viewers directly or use simple text on your images to boost attention.
Search for Top Quality Templates
You can use different resources to make top-quality Instagram Stories that promote your pictures. And that too without being a Photoshop expert! Several useful tools, such as video collage maker, come with pre-made templates that help you on with video photo collage, it will be easier for you to create innovative collage Stories with the help of pictures and videos.
Just fill in these templates using relevant information along with the images you are looking to market and sit back and enjoy some fantastic results.
Keep Changing Post Formats
Making frequent changes to Instagram posts will draw in more audience interest and engagement. Mix up your story posting format as per your niche and bring diversity into your posting format. Do this, and viewers will hardly unfollow you for boring content.
Use carousel or collage format to post several pictures in just one post. Posts with exciting, animated GIFs along with short visuals are effective ways to showcase photography. Why not make your very own GIFs?
Again, this will be another good way to take your picture promotion on Instagram Stories to a different level.
Share Behind-the-Scenes
Share all the work that goes into creating the perfect photo. Behind-the-scenes stories will answer all the questions the audiences have about your photography. They will also understand how much effort and time you put into your shoots.
Your behind-the-scenes can also include details of your photography gear, editing tools, and expertise. Well, you can always have an audience wondering how you took that shot of a mid-flight bird, isn't it?
Behind-the-scenes could also be extracted from your desk set-up, accommodation, or the location for the shoot. But be comfortable sharing these details.
If not, try making yourself comfortable because this is one of the best ways to keep the audience's interest intact in your work.
Work in a Relevant Community
Being a part of a relevant community is all about making solid interactions. Find photographers you appreciate; like and comment on their photography and wait for their response. This is a fantastic method of building relationships. Of course, this can be time-consuming, but it's crucial and worthwhile too.
You can even build a community based on the subject of your work. For example, if you are into wildlife photography, follow wildlife-related accounts. In the same way, if you excel at maternity shoots, follow the maternity brands.
This is a good way of networking your brand name and work portfolio in front of prospects.
The method is straightforward – locate a hashtag associated with your work and keep checking it for different posts. Once you find pictures you like, comment on them and follow the user. And if the users like your posts, they will check your account and respond.
Use this same way to share the posts to the Insta Stories and attract more followers to view them. But make sure not to be too desperate in asking people to check your profile and follow you. Just be sensitive enough; give compliments and do not ask for anything in return.
Offer Suggestions
Constant research and hard work will help you find solutions to common problems in photography. You can share the same with your followers and fellow photographers to gain recognition.
In the same way, if followers have questions regarding your photography, share your tricks, tips, and suggestions with them on Stories for enhanced engagement.
The Bottom Line
There you go: the tips above will surely bombard your Instagram profile with many followers. Try to have as much fun as possible because that's what Instagram Stories is all about. You can interact with your audiences closely and even joke around with them. 
Remember, quality is what matters over quantity on Instagram Stories. So, upload your best work, plan your posts, and as the photo reaches more populace, start interacting within a community.
Use Stories to create stronger and closer connections with fans; generate website traffic, maximize engagement; increase conversions; raise brand recognition and improve your number of followers!
Here is a good video on Instagram marketing for business:
Click the following link to learn more tips to boost your photography business using Instagram.