Most cameras, especially the action ones, do not come with a good built-in microphone. Therefore, if you are interested in recording good quality audio along with the video from the action camera, you need to invest in a good action camera microphone.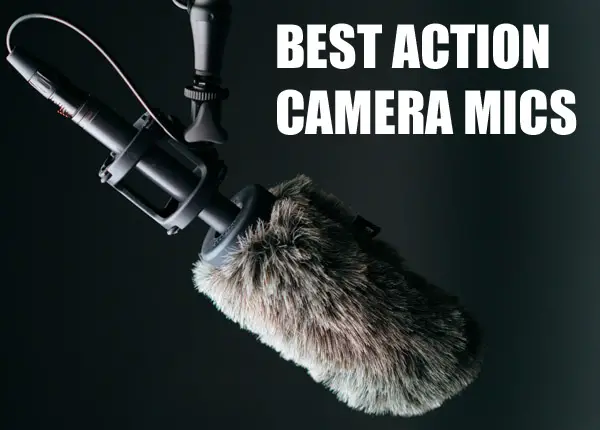 In this guide, I will share the best action camera microphones for you and the reasons why they rank high in my opinion.
I have tried multiple microphones for my GoPro and DJI action cameras. I found these microphones to be the best choices for action cameras.
There are many things to consider while selecting a microphone with an action camera. These include cost, usability, sound quality, portability, weatherproofing, and others. While the following microphones are my best picks, each of these microphones has its pros and cons as with any products. I will also share the various advantages as well as disadvantages of using these microphones for action cameras.
1. Rode Wireless Go II Microphone
In my opinion, the Rode Wireless Go II is one of the best microphone options for your action camera. It is an improved version of their old Go wireless microphones.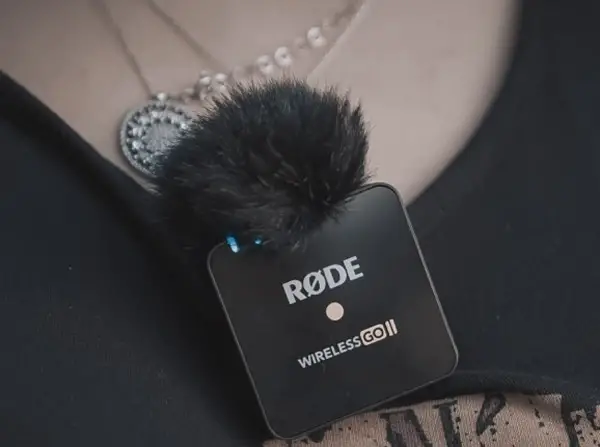 The Rode Wireless Go II comes with two transmitters and a receiver. You can connect the receiver part to the action camera's audio input. Rode supplies 3 types of audio cables with this microphone. So, you can easily connect it to most of the action cameras.
One thing that I really liked about the Wireless Go II is its internal storage feature. It is possible to store up to 24 hours of audio internally. Personally, I want to keep two copies of the audio. So, I find this feature very useful.
The battery life is also pretty good. I used to get around 6 to 7 hours after a full charge. The wireless range of this microphone is around 200m, which is pretty good.
The two transmitters allow you to use this system for recording two-person videos like interviews using the action camera. I use it for vlogging. When you use both the transmitters, the left channel will be used by one of the transmitters and the right channel by the others. If you are like me and want to use a single transmitter, you can configure both the channels for one transmitter.
The clip-and-go design of the Rode Wireless Go II is really good. Once I attach it to my t-shirt collar, I don't have to worry about the mic falling. In addition, it is really compact and lightweight.
They also prove 3 wind muffs for the two transmitters and the receiver. The older version of Wireless Go had some issues with wind muffs falling off from the modules. They have fixed that issue in this version with the snap and rotate design. Wind muffs are required when you use the microphones outdoors.
One thing I did not like about this microphone is that all the controls for fine-tuning the audio gain are available only on the computer. I wish they make some provisions for doing the same in the microphones.
Click here to learn more about the Rode Wireless Go II and check pricing.
2. Rode VideoMicro Compact Microphone
I really loved the solid structure of the Rode VideoMicro with its metal body. It is a small and compact microphone that is only 8cm long. It is one of the best combinations with an action camera.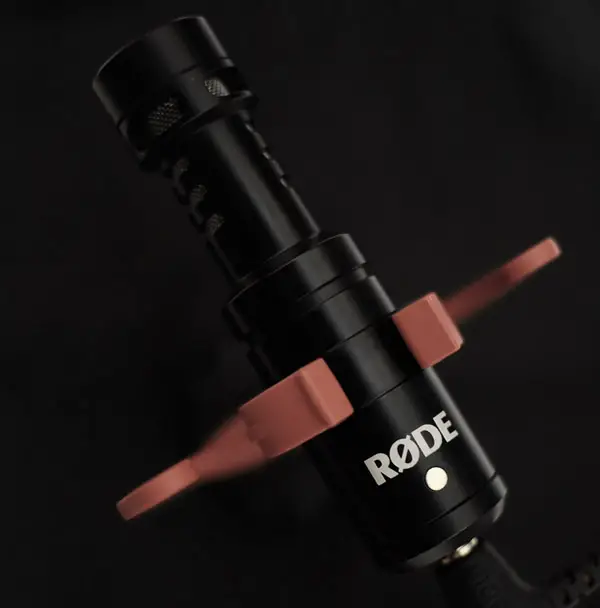 The 3.5mm plug coming out of the mic can be directly plugged into the camera's audio socket. It comes with a hot shoe mount. But there won't be a hot shoe mount in an action camera. But you can always use it with an appropriate rig that can mount the action camera and mic together.
It weighs only 42 gm. I really loved the red and black color combination of this mic. It is a unidirectional microphone. So, it will take audio from one direction only. Thus, it helps to avoid the noise from the surroundings to an extent.
One thing I observed in this microphone is that it can capture low tones without any issues. Even if you talk softly, the microphone will capture it. The sensitivity of this mic is really good.
I also enjoyed the fact that it does not require any battery. Also, the mic does not draw too much power from the host device. So, you don't have to worry about the mic draining your action camera battery.
I also liked the shock mount accessory that comes along with this microphone. In my opinion, it is a perfect option for action cameras. When you use an action camera outdoor, it will be subjected to lots of jerks and vibrations. This shock mount will help the microphone to capture audio with reduced vibrations.
One thing that I didn't like about this mic is that the frequency response is high for the lower limit.
The fact that the Rode VideoMicro costs less makes it a popular choice among vloggers.
Click here to learn more about it and check current pricing.
3. Rode VideoMic Go II Microphone
The Rode VideoMic Go II microphone is another good microphone for action cameras. It comes with a shock mount, windshield, and an SC14 TRS to TRS cable for connecting to the camera. I really enjoyed the audio quality of the Rode VideoMic Go II.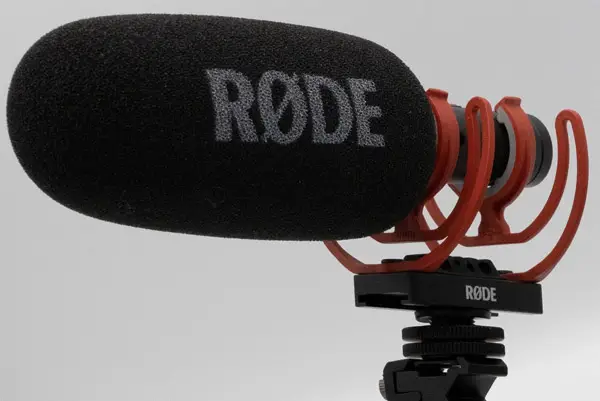 It weighs only 33 gm (without the accessories). When you attach all the accessories, the weight is under 100 gm only. So even though the mic is lightweight, you will not feel it like a flimsy microphone.
This microphone takes power from the host. You don't have to use any batteries with it. I just love this feature. It avoids the headache of carrying batteries with you. It is like a plug and play device. It is one of the best action camera microphones for beginners.
One thing that I noticed during my initial use of the VideoMic Go II is that the wind shield provided along with this mic is not that good. The microphone still picks up some wind noise. So, I tried using the Rode WS12 windshield instead of the default one. It helped me to eliminate the wind noise completely.
One thing that I did not like about this microphone is that there are no LED indicators to see if the mic is active or not. Also, the headphone jack will be functional only during active recordings.
The price really makes it an affordable option, especially for beginners.
Click here to read more about it and check current pricing.
4. Rode SmartLav+ Lavalier Condenser Microphone
If you are a person who prefers to use a lavalier condenser microphone with an action camera, the Rode SmartLav+ Lavalier condenser microphone is for you. It is an omnidirectional lapel microphone. It comes with a pop filter.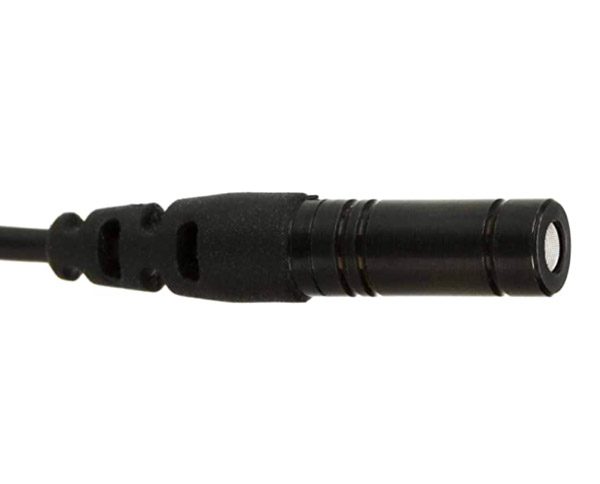 I have been using this lavalier microphone for quite some time, and I really like the sound quality. Even though it is specifically designed for smartphones, it is a good fit for action cameras too.
You will have to clip it on your cloth and position it near your mouth to get the best results. It is very good at eliminating most of the surrounding noise. You don't have to point it in any particular direction for a good sound pick-up. It can be in any orientation closer to the mouth.
I like the natural and crisp sound of this microphone. The noise is relatively less, and I was able to remove the noise in the editing stage. In addition, the Kevlar reinforced cable ensures its durability.
The thing that I did not like about this microphone is its short cable length. They could have made it slightly longer. But, you can always use an extension cable to increase the length. But make sure to invest in a good quality extension cable. Otherwise, there will be a drop in audio quality.
Click here to learn more about this microphone and to check current prices.
5. Sennheiser MKE 400 Shotgun Microphone
The unidirectional shotgun mic Sennheiser MKE 400 is another good microphone option for action cameras. It comes with a standard headphone plug. So, you can use it only if your action camera supports one.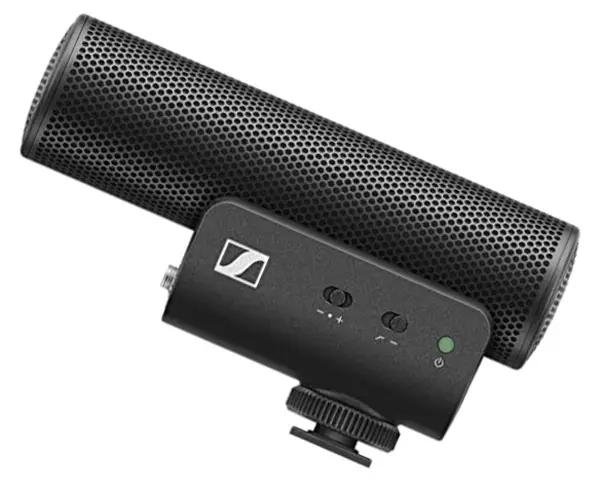 The ambient noise rejection rate is pretty good for the MKE 400 shotgun microphone. This good rejection rate is possible with the help of the super-cardioid recording pattern.
I loved the audio quality of the Sennheiser MKE 400 shotgun mic. It is crisp and clear. It is an analog microphone. There will be no signal processing happening in this mic.
The low-cut filter switch in the microphone helps to cut down some amount of noise during outdoor recordings. I find it useful when the noise is high outside.
This microphone requires two AAA batteries. I wish it came with an integrated Lithium-ion battery so I could charge and use it. But, I get around 90 to 100 hours with a couple of fully charged batteries. So, I have to carry spare AAA batteries when I use this microphone.
They have provided gain switches (-20 dB, 0 dB, and 20 dB). But there are only 3 positions for adjustments. I wish they had provided a gain knob with more stopping points instead of the switch for better control.
One thing that I really liked was its weight. It weighs only 3.2 ounces. The compact shape is also suited for the action camera. It comes with a TRRS cable that allows you to connect it easily to a 3.5mm jack.
Click here to learn more about it or check current pricing.
6. DJI Mic
DJI is a popular brand when it comes to drones. The DJI Mic looks more like the Rode Wireless Go II microphone. It comes with two transmitters and a receiver.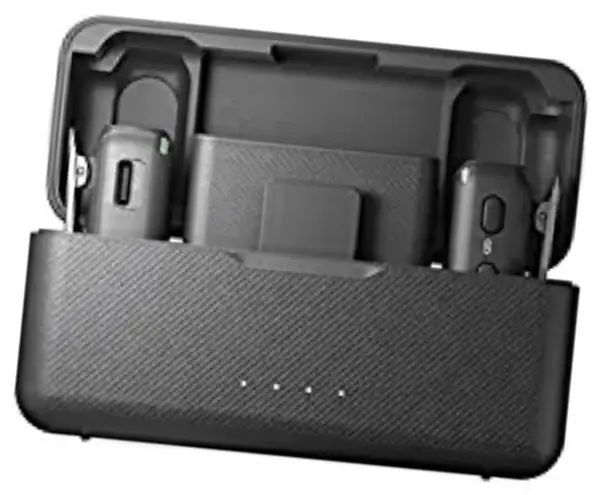 I like the charging case that comes with the microphone bundle. You need to just drop in the transmitters and the receiver into it. The charging will happen just like the Apple Air pods. The design of this case has really impressed me.
I am also impressed with the range of the transmitters. I used to get the transmitter around 5 hours after a full charge. The receiver also comes around 5 hrs. But one thing that I observed is that the receiver is the first one to get switched off. The charging case provided with it comes with an inbuilt battery. It is capable of holding an extra 10 hrs of power.
I liked the crisp sound quality of the DJI mic. The transmitter weighs around 1.1 ounces. You can either use the clip or magnet to attach the transmitter to your clothing. You will get a notification through vibration when you press any of the buttons in the transmitter.
You can also connect an external microphone like a lavalier mic to the 3.5mm jack provided in the transmitter. If you don't like to clip the small rectangular block on you, the lav mic can be a good choice.
The built-in storage of the transmitter of the DJI mic has saved me many times. It supports 14-hour in-built storage for audio. It will help you to get an additional copy of your audio recording. It is also possible to record directly onto the transmitter. You can record in 24-bit, 48 kHz WAV format.
The thing that I did not like about the DJI mic is that there is a chance that the link and the record button can be pressed accidentally. They could have made a better design to avoid this accidental button press. Also, there is no latency monitoring mode in this microphone.
The cost is slightly higher when you compare it with the Rode Wireless Go II microphone.
Click here to learn more about it or check current pricing.
7. Movo VXR10 Pro
I like the small form factor of the Movo VXR10 Pro microphone. However, design-wise, it looks more similar to the Rode VideoMicro.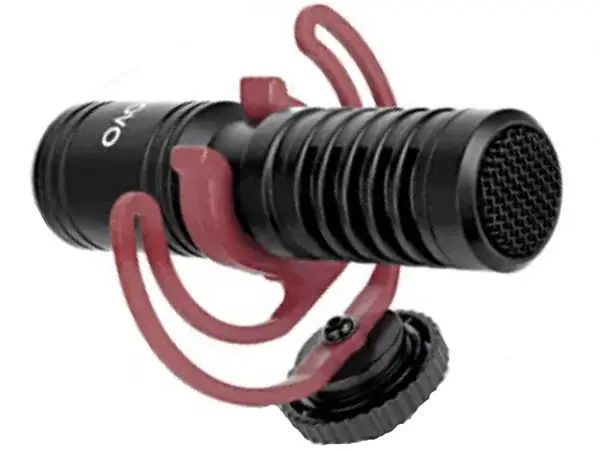 It comes with different accessories like a windshield, shock mount, and cables. They also provide a hard case for keeping the mic and the accessories. In my opinion, this case makes it easy to carry around. It helps to improve the portability of the mic.
I tried using it with my GoPro Hero 10. I find the sound quality of this microphone to be a decent one. It is quite easy to set up because of the battery-less design. You can plug in and use it whenever required.
The shock mount accessory they provide, along with the mic, is one big reason I went for this microphone. It helps to avoid noise pick-up due to vibrations.
The headphone out that comes with this mic is only compatible with the full-on TRRS connection. So, it is not possible to monitor the audio in real-time. Anyway, I don't monitor the audio in real-time. So, it does not seem to be a big issue for me while vlogging with the action camera.
I found it a little difficult to insert the mic into the shock mount. However, once you insert the mic, it remains safe and secure. Also, I don't remove the mic from the shock mount quite often.
One thing that I did not like about this microphone is that it picks up some ambient noise. Actually, it should not pick up such noise since it is a directional mic. However, if you are a person who loves having some background sound while recording the audio, it will not be an issue. The audio feels more natural to me.
It is an affordable option that comes with lots of accessories.
Click here to learn more about this microphone or check current prices.
Which action cameras support an external mic?
Some action cameras do not have the option to connect an external microphone. So, I will share a list of action cameras that allows you to connect external microphones.
1. GoPro Action Cameras
You need to buy an external adapter to connect the 3.5mm audio plug into the GoPro action camera. The Pro 3.5mm camera mic adapter can be used as the adapter.
The following GoPro action camera models support external microphones
GoPro Hero 10 Black
GoPro Hero 9 Black
GoPro Hero 8 Black
GoPro Hero 7 Black
GoPro Hero 6 Black
GoPro Hero 5 Black
GoPro Hero 4 Black & Silver
GoPro Hero 3 Black
GoPro Hero Session
If you have a GoPro Hero 10 Black or Hero 9 Black, you can also consider the option of using the Media Mod accessory that comes with an inbuilt mic and a 3.5mm jack for connecting external microphones. You can use this 3.5mm jack to connect a good quality external microphone for better audio. It costs around $80.
2. Akaso Action Cameras
You can connect an external microphone to the Akaso action cameras through a USB-C to 3.5 mm adapter. However, all the Akaso action camera models do not support the external microphone.
The following Akaso action camera models support the use of external microphones
Akaso Brave 8
Akaso Brave 7
Akaso Brave 6
3. Insta360 action cameras
The external microphone can be connected to different models of Insta360 action cameras through adapters.
Insta360 ONE R will need the standard external mic adapter (USB Type-C to 3.5mm audio jack).
You will need the horizontal mic adapter for the Insta360 ONE RS to connect the external mic.
4. DJI Action 2
For connecting the external microphone to your DJI Action 2 camera, you will need a USB Type-C to 3.5mm converter.
I hope this article gave you lots of options for microphones for your action cameran and you can pick which one suits you best.
Check out this article on budget action cameras.