The personal camera industry is a highly competitive space filled with several high-profile camera brands. Together they make some of the best cameras that dominate this space. The top three positions are dynamic spaces that Canon, Sony, and Nikon dominate in that order.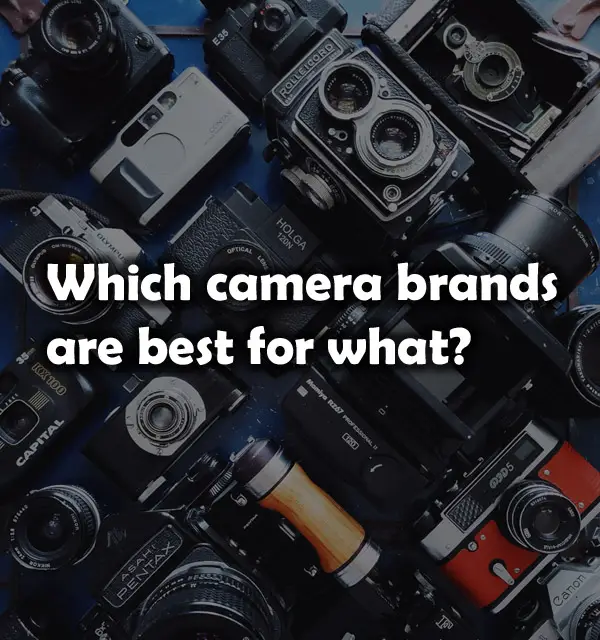 As someone looking for a camera for personal (or professional) use, it can get confusing very quickly as one tries to shift through a myriad of camera makes and models and tries to make sense of the long list of features that each camera has to offer. Let's look at where each brand excels and specific camera models that do so.
This discussion will discuss the top eight camera brands and their current position in the industry. We'll also briefly discuss the best camera system representing each brand and what makes that camera so unique. We'll also recommend a specific camera that represents each of the brands.
Some brands like Canon and Nikon make all kinds of camera systems, from point and shoot to full-frame mirrorless units. It isn't easy to generalize their camera lineup into one specific area as they make cameras for all genres and all types of photography. Yet it will remain an endeavor for us to select one camera from each brand that best represents what that make is best known for:
GoPro – The best brand for first-person action
Nikon – one of the best all-around camera systems
Canon – a cinema shooters dream come true
Sony – best low light camera systems
Olympus – lightweight micro four-thirds cameras for all-around performance
Fujifilm – one of the best crop camera systems with excellent low light performance
Panasonic – excellent camera systems for filmmaking
Pentax – one of the best weather-sealed cameras on the market.
GoPro – The best brand for first-person action
GoPro is the world's leading action camera system. They have single-handedly revolutionized the action camera segment. Over the years, they have launched several iterations of their most famous action camera, the GoPro Hero.
Over the years, several other brands have come up trying to imitate the success story of the GoPro. Makers like SJ Cam, Xiaomi, and others have created versions of the popular first-person action cam.
Yet the GoPro Hero has remained the number one choice for action sportspeople, adventure seekers, divers, stunt performers, and anyone looking for a first-person action camera.
GoPro's best action camera yet – GoPro Hero 10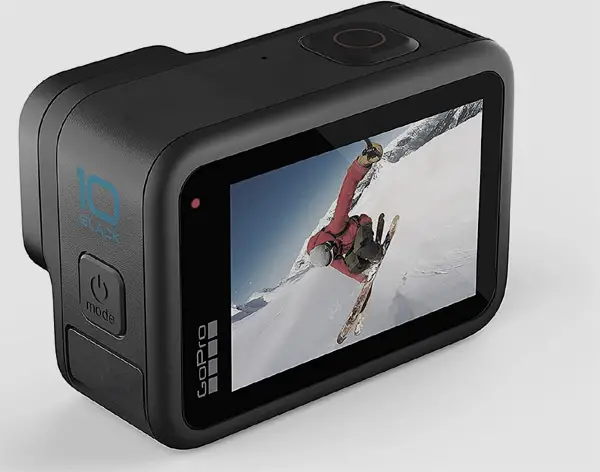 If you have been a GoPro fan for the last five years, you would love the new GoPro Hero 10. The new camera bundles a great video stabilization system. It also has 4K at 120 FPS, making it possible to capture extreme slow-motion footage right in the camera. Even the lens element has been upgraded. It now features a better water repellent coating. Overall it is an improved camera in every sense. However, the most critical aspect of the camera is inside the hood. It is the new GP2 processor that makes it stand apart from the crowd. It helps in the faster processing of the images along with the extended low light capability.
A comparison of the GoPro Hero 10 vs the Hero 9 and the Hero 8:
Nikon – one of the best all-around camera systems
Nikon is one of the oldest and one of the world's largest camera, lens, and photography accessories manufacturing companies. Together with Canon and Sony, it records the most significant number of cameras and lenses sold worldwide. As of October 2021, Nikon has dropped to the third position in the global share of photography lens and camera sales. It currently owns 14% of the worldwide share.
Nikon makes both digital single-lens reflex cameras as well as mirrorless camera systems. They also have a compact camera segment that caters to primarily the beginner photography segment. At present, Nikon is focusing mainly on their mirrorless camera systems known as the Z series. Their flagship mirrorless camera is the Z9.
Nikon's flagship mirrorless shooter – the Nikon Z9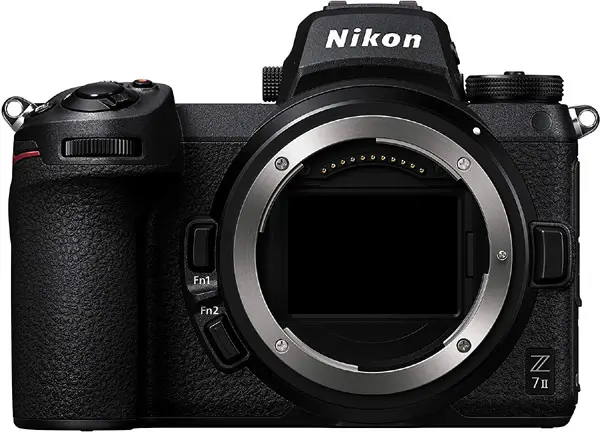 Widely rated as one of the world's top mirrorless cameras, the Nikon Z9 is a monster of a camera. Under the hood is a 45.7-megapixel full-frame stacked CMOS sensor. Paired with it is an EXPEED 7 image-processing engine.
Of late, Nikon has been having problems with the global shortage of microchips. They have been struggling to meet the demands of photographers in many countries.
Canon – a cinema shooters dream come true
Canon is currently the world's top photography brand. It sells more cameras and lenses than any other camera brand. As of October 2021, Canon owns a 48% share of global cameras and lens sales.
Just like Nikon, Canon also offers a massive range of cameras and lenses. They have a dedicated mirrorless segment along with the existing DSLR segment. They also have a flourishing compact camera segment primarily aimed at beginner photographers and those photographers who mainly shoot with their smartphones and look for a proper camera for special occasions.
Canon's flagship mirrorless model, the EOS R3
Canon's flagship mirrorless camera is the EOS R3. This behemoth is powered by a 24-megapixel full-frame stacked BSI CMOS sensor. It also has Canon's dual pixel CMOS AF II and Eye Control AF.
It can shoot 6K RAW at 60 FPS and 4K 10-bit internal video at 120 FPS. This camera is an incredible tool for shooting videos, giving you the option to color-grade your footage according to your preferences. You can also shoot high-quality raw at an incredibly high frame rate to facilitate slow motion in-camera capture.
The EOS R3 is an excellent camera for wildlife photography as well. Thanks to its 12 FPS mechanical shutter and the fast autofocusing performance powered by Eye Control AF.
Sony – best low light camera systems
Sony is the second-largest camera brand in the world. As of October 2021, Sony owns 22% of the global share of the sale of cameras and lenses.
Sony systems are widely known for their exceptional low-light capabilities. Although Sony makes camera systems for all kinds of photography, just like Nikon and Canon, they have some tremendous low-light cameras in their stable. For example, the Sony a7S III is one of the finest low-light camera systems you can find on the market.
Sony's low light shooting champion – a7S III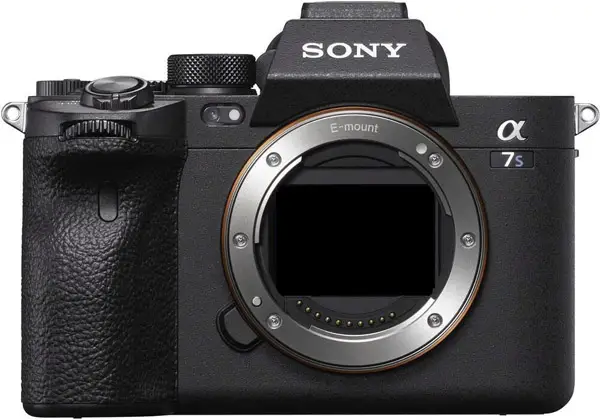 The a7S III Is the third generation of the a7S. This camera is considered one of the best in the business when it comes to low-light photography. It is a compact full-frame mirrorless camera with 12-megapixel Exmor R BSI sensor technology. The camera system offers a fast Hybrid autofocusing system with 759 points.
The camera is capable of 16-bit RAW output, HLG, and S-Cinetone. There's a lot of flexibility in terms of color grading if you are a serious videographer looking for a camera to shoot videos with. The camera also comes with a 5-axis SteadyShot image stabilization system. Handheld shooting becomes a lot easier with this.
When it comes to still shooting, the camera offers 10 FPS continuous shooting and adds an extended ISO range of 40 to 409600.
Olympus – lightweight micro four-thirds cameras for all-around performance
Olympus, along with Panasonic, has always been the Champions of the micro four-thirds system. they have been one of the early adopters of digital technology. However, Olympus focused on a segment of users who were not professionals and certainly not regular camera users. Their prosumer camera segment took the brunt of the loss when smartphone systems came up to become the most dominant camera system for everyday usage. The market for regular cameras contracted, and smartphone camera systems dominated the space.
Off late, Olympus has been embroiled in several scams. The top management has been accused of fraud, and there has been a lot of litigation in that respect. More recently, Olympus has sold off its camera business after 84 years of being one of the top camera manufacturing companies in the world.
Olympus' best mirrorless camera to date for sports and wildlife photography – OM-D E-M1X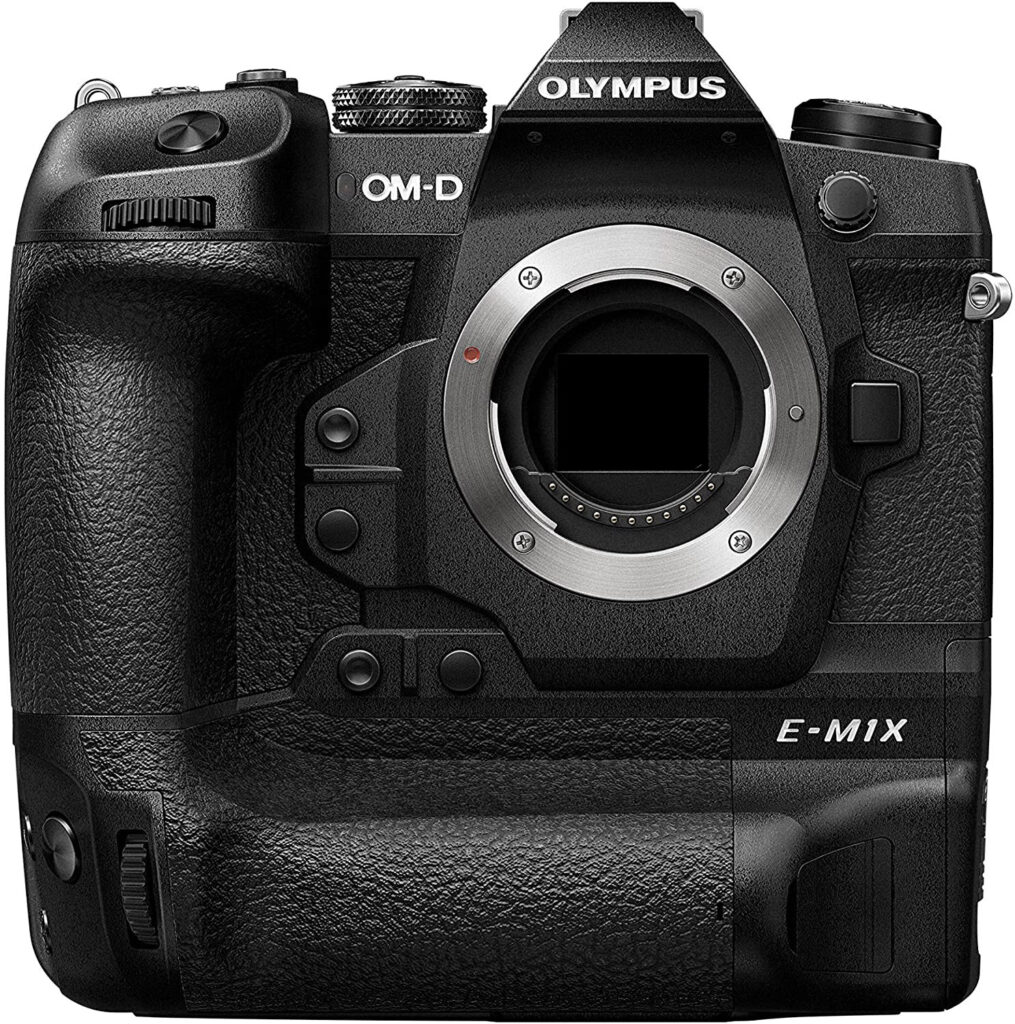 The OM-D E-M1X is one of the best mirrorless camera systems on the market. It is powered by a 20.4-megapixel Live MOS Micro four-thirds sensor paired with dual TruePic VIII image processors. The benefit of dual image processors is that the camera can produce high-speed bursts of images with full autofocusing. Additionally, the image buffer is very deep, and you can make long bursts at a high frame rate without the camera going slow. The OM-D E-M1X is one of the best sports and wildlife photography camera systems.
Fujifilm – one of the best crop camera systems with excellent low light performance
FujiFilm was always known for its 35mm camera film in the photography industry. They're also known for their range of film cameras. They adopted digital photography technology very early and today are one of the largest producers of medium format digital camera systems. Their sensor technology is second to none and is known for extreme low-light capabilities.
Fuji has been concentrating on mirrorless camera systems and has produced excellent cameras in both media format, full-frame, and crop camera systems. Their mirrorless full-frame camera systems are some of the best in the industry.
Fuji's best medium format mirrorless for landscape and other genres – GFX 100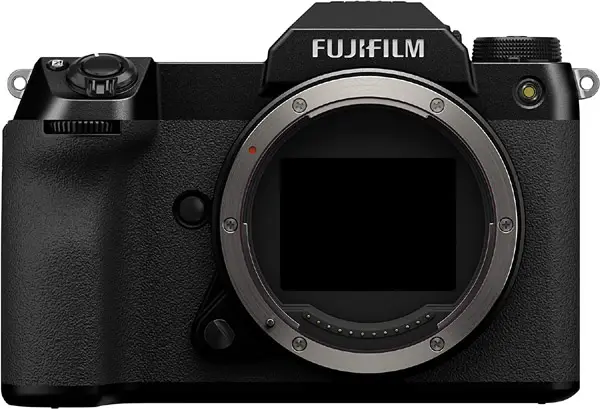 This Fujifilm GFX100 102-megapixel beast of a camera is powered by a 43.8 x 32.9mm medium format BSI CMOS sensor. Paired with the sensor is an X-Processor 4 image-processing engine. The camera can capture incredible detail and is ideally suited for landscape, cityscape, architecture, interiors, fashion, and portrait photography. You can also use the camera for a lot of other genres. Except for wildlife and sports photography because the frame rate is rather slow at 5 FPS. But it excels in the other areas.
Panasonic – excellent camera system for filmmaking
Panasonic and Olympus have been the Champions of micro four-thirds system cameras. However, Panasonic also makes some of the best full-frame camera systems. Panasonic's significant pull, however, is in the area of cameras that are tailor-made for cinema making. Their camera systems, such as the Lumix GH5 and the Lumix GH6, are exceptional cameras for filmmaking.
The contraction of the camera market had its effects on all camera manufacturing companies. Panasonic, too had its share of problems. However, recent rumors in the market that Panasonic is preparing to sell off its photography business just like Olympus did is not valid. In a recent statement by one of Panasonic's directors, the company has no plans to sell its photography business and vows to continue growing the Lumix brand.
Panasonic's best camera for filmmaking – the GH6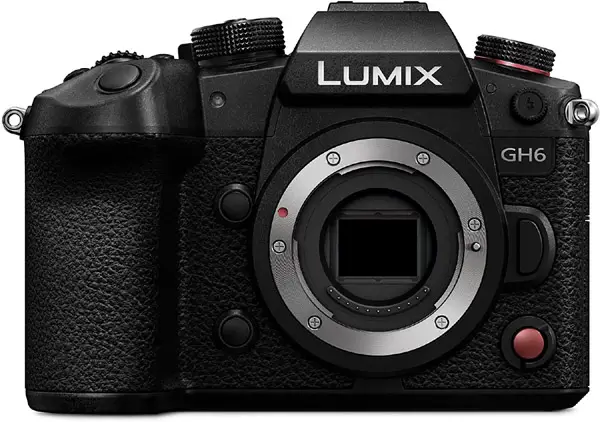 Panasonic's GH6 comes from a long line of tailor-made cameras for filmmaking. These camera systems based on the micro four-thirds sensor have all the bells and whistles necessary for producing high-quality films.
The GH6 is the latest in this series of cameras. It is powered by a 25.2 megapixel Live MOS micro four-thirds sensor. The latest iteration of Panasonic's famed Venus Engine image processor is paired with the sensor.
The power of the new image processor lets the camera shoot at 5.7 K at 30P internally at Apple ProRes 422 HQ, and FHD 300p. It can also shoot high-quality 100-megapixel stills. The dynamic range of the new sensor is 13 plus stops. A dual image stabilization system ensures that the camera can offer up to 7.5 stops of five-axis stabilization. This ensures that handheld stills and videos are rock solid.
The new camera has an updated auto focusing system with a processing speed of up to three times as powerful as previous generation cameras. Internally the camera has a 315-area contrast detection depth from defocus system. In short, the new system can predict by looking at a subject whether it is moving further away from the camera or coming closer to it. This allows the camera system to expect where the subject will be in the subsequent frame. This incredibly powerful autofocusing system comes in handy when shooting stills and movies.
Pentax – one of the best weather-sealed cameras on the market
Pentax makes one of the best weather-sealed camera systems on the market. Even their entry-level cameras, such as the K-70, are fully weather-sealed against all of nature's elements. Pentax also makes compact medium format DSLR cameras. Pentax has sometimes been referred to as the dying brand. They don't have a mirrorless camera in their camera lineup. They don't even have a mirrorless system somewhere in the pipeline. When the whole world is moving gradually towards mirrorless systems, not having a mirrorless camera in the mix is a serious problem for Pentax.
Noticeably Pentax's Share in the market has dropped significantly over the years. Even with such robust build quality and an excellent feature list, Pentax has somewhat lost the charm that it used to have back in the 80s and the 90s.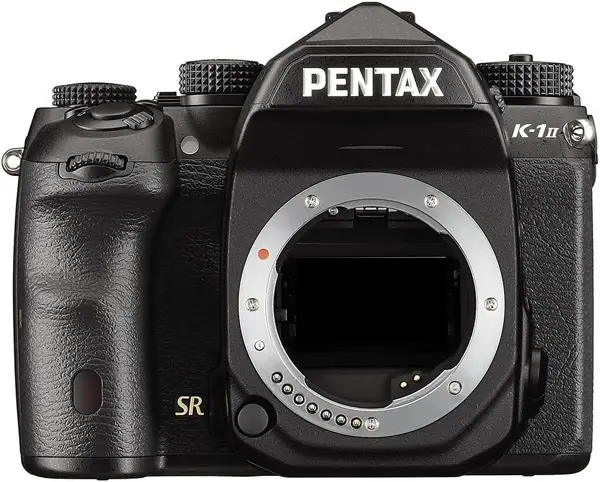 The Pentax K-1 Mark II, a 36.4-megapixel full-frame camera system is powered by a CMOS sensor and the Prime IV image processor. Autofocusing in the camera is powered by a SAFOX 12 33-point autofocusing sensor. The camera can capture full HD videos at 30 fps with 4.4 FPS in still shooting. The 14-bit image processor has been updated with a new Ricoh-developed Accelerator Unit. Apart from boosting the sensor's ISO sensitivity to ISO 819200, the additional benefits include reduced noise and increased clarity. The color accuracy of images has also improved.
The camera system also has a 5-axis image stabilization system built into the camera body. This makes all compatible lenses image-stabilized automatically.
Concluding thoughts
The problems with Nikon's supply line have lingered for far too long. Key camera systems and lenses have remained out of stock for a while, which will impact people whose livelihood depends on these items. That said, Nikon is trying to iron out its supply lines even as I write this.
The top three camera brands – Canon, Sony, and Nikon, are the leaders in mirrorless technology. Mirrorless is the new normal so you can opt for any of the three brands. We recommend Sony. If you're interested in movie-making, then choose Panasonic. Pentax's superb build quality and decent image quality make it a top choice for entry-level photographers looking for weather-sealed bodies. And if you're interested in action cameras, then the GoPro is the best choice.
Click the following link for a comparison between DSLR, mirrorless, phone camera and point and shoot.