In the quickly evolving world of camera technology, if you are a student or beginner filmmaker, it is often difficult to know what to look for in a camera, especially if you are not up to date. But don't worry.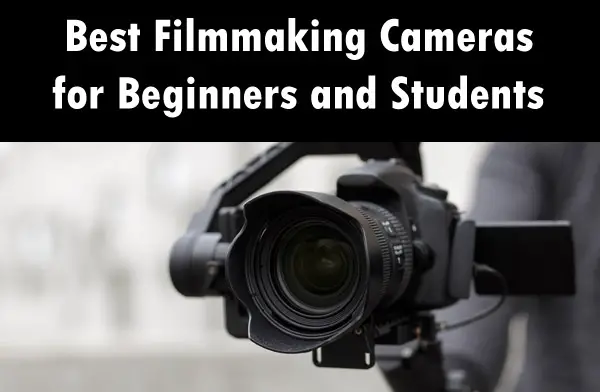 We have examined dozens of cameras and weighed them against several parameters before listing the top 13 that we feel are the best filmmaking cameras for beginners.
What makes an excellent filmmaking camera? A variety of parameters, really. The first thing is the ability of the camera to shoot DCI 4K or at least 4K UHD. These days 4K is the bare minimum when shooting films. Whether you're a filmmaker shooting a documentary or a YouTube content creator, you need to make your films and videos future-proof. And 4K is mandatory for that. Filmmakers also look for the option to record crisp audio quality. An overwhelming number of filmmakers, beginners and pros alike, use external mics to record crisp audio quality. That's why they need the option to plug in an external mic using a mic port. Budget is also important to someone who does not make a living as a professional from filmmaking. But these are just a few of the parameters.
If you don't want to wait till the end and want to straightaway move to the list, then here it is –
Blackmagic Design Pocket Cinema Camera (Our choice)
Panasonic Lumix GH6
Nikon Z30
Canon EOS M50 II
Sony ZV-1
Panasonic Lumix DC-G100
Canon G7 X Mark III
Canon EOS R10
Sony a6400
Canon EOS R7
Fujifilm X-S10
Sony a7 III
OM SYSTEM OM-5
Now let's discuss some parameters before jumping right into the best part.
Minimum Resolution
As I mentioned above, 4K is the bare minimum. Anything less than that, and your films are already backdated. If anyone plays them back on a big high-resolution tv, the lack of resolution will be glaring.
Great built-in audio or audio in port
Ideally, you need at least the second option. The incredible video starts with excellent audio, period.
Vari-angle screen
While having a vari-angle screen is excellent, it's not mandatory. You can use an external monitor to overcome this issue with some cameras. However, if you have a bright vari-angle screen, it helps to shoot vlogs.
Image stabilization
Optical image stabilization, whether lens- or body-based, is a must-have—without optical image stabilization, you're forced to use a tripod or electronic image stabilization. The first is a limiting thing, and the second eats away into the resolution.
Compatible Codecs
Look for cameras that offer the largest selection of codecs. This will help you to streamline your post-processing routine.
The Cameras
Blackmagic Design Pocket Cinema Camera (Our choice)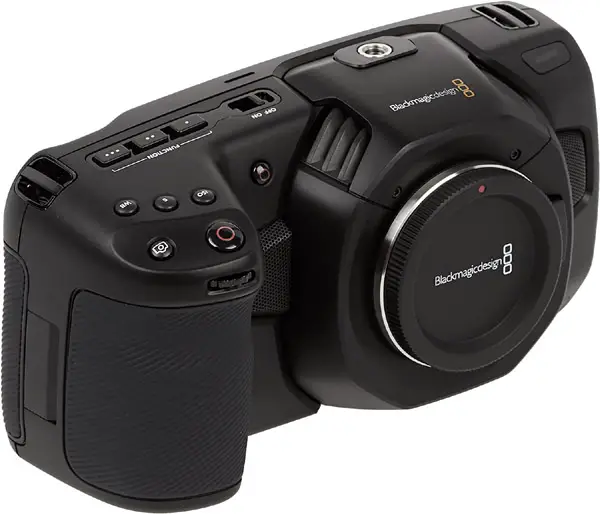 If you're serious about filmmaking or want a camera with advanced filmmaking features, you should choose something like the Blackmagic Design Pocket Cinema camera. Even though this isn't the best film camera you could lay your hands on, for the price, it offers incredible value for the money. This camera is designed for filmmakers, and beginners and enthusiasts would find it worth it. The camera supports a range of codecs, including a bunch of Apple codecs. DCI 4K in 75 fps and 2.8K RAW mode in 4:3 anamorphic at up to 80 fps. The 5-inch touchscreen offers one of the best menu systems you will come across. The dual native ISO option allows for greater dynamic range, especially when working in low-light conditions.
Pros
Excellent menu interface.
Dual native ISO.
DCI 4K shooting.
Range of codecs supported.
Cons
The rear LCD screen does not tilt or flip.
Rating – 9.0/10
Panasonic Lumix GH6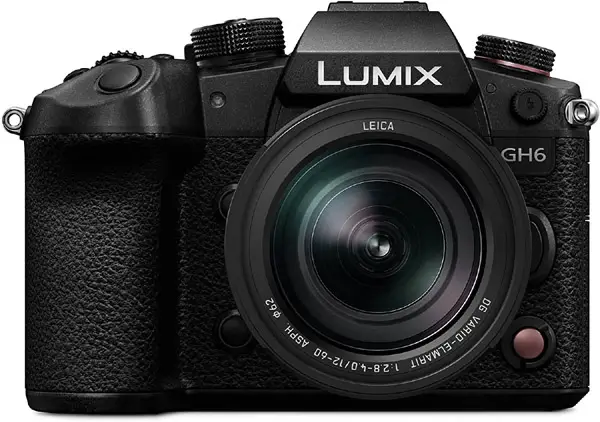 The Panasonic Lumix GH6 is an upgrade of the Panasonic Lumix GH5 II that, in turn, came as an upgrade to the GH5. One of the significant improvements of the GH6 is that it can record 4K 60p 4:2:2 10-Bit footage unlimited internally. The GH6 comes with a powerful Boost IS mode. This mode works best when video-recording subjects that are stationary. This is a mode that makes a tripod redundant for such shoots. Autofocusing is one of the strong points of the camera. The Manual Focus Assist option and the Focus Limiter Range Set options help precisely lock focus when recording.
Pros
Unlimited 4K 60p 4:2:2 10-Bit footage internally.
Autofocusing is excellent.
Manual Focus Assist option for precise focusing adjustment.
Boost IS mode.
Cons
Battery performance has dropped on the GH6.
Apart from face tracking, autofocusing falters when tracking other subjects.
Rating – 9.0/10
Nikon Z30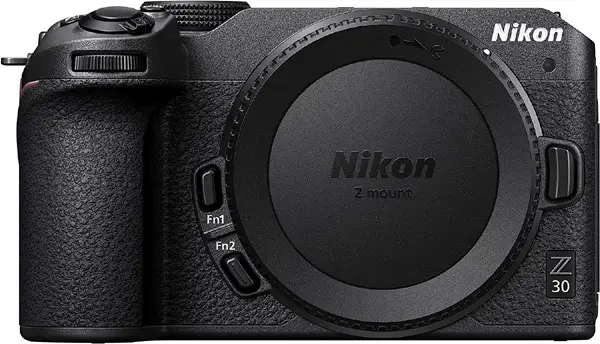 This APS-C sensor-powered Nikon Z30 mirrorless camera is an excellent tool if you're looking for a camera that's easy to use and offers powerful 4K/UHD video capabilities. The Z30 is Nikon's entry-level mirrorless camera geared for both still shooters and filmmakers. But primarily for content creators and filmmakers. The deep hand grip, the easy-to-access recording start button, the built-in 4K UHD shooting option at 30p, and the opportunity to use an external mic to get crisp audio- everything is geared towards a video camera.
Pros
UHD/4K at 30p.
Excellent hybrid autofocusing with face and eye tracking.
Built-in stereo mic.
Option to plug in an external mic.
Live streaming option at 60p.
Excellent grip.
Cons
Not the best for advanced video production.
Rating – 7.5/10
Canon EOS M50 II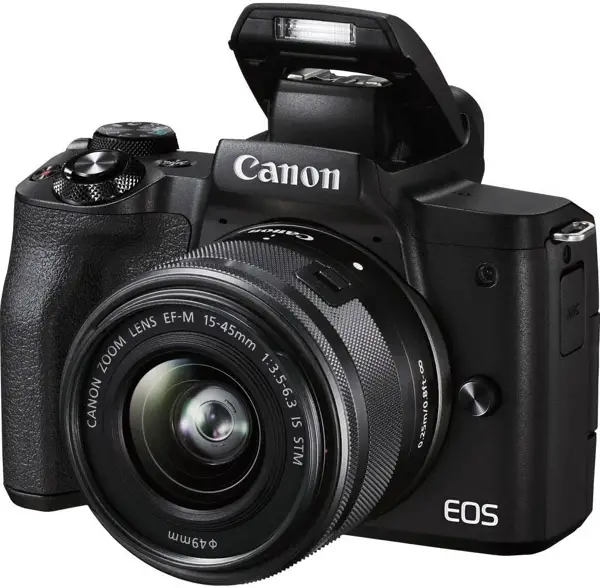 If you're looking for the best entry-level film camera for beginners, you must have seen or eyed the Canon EOS M50 at least once. The EOS M50 Mark II is the upgraded version of the original EOS M50 and comes with a few upgrades. The first and most important is the new Eye tracking feature that makes it much easier to track a subject when shooting videos. If you're a vlogger or YouTuber and produce shorts (the vertical video format), you will love the new built-in vertical video shooting option on the EOS M50. YouTube live streaming option available.
Pros
Improved autofocusing tracking with eye tracking.
Vertical shooting option.
YouTube live streaming.
Cons
Can't use dual-pixel CMOS AF during 4K 24p shooting.
Heating issues in 4K shooting.
Rating – 8.0/10
Sony ZV-1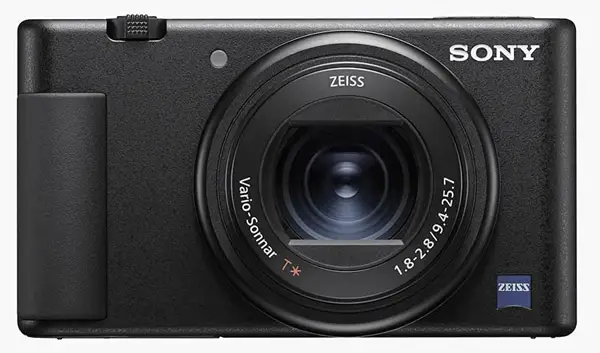 Sony's first attempt was creating a dedicated mirrorless camera to shoot vlogs and video content. The Sony ZV-1 packs a lot of features that can make filmmakers and content creators happy. First, the directional microphone makes it possible for the user to record crisp sound quality without the need for a second plugged-in mic. The ZV-1 can shoot 4K clips at 30p and full HD clips at a maximum frame rate of 120p. And if you love to shoot on the go, you will love the convenience of the Sony GP-VPT2BT Bluetooth shooting grip.
Pros
1-inch BSI sensor for decent video quality.
4K 30op videos.
Fully articulated touchscreen display.
Directional mic built-in with crisp audio quality.
I can charge it while using it (a big plus for vloggers).
Cons
Cant swap the lens for a different one.
Rating – 8.0/10
Panasonic Lumix DC-G100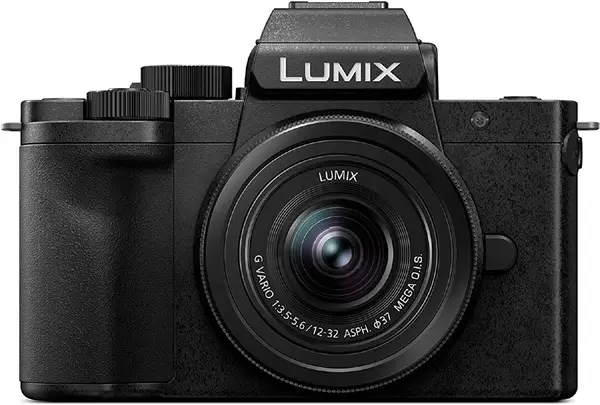 The Panasonic Lumix DC-G100 has a 20.3-MP Live MOS micro four-thirds sensor. It is the first camera that comes with Ozo Audio from Nokia. This is a set of three directional microphones that you can set using different combinations. The camera shoots 4K 30p and full HD at a maximum frame rate of 120p. The camera has a dedicated selfie mode activated when the LCD screen is turned forward. The camera is shipped with the 12-32mm f/3.5-5.6 lens. But other options are also available. The one thing that works against the camera is the electronic image stabilization because it eats into the camera's resolution.
Pros
Dedicated auto selfie mode.
Features Nokia Ozo Audio.
Extremely lightweight camera.
Options to use multiple lenses.
Cons
Image stabilization is electronic.
Rating – 7.5/10
Canon G7 X Mark III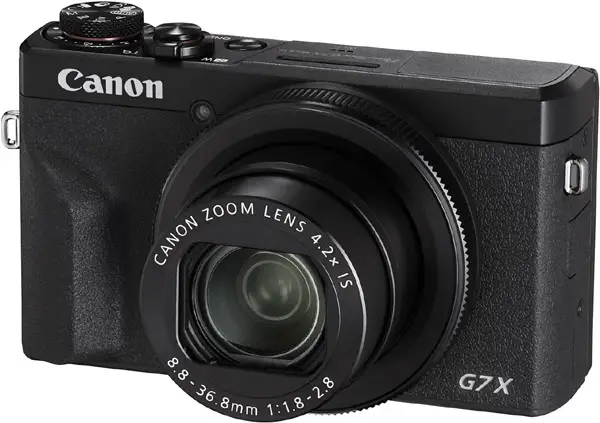 The benefit of a stacked image sensor and the advanced DIGIC 8 image processor. The Canon G7 X Mark III is a compact camera geared towards still shooters and filmmakers looking for a beginner camera. The camera can shoot 4K 30p straight out of the box, and with a firmware update, even 24p is also available. Full HD video recording is possible at 60p. The tilting screen goes 180 degrees when tilting up and 90 degrees when tilting down.
Pros
Stacked CMOS 1-inch type sensor for excellent low-light performance.
Built-in ND filter option for broad daylight shooting.
YouTube live streaming is supported.
Vertical video capture.
Comes with a USB-C connector for fast charging and data transfer.
Cons
The grip isn't the best in the business.
The position of the dedicated record button is goofy.
Rating – 7.5/10
Canon EOS R10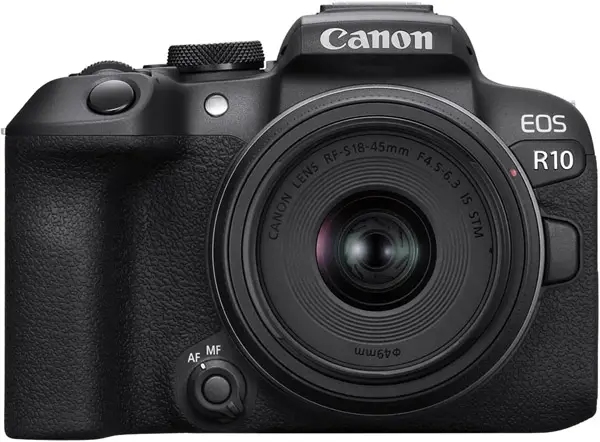 The Canon EOS R10 is an APS-C mirrorless camera powered by a 24.2-MP sensor paired with the DIGIC X image processor. The camera is capable of producing 4K UHD 8-Bit recording. You can choose either the 30p option, where the full sensor real estate (6K) is utilized to sample the videos, or you can choose a higher frame rate, but the actual sensor real estate utilized drops. For users looking for a wider angle of view, the oversampled 6K area is a better option as long as you're ok with the 30p option. As a filmmaker, you would prefer the 24p option anyways, but even if you're a YouTuber or social media content creator, I feel the larger real estate is the better option.
Pros
Dual pixel CMOS autofocusing.
Excellent subject tracking for a diverse variety of subjects.
Oversampled 4K shooting using the 6K real estate.
Cons
Heavy cropping of 4K footages at 60p.
No optical image stabilization.
Rating – 8.0/10
Sony a6400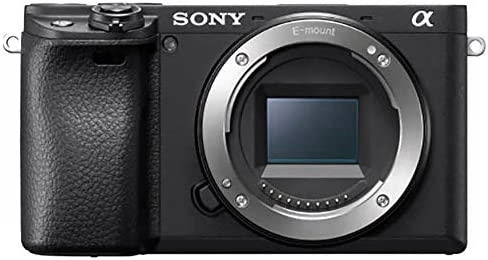 In approximately the same price range as the Canon EOS R10, you get the Sony a6400. This camera has the exact sensor resolution, but the sensor is BSI CMOS and not an FSI as the Canon EOS R10. That means better you get better low-light performance. The rear LCD screen is a tilting screen and not a fully articulated one. The camera captures 4K footage at 24p by utilizing the full width of the sensor. However, when shooting in 4K 30p, a cropped real estate of the scene is utilized.
Pros
BSI CMOS sensor technology.
4K 24p uses the entire sensor width.
Autofocusing performance is excellent.
Internal UHD 4K
S Log 3 support plus HLG.
Cons
The rear LCD screen is a tilting screen and is not flippable.
4K 30p utilizes a cropped segment of the sensor.
There are no 10-Bit video options.
Rating – 9/10
Canon EOS R7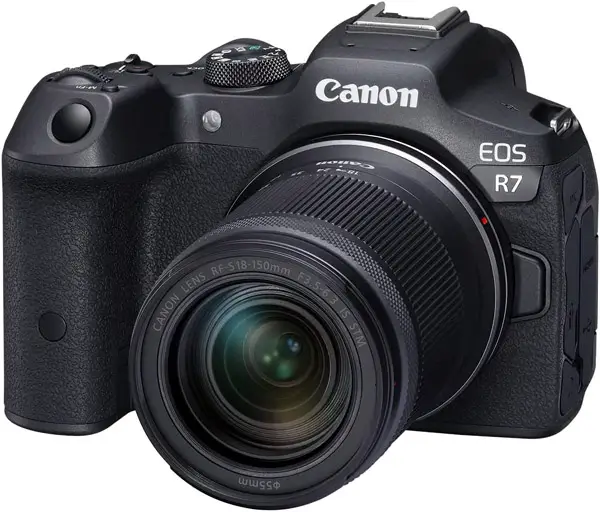 The Canon EOS R7 has the critical advantage of body-based image stabilization rated at up to 7 stops. The EOS R7 can shoot 4K 30p using the entire sensor width, oversampling the footage for better detail. However, if you push the recording to 4K 60p, the camera uses a cropped version of the real estate or a subsampled aspect, depending on your preference. The cropped version is a 1.81x crop. The rear LCD screen is fully articulated, allowing greater freedom than tilting screens. Additionally, the camera comes with HDR PQ to assist with HDR recording. You also get C-Log 3 for preserving a greater degree of dynamic range that you can play around with when post-processing your footage.
Pros
Only 4K 30p using the oversampled full sensor width.
Offers both microphones in and headphone out options.
Up to 7 stops of image stabilization.
Fully articulated LCD screen.
HDR-PQ and C-Log options are available.
Cons
4K 120p option unavailable.
Rating – 8.0/10
Fujifilm X-S10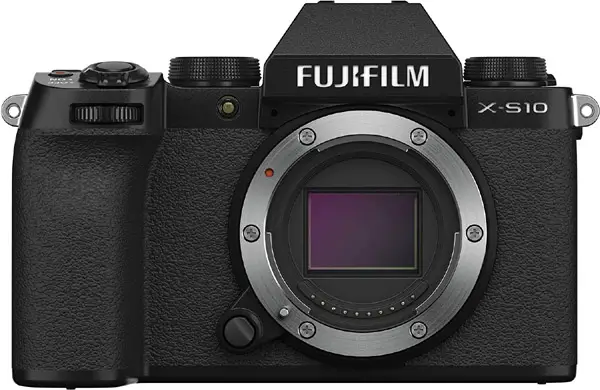 The Fujifilm X-S10 is powered by an APS-C BSI CMOS sensor paired with an X-Processor 4 image processing engine. This interchangeable lens mount camera system lets you choose different lenses per your filming requirements. The camera can shoot DCI UHD 4K at a maximum frame rate of 30 fps. Full HD videos can be recorded at 240 fps. The in-body 5-axis image stabilization system offers excellent stabilized footage rated at up to 6 stops. This comes in handy when shooting videos. Also helping the process of filmmaking is the vari-angle LCD screen.
Pros
5-axis body-based image stabilization system.
Excellent vari-angle touchscreen.
DCI UHD 4K 30p
Full HD at 240p.
Option to use multiple lenses.
Cons
Battery life isn't one of the strengths of the camera.
Subject tracking isn't excellent.
Rating – 8.5/10
Sony a7 III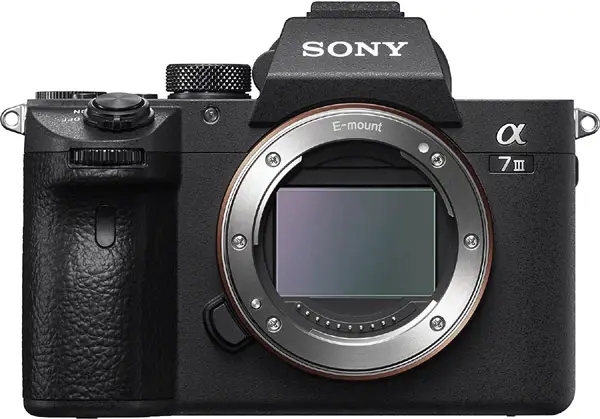 The Sony A7 III is a full-frame mirrorless camera initially geared for photography. This camera, however, offers a few video options that entry-level / beginner filmmakers could use. The camera can shoot UHD 4K at 30p with the HLG and the S-Log3 Gamma options. This allows you to shoot for HDR displays and capture a more extensive dynamic range—however, no 10-Bit recording option (not even with HDMI). Image stabilization is a great tool, and the Sony a7 III comes with a sensor-shift type 5-axis image stabilization system.
Pros
Excellent image stabilization.
Several customizable buttons.
Microphone and headphones for monitoring audio.
Large number of lens options.
HDR-HLG, Sony S-Log 2, and S-Log 3.
Cons
No 10-Bit recording option.
Touchscreen functions are a bit difficult to work with.
Rating – 8.5/10
OM SYSTEM OM-5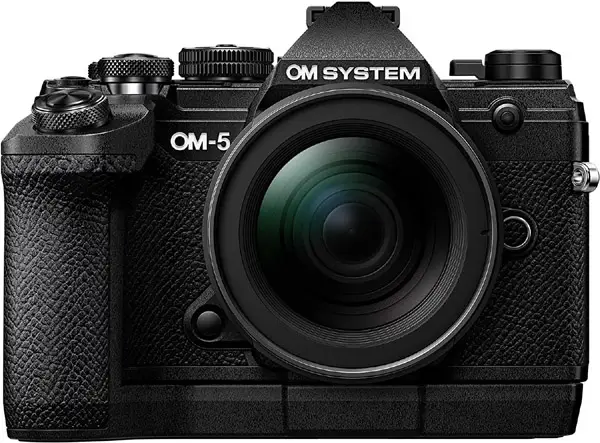 The OM SYSTEM OM-5 looks like a mirror image of the Olympus OM-D E-M5 Mark III. However, there are some improvements, albeit only a few. One of the more significant improvements is the camera can shoot DCI 4K at a frame rate of 24p and 4K/UHD at a frame rate of 30p/25p and 24p. Also, the Live ND filter option makes shooting with wide-open apertures in broad daylight much easier. Another improvement in the OM SYSTEM OM-5 is the superior autofocusing especially subject tracking using facial features.
Pros
DCI 4K at 24p.
UHD 4K at 30p/25p and 24p.
Built-in ND filter option.
Better autofocusing with better face detection.
Cons
Physically identical to the Olympus OM-D E-M5 Mark III.
Rating – 7.5/10
Conclusion
Based on all the parameters, we have selected the Blackmagic Design Pocket Cinema Camera as our top choice as the best film camera for beginners. It brings an excellent combination of features, affordability, and handling.
Make sure to look at all the cameras we reviewed, as some may have a particular feature or look you are looking for, and this may include price.
Click the following link to learn how to use your phone for capturing videos of adventure sports.