Finding clients for your professional photography can be a challenge. That's why your photography business, as with any other type of business, needs some promotion. Word-of-mouth marketing techniques are as old as the world itself, and it really works!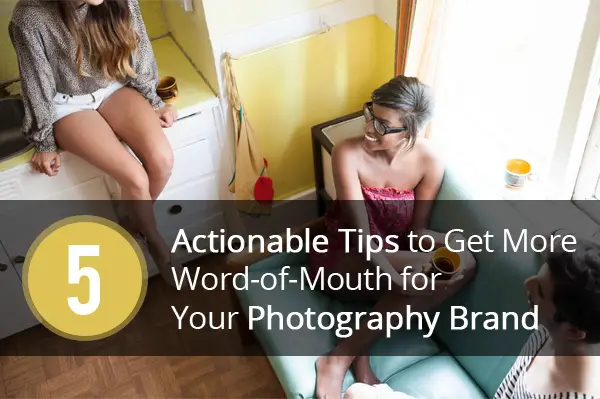 In this article, we're going to talk about the importance of personal style, which photo portfolio format works best for your business, and the ways of reaching your potential clients. Let's give a boost to your photography brand and have you become a "big fish" in the world of photography!
1. Put More Personality
While setting up your photography business, try to create something unique and personal from the very beginning. Of course, a photography portfolio website is one of the first things every newbie photographer is starting with. Try your best to put more personal touches in it: take care of 'about me' and 'blog' pages especially.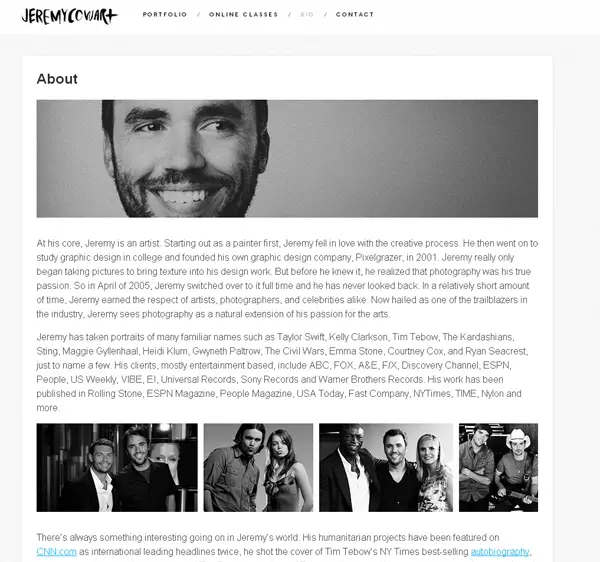 Add some personal photos to the About Me page to show that you're an open person. Also, reveal something personal to make a client feel that he or she already knows you for a minute. Share your tastes in music, movies, favorite food, best places for travelling. I'm pretty sure that some of these will definitely find a reflection: "Omg, you love coffee with vanilla and chocolate chips? We love it too!" 🙂 And right away, the clients feel that you're the only person in the world who can understand them and capture their own personality with your camera.
When it comes to blog posts: Try to upload them almost daily, share your photos (even personal ones from your smartpfone), your stories, tips, and some other stuff to get closer to your clients.
2. Use Social Media to Turn Your Content Viral
The best marketing for your photography brand can be given by referrals (word-of-mouth works). These days, we have a lot of social media networks that could provide us these referrals; there is no need to sit back and wait for them. For example, right after the photo session, you can post-process one of the best images and post it on your Facebook page with a link to your blog (or portfolio) and tag the person captured there, so it will appear on their page.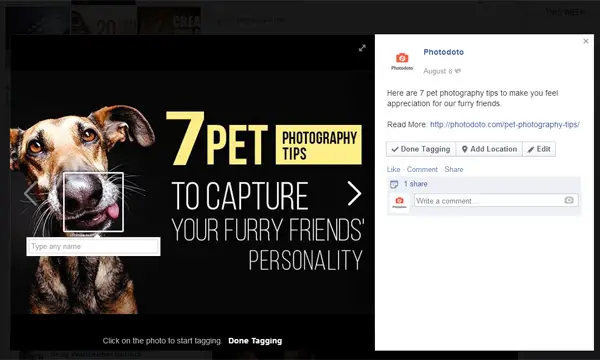 After the clients see and share it, their friends will see and share it, too, and so on. That's how viral marketing works these days! You can do the same trick with Google Plus. Moreover, such marketing needs more time than finances to give you an opportunity to save money for something else (and even earn more)!
3. Impress Your Clients with a Custom Photo Gallery
You as a photographer must have a mix of various tools to show your works to prospective clients. You need a website, a blog, large prints, coffee-table books, albums and slideshows to be ready for any situation. You may not do some of these, but your sales depend on it. The photography market is really competitive today. So try to catch the client's attention, and create the best first impression you can.
Also, there are some services, such as Defrozo, that provide online client photo galleries. The feature is a beautiful, mobile-ready photo gallery for clients to showcase your post-processed final images after a photo session. Just create a gallery, choose a theme for it, upload your images, and share the link to it with your clients.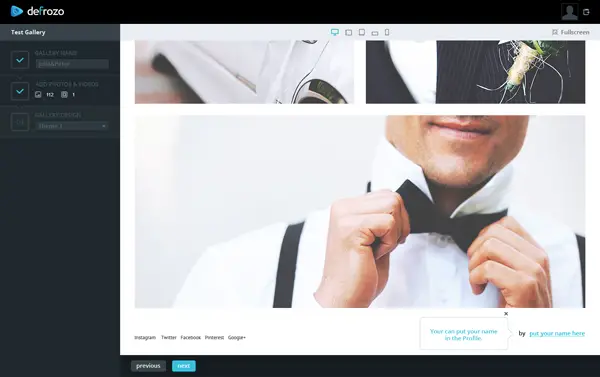 Email the client to let him know the pictures are ready to be viewed. In this email, encourage clients to share the link with their family and friends and also share it with social media. Every photographer want their photos to be promoted, but there are some clients who hesitate and ask for permission to show their photos to friends. Let them know that's it's ok! And it will definitely create a buzz around your name! Also, don't forget to add your contact info in case one of the viewers will be willing to hire you.
4. Take Care of Meeting Room Atmosphere
Online photo sharing is cool, but also it's great if you have a chance to meet the client before the photo session to discuss the details. Take care about your meeting room beforehand. The first impression is made right when the potential clients enter the room. So you can use lavender vanilla or sweet chocolate caramel spray to create a good smell in the room. When it comes to music, it's better to play something relaxing, but not so loud, to give you ability to talk and hear each other.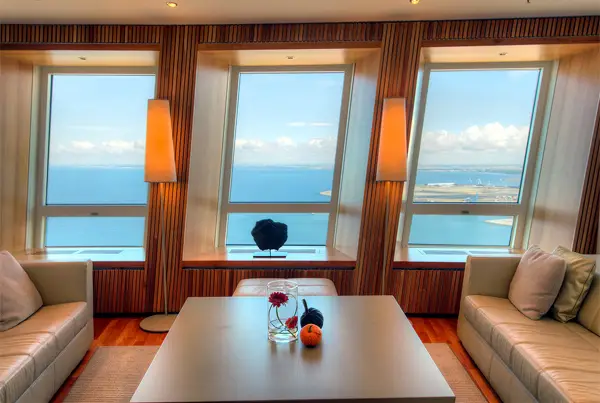 Don't forget about lighting! In the daytime, it can be just pure natural lighting from the windows. In the evening, you can place candles on the table to create some cozy atmosphere. All these small things create your image and are the parts of your brand and name. So don't be too lazy or greedy to work on the mood of your meeting room, as it influences your sales, too!
5. Create a Promo Video for Your Business
A promo video is a great way to show your clients who you are and your works. Just like a TV ad, a promotional video can help bring in more audiences, reach out to target clients, and create awareness about what services you offer. Just take a look at the promo video TroyGrover photographers from California did.
There is no need to hire a professional studio to create some video like this. You can make your own video with mobile apps like Coub and Magisto and your smartphone. You can create such a video at home or at your photo studio. Just upload a few videos and still images to the app, add the sound track you would like to play, and Magisto will choose the best moments from the video, theme and effect to create a beautiful video. Take a look at the video example made with Magisto to get what I mean.
You may place a "behind the scenes" video on your website, showing the process of you shooting mixed with final images. This will display your professional appearance. For people who don't know you, it will be a unique chance to see you "in real life" and during the working process.
Conclusion
Hopefully, these tips will come in handy and will help you to give a boost to your photography business. Don't miss out on the 10 lessons from Steve Jobs for your photography brand and how to wake the professional photographer in you. More useful articles are on the way! So stay tuned!