Successful photographers become idols for newbies. It's always interesting to see them in life, to take a glance behind the scenes, and hear their unique stories on how they got into photography. That's the aim of the interviews.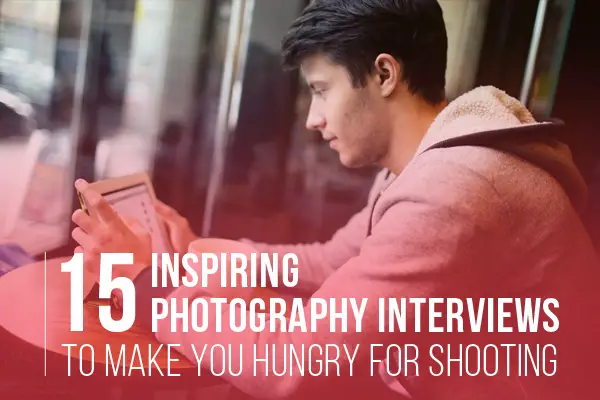 Each photography interview is a fascinating personal story of the photographer who shares his passion, tips, and advice on how to become successful in the field. How to photograph food? What difficulties can arise while taking street pictures? What are the trends of modern wedding photography? What is required to create a complete photo book, and how do you sell your services to the client? What do you look for in the newbie photographer, and how do you succeed in a difficult, but exciting world of photography? The answers to all these and many other questions you'll find below.
Check out these interviews of the industry leaders from all types of photography and their quotes to get you inspired. Listen and learn from the amazing artists!
Don McCullin
Don McCullin is an award-winning, 79-year-old war photojournalist who is also known for his urban shots. This three minute-long interview is one of the most compelling ones I have ever seen.
There was a sniper, he was trying to kill me, and he hit my camera which was by my face, and I still have that Nikon camera with a bullet hole in it. – Don McCullin
Steven Taylor
Steven Taylor is a Los Angeles-based, self-taught photographer who shoots film and digital. He captured a lot of musician and celebrities such as Common, Snoop Dogg, JoJo, Metronomy, Incubus, The Daylights, John Legend, and Bruno Mars.
I know bad things can happen and setbacks can reroute me, but I also know that I can be the best if that's what I set my mind to. – Steven Taylor
Jeremy Cowart
Jeremy Cowart is a celebrity and fashion photographer from Nashville, Tennessee. He made an smartphone app for photographers, OKDOTHIS, and runs a non-profit organization called Help Portrait. This interview is quite old, but still inspiring!
All of that is cool for a minute, but you quickly realize that all these things the world thinks is going to make you happy and fulfill you literally mean nothing. That leaves me asking, "What does matter? What does fulfill me?" It sounds cheesy, but the answer is things that give back, that help people, or help change someone's story. – Jeremy Cowart
Annie Leibovitz
Annie Leibovitz is a 64-year-old American portrait photographer. She has been a staff photographer for Rolling Stone Magazine for 10 years. Her portfolio is full of celebrities,  politicians, movie actors and musicians. In this 1999 interview of Annie Leibovitz with Charlie Rose, she was talking about her and Susan Sontag's book, Women, that showcased females of different ages and walks of life, including Leibovitz's own mother.
There's an idea that it's hard to be a woman artist. People assume that women have fewer opportunities, less power. But it's not any harder to be a woman artist than to be a male artist. We all take what we are given and use the parts of ourselves that feed the work. We make our way. Photographers, men and women, are particularly lucky. Photography lets you find yourself. It is a passport to people and places and to possibilities. – Annie Leibovitz
Scott Kelby
Scott Kelby is an American photographer, author, publisher, teacher, and businessman. He wrote more than 50 books that have been translated into various languages to help photographers and artists from all over the globe to learn and inspire. In the interview, Scott Kelby shares his philosophy on business, life and his legacy.
I've got to create training that sticks! If you get mired in it, you'll never go out trying. If you're not trying, you're not gonna be a success. So, you'll not gonna come back to us for training! – Scott Kelby
Brooke Shaden
Brooke Shaden is young and exceptional fine-art photographer who lives and works in Los Angeles, currently. In this video, she discussed how she started out and what it takes to succeed as a fine-art photographer, as well as how she got her work exhibited in fine-art galleries.
My motivation for picking up a camera was largely to be able to, in some way, satisfy an itch that I have had my whole life. I love creating in any way possible. I love telling stories by any means. A camera simply allowed me to do that in a way that was personally satisfying. – Brooke Shaden
Will Bremridge
Will Bremridge is a London-based editorial and commercial photographer who mostly shoots for advertising agencies. He has traveled around Europe, Australia and the US, photographing and giving lectures on marketing for freelancers. This interview will tell you way more about Will.
I'm fascinated by people. Everything from how people look to their personalities and individual character traits. – Will Bremridge
Chase Jarvis
Chase Jarvis is an American lifestyle and sports photographer. He has worked with such prominent clients as Nikon, Reebok, and Microsoft. In this interview, Chase talks about how he got started in his career, how he's stood out in the competitive world of photography, the inspiration behind his business, the technologies he's paying attention to right now and his best advice.
To be creative, you have to make stuff. If you sit around waiting for the perfect idea, you're never going to get anywhere. And it just so happens that some good ideas occasionally float to the top. – Chase Jarvis
Ansel Adams
Ansel Adams is probably one of the most prominent and well-known landscape and nature photographers in the whole history of photography. Most likely, you've seen his photos, whether you knew it's him or not. His black and white photographs of Yosemite Valley, CA, are popular in galleries, books, and on posters. Moreover, he has created The Zone System, which is a complicated system for creating proper exposure using black-and-white films.
No man has the right to dictate what other men should perceive, create or produce, but all should be encouraged to reveal themselves, their perceptions and emotions, and to build confidence in the creative spirit. ― Ansel Adams
No man has the right to dictate what other men should perceive, create or produce, but all should be encouraged to reveal themselves, their perceptions and emotions, and to build confidence in the creative spirit. ― Ansel Adams
Esther Havens
Esther Havens is a humanitarian photographer who has worked on social awareness campaigns with organizations like charity: water, TOMS, Warby Parker, and Malaria No More. She has traveled to over 50 countries in the last 10 years—and will keep going until everyone has access to education, clean drinking water, and a job to provide for their families.
My parents taught me to dream and go after those dreams, whatever they might be…I was encouraged to see and experience the things I was learning and because I grew up that way, it's how I approach the rest of my life as well. – Esther Havens
David duChemin
David duChemin is a humanitarian and world photographer, one of the founders of Craft&Vision, best-selling author, and international workshop leader. He is based in Vancouver, British Columbia.
It's time for creative people to stop seeing money as a bad thing, and see it as a door to possibilities instead. When you have an income that works, you can focus on other pursuits. – David duChemin
Joe McNally
Joe McNally is an award-winning American photographer. He has been shooting for National Geographic Society since 1987. In this exclusive, one-hour interview, you'll get to know everything about the life of this photography master, except from camera settings and lighting techniques.
Our pictures are our footprints. It's the best way to tell people we were here. – Joe McNally
Philippe Halsman
From the 1940s through the 1970s, Philippe Halsman's sparkling portraits of celebrities, intellectuals, and politicians appeared on the covers and pages of big-picture magazines, including Look, Esquire, the Saturday Evening Post, Paris Match, and especially Life. In 1958, a poll conducted by Popular Photography named Halsman one of the "World's Ten Greatest Photographers" along with Irving Penn, Richard Avedon, Ansel Adams, Henri Cartier-Bresson, Alfred Eisenstaedt, Ernst Haas, Yousuf Karsh, Gjon Mili, and Eugene Smith. Halsman has collaborated with Salvador Dalí in the late 1940s and created a reference to his work. His portraits of Marilyn Monroe are also one the most famous in the world.
What do I want to capture most in my photographs? Human emotion and the essence of human being. I am less interested in forcing my subjects into a visually interesting form or putting them against an unusual background. – Philippe Halsman
Jim Richardson
Jim Richardson is a documentary photographer from National Geographic magazine who has shot over 25 stories for it. Besides his photographic career, Jim is also a teacher, author, speaker, journalist, and an owner of a photo gallery.
If you want to be a better photographer, stand in front of more interesting stuff. – Jim Richardson
Nicole S. Young
Nicole S. Young is a photographer and author currently living in Salt Lake Valley, Utah. She specializes in food and lifestyle photography and licenses her images through iStockphoto and Getty Images. In this interview, Nicole is answering questions on how she begins her business, sells photos, and lighting techniques.
Then, one day while reading a photography magazine I came across an article on microstock. I was immediately intrigued by the whole idea of it … people would create photos, upload them to the site and then maybe make a few bucks from it. So, I signed up and started uploading images. […] Who knew that one article in a magazine could change my life forever? – Nicole S. Young
Join the Conversation
Which video interview inspired you more and why? Share your thoughts and ideas in the comment field below. Who knows, maybe some of these videos will change someone's life forever. Don't miss out on our previous collection of photography documentaries. And stay tuned! More cool articles are on the way!