The idea of this compilation  post was born while I was writing the article with tips for getting more word-of-mouth for photography brand. There, I told you that a promo video is one of the best ways to tell clients your story and to show yourself off while shooting and during the creative process. Moreover, a well-made promo clip can create a huge buzz for your brand.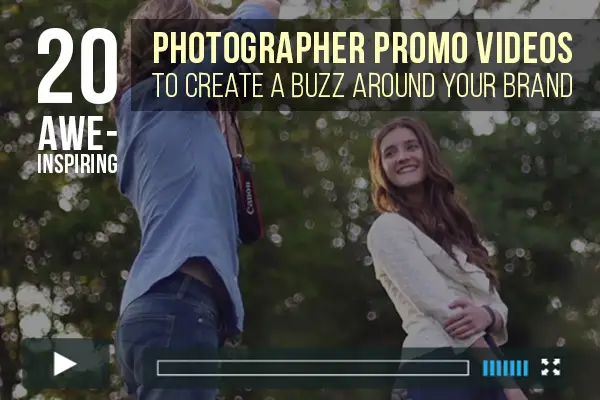 Let's talk a bit about how to get started. The very first thing you should do before making a video is creating a good story. You can tell your potential clients about your life, family, house, previous jobs, how you became a photographer, your other hobbies, and other things that matter to you. Do it in your own style by mixing it with some personal photos to seem more open.
You can use various apps and online services to produce the promo video, but the best way to do it right from the very first time is to hire a specialist in this field. I mean a moviemaker. He'd know for sure how to show your story in a unique way. And it will be a lot of fun creating this video, as you'll see.
After you decided to hire a moviemaker (or do it yourself), set up a budget, as any business investment like a promo should have a fixed amount of money to spend.
And don't forget that the major goals of the promo video are the promotion of your business and telling your story to make the viewer feel something about you. Cause emotions to get emotions back. If you're a wedding photographer, show your potential clients that you do understand how important this date is for them.
If you're a fashion or portrait photographer, you may include some backstage videos to show that you're an open person and people enjoy working with you. Keeping in mind my quick tips, enjoy these 20 gorgeous photographer promo videos from other photographers I handpicked from all over the web for your inspiration.
Carmen and Ingo Photography
Sarah Vivienne Photography
Photos By Jessica
D-Light Photo
Experience Pana Photography
Storry Photography Promo
We Are Trendi Creative
Lionel Daviet
Sabrina Soave Photographie
Fernanda Petelinkar
Deborah Zoe
Kristen W
Julian Moniz
Elisa B. Photography
Kate Robinson Photography
Michael Levin
Jensonsart Photographie
Spunky Art Photography
Heartstory Photography
Char Photography
Join the Discussion
As you see, these promo videos don't look like advertising, but they seem to be a personal story of each photographer willing to share his or her passion for the job. So share your love and passion with other people! And also, share your ideas in the comment field below. Don't pass by my previous compilation of inspiring photography interviews from YouTube, and stay tuned! More posts are on the way!