For more than a year, Photoshop was the bane of my photographic world. I wanted to learn it, but each time I tried, I came away feeling frazzled, inept, and not too bright. I just wanted to master the basics. Perhaps I could learn to remove small distractions from an image or brighten a dark spot. For example, I took a picture of a couple with their dog, and an upturned chair in the background made it appear as if the dog had horns.
Picture before Photoshop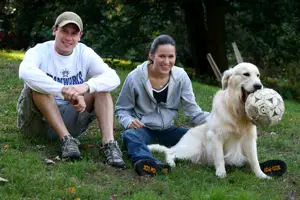 Many of my friends could use this program, so I began with optimism. First, I took a class. The instructor cheerfully zipped though his list of topics, while I watched, listened, took notes, and tried to follow the steps on my laptop. That didn't work, though, because while I took notes, I missed details, and while I was trying to find a tool or command, he was often moving on the next topic. I finished the class but recognized that I needed to find another way to learn the program.