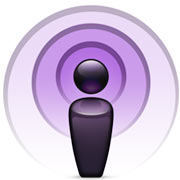 Here's a roundup of some good photography podcasts I've noticed recently. These podcasts cover the gamut from photography lessons, to gear reviews, interviews, Photoshop tutorials, discussions of fine art, and a lot more.
What's a podcast, you ask? In a nutshell, they're internet radio programs that you can subscribe to for free and listen to on your computer or mp3 player. Click here for more information about podcasts. You can subscribe to these using iTunes or other podcatching applications (I use Miro) or even just your normal RSS feed reader.
I'm a regular listener of Tips from the Top Floor and The Digital Photography Show. They're both great shows and are fun to listen to.
Leave a comment if you know of other photography related podcasts that you think are worth listening to.
Tips from the Top Floor
"This show brings you non-techy tips that you can put to use immediately. It covers everything from image composition to post processing. No matter if you use a digital point-and-shoot or an expensive digital SLR. Tips for the beginner as well as the professional photographer."
www.tipsfromthetopfloor.com
The Digital Photography Show
"The latest news on digital cameras, tips and tricks to improve your image-making, and interviews with famous photographers, authors, and bloggers in the field of digital photography."
digiphoto.thepodcastnetwork.com
The Digital Story
"Weekly digital photography podcasts, photo tips, reader submitted pictures, equipment reviews and more."
www.thedigitalstory.com/podcast
PopPhoto Magazine
A variety of podcasts complementing the print magazine.
www.popphoto.com/popularphotographypodcasts
American Photo Magazine
A variety of podcasts complementing the print magazine.
www.popphoto.com/americanphotopodcasts
Photography.ca
"Discusses fine art, general and digital photography as well as provide tips and techniques to improve your photography."
www.photography.ca/blog
Nikonians
Nikon related news and the Image Doctors.
podcasts.nikonians.org
2 Minute Photoshop Tricks
And lots of them.
tricks.onigo.net
Photo Stories from washingtonpost.com
"Our newest podcast features some of the best photo and audio slideshows on our site."
www.washingtonpost.com/wp-srv/mmedia/podcastfront.htm
Martin Bailey Photography
Listen to how Tokyo based photographer Martin Bailey makes photos with explanations of the techniques used.
www.martinbaileyphotography.com/podcasts.php
LensWork
Two podcasts: "On Photography and the Creative Process" and "LensWork Vision of the Heart: Comments on images and a discussion of content, context, and meaning in photographs."
www.lenswork.com/lwpod.htm
Studiolighting.net
Tips, reviews, and interviews related to studio lighting.
www.studiolighting.net
The Radiant Vista
Podcasts and video tutorials on a variety of topics.
www.radiantvista.com
Photo 101
A series of digital imaging and editing lessons.
www.photo101podcast.com
PhotoWalkthrough.com
"Video tutorials showing the post processing of a photograph using Adobe Photoshop and other programs."
www.photowalkthrough.com
Jeff Curto's Camera Position
"A podcast about the creative side of photography."
www.cameraposition.com
History of Photography
Podcast lecture series on the history of photography from the College of DuPage
www.cod.edu/photo/curto/1105/handouts.htm
The Candid Frame
"A photography podcast where you meet some of the world's best established and emerging photographers in the world of photojournalism, fashion, landscape, documentary, sports, wildlife, travel and commercial photography."
thecandidframe.com
Photoshop for Digital Photographers
Weekly podcast delivers video Photoshop tutorials for photographers.
thedigitalphotographyconnection.com/Podcasts.html