Who doesn't love Amazon? Come on, where else can you buy live ladybugs, a ready-made shipping container home or tiny house kit, and a bacon-scented mustache all in one place?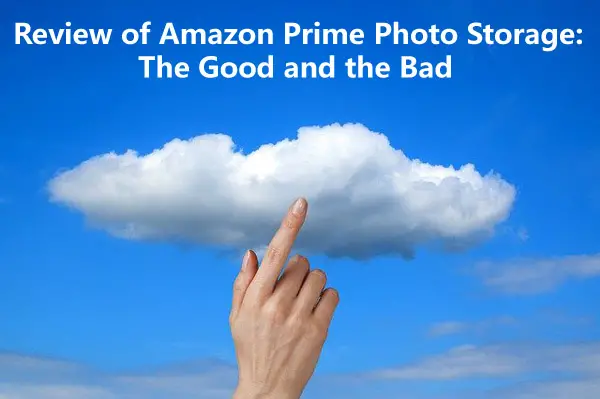 Amazon's Prime membership is pretty sweet too. It allows you to take advantage of free delivery, as fast as same-day delivery for some products. You can also take advantage of tons of discounts and exclusive deals. Plus, you can try on shoes, clothes, and accessories and only pay for what you keep.
On top of all that, Amazon is offering Photo Storage as well. If you haven't yet taken the plunge with Amazon Prime, photo storage might just be what tips the scales for you.
But the question is…is it worth it?
Let's jump into the ins and outs of Amazon Prime Photo Storage and talk about the good and the bad. Once you're done with this in-depth review, you'll be chomping at the bit to take advantage of all that Amazon Prime Photo Storage has to offer — or you won't, depending on your storage needs.
What is Amazon Photos?
Amazon Photos is a cloud-based photo storage option offered as part of the Amazon Prime membership package.
Overall, Amazon Prime is a pretty good deal. Along with free two-day shipping and same-day shipping on some products, Amazon offers a host of benefits with its prime membership. These include:
Prime Video: Movie and TV show streaming service
Music Prime: Music streaming service
Prime Gaming: Free games and exclusive promotions when pre-ordering select new games
Amazon Kids+: Discount on a subscription with books and movies for kids and educational apps and games
On top of all this, you also get access to unlimited cloud photo storage in Amazon Photos.
Click here for a FREE 30 day trial of Amazon Prime with all these features.
The Amazon Photos app on Google Play at the time of this writing had 210,000 reviews with a 4.7-star overall rating. Pretty decent!
So what's amazing about Amazon Photos and what's not? Let's find out.
Is Amazon Photos storage really unlimited?
We know what you're thinking here, is Amazon Photos storage really unlimited? That's what you have seen advertised, but it seems like there is always a catch or some hoop you have to jump through to take advantage of the promotion.
To save you from digging through the fine print to find the answer, we've done it for you. And it appears to be true.
On Amazon's website, in the Help section, there is a small area detailing what is Amazon Photos. It states that all Amazon customers can enjoy up to 5 MB of free photo storage. Amazon Prime customers, however, get unlimited full-resolution photo storage. Video storage is limited to 5 MB so if you need to store a lot of videos that might be the catch for you.
Amazon also clearly states that this unlimited service is not for professional photography businesses so don't go thinking this is a great (free) place to store your massive library of client photos.
If you need more video storage you can hop on one of their monthly plans. At the time of this writing, they were offered at $1.99/m for 100GB, which equals about 14 hours of 1080p HD video, or $6.99/m for 1T, which stores about 140 hours of video. Regular Amazon customers can also buy these plans in lieu of a full Amazon Prime membership.
How does Amazon Prime photo storage work?
The interface is pretty simple to use. When you enter the photo storage page, an "add" button appears at the top of the page. Click on that and choose the photos you want to upload.
Once you have them uploaded you can organize them into albums and change the display size and layout, just as you would expect with a photo storage app.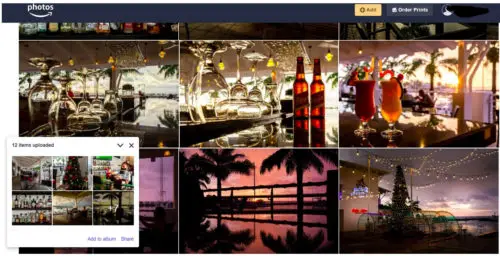 You can also create a Family Vault, which is kind of like an online, searchable family photo album. Invite up to 5 other people to join your vault and you can connect everyone's photo accounts together. Now everyone can upload photos and have them available in the same place for your family members without having to share and go to extra steps.
You have the option of adding photos to the Family Vault as you upload them, so don't worry about every photo you ever upload automatically appearing in your mom's account. Keep your own private library as well as a Family Vault section that everyone can access.
Can anyone see your Amazon photos?
Cloud storage can be intimidating for some. After all, you're handing over frozen moments of your life to some faceless company. Who's looking at your photos? What can they do with them? What kind of personal information can they get from them?
For that, we looked at the policies of each service. Some can be borderline intrusive. For example, Google Photos scans all the photos that you upload to their service, analyzes them, and then begins to tweak the ads you see to items that may be more likely to interest you based on the extracted data. Kinda cool and kinda creepy all at the same time.
Amazon is a little less sketchy. While the service still scans your photos, this data is used to make your albums searchable and is not given to third parties or used for anything else. If you don't want Amazon to scan your photos, you can opt out. However, you won't be able to use the search function in your albums.
What happens to your photos if you cancel Amazon Prime?
This is an excellent question. Will you be stuck frantically trying to download thousands of photos before a deadline if you choose to cancel your Amazon Prime subscription?
No, thankfully, Amazon takes pity on you and doesn't just wipe out all your photos. You'll still get the basic 5 MB that is offered to every Amazon customer. If your storage amount exceeds 5 MB, your photos will still be there and you can download them, but you can no longer upload, sync, or share any files.
Is Google Photos better than Amazon Photos?
As with most things, it depends on what features and services are most important to you. Both are formidable photo storage services and each has its pluses and minuses.
Accessibility and Cost
A couple of big differences lie in accessibility and cost. Amazon Photos is limited to only a few countries: the UK, US, Canada, Japan, and a handful of countries in Europe. It is also a paid service, with the price varying slightly depending on location. However, many people may already have an Amazon Prime account, making the cost irrelevant because they would be paying for the subscription anyway.
Google Photos is available everywhere and is free to use.
Storage Capacity
However, the storage aspect is where Amazon Photos really shines. Google Photos allows you to upload an unlimited number of photos as long as each one is less than 16 megapixels. If the photo is larger than this, it will either count against your limit or be reduced in size.
Amazon Photos, however, allows you to upload unlimited full-resolution files regardless of size. They also allow you to upload RAW files. This is a big one for photographers.
Though Amazon Photos cannot be used for a professional photography business, millions of amateur photographers (or professionals working on personal projects) would love unlimited storage for their RAW files. If you've ever felt the frustration of not having full creative control over an old photo because you ran out of space and had to delete the RAW, you totally understand.
Google Photos, on the other hand, will automatically convert your RAW files to JPEGs if they are larger than the 16-megapixel limit.
Video Capacity
If you're a videographer, you may appreciate Google's unlimited video storage at 1080p. However, like the photos, if your video files are larger, they will be scaled down or count against your limit.
Prints & Photo Gifts
Both services allow you to purchase prints, but Amazon has more options to choose from. Google Photos only has two size options for purchasing photo books. Amazon has more robust offerings with books, mugs, mousepads, calendars, and other products available. They can be ordered directly from within the app, making the whole thing quite easy.
Photo Organization and Sharing
Both services also have powerful smart organization features and allow you to share photos, although Google doesn't have a Family Vault equivalent.
All in all, as we said, one service isn't necessarily better than the other. It just depends on the features that are most important to you.
Can I delete photos after uploading them to Amazon Photos?
After you've uploaded images to Amazon Photos, you can rest assured they'll be safe. If you need to delete photos on your device to free up space, go right ahead. All your uploaded images will be waiting safely in your Amazon Photos account.
Keep in mind that you can set your photos to automatically upload, providing an immediate and permanent backup if you lose or break your device. With this, you can delete photos on your device anytime, knowing they'll be waiting in the cloud. You can also turn off this feature if you prefer and upload your photos manually.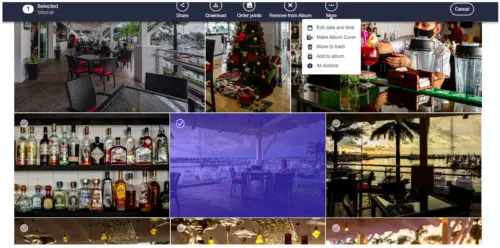 If you need to delete a photo from Amazon Photos, you can do that too. The process is quite user-friendly. Simply select the photo(s) you wish to delete, click on "More" at the top of the screen, then click "Move to Trash". You can also just "Remove from Album" if that is your goal.
Does Amazon Photos reduce quality?
Amazon Photos stores all images at full resolution. All your memories, family snapshots, creative projects, and whatever else you photograph are stored full size. This is a big advantage over other services like Google Photos who allow unlimited photo storage but limit the size of individual files.
How do I set up photo storage on Amazon Prime?
You don't have to do anything to set up photo storage on Amazon Prime. If you have an Amazon account, you can access Amazon Photos — even if you don't have Prime, you'll just be limited to 5 GB worth of storage.
To sync your device with Amazon Photos and have it automatically upload photos, you'll need to download the Amazon Photos app to your device. You can also use the app to organize and view images and videos.
Click here for a free 30 day trial of Amazon Prime.
What is the difference between Amazon Drive and Amazon Photos?
If you've looked into cloud storage services with Amazon, you may have run into two different services — Amazon Drive and Amazon photos. They both offer cloud storage, but the features they offer are a bit different.
The main difference is that Amazon Photos is a photo service, geared towards storing and displaying image files. The Amazon Photos app is designed to be a photo gallery where you can show off and enjoy your images and videos.
Amazon Drive, however, is designed for managing folders and files and previewing documents in the most common file types. It should be noted that you can still upload JPEGs and other image files to Amazon Drive.
How do I organize my photos on Amazon?
Amazon Photos makes organizing your photos a cinch. When you upload photos to the app, they are automatically sorted by the date they were taken.
From there, each photo is scanned and given a tag according to what is in the photo. For example, "beach", "dog", "smile", "water", and so on. The service also uses facial recognition to allow you to search for a particular person and see all their photos in one place.
Then, you can separate your photos into albums however you wish.
Here is some great video information on how to use the features in Amazon Photos to organize your photos:
Of course, there really is no 100% secure way to store your images. Hard drives, flash drives, and other data storage devices can get lost, broken, or become corrupted. Cloud storage ensures that even if something happens to your physical equipment, you'll still be able to access your images on a new device.
Additionally, creating hard copies of all your images is time-consuming and expensive. And while quality prints can last for years, humidity, sunlight, and other environmental conditions can fade or yellow the images until they are lost completely. Proper photo storage techniques are essential to minimize damage.
Cloud-based solutions like Amazon Photos are an excellent way to securely store your images and ensure that you have them for a lifetime. Cloud servers, while not immune, are heavily secured to prevent data loss, hacker access, and any other cyber mishaps.
The main thing you have to be concerned about is the company's policy with your personal data. For example, Google Photos gives themselves the right to scan your photos for marketing data. In other words, if they see that a dog appears in your photos, the algorithm will assume that your family has a dog and show you advertisements for dog food and other pet supplies.
Some people find this helpful; others find it disconcerting so it depends on your comfort level.
Amazon does scan your photos for organization purposes but it doesn't use this data for marketing. You can also turn off the feature if you prefer. Those that find it disconcerting may prefer to use Amazon for this reason.
How good is Amazon photo storage?
This is what it all boils down to, isn't it? How good is the Amazon Photos service? Is it something you want to entrust your memories with?
All-in-all, Amazon Photos is a great option for photographers, as long as you shoot mainly still images. If you shoot lots of videos, you'll find the 5 GB video limit frustrating. However, at only $1.99/m,  100 GB of video storage is inexpensive. Of course, if you shoot a lot of videos, you'll find that this quickly fills up. Overall, Amazon Photos is not for serious videographers. (That's probably why it's not called Amazon Photos and Video).
The app can be slow when sorting and organizing photos, which can be frustrating. However, it is a very inexpensive way to store an unlimited number of photos, which is incredibly useful and will make it worth it for many photographers. You could even call it "free" if you already have an Amazon Prime subscription to enjoy the other features.
Keeping Your Precious Memories Safe
Ultimately, photo storage is about keeping your photos in a safe place where you can be sure they won't get lost. Cloud storage is a good option in this day and age and Amazon Photos is a solid service and will work well for most photographers.
Click here for a free 30 day trial of Amazon Prime service.
Interested in learning more about photo storage options? Be sure to check out our portable photo storage review.