Everyone loves well-made, interesting photography documentaries that share secrets and allow us to take a glance behind the scenes of famous, influential photographers of the past. Similar videos possess magic to impress and inspire a person to work toward his own achievements. Black-and-white film gives documentaries a special charm and makes us feel the spirit of days gone by.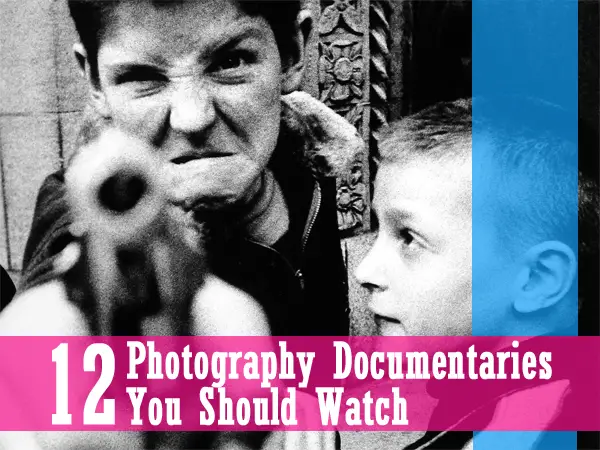 A great writer, George Orwell, said "He who controls the past controls the future." You should know your history well in order to build a good future. It's always interesting to know the pioneers of photography's attitudes to art, their work and career. I'm dying to share with you 12 photography documentaries that I've been using for inspiration for a long time. Today, you'll get to know the fate of Diane Arbus, take a walk through New York's streets with Joel Meyerowitz, find out how war photographer James Nachtwey spent his weekdays and much more. Even if you're not a photographer, these documentaries may turn you into one. 😉
This movie shows the development of Annie Leibovitz's career as a celebrity photographer. Produced in 1993 for London Weekend Television, this 51-minute-long documentary contains nudity and explicit language and shows the photographer's drug addiction. However, through this talented photographer's vision you get a nihilistic-though-interesting view of the world of celebrities, musicians and actors in the 1970-1980's.
The great midcentury photographer Diane Arbus committed suicide in the Westbeth Artist's Community in New York City in 1971. She was just 48 years old. One year later, there was a huge show of her photography at Venice Biennale. Public reaction confirmed that Diane had achieved greatness in her work. Around the same time, an interesting documentary about her life and work was produced. Here is an intriguing quote from this documentary:
"Freaks was a thing I photographed a lot. … They made me feel a mixture of shame and awe. There's a quality of legend about freaks. … If you've ever spoken to someone with two heads, you know they know something you don't. Most people go through life dreading they'll have a traumatic experience. Freaks were born with their trauma. They've already passed their test in life. They're aristocrats."
Ansel Easton Adams is an American landscape photographer, best known for his black-and-white photographs of the American West. This short film provides a quick look into his home, interests, attitude toward art and photographic techniques. It's so exciting to see Ansel bringing an image to life in the darkroom, dodging and burning under the enlarger and otherwise creating an image manually with light and paper, which is what we do so easily today with editing software.
Albert Kahn is one of the most ambitious photographers of the past. In 1908, he launched one of the biggest projects in the history of photography. Albert traveled to Japan and took pictures that later inspired him to create an "archive of the planet." It's a project that contains more than 72,000 photographs from different countries around the globe. In this documentary, friends and historians talk about his attitude to Japan and his role in the country's history.
This documentary was released in the American Masters series dedicated to outstanding American artists and their work. Richard Avedon's ancestors emigrated from Russia in the late 19th century. He became a well-known photographer for his fashion photography and portraits of famous people though social and political issues were featured in his work as well. He knew how to create dynamic images both on the streets and in the studio. Such an approach was revolutionary in the field of fashion photography. Richard died in 2004, but he left tons of legendary photographs taken for Vogue, Harper's Bazaar and The New Yorker.
Henri Cartier-Bresson is one of the most significant persons in the field of photography. This video is an overview of Henri Cartier-Bresson's life, work and ideas. As he said in the documentary: "To take photographs means to recognize – simultaneously and within a fraction of a second – both the fact itself and the rigorous organization of visually perceived forms that give it meaning. It is putting one's head, one's eye and one's heart on the same axis."
This black-and-white documentary is a reflection of Edward Steichen's life; it's an interview with him at the age of 85. He was an expert in any field of photography that he applied himself to. The video is not for those who are looking for a review of his works, but it gives a good insight into his creative mind and thoughts.
This one-hour-long documentary follows Joel Meyerowitz on the street of New York. The film gives an insight in his approach to the street and working methods, such as using Leica 35mm and a big-plate camera.
Bruce Davidson started taking pictures when he was around 10 years old. During his life, he has covered lots of political issues. For example, freedom riders and local issues – the dilapidated subway of New York. He personally took, developed and printed all his photographs and lived his life like a monk. This film was made in 1986 and got critical acclaim as a unique moment in New York's history that also featured an unusual use of colors and shadows set against flash-lit skin. Taking pictures in the subway with lots of people and high levels of crime (someone even stole one of Bruce's cameras while shooting) was a risky idea, but it was worth it.
William Klein is one of the greatest Americans in Paris with a photographic career that counts more than 60 years of experience. He started his career with paintings and experimental short films. Klein is famous for his street photography. He said that he often encouraged his chance models to pose for him. His famed picture, where a kid is pointing a gun directly to the camera, was a set-up. You'll get to know many more facts from his life while watching this awesome documentary. It's worth every minute you spend on it.
This is a Christian Frey film about war photographer James Nachtwey. It's a difficult, sad and powerful story about how a professional photographer works with the consequences of human hate and its participants. His pictures feature throats cut, disabled  people, burnt houses and scarred faces. Behind each of the characters is a story of a military conflict, a people's tragedy or a humanitarian disaster. The operator's camera, located right behind Nachtwey's viewfinder, captures how he selects and takes his shots. This camera was following the photographer from war to war. Ethics, professionalism, courage and the true price of the shot taken for war – all these controversial issues are shown in the film much bolder and sharper than in different journalistic discussions.
This documentary is a winner of many festivals. The film tells the story of the Chilean photographers whose coverage and documentary series influenced public opinion and led to the fall of the authoritarian regime of Pinochet in the 70s. Pictures from protest marches, demonstrations, conventional street photographers and reporters of local newspapers have turned into a whole movement for freedom and resistance to militarism. Through interviews with participants of this movement, archival video and a selection of photographs, the authors are trying to figure out how much the man with the camera may affect the course of history.
Closing
Which documentary is your favorite and why? Share your thoughts and ideas in the comment field below. Stay tuned! More interesting posts are on the way!