Pursuing a career doing something you really love could be a terrifying thing, so people often look at the ones who already "made it" in their field as a source of inspiration. Having a chance to hear famous photographers talk about how exactly they made it and what it costs to be a successful photographer inspires us to work harder and learn more.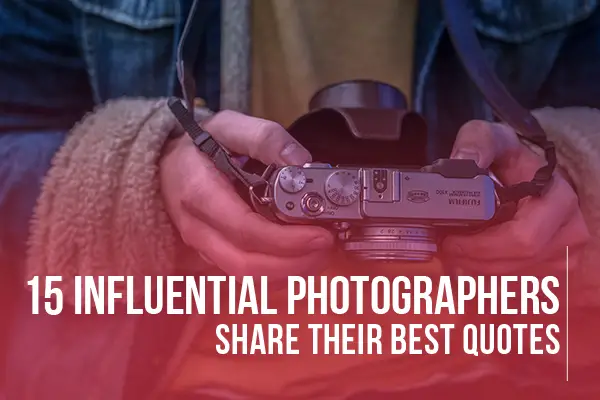 All of these photographers have had a long way to success, including a painful change from being an amateur to a full-time professional photographer. Think of your favorite celebrity or a sports star. All of them have their own iconic person as an example to follow. It's the one that made them get into this field, or the one that keeps them striving for perfection. All of us like to quote classic photographers, and their words are priceless, but modern photographers are closer to today's realities and can give us truly handy and useful tips.
So, today I've compiled a list of modern iconiс photographers along with their most helpful, inspiring photography quotes handpicked from their interviews from all around the web.
Jeremy is a photographer from Nashville, Tennessee. He started out as a painter and even went on to studying graphic design. That time, photography was just a hobby to create a canvas for his design work, but he realized that photography is his true passion.
In 2005, Jeremy switched over to photography full-time. These days, he's mostly known for his celebrities and musician shots, he also spends a lot of time on entrepreneurial ideas and humanitarian projects. He has founded a global photography movement, Help Portrait, and launched his first inspiring iPhone app OKDOTHIS. As per now, Jeremy lives in Nashville, Tennessee with his wife and two children.
"People think I'm a pro and that I've got it all figured out. But what makes me a pro is that I don't feel like I have anything figured out and I'm always still learning and pushing myself. New software, new technology, more experimenting, more tricks. I never stay still, in terms of learning. So there, ya go. Go learn something today." – Jeremy Cowart
"If I lost every image I've ever created, I'd be fine with it. It would just give me an excuse to start over and re-invent myself. Sounds fun actually." – Jeremy Cowart
Ken Kaminesky is a freelance lifestyle and travel photographer based in Montreal, Canada. You may have seen his work on a National Geographic cover or on various blogs as a featured image.
Ken is specializing in commercial lifestyle pictures for stock photography images, such as Getty Images, Alamy, Jupiterimages and Corbis. He has made quite the mark in the world of travel photography. He has over 15 years of photography experience and really enjoys his job.
"Everything that is done in the taking and developing of an image is processing or manipulating of some kind. Exposure, camera settings, lens choice, development of film, printing and computer work are all forms of processing. So I get a kick out of some people who call themselves "purists" and say that they don't use photoshop because it's cheating. To me they are just too lazy to learn how to use all the wonderful tools that we now have at our disposal. This is a golden age of photography and I'm loving it." – Ken Kaminesky
"Each person and every place has its own story. But sometimes the best stories are the ones you star in." – Ken Kaminesky
Scott Kelby is a professional photographer, teacher and marketing genius from Florida.
He is also an editor and publisher of Photoshop User magazine, instructor for the Adobe Photoshop Seminar Tour, CEO of Kelby Media Group, President of the National Association of Photoshop Professionals and award-winning author of more than 50 books including The Photoshop Elements 12 Book for Digital Photographers, The Adobe Photoshop Lightroom Book for Digital Photographers and The Digital Photography Book.
"Once digital came, I could see my images instantly right there on the camera. I think that makes you a better photographer because you can see right there if your subject's eyes are closed or if you exposed it wrong and if it's too bright or dark. You can fix it right here. With film, you wouldn't know until you got the prints back if something was messed up, and then there was nothing you could do. That was a huge advantage." – Scott Kelby
"As far as digital technology has come, there's still one thing that digital cameras won't do: give you perfect color every time. In fact, if they gave us perfect color 50% of the time, that would be incredible, but unfortunately every digital camera (and every scanner that captures traditional photos) sneaks in some kind of color cast in your image. Generally, it's a red cast, but depending on the camera, it could be blue. Either way, you can be pretty sure–there's a cast. – Scott Kelby
Jasmine Star is an international wedding photographer based in Orange County, California. She has garnered awards for her work and was voted Top 10 Wedding Photographer by American Photo Magazine (and Top 10 Must-Follow Wedding Bloggers by Photodoto 😉 ).
She developed her brand by leveraging social media and empowering readers to be the voice of her marketing by creating online evangelists. Jasmine's work has been featured in national print publications, and she's the proud founder and Editor-In-Chief of EXPOSED Magazine.
"Your website is your handshake and your blog is your voice." – Jasmine Star
"If you want to learn something–anything–your determination to see past things you don't have will set you apart. Don't let the shortage of physical accoutrements or fancy diplomas get in the way of your dream. If you want something bad enough, you won't be above dumpster diving for it." – Jasmine Star
"…(know) it's about the journey, not the destination…each battle, not the war." – Jasmine Star
Thomas Hawk is a San Francisco-based photographer and popular photography blogger. He carries his camera everywhere he goes, not losing the opportunity to capture something important.
He produced millions of processed, finished photos. He does it in in spite of a full-time job and raising four kids.
"I think of myself as a photography factory […] I'm trying to publish a library of 1,000,000 hand crafted, lovingly created, individually finished and processed photographs before I die. Mostly I'm focusing on America. " – Thomas Hawk
"I decided to publish 1,000,000 photographs mostly as discipline. I wanted a lofty goal that would require me to work on my photography almost every single day for the rest of my life. I want a goal which would ensure that photography would become a dominant part of my life. By having this structured goal I can break it down into sub goals and I'm constantly reminded that I need to be working more and harder on my art." – Thomas Hawk
Richard Bernabe is an international wildlife, landscape and travel photographer and author from the US. His great passion for adventures drives him to capture moods and atmospheres of the world's places from the Arctic to Africa and an endless number of destinations in between.
There are The National Geographic Society, Audobon, The Sierra Club, National Parks, Outdoor Photographer, Popular Photography and many others in his clients' list . Also, Richard is a teacher and public speaker who helps to educate people around the world on matters of photography, travelling and nature.
"A decade ago, the business environment was different than it is now, but not necessarily easier nor harder. The marketplace is always changing and with those changes come opportunities. It's a pretty awesome time to be a photographer, in my opinion. Plus, I'm doing what I love so what's to regret?" – Richard Bernabe
"But there are some things that I cannot teach. Curiosity is one of those things that I cannot give or teach another human being. I can plant the seeds of curiosity in another person, however, and see if they germinate or just rot away. I can gently push someone in a particular direction to see if they continue walking on their own or if they stop and look back helplessly for yet more instructions. Those who will ultimately be successful take guidance and keep moving on their own as passion and curiosity take over." – Richard Bernabe
Reka is a New York-based fashion and nude photographer and writer. She started painting at quite an early age. This led her to New York to study painting at SVA at the age of 17.
Her works were exhibited in numerous galleries in the US and Europe. Reka's book titled "Femme Fatale: Female Erotic Photography" is translated to 6 languages and sold Worldwide.
"I'd recommend budding photographers to put up a basic site as soon as they have a few images they are proud of. Basically, as early as possible." – Reka Nyari
"I never studied photography formally. I have a degree in Fine Arts from SVA (School of Visual Arts) where I only took a few photography classes. I then spent years learning on my own through practice, online tutorials, and workshops. In order to continue self-education you need to have not just drive, but discipline too. That is why it's up to one's personality whether they can learn on their own." – Reka Nyari
Chase Jarvis is an American professional photographer, artist, director and entrepreneur. Jarvis has won a lot of various awards. As a filmmaker of short films, he worked with major brands such as Apple, Starbucks and Nike and with some successful artists including Pearl Jam.
Jarvis has written three books, including the most recent: Seattle 100: Portrait of a City, The Best Camera Is The One That's With You and an iPhone application called "Best Camera," which was the first one to allow users to share images through social networks using the app.
"Allow yourself the freedom to step away from perfection because it is only then that you can find success." — Chase Jarvis
"Overcoming fear and conceiving this 'art of more' should be a fundamental practice in what it is that you do and make." — Chase Jarvis
Joe McNally is an American commercial photographer with over 30 years of experience and assignments in over 50 countries. He has shot cover stories for TIME, Newsweek, Fortune, New York, Entertainment Weekly, The New York Times Sunday Magazine and Men's Journal.
Currently, he's an ongoing, 23-year contributor to National Geographic, shooting numerous cover stories for those publications. For the last two years, Joe wrote two books: The Moment It Clicks and The Hot Shoe Diaries, both of which were included into Amazon's top ten list of best sellers.
"No matter how much crap you gotta plow through to stay alive as a photographer, no matter how many bad assignments, bad days, bad clients, snotty subjects, obnoxious handlers, wigged-out art directors, technical disasters, failures of the mind, body, and will, all the shouldas, couldas, and wouldas that befuddle our brains and creep into our dreams, always remember to make room to shoot what you love. It's the only way to keep your heart beating as a photographer." – Joe McNally
"Don't pack up your camera until you've left the location." – Joe McNally
Scott Bourne is a world-renowned wildlife photographer with numerous internationally published photos under his belt. His photographic career started in the early 1970s as a stringer covering motorsports for Associated Press in Indianapolis. Since then, he has shot commercial, portrait, wedding, magazine and fine art assignments.
Scott teaches and lectures about photography and has written a lot of books, including the latest, Going Pro. WeFollow described him as "the most influential photographer on Twitter." Moreover, Scott is the founder and publisher of photography blog PhotoFocus.
"Photography is a sacred and important thing. The pictures we make may be the last we take of any given subject. Tomorrow isn't promised to any of us. We all owe a death. Both the photographer and the photographer's subject will pass on. It just makes sense that we should do our very best to make every photo count. There are NO insignificant photographs – period. None. They all matter. They're all important one way or another." – Scott Bourne
"Where light and shadow fall on your subject – that is the essence of expression and art through photography." – Scott Bourne
Lara Jade is an editorial and fashion photographer who always goes from US to Europe for assignments. She grew up in the UK, where she got into photography at an early age. Later, she moved to London to make fashion photography a full-time job, and, after that in 2011, she moved to New York.
Despite her business, Lara travels the world all the time to share her experience and vision of photography with an international audience. Lara is an author of the course for young fashion photographers: Fashion Photography 101.
"What I have learnt and what I teach now is all about experimentation and learning to pick yourself up and try again when you fall down" – Lara Jade
"Try to explore different directions before you decide on a style because as soon as you start showing your work to art directors, agents, and clients, they're going to remember you for what you sent to them…" – Lara Jade
Jimmy Chin is a professional mountaineer, skier, climber, filmmaker and photographer. He was born and raised in Mankato, Minnesota. He is the wartime photojournalist who puts his life on the line to document real stories and images behind the world's most dangerous conflicts.
Jimmy has organized and led numerous climbing and exploratory expeditions to China, Nepal, Pakistan, Tanzania, Mali, Chad, South Africa, Borneo, Tibet, India and Argentina. Jimmy has been featured in numerous publications, including National Geographic, Outside and Men's Journal, and has been voted as one of the world's most eligible bachelors by People magazine.
"Creativity needs to extend beyond the lens. Find creative ways to showcase your work and get it seen. Straight up tenacity, hard work and determination will always be part of the equation, so get to it." – Jimmy Chin
"I've always been a proponent of "if you're going to do something, do it right." I applied that across all aspects of my shooting — planning, setting up shoots, getting up early, working with athletes and models, working with clients etc. Just being a pro about it." – Jimmy Chin
Trey Ratcliff is famous mostly for his blog StuckInCustoms.com, which has become the #1 travel blog around the internet. He's also a pioneer in HDR photography, and you may find tons of his guides on HDR photography on the web.
Besides photography, Trey is also an artist, writer and adventurer. His photos and stories capture the beauty of exotic travel destinations and the humor of bizarre situations he often finds himself in. Moreover, Trey wrote a book on HDR: A World in HDR, showing his vision on photography and teaching newbies to shoot.
"What are the best ways to gather your audience on social media? TREY: The best way seems to be to have the audience talk about you more than you talk about you. That sounds strange, but perhaps you know what I mean. If you can create something "greater" than yourself, something that a lot of people believe in, then this "thing" can be bigger than both you and your audience. In my case, it's an intense love of digital photography and innovative post-processing of photos to make them beautiful. This is heresy to traditional photographers who think that hard-core post-processing is impure! Well, forget them! Join with me and let's make some beautiful pictures by bending the light to our will!" – Trey Ratcliff
"To me, it is better to "guess" at how something works, experiment, fail, guess again, fail, and keep repeating that process over and over again until you either figure it out or you discover a multiplicity of other cool tricks along the way." – Trey Ratcliff
Helena Price is a professional photographer and storyteller from San Francisco, CA. After trying her luck as a tech specialist, Helena decided to leave her tech career and pursue her dream of being a full-time photographer. And it worked out!
Lately, she has done work for Dropbox, Nike, Path, Designer Fund, Photojojo, Rdio, Samsung, Square, Uber, Yammer and many others. The most interesting fact about Helena is that she was not a professional photographer in the beginning of 2013, but now she's shooting for some of the biggest brands in the world.
"Things fell into place much sooner than expected…All I do now is take pictures and tell stories—it's my dream. I can't believe it's real." – Helena Price
"I create things to share with the world almost to a fault. It's not that I'm necessarily driven by the reactions of people, but I think there's something really special about creating for yourself and then putting it out there to impact others in a positive way." – Helena Price
Vincent Laforet
Vincent Laforet is the best known pioneer of the video DSLR revolution. Once a news photographer for the New York Times, he turned his attention to creating video and is now a director working in LA.
The move from stills to shooting video, and now to directing, has taught Laforet many things. He has been sent on assignment by Vanity Fair, The New York Times Magazine, National Geographic, Sports Illustrated, Time, Newsweek and Life.
"Images of people, cities, and landscapes from the air tell a unique story about our personal space and how we relate to one another. I've always aimed to address the bigger picture and later trends. In many ways, what a photographer does is give others a chance to step back and look at their world and gain perspective on where we stand, and what that means." – Vincent Laforet
"Stay open to as many new tools and think of as many ways you can to utilize them to your advantage. This not only includes equipment and hardware but also software or apps like Sun Seeker and social media outlets like Instagram and Twitter to build community." – Vincent Laforet
In Closing
Do you remember the words of Jasmine Star that your website is your handshake? Or the words of Reka Nyari, who has admitted that even with a few great shots it's worth it to build your website today! It's all about to dare to tell people about yourself. Like Helena Price said, "…creating for yourself and then putting it out there to impact others in a positive way". If you want to achieve success like all of these photographers have done, don't be afraid to experiment, work hard and tell the world about yourself.
If you have other favourites, please list them in the comments section below, and tell me why they are your heroes.