Video marketing has increased in use over the years for engagement and immersive marketing. Today, 94% of marketers use video to increase their understanding of a product or service, and 86% of marketers believe video marketing has helped them generate more leads. It's a good thing that numerous social media platforms like TikTok, Facebook, Instagram, and YouTube continue to allow the use of video in marketing.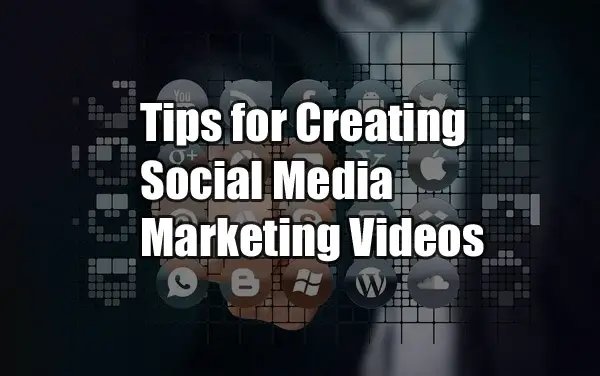 With the right video marketing strategy on social media, you can gain brand awareness, establish authority, increase traffic, and generate quality leads. This post highlights nine important tips for creating social media marketing videos.
The Importance of Video in Social Media Marketing
Video content is becoming a bigger part of social media and the in-app experience. Whether it's TikTok, Reels, or live streaming services, video content is now everywhere on social media. Social platforms continue to adopt video and stories, expand live stream capabilities and create different versions of DIY short-form videos.
Today, the average person spends around 16 hours per week watching videos online. This person could be anyone's target audience, as 86% of advertisers use videos in their social media marketing efforts. This is why most people today prefer watching videos to reading content due to reducing attention spans. Capturing that audience's attention pays off well.
Up to 84% of consumers report having been convinced by a brand's video to buy a product or service.
93% of brands report that they've acquired a new customer from their video content on social media.
Interestingly, thanks to technology, the longer an individual engages (views) a piece of video content, the more algorithms boost it to reach a wider audience. Your video will reach more people just by one person watching it.
This is why Instagram reels (and now Facebook videos) generate more engagement than other content types. Tweets with video get 10 times more engagement. Including video content in your social media posts is key to creating a deeper, more engaging connection with your audience.
Types of Social Media Video Content
In content and social media marketing strategy, selecting the right channel to create and publish your content is important. However, the content won't get the impact it should if it's not for the right channel. Every social media channel has a particular type of audience that relates to a given content. This dictates the potential customers your video will reach.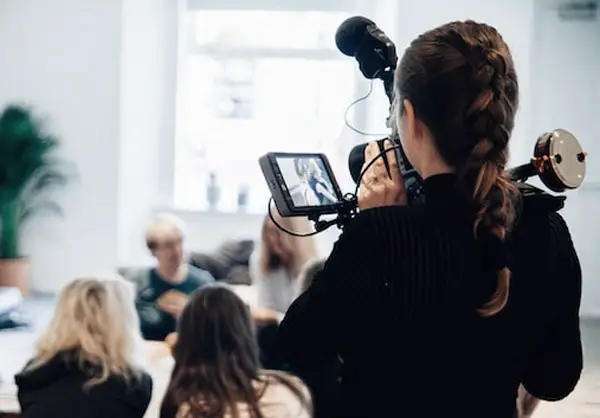 You need to create video content that's meaningful to people who are already your fans and those who can potentially be your customers. You must create and share the right video through the right channel. There are four types of video content you can create for social media:
Short-form videos
Technology has enabled people to produce DIY, short-form videos of anywhere between five seconds to one minute, some extending to four or five minutes. These videos are popular on TikTok and Instagram Reels but are also available on Twitter and Facebook. Most short-form videos are typically under 10 minutes and replay automatically, making them fit for explainer videos or tutorials.
Stories
Social media platforms introduced Stories as short-form videos that disappear after 24 hours. Each social media platform has its own version of stories. Stories started on Snapchat, then went to Facebook, Instagram, WhatsApp, Twitter, and LinkedIn, though some of these were later removed. They're great content for driving interactive audience engagement with features like questions and polls.
Long-form videos
Long-form video content often runs for 10 minutes or more. Videos of this nature aren't common on social media, which demands short videos. However they're great content for longer explainers, storytelling, short films, online courses, webinars, Q&A sessions and more. They can also be shared across Instagram via IGTV, YouTube, LinkedIn, and Facebook.
Live streams
Live streams are real-time, unedited videos streamed on social media handles. It requires thorough preparation because mishaps cannot be edited out. Most social media platforms have their own versions of live streams with key ones on TikTok, Facebook, YouTube, Instagram and LinkedIn.
Social Media Video Marketing Tips to Generate Engagement
Use the below tips to create engaging social media video marketing content, and evolve as you grow.
Identify Your Video Marketing Audience
The rule for every social media marketing strategy (and general marketing) is to identify and know your audience. Begin your video marketing by understanding and organizing your audience so that you send the right message to the right people. The details about who your video audience is should be based on your current audience data and additional market research. To identify your video marketing target audience, you can do the following:
Compile data: To reach your video content target market, you must first know what they're like, and where they spend most of their time to market to them effectively. Knowing your audience includes knowing their age, location, profession, and engagement patterns. You can use CRM software to collect and use this information.
Use particular social media analytics: Most social media platforms, like Twitter, Facebook and LinkedIn, have built-in analytics. You can use these analytics to know about your audience/followers, including what they post, when, where, content length, and their other interests. The advantage of these built-in tools is that they are free to use, if you're using a business account. They should be your first step in analytics.
Check your competition: As a business, you already know it's important to understand your competition for insights into your audience. Look at how your competitors are engaging the audience and what they're doing wrong, then fill in the gaps in video content strategy. Knowing your competitors and their actions is also a great way to try and position yourself above them and reach the audience before they do.
With information about your target audience, keep your video content in line with their needs and interests. Keep up with this through social listening to ensure you understand and cater to their wants and needs.
Set a Video Marketing Goal
In marketing, as in life, defining a goal can help you go a long away.
Define your video marketing goal in tandem with your audience's wants and needs. There are three main goals of marketing:
Acquiring new customers (capture attention)
Retaining existing customers
Converting prospects into customers
Your video marketing strategy should be clear about which goals you want to achieve: create awareness, educate customers, create a conversation, or create brand loyalty. Setting your video marketing goals will help you create compelling calls to action for your audience. The goals should be SMART (simple, achievable, measurable, relatable/relevant, and timely).
While video marketing on social media has many moving parts, SMART goals will give you a key starting point and help track your engagement levels and results.
Settle On Your Social Media Platforms
Armed with the information about your target video marketing audience and goals for that effort, identify where you want to publish the videos. Will you post the video on Instagram, TikTok, Twitter, LinkedIn or Facebook?
Before settling on a platform, identify the video format and length you want to use and how the audience consumes it. Different platforms have different video formats and accept different video lengths.
You won't get any engagement if the video doesn't resonate with your audience or if it's too long for their immediate consumption. Don't forget that your competitors are also producing video content for the same audience, and you must stand out.
Focus On the Story and Conversation
Video marketing is part of content marketing, which entails storytelling and conversation. For your video content to be effective and give your audience a lasting impression, it needs to be conversational. Start by writing a script, even for the shortest videos. What do you want to deliver?
Every video must have a script. This will help you lay out the video plan and you'll save time in the shooting or production. Your video script should start with a strong hook line, or the viewer will find more interesting content elsewhere.
Remember that videos that drive sales with no engagement or attachment to the audience often perform poorly or fail. The conversation script should touch on the audience and how you seek to help them solve their issue. Every marketing content must sell a solution to the customer.
Plan and Review Your Production
Save time and video production cost by planning and reviewing your video before publishing. This includes allocating your resources effectively. You need to use targeted keywords, data, and information to reach your audience. You also need branding expertise, video production, graphic design, and organizational skills.
If you can, hiring a video production agency can alleviate your stress if you've never done it before. They'll have the expertise and knowledge of video production to handle planning, production, and approvals before you publish a video. This also includes scripting, checking, music copyright, and publishing.
If your budget can't support an agency, a one-off social media manager can help you. You can also use an ad platform to boost brand awareness and outreach.
Personalize Videos for Different Platforms
Your videos need to align with the platform's needs, audience, and architecture for better results. This means you will create two or more different versions of a given video on different platforms. For example:
Facebook and Instagram have higher audiences and offer quality video streaming
TikTok has a higher number of video audiences
Instagram supports more creative short videos and other visually compelling posts
LinkedIn is for professionals
Twitter accepts short, real-time, informative videos for greater intellectual engagement.
YouTube supports longer informational and entertaining video content.
Knowing these key features will guide your video marketing planning and production for effective outreach. Producing different versions of your video based on the platform will increase your engagement rates.
Depending on your social media marketing strategy, you'll soon realize that you don't have to be on all platforms. You won't need to publish videos on YouTube if your audience is primarily on Twitter or Facebook.
Personalize Video Engagement by Showing Your Face to the Audience
Showing your face in your video marketing content is a major growth tip. Your face helps create trust with your viewers, and it encourages them to create more engagement through likes, comments, views, and shares.
As humans, knowing that they're engaging with another human being is enough to improve their attention to your message and encourage them to buy from you. In addition, showing your face can help you create a solid brand that resonates with your audience.
Include a Call-to-Action At the End of the Video
Your video marketing cannot be complete or effective without a solid CTA (call-to-action). Your viewer needs to know what next? This will depend on your initial marketing plan and goal. Use a CTA that asserts your video marketing objective, and ensure it's easy for the customer to understand and perform it.
Examples of CTAs include: Book a demo, subscribe for more content, visit our website, buy now at a discount, download gated content, and more. Just like the introduction of your content, the CTA must also be attention-grabbing. Don't confuse viewers then lead them to miss a step.
To encourage the customer to act on the CTA, you can use motion design, animation, and bright colors to highlight the CTA. It is important to use CTA to capture the viewer's attention and encourage them to act.
Distribute, Redistribute, and Promote Your Video
Video marketing doesn't end at publishing. Once you publish, you need to distribute it to your communities, groups, and other networks you have on a platform. Distribution helps in the video's outreach and increases its engagement rates. You also need to re-distribute and promote the video as much as possible on different days and timelines to give it maximum reach. Customers may not remember a video they saw one month ago, but if it is interesting, they'll watch it again. The more the distribution and outreach, the more engagement with the video.
Conclusion
Video marketing should address your three main goals of marketing, educate prospects, capture attention, and convert. To achieve this, you need to plan the process, identify your distribution platform and personalize your video to meet the audience. Above all, distribute and redistribute the video content for maximum outreach and engagement.
Click the following link to learn how to promote a photography page on Instagram Stories.