Are you planning to take your camera on your next hiking trip? You might not think you need a specific camera strap for hiking. But once you find the perfect hiking strap, you'll wonder how you lived without it before.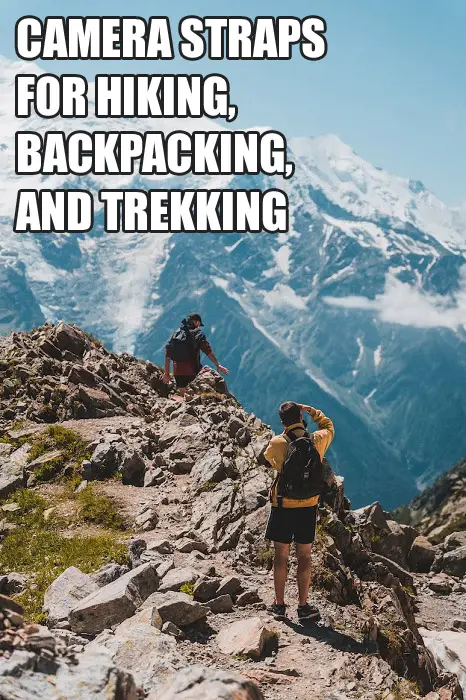 There are different types of camera straps for hiking. We'll take you through each type of camera strap. And we'll give you our top recommendations, so you can find the best camera strap for hiking.
Types of Camera Straps for Hiking
There are four types of camera straps you can use for hiking. Each has a unique set of features, giving you different strapping options. There's no "best camera strap for everyone."
Photographers have different needs and preferences. Also, cameras have different sizes and weights (try an online camera comparison to see where yours fits on the scale!). Now, we'll take you through the main types of straps so you can find the one that suits you.
Neck Strap
This is the main type of strap photographers use. It clips onto the rear top corners of your camera and loops around your neck for support. They are common with DSLR cameras. And they're popular with larger mirrorless cameras.
Your camera is always accessible with a neck strap. That's one of the positives. But It leaves your camera hanging, which can be annoying when hiking. The strap can also chafe the back of your neck when carrying a heavy camera for long periods.
Sling Strap
A sling strap is also known as a cross-body strap. The main strap rests on your shoulder. And the strap goes down across your chest, looping around the waist on the opposite side. The camera attaches to the strap at the lowest point, resting near your hip.
The sling strap keeps the camera close to your hands, so you're always at the ready. And the camera is tight to your body, so it doesn't hang loose.
Wrist Strap
A wrist strap keeps your camera attached to your hand or arm. It keeps your camera secure in your hand. And with no other strapping, you have complete freedom of movement without the risk of dropping it.
They're great for short periods. But your camera constantly occupies your hand. Many photographers use a wrist strap in combination with neck straps to get the best of both worlds.
Waist Strap
A waist strap works like a hip holster for your camera. It keeps your camera secure while leaving your hands free. The camera sits on your hip for easy access when you want to shoot. Some might find the positioning annoying. But it leaves your hands free for scrambling up steep inclines or opening your water bottle.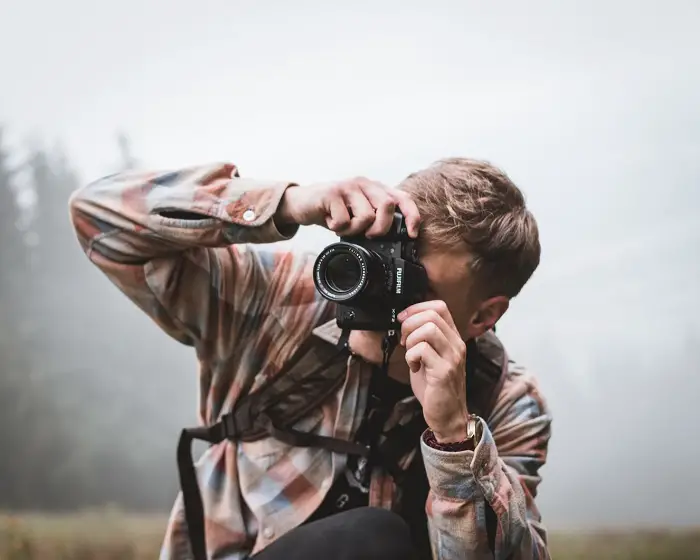 Best Camera Straps for Hiking
Before you pack your backpack and put your boots on, here are our top picks for the best camera straps for hiking.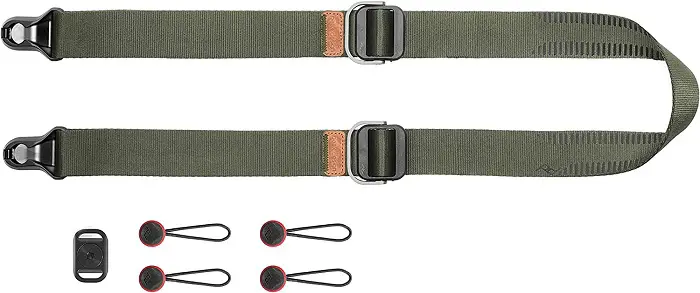 Score: 9/10
Pros:
Soft nylon strap is comfortable and doesn't chafe
Versatile strap works as a neck, sling, and shoulder strap
Excellent value for money
Cons:
Straps can slide over time, slowly adjusting the length
Too much excess strap when using it at short lengths
You can't beat Peak Design camera straps. And their Slide Lite neck strap is the best option for hiking. The build quality is excellent. And it's a rugged and versatile strap that can handle life in the wild outdoors.
The Slide Lite is a classic neck strap for a DSLR or mirrorless camera. You can wear it around your neck in the traditional style. But it also doubles as a shoulder strap if you find that more comfortable. You can also turn it into a sling strap with the Peak Design anchor links.
This Peak Design neck strap is made of ultra-smooth nylon. It's soft against your skin, and you can wear it for hours without chafing. The strap has two aluminum adjusters. They're well-built and allow you to change the strap length quickly. That's ideal for changing conditions when hiking.
The Peak Design Slide Lite combines quality and versatility. It'll hold the heaviest of mirrorless cameras. And with neck, sling, and shoulder strap options, it's the most versatile camera strap on the market. It's a hiking photographer's dream camera strap.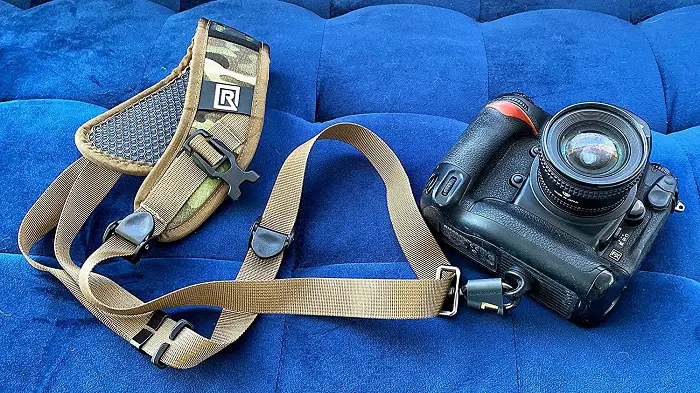 Score: 8/10
Pros:
Good build quality
Comfortable shoulder strap
Sturdy carabiner connector
Cons:
Only for right-handed people
Tripod plate connector can unscrew itself after long periods
Hangs upside down
The BlackRapid Sport X is the best sling strap for hiking photographers. It has a functional yet comfortable design. It keeps your camera safe and secure. But it's never out of reach. It's a fantastic camera strap for outdoor activities.
The Sport X strap has a 4-inch wide shoulder strap with extra padding. It distributes the weight of your camera more evenly. There's an underarm stabilizing strap. And the crossbody strap is made of soft nylon webbing. The length is adjustable with sturdy metal buckles.
You attach your hiking camera using a LockStar carabiner. It links onto a hook that screws into the tripod plate. It creates a strong and secure connection. It can hold the heaviest DSLR and mirrorless cameras without issue.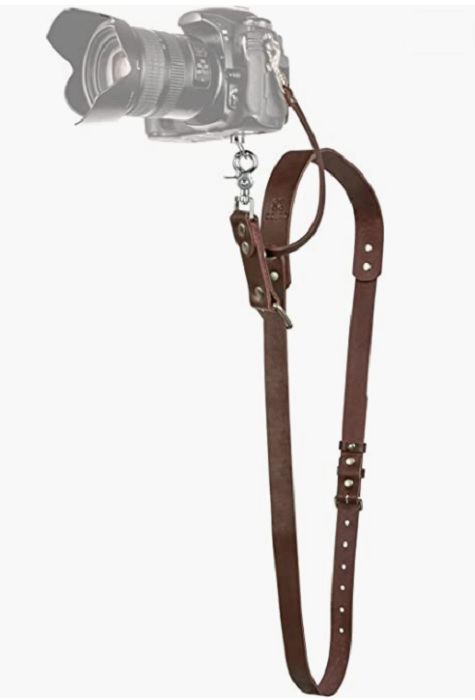 Score: 7/10
Pros:
Excellent leather quality with strong metal adornments
Camera has excellent freedom of movement when attached
Camera harness can be used by right- and left-handed people
Cons:
Difficult to adjust the length when you're wearing it
Belt buckle system doesn't always give you the perfect fit
The Coiro chest harness strap is stylish and robust. It's made of durable leather to handle life on the trail. It looks classy and professional. And it can hold your professional camera.
This is a cross between a sling and a shoulder strap. There's a crossbody camera strap you can rest on either shoulder. And the shoulder section of the strap is broader and distributes the weight of your camera more evenly.
The crossbody strap is adjustable with metal buckles. It works in the same way as a traditional leather belt. The camera clips onto a smaller strap segment. A mental hoop allows the camera to move freely up and down the crossbody strap. And the camera is secured with mental D-rings that connect to the tripod plate.

Score: 7/10
Pros:
Well-made and good value
Padded section is comfortable even when shooting for long periods
The buckle allows you to adjust the tightness when wearing the strap
Cons:
Doesn't work well with Sony full frame cameras
Removing the strap every time you want to use your hand can be frustrating
The Peak Design hand strap is the best on the market. It's compatible with all DSLR cameras. And it offers more security than your average camera wrist strap.
The strap itself is made of tough nylon. A large padded section spreads the camera's weight over the back of your hand. This improves comfort and allows you to shoot for longer. It also has a metal cinch buckle that allows you to adjust tightness quickly. You can also adjust it while you have it on.
The hand strap connects to your camera using an anchor link connection system. You screw the connector into the camera's tripod plate. Once it's attached, you have a secure connection. Your hand and camera become one… The Peak Design Clutch hand strap is excellent value for money!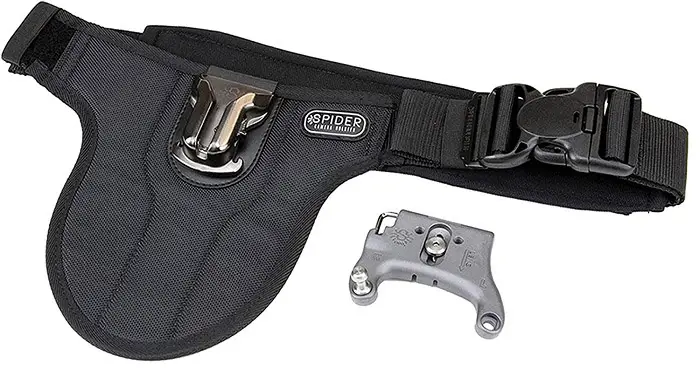 Score: 7/10
Pros:
Width is adjustable for any body shape
High-quality quick-release buckle
Your hands are left free when not using the camera
Cons:
An expensive camera strap
Only compatible with DSLR or mirrorless cameras (depending on which model you buy)
The Spider Holster is the best camera strap if you want something that keeps your camera secure and your hands free. It isn't the most affordable camera strap on the list. But many hikers love this type of camera strap.
The Spider Holster wraps around your waist much like a belt. The camera clips on, resting on the side of your hip. The camera is easy to access at short notice. But the strap leaves your hands completely free. That's why it's becoming so popular with hikers.
Your DSLR camera attaches to the strap with the meal metal buckles. It's an anti-twist, triple-lock buckle. Your camera is safe and secure when the camera is attached. But it's also a quick-release buckle. You can have it off in no time!
The waist strap is one-size-fits-all. You can adjust the belt for any body shape. Plus, the strap loop makes it easy to adjust. It's the best camera holster on the market. And one of the most popular camera accessories with hikers.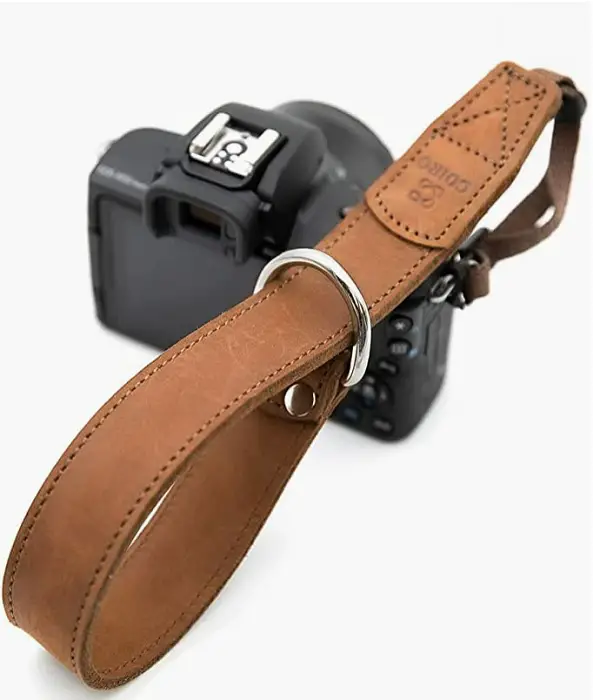 Score: 7/10
Pros:
Beautiful leather camera strap
Compatible with any type of camera
Easily adjustable and secure
Cons:
No lock to maintain the tightness of the strap
You don't want a weak and wiry wrist strap if you're hiking in the wilderness. A hiker needs a strong and reliable camera wrist strap. And that's what the Coiro wrist strap is. It's perfect for photography on the trail.
The Coiro wrist strap is made with fantastic full-grain leather. The quality is excellent. And they've treated it so well. It's soft and pleasant against your skin. You won't have any chaffing issues. The mental hoop also makes it easy to adjust.
It's the perfect option for point-and-shoot cameras. But it's also strong enough for a crop-sensor DSLR or mirrorless camera. You attach the camera and strap with the lanyard hoop, so you have no compatibility issues. It's the best camera wrist strap for hiking photographers.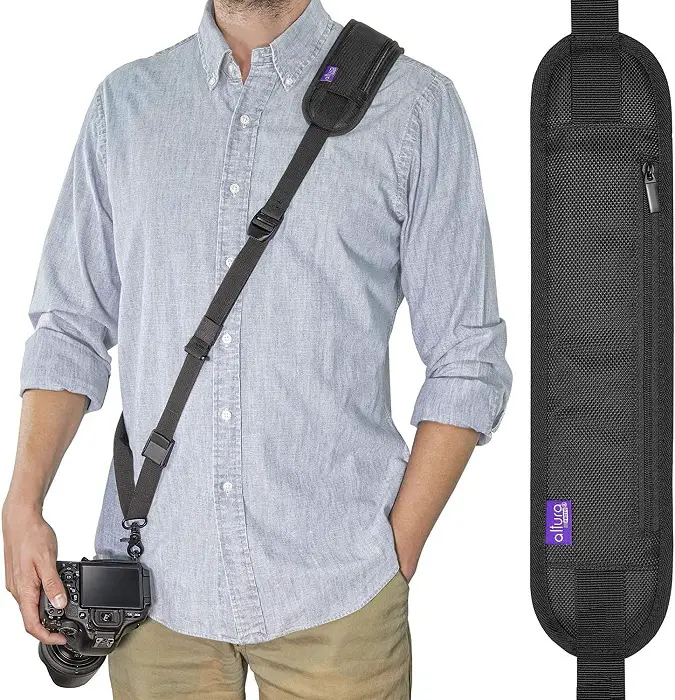 Score: 6/10
Pros:
Easily adjustable and comfortable for long periods
Secure camera clip
Excellent price
Cons:
Made of cheaper materials
Not the most stylish camera strap
Not compatible with mirrorless cameras
You won't find better value for money than the Altura shoulder camera strap. It's comfortable and functional. And it's one of the most affordable camera straps on the market.
It doesn't have the soft nylon or leather of the other straps. But the neoprene material is lightweight and strong. The padded shoulder strap provides comfort when you're carrying a heavy camera.
It's large, so it doesn't slip off your shoulder. And the straps are fully adjustable, so you achieve the perfect fit.
You connect the camera to the strap using the metal plate. It's strong and holds your camera, allowing you to have your hands free. But your camera is in position when you need it.
It's compatible with all Nikon and Canon DSLRs. And it's strong enough to hold full frame models. This isn't a flashy camera strap. But it does what you want it to. It isn't the most stylish camera strap. But it scores high for functionality and affordability. It's one of the best camera straps for hikers on a budget.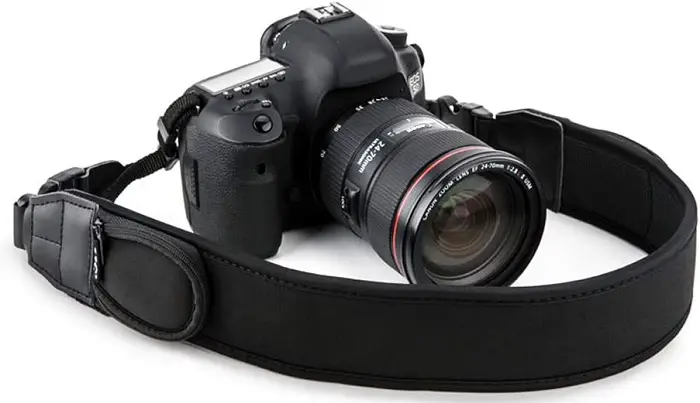 Score: 6/10
Pros:
Made of durable and comfortable material
Two strap clips to easily attach and detach
Handy pockets on the neck strap
Cons:
Buckles and clips are plastic, not metal
Rings are difficult to attach to the camera eyelets
Some camera straps can be overcomplicated. But the JJC camera neck strap is the perfect blend of function and form. It's simple and stylish. It's also robust enough for the most intrepid hiking photographer.
The main neck strap is made of neoprene. It's soft and comfortable against your skin. You can hike with your camera for hours without chafing or irritation. It's also a durable material, keeping your camera safe in tough conditions.
The thinner sections of the camera strap connect to the camera using the eyelets. And the thicker section of the strap clips on with the quick-release buckles.
It only takes a second to attach or detach your camera. So it's a quick solution if the neck strap tangles with your backpack strap.
The zip pockets are unique features of the JJC neck strap. They are only small pockets. But there's one on either side of the neck strap. And they're ideal for storing camera accessories.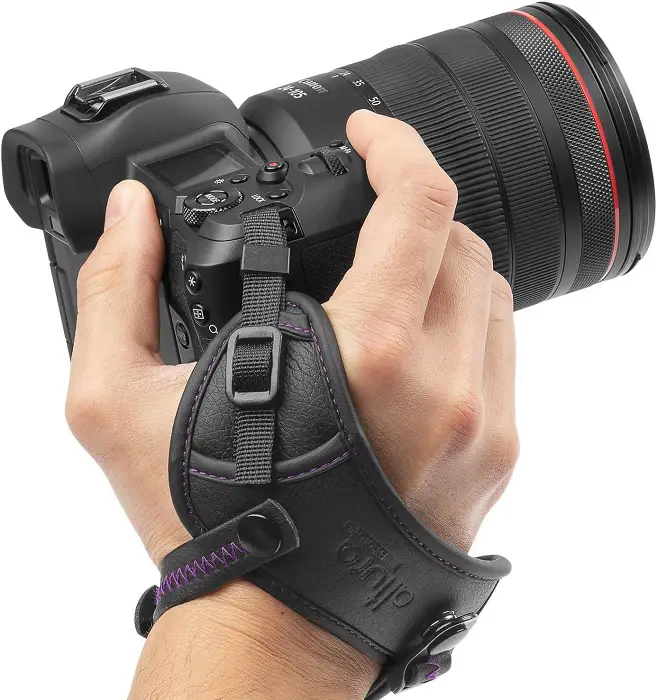 Score: 6/10
Pros:
Adjustable to any hand size
Additional wrist strap for extra support
Cons:
Wrist strap can chafe when held tight
The best camera straps give you security and comfort. And that's what you get from the Altura camera hand strap. It's far more secure than most wrist straps. But it's comfortable and easy to wear for long periods. It's perfect for hiking photographers.
The strap's main section connects to the camera's top and bottom, looping over the back of your hand. There's a padded section for your hand that spreads the weight for more comfort. And there's a wrist strap for extra support.
Each section is adjustable for tightness. It allows you to get the perfect fit. And that means you can adjust it to fit any hand size. It's also compatible with mirrorless and DSLR cameras. It's an affordable and robust hand strap for hikers.
Conclusion
Finding the best camera strap for hiking is just as important as finding the best boots or backpack. You want it to function well. You don't want your camera getting damaged. And you don't want anything that puts yourself at risk.
Every camera strap on this list can handle life on the mountainside. You just need to select the type of strap you prefer. You might prefer neck or shoulder straps. Or you might prefer the control of a hand strap. But whichever you go for, it's time to strap up and set off on your next hiking adventure!
Click here to learn about hiking cameras