When it comes to photo printing, there are two options. You can either invest in a high-quality photo printer and lots of supplies or use the service of an online photo printing company.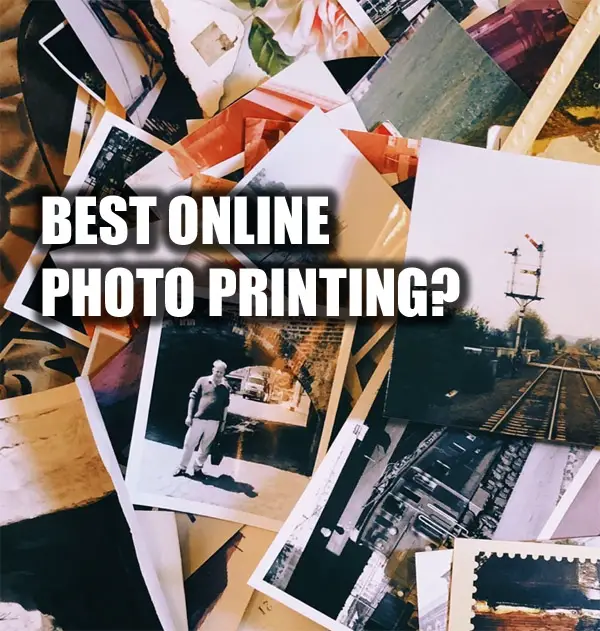 Most people nowadays go for online photo printing because high-quality photo printers are costly and not the best for a high volume of photos while printing services are competitively priced and use high end machines.
Now, the problem is that there are many online photo printing services out there. So, which are the best ones? There are many factors to consider before you choose an online photo printing service.
In this guide, we will have a look at some of the best online photo printing services based on various factors. This list is created considering the different pros and cons of each of the vendors. You will find this guide very helpful if you are looking for a reliable photo printing service.
5 Best Online Photo Printing Services
I tried using many online photo printing services to print my pictures. From those I will share the 5 best online photo printing services based on my experience.
1. Printique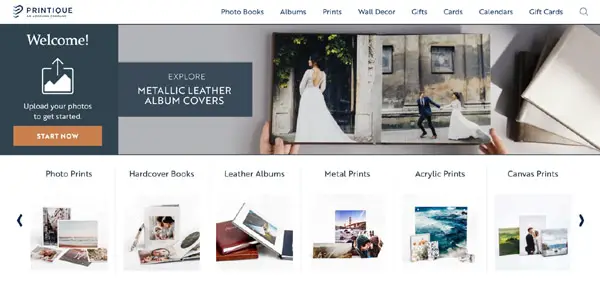 Printique is from the famous photography gear seller company Adorama. Earlier it was called Adoramapix. Adorama has got a good name in the photography circle. So, I expected their photo prints to be very good quality too.
They offer lots of photo print sizes. The smallest one is 3.5×5 inches, and the largest is 12×36 inches. They provide 6 types of paper options. It includes glossy, matte, luster, metallic, deep matte, and fine art. I have tried their luster and fine art prints. The print quality is really good with very good color reproduction.
They support uploading images in TIFF format. It helps to produce high-quality photo prints. Printique also offers hardcover photo books, leather albums, framed prints, wood prints, and other custom photo gifts.
You can easily create an account in Printique using your email, Google, Facebook, Twitter, or Apple account. Another feature that I really loved about their service is the different uploading options. They support uploading from Google photos, Flickr, Facebook, Dropbox, Instagram, and Lightroom. If you are a professional photographer who uses Lightroom for retouching your images, you will really like this feature of uploading pictures from the Lightroom cloud.
The 3.5×5 inch glossy print (smallest) costs $0.52 and the 12×36 print (largest) costs $22. The pricing seems to be pretty fair. If you are looking for low-budget photo prints, then Printique is not for you.
Even though the prints from Printique are slightly on the costlier side, I still prefer them for the quality. From my personal experience, their prints do last for a long time. So, if you want to print fine art photo prints, then go for Printique. You will not regret the decision.
There is something called "Printique promise." Many of you may not be aware of this support. If you are not happy with the photo print, you can always get in touch with their customer service. You need to do it within 30 days after receiving the print. Most professional photographers like me will definitely enjoy this service. If the print quality is not meeting your expectation, you can get in touch with them and fix it. They will also fix any damage during shipping.
The thing that I did not like is that the free shipping is only limited to economy shipping. They only ship to US and Canada.
Rating: 9/10
2. Mpix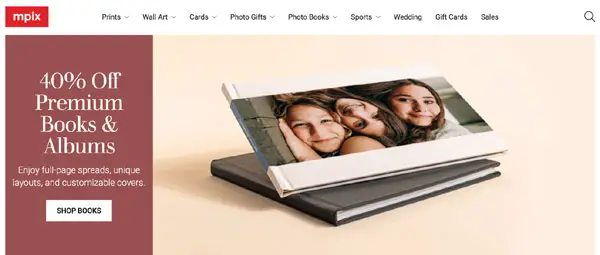 The online photo print service from Mpix is targeted at a broad audience. They offer not only different types of photo prints but also various types of custom photo gifts.
Mpix only allows registration through email. You need to enter your name, address, and email details to register in Mpix. It does not take much time.
The print quality is good. I would say it is in between high-end professional prints and hobbyist prints. The skin tones have come good in the luster print which I have ordered. They do offer color correction for your images at an additional cost.
The smallest photo print size is 1.75x 2.5 inches, and the largest is around 24×36 inches. You can get the prints in glossy, matte, luster, and fine linen photo papers. The cost of a 4×6 inch print is $0.36.
They offer prints in a variety of formats. It includes canvas, collage, metal, poster, standout, wood, acrylic, framed, float frame, giclee, wallet, etc. Of course, you can get all these types of prints in various sizes too.
The thing that I didn't like about their service is that they cannot handle TIFF files. Many photographers like me prefer to use TIFF files for printing large pictures. So, their service does not satisfy the requirements of professional photographers.
The process of placing an order for photo prints is quite easy in Mpix. You can upload images from Facebook or a computer. Mpix website supports the drag and drop feature. After uploading, you can do basic retouching like cropping, rotation, black and white conversion, and text addition. If you want, you can get the service of a Mpix staff to do the retouching on your image at an additional cost.
Mpix also offers a mobile app for ordering prints, Tap to print. I find this app very helpful in printing my vacation photos from my phone. In addition, this app comes with all the photo retouch features that are available on their website.
Mpix is known for its Giclee prints. They also develop film negatives. Nowadays, it is really difficult to find an photo print service that deals with film.
Their delivery is really fast, and the packaging is also good. They don't use an envelope for shipping photo prints. Instead, all prints are shipped in hard cardboard boxes. They also provide a plastic foam cushioning inside to ensure the package does not get compressed during shipping.
All my prints from Mpix came in Kodak Endura photo paper. It is one of the best photo paper options for printing. I really loved their prints on metallic paper. It is very close to giving a 3D-like appearance to the subject in the picture. Also, the color balance on the prints was really good.
Rating: 8/10

3. Nations Photo Lab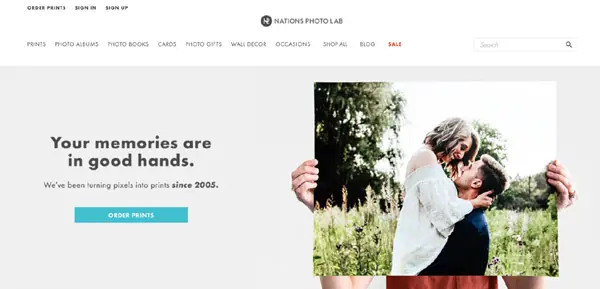 One of the things that I liked about the Nations Photo Lab is its turnaround time. It is really quick and fast. I was surprised to see that the prints were shipped within 24 hours of placing the order. Initially, I got really worried about the quality of the prints because of the super fast shipping. But, after receiving the prints, I am pretty impressed with their service.
The photo quality is really good. The color reproduction is impressive. The contrast and the details in the picture come out good. However, they do offer a color-corrected feature for an additional cost. If you select this add-on, they will fine-tune your image to the best possible color correction. In my opinion, it is a great feature for not just snapshot photographers.
They have packaged the prints in such a way that the photo prints are safe during the shipment phase. I have ordered different size prints. Each of the print sizes was put inside a transparent plastic sleeve. To make sure the prints don't move around during the shipment, they have stuck everything to the cardboard using paper tape.
Another thing I liked about Nations Photo Lab is their pricing display on a single web page. You can see the cost for all types of photo prints on one page. Thus, it makes it a lot easy to compare the cost and decide on the print type. I hate opening multiple tabs and doing the price comparison.
It is quite easy to create an account in Nations Photo Lab. You can use your mail and name details to create an account. Alternatively, you can use a Google account, Facebook, or Dropbox.
You can just drag and drop your image into their website for uploading. The website also provides the option to crop the picture to change its size if needed. You must crop the image if you have selected different paper size.
If you have many images to print, I recommend using their ROES app. You can get a Windows as well as Mac OS version of this software. After installing this software, you need to point the app to the folder from which you want to take the photos for printing. You need to add the pictures to print in this folder.
They support all popular photo paper types. It includes luster, glossy, matte, and metallic. The price of glossy prints starts from $0.40. The cost of luster and matte starts from $0.43. The starting price of the metallic prints is $0.56. The pricing seems to be a fair one considering their quality of prints.
If you have a large volume to be printed, you can get it for a discounted price. They also offer prints in other formats like collage, framed photo prints, linen textured prints, wallet prints, packaging prints, etc.
They accept images in TIFF format also. Professional photographers will appreciate this feature. In addition, they use top-quality Kodak Endura photo paper for printing pictures, which I like very much. The thickness of this photo paper ensures that the image lays flat on the surface without any bumps or warps.
If you are looking for the best quality photo prints, I strongly recommend using the service of Nations Photo Lab. But, remember, they are a bit expensive. Also, you will not get any photo retouching option here. It is because their targeted customers are professional photographers who will have dedicated software for editing their images.
Rating 8/10
4. Walmart Photo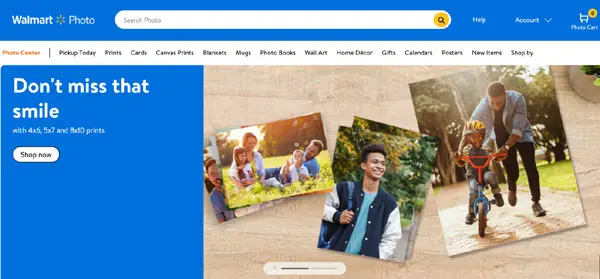 One of the main advantages of getting photos printed from Walmart Photo is their 1-hour pick-up facility. No other popular brands offer this feature. At times, I need to get the print fast. So, the Walmart Photo is the best option. I can easily send the photos for printing through their website or app. I can go and collect it after an hour. You can also get free shipping for orders above $35. So if you are in a hurry to show someone proofs this is a way to go.
One thing that I noticed about Walmart Photos is that their print quality varies for different stores. They have got many stores across the US. These variations will not be that noticeable if you are not a person who pays attention to details and colors in the image or if you just need something to physically show rather than frame as a fine art print.
You can upload your pictures to Walmart photo for printing from Flickr, Facebook, or Instagram. Once all the images are uploaded, a gallery will be automatically created based on the date.
They do not accept TIFF files. But, they do accept PNG files. If you are a person who prefers to use TIFF files for photo printing, Walmart Photo is not for you. Their delivery times are reasonable.
One feature that I really liked about the Walmart photo is the ability to give multiple print sizes for the same picture in a single step. Unfortunately, many online photo printing services will make you add the different print sizes separately. Thus, you will lose some time.
They allow you to vary the brightness and crop the image there before sending it for print. You can also do a black and white conversion or sepia treatment for your image on the website.
They do offer a wide variety of photo print sizes starting from 4×6 to 24×36. Walmart supports all standard photo print sizes. They offer prints in both glossy and matte photo papers. A 4×6 photo print costs about $0.12. The price of the large-size prints (24×36) size is around $20.86.
Just like Snapfish, Walmart photo offers photo prints in various mediums apart from standard photo papers. One thing that I liked about Walmart photo is their photo tiles. It is a great way to décor your home with your pictures.
One thing that I did not like about Walmart photo is their packaging. Their packaging is very flimsy. They sent the pictures in a light envelope. Corners of some of my images got curly due to the light packaging.
They print the pictures on Fuji Crystal Archive paper. It is a good photo paper for printing pictures. However, in my opinion, it would be better if they go for a Kodak Endura paper. This is because the photo prints will be thicker if they use Kodak paper.
Overall, the Walmart photo online printing service provides good value for money. They provide good-quality photo prints with good color output.
Rating: 6/10

5. Snapfish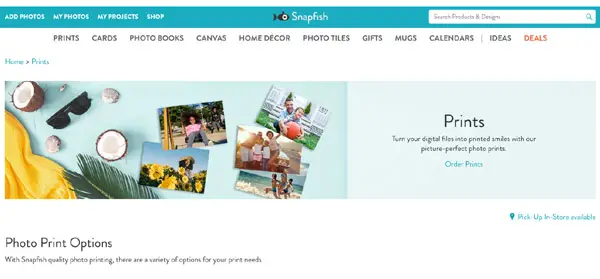 I would say the photo prints from Snapfish were average but not high-end quality. The Snapfish online photo printing service will be a good choice if you want to print photos from your smartphone at a very reasonable cost.
They allow you to upload pictures directly from Facebook, Instagram, and Google Photos. You can register yourself in Snapfish using your email or Google account. It is quite an easy process.
Another good feature of Snapfish is that they support payment via PayPal. So, you don't have to take all the pain or risk of entering your credit card details to make the payment.
You can also use their smartphone app on your Android or iPhone for printing pictures. It will help you to send pictures from your phone directly for printing.
The print costs start from as low as $0.09. This price is for the 4×6 print size in glossy or matte finish. When compared to other popular online photo printing services, it is only one-third the price. So, you cannot expect them to use the best quality paper with top-quality inks for printing these images.
They also print in various mediums like canvas, acrylic, glass, metals, etc. You can also get your picture printed on mugs, calendars, blankets, bags, masks, etc. If you are looking to give a custom photo gift to your friends or relatives, Snapfish is a good option.
Also, don't expect high-end packaging for your prints or other photo products from Snapfish. But, it is definitely the budget-friendly photo printing option with decent quality, in my opinion.
They also don't support the TIFF file format for images like Mpix and Walmart photo. But they allow uploading JPEG and PNG files up to 150 MB.
Another useful feature in Snapfish is the extra edit option after uploading the pictures. It is a good feature for consumers who don't use any kind of photo editing software. You can fine-tune the contrast and brightness of the picture using this inbuilt software.
Snapfish does offer photo pick-up options from Walmart or Walgreens. From my experience, I recommend you to go for the mail route for delivering prints. The photo prints will come from their local print store in the pick-up option. So, there will be a slight difference in the quality.
If you are looking for a low-cost solution to print photos online, I would suggest using the Snapfish service. One thing that I didn't like about the Snapfish prints is the skin tones were slightly more warm.
Rating: 6/10
I hope you found this review helpful. As you can see, in choosing a photo printing service, your intended use for the prints as well as your budget and expectations matter. I hope that based on my tests you will get the prints you are looking for.
Consider reading the following article to learn the various benefits of printing photos.