Shutterstock is a stock photo company focused on selling music, videos, and photos. The content the company offers is produced by creators who upload it to the website to sell. But is a Shutterstock subscription worth it? Let's find out.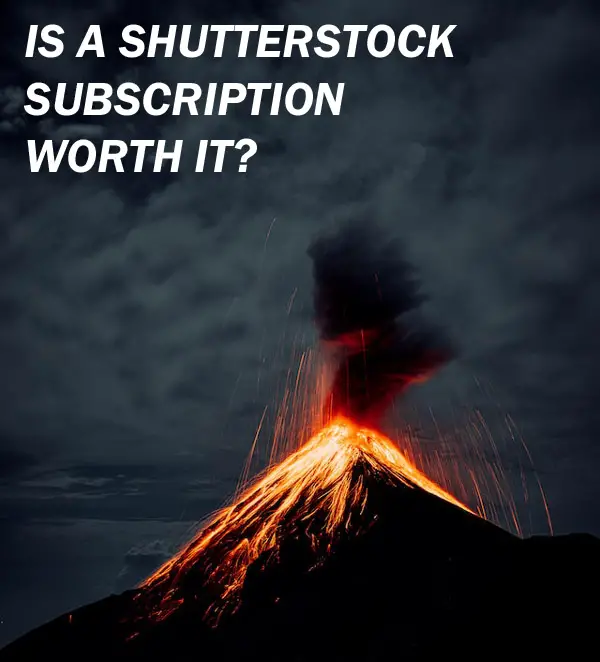 In this article, we will discuss Shutterstock in detail, its features, pros and cons, pricing, and more.
What is Shutterstock?
Founded back in 2003, Shutterstock has a library of about 200 million royalty-free illustrations, vector graphics, and stock photos. Also, Shutterstock has about 10 million music files and video clips that are available for licensing.
Shutterstock Features
1. High-Quality Images
Every photo on Shutterstock is ready for commercial purposes and is of excellent quality.
There's a good chance that the platform has the kind of theme of the picture you're looking for. If editing is essential, Shutterstock's drag and drop visual editor makes it simple to clip, resize, and crop photos using many filters. Each photo stands out thanks to its appealing aesthetic and excellent technical quality.
2. Shutterstock WordPress Plugin
The image stock company has launched a WordPress plugin. You can use the plugin to upload photos from Shutterstock from within your WordPress editor.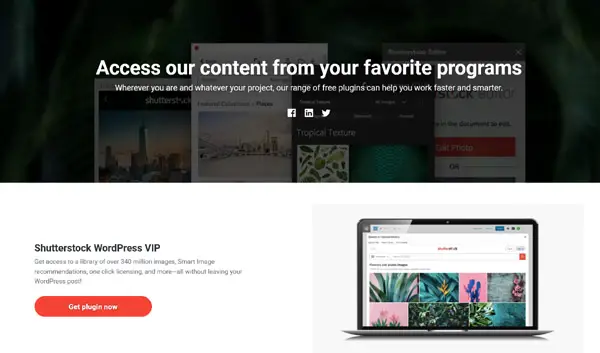 Furthermore, this plugin is compatible with WordPress VIP, a premium managed WordPress hosting platform for businesses and large-scale websites.
All you need to do is install the WordPress plugin and link your Shutterstock account to it.
After that, you'll be able to use the live preview feature to view photographs instantly without having to buy them. However, until you license them, the pictures will have a watermark.
3. Video Footage
Apart from images, the photo service also offers video footage that users can download and use for their advertising campaigns. Each month, Shutterstock adds hundreds of new video clips. Your project will be licensed when you utilize content from the platform to ensure compliance with most website policies.
4. Shutterstock Search Engine
The platform has an advanced search engine that comes with features like reverse image search. This tool has filters and powerful keyword searching that let you narrow your results to exactly the content you're looking for.
Since its update, Shutterstock's search tool has become user-friendly and advanced. It now has a number of features that make it much faster for you to find the picture or video you're looking for.
There are many ways to search, and you can select photos through reverse image search or by filters, keywords, and relevance.
5. Music Tracks
Videos and photos are not the only things you can download from Shutterstock. Music tracks can also be downloaded from the platform. It's important to note that Shutterstock is the top global provider of licensed material.
6. Shutterstock Apps

Shutterstock has a mobile app that allows you to download, share, and search images on your mobile phone. This mobile app is available for iOS and Android as well. Select a collection folder to save your best content. You can either share them with your friends or download them.
7. Shutterstock.AI
The right content may be found by content creators more easily and quickly, thanks to AI.
The AI-based software also assists users in efficiently managing their tasks.
8. Convenient Interface
The simple interface of Shutterstock is one of its main selling points. This intuitive interface will make your work faster and easier. There are various filters available to help you find the exact pictures you're looking for.
You'll find everything you need in the library of free photographs from Shutterstock, including vectors, drawings, pictures, and more. You can make your search easier by selecting an image genre, such as backgrounds/textures, animals/wild nature, beauty/fashion, etc.
9. Shutterstock Editor
Users of all subscription plans at Shutterstock can use its image editor for free.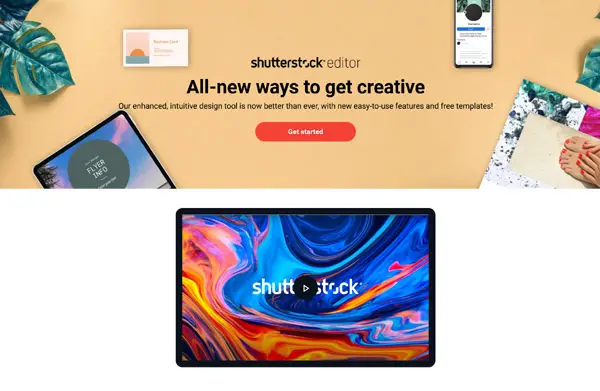 The image editor is easy to use and user-friendly, letting you change simple pictures into spectacular visuals to use in your advertising campaigns.
The Shutterstock editor is newly enhanced with artificial intelligence (AI) technology. It lets you carry out efficient picture editing activities without any prior graphic design or technical skills. The post-production of images is significantly simplified by this editing tool.
10. Integrations
Integrations are an essential part of stock photo websites. Users of Shutterstock can use plugins to view the pictures rather than downloading them from the company's website and then uploading them to their applications.
Microsoft PowerPoint, Google Slides, Sketch, Final Cut Pro, and Adobe Creative Cloud applications are supported by Shutterstock.
If you are ready to give Shutterstock a try, use the link HERE
Pros And Cons
Let's take a look at the pros and cons of a Shutterstock subscription.
Pros
Assistance is easily accessible
A wide range of payment plans that are favorable for every user
Shutterstock is simple to navigate and offers a huge selection of materials.
Excellent quality music, videos, and photographs
Cons
The free trial's photo quality might not be what you're looking for
There might not be enough pictures included in each price level
Expensive price plans
Common Questions about Shutterstock
What types of stock media are available besides photos?
Shutterstock is an online resource that provides royalty-free stock photos, music tracks, videos, and more.
Are Shutterstock images editable?
There are minimal restrictions on the types of adjustments that can be done while working with photographs and vectors. However, there are two significant limitations:
Only modest edits that don't significantly change the content should be made to pictures that are marked as "Editorial Use Only."
Are images too "stock looking" or original looking?
Yes, the photos are as genuine as the professionals who are snapping photographs, the models they are portraying, and your expectations.
How good is the customer service of Shutterstock?
Customer support is available 24/7 via live chat. The customer service staff gives prompt answers to questions and is very kind. I tried it.
Shutterstock Subscriptions Explained
Shutterstock sells stock pictures and videos with on-demand packs and subscriptions. Let's discuss them in detail.
Annual subscriptions
Users whose creative requirements necessitate a constant flow of fresh content might benefit from great discounts by choosing a package with an annual subscription. These plans offer a variety of monthly download quantities for videos and pictures. These packages can be purchased upfront to save even more money on a monthly basis.
Due to your one-year commitment, annual plans are paid on a monthly basis and offer a low monthly price for videos and images.
Month-to-month subscriptions
Shutterstock's month-to-month subscriptions are perfect for you if you need a consistent monthly allocation of photographs or videos but do not want to commit for a full year. Depending on the plan, you can download anything from 10 to 750 pictures and 5 to 20 videos every month.
On-demand packs
Shutterstock's on-demand (image and video packs) are the appropriate option for you if you only need a few videos or photos with no time restrictions on downloads. These packages provide smaller download quantities that you can access for one year following the date of purchase.
Team subscriptions
The company also provides team and enterprise plans that you can buy monthly or yearly if you require access for several users.
Get in touch with Shutterstock's Enterprise Licensing experts to discuss your alternatives if you need to deal with video and music assets as well as smaller teams or larger teams.
Pricing Models
Image Subscription pricing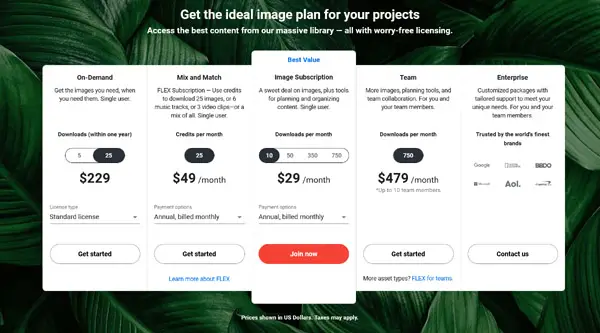 Downloads per month: 10
Annual (billed monthly): $29/month
Annual (billed upfront): $299/year
Monthly, no contract: $49/month
Downloads per month: 50
Annual (billed monthly): $99/month
Annual (billed upfront): $979/year
Monthly, no contract: $125/month
Downloads per month: 350
Annual (billed monthly): $169/month
Annual (billed upfront): $1,649/year
Monthly, no contract: $199/month
Downloads per month: 750
Annual (billed monthly): $199/month
Annual (billed upfront): $1,999/year
Monthly, no contract: $249/month
Image packs (on-demand)
Downloads (within 12 months): 5
Standard license: $49
Enhanced or extended license: $449
Downloads (within 12 months): 25
Standard license: $229
Enhanced or extended license: $1,699
Video Subscriptions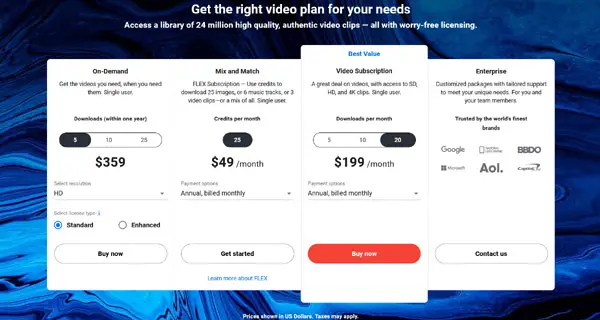 Downloads per month: 5
Annual (billed monthly): $99/month
Annual (billed upfront): $949/year
Monthly, no contract: $189/month
Downloads per month: 10
Annual (billed monthly): $159/month
Annual (billed upfront): $1,599/year
Monthly, no contract: $359/month
Downloads per month: 20
Annual (billed monthly): $199/month
Annual (billed upfront): $1,999/year
Monthly, no contract: $669/month
Video packs (on-demand)
HD Resolution
Downloads (within 12 months): 5
Standard license: $359
Enhanced or extended license: $729
Downloads (within 12 months): 10
Standard license: $669
Enhanced or extended license: $1,039
Downloads (within 12 months): 25
Standard license: $1,579
Enhanced or extended license: $1,949
Learn more about pricing here.
If you are ready to give Shutterstock a try, use the link HERE
Does Shutterstock offer free trial/free images?
You can use the platform service risk-free and get ten free picture downloads each month.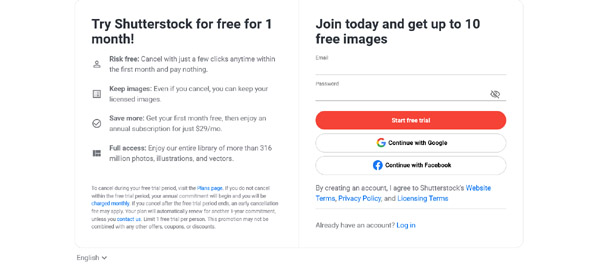 Whether or not you use the allotted ten pictures, the free trial will terminate after one month. Whether you cancel or keep your annual plan, you can keep the ten free photographs that you download.
The good news is that these images you download as part of the free trial have no watermarks, so you won't have to worry about the unpleasant watermarks spoiling your pictures.
Additionally, you can try out a few other service features during the free trial, such as:
A site for you that includes download history and personalized suggestions
The photo editing software
Access to the free picture of the week from the photo service
On the company's website, you may begin your free trial of Shutterstock in a few simple steps:
Visit the pricing page for Shutterstock.
Choose "Start a Free Trial"
Select a ten-image plan for the month.
Enter your payment details and information.
How to cancel membership/trial?
The platform's plans are available on a subscription basis and are all designed to auto-renew. Here is how you can cancel your membership or trial.
Monthly Subscriptions and On-demand Packs
Because of the automatic renewal of Shutterstock's monthly subscriptions and on-demand packs, canceling auto-renewal on these packages would effectively cancel them by stopping any more charges. You will still be able to access the remaining downloads in your active pack, though.
On-demand bundles give you access to any unused downloads you've paid for a whole year. You continue to have access even if monthly plans are canceled until the expiration of your billing cycle. Visit your Plans page and disable the auto-renewal feature to terminate these plans.
Monthly payments for annual subscriptions
Due to your one-year commitment, annual plans are billed on a monthly basis and offer a low monthly price for content. You have to pay a cancellation fee if you break an annual contract early. The fee is equal to the savings you have already realized from this plan's lower pricing.
Who is Shutterstock Good for?
For those who need a wide selection of stock photos at reasonable prices, Shutterstock is an ideal choice. Everyone can choose the ideal plan for their requirements thanks to the vast range of pricing options. In particular, Shutterstock is:
Great for upgraded licenses
The stock photo company offers affordable extended licenses. However, the most important thing to keep in mind is that Shutterstock's upgraded licenses are affordable when purchased in bulk. The cost of a single extended license is more here than it is elsewhere.
Optimal for large and medium businesses
Shutterstock is priced the same as all of its rivals at 350–750 pictures every month. Fortunately, you'll never be out of new material, thanks to Shutterstock's vast photo library.
Useful for Individuals
The photo service company offers stock pictures at extremely affordable rates so that individuals can also purchase them. And the best part is you can use a coupon code to get a discount, or you can also use the free trial to get ten pictures absolutely free.
Licensing
Shutterstock offers many levels of licenses so that you can use video clips, music tracks, and pictures legally.
The Standard Shutterstock License
You can use stock pictures forever and everywhere using the Standard Shutterstock License. It is a royalty-free license. Bear in mind that you are only allowed 500K impressions or copies.
You receive the standard license every time you download pictures with a regular image pack and a subscription plan.
The Enhanced Shutterstock License
Another sort of royalty-free license is the Enhanced Shutterstock License. It is identical to the standard license but with limitless distribution rights. Additionally, it has greater legal protection than the basic license. By purchasing an enhanced license image bundle, you can obtain an improved license.
The Editorial license
The Editorial license can only be used once, so it is not royalty-free. You need to purchase a new license if you want to reuse the same photo.
The Premier Shutterstock License
There are many benefits with this type of license that are not present with the Extended and Standard Licenses. Some of the benefits include high-resolution unwatermarked comps, limitless legal protection, sensitive use rights, use in products and templates, and transferability of third-party rights. If you want to have the Premier License, you need to get in touch with the company's customer support, which grants you access to the Enterprise Platform.
Is Shutterstock Worth it?
Shutterstock is perfect for you if you need photographs for your marketing initiatives, emails, and website. This platform will meet all of your visual material needs, whether basic or advanced, at a reasonable cost.
Shutterstock is simple to use and gives you access to a vast library of music, films, and pictures. As a matter of fact, Shutterstock is a good resource for completing both professional and personal projects.
This stock media service might be for you if you're tired of not being able to get the photos you want on other stock photo websites and want assurance regarding the licensing. It continues to be the most well-liked stock agency among businesses, freelancers, and creators. It has a lot of workflow-enhancing integrations, the greatest collection of photos (400 million), and relatively reasonable subscription prices.
Shutterstock is still evolving and will keep bringing in customers. It's worth noting that you can still use any downloaded stock pictures or other content even if you decide to stop using the service.
If you are ready to give Shutterstock a try, use the link HERE.
I hope you found this review helpful.
Click the following link to learn the basics of stock photography.
This post contains affiliate links.