Digital sharing of photos may have reduced the urge to print a photograph after taking a shot with your digital camera. But printing photos offers you a lot of benefits as a photographer.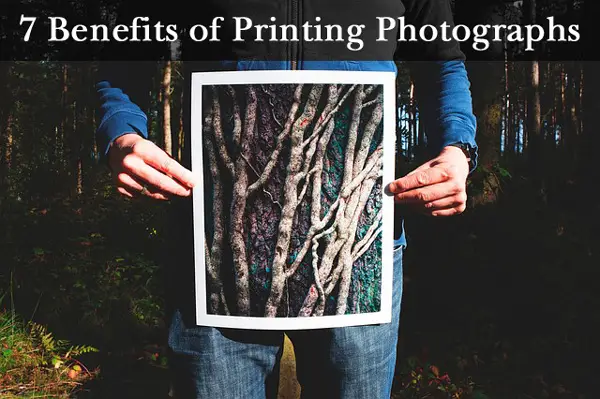 Here are some of the reasons why you should consider buying a photo printer and start enjoying the benefits of photo printing.
1. Improve Your Photography Skills
Each time you print a large sized photograph, every detail gets amplified. You can see whether there was  good contrast, nice lighting and any  defects become very easy to see. This is in contrast to what happens when you post photos on social media sites like Instagram, Pinterest and Facebook. Most of these photographs are viewed on small screens that hide a lot of details. In fact, with a short Photoshop session, you can edit these photographs and fix some of the flaws in the photographs. But this could make you a lazy photographer. Printing your photographs makes you focus on taking better images with your camera. The fact that you will be able to see all the flaws clearly can motivate you to get it right from the start.
2. Printing Photos Inspires Creativity
Image courtesy of Pixabay
Each time you print a good photograph, it inspires you to go out and get more creative with your camera. It boosts your ego as a photographer and puts a smile on your face. You will suddenly feel this renewed zeal to go and search for the perfect scene for your next photo. This is particularly true when you take photographs of nature. Photos that contain beautiful birds, flowers and landscapes can be truly inspiring and refreshing when they are printed on large photo paper.
3. Gain a Better Understanding of Your Photo Shooting Style
Your photography will put on a completely new character when you see it on a printed page. Printed pictures have a different effect on the mind than when you see a photo on a laptop, smartphone or even on a high resolution 4K monitor. If you truly desire to study your photography technique and learn more about your style in order to improve, you should print your photos regularly. You will discover deeper things about your gear (camera, stand and lighting), shooting technique and your natural abilities. Most of this will not be easily revealed if you have to stare at a digital screen (not to mention the eye strain) and look at the shared photos on Instagram.
4. Printing Will Increase the Demand for Your Photography Skills
Almost all great photographers and graphic artists have galleries where they display their work. If you want to expand your horizon and market your photography skills to high net worth individuals, you have to learn to print high quality photographs. According to renowned landscape photographer Paul Kowalski, digital technology should be seen as a means of enhancing photo printing rather than as a substitute for it. After spending days or even hours to find the perfect scenery to shoot, you need to be able to turn that effort into a printed work of art that can attract the same attention as a painting on canvas.
5. Re-Discover the Second Half of the Photographic Process
Image courtesy of Pixabay
Digital photographs now save time when we need to share images and other pictorial proofs but they take away a vital piece of the original photographic process. Before the widespread adoption of the digital sharing of photos, photographers had to spend a substantial amount of time in the second phase of photography – picture development and printing. Even individuals who take photos as a hobby will remember the fun that came with selecting a particular type of paper (typically matte or gloss), taking the negatives or digital camera to a photographic lab or printing the photo on your home photo printer. Other aspects of this process are choosing a nicely designed frame and then hanging up the photo for others to see and admire. Printing photos offers you an opportunity to produce a physical proof of your work that does not need a particular type of machine to read except your eyes.
6.  Printing Brings Old Photographs to Life
Image courtesy of Pixabay
If you have a large catalog of photos stored on a hard drive or on a social sharing site, you can bring back great memories by printing photographs. This works for photos of events and nature. Pictures take us back the memory lane at an amazing speed. In fact if you have young children, one of the best ways to help them learn is by printing photographs and creating stories out of them. The children will concentrate better and gain more from your anecdotes.
7. Printed Photos Make Great Decorations
Image courtesy of Pixabay
If you are tired of seeing the same boring wall or the old decorations in your home or office no longer inspire you, you can revive your home with printed photographs. Combine photos of nature with some of your personal or family photographs. To make the process more rewarding, spend time choosing some new frames (different styles and sizes) and then carefully select pictures that bring back pleasant memories or motivate you in a special way. Choose a place in your bedroom or living room and use your creativity to create a focal point with your framed photos.
Printed photos can provide great inspiration for improvement in photography, serve as a way to increase your income and also provide inspiration and satisfaction for you and your loved ones.
To read about retouching old photos in Photoshop click here