If you're a beginner DSLR camera user, it means you've outgrown your smartphone or compact camera and want to take your photography to the next level and deliver quality images.  Right?  If that's the case, we'll help you take that big step up.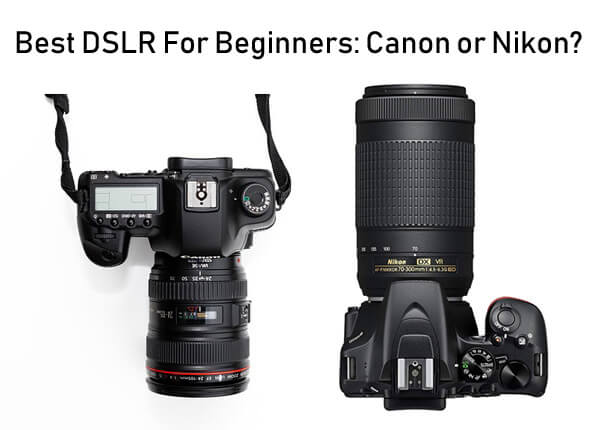 There's a range of DSLR Cameras for entry-level users like the Canon and Nikon brands that offer brilliant features, more shooting parameters, and custom functions.
Furthermore, the DSLRs offer a host of auto modes that help a beginner to naturally progress to more creative manual controls and change lenses to tackle a variety of scenes.
The more the features a DSLR camera offers, the more superior the results. However, many DSLRs in the market offer a beginner with impressive performance and image quality with excellent details on a variety of photographic projects.
Since there's an array of models to choose from, we've narrowed this guideline to the top 5 Best DSLR Nikon Cameras for Beginners and top 5 Best DSLR Canon Cameras for Beginners. 
Features to Look Out For Before Purchasing a DSLR Camera
Image Quality
Image quality is the level of accuracy, amount of detail, and pixel level variations that a camera can capture, process and store. The main features that distinguish a DSLR camera from smaller lens cameras is high resolution, color accuracy, outstanding contrast, dynamic range, tone reproduction, rapid and precise focusing.
Lens
Bigger diameter lenses seem to offer the ability to shoot in low light as they let in more light though they tend to be massive. Some people may consider purchasing a mirrorless full frame camera which features a smaller and lighter body although these models are still at the high end. Wide angle lenses also darken images near the corners, which is called light falloff.
Value
One of the more significant barriers to photography projects for entry-level users is the amount of money they need to invest in equipment. It's not all bad news though as you can find digital cameras that will give you optimum performance and deliver quality images at a budget-friendly price. The key is knowing what to look for to get what you expect- and get the best deal possible.
Also, people often change camera systems, so it's vital that you check if the model you'll purchase is compatible if you may want to upgrade at some point to avoid selling the body or lenses.
Sensor size
A sensor is responsible for light collection which is a significant factor to consider in image composition. Thus, the bigger the sensor, the better the quality of your images like the ones found in high-end Nikon and Canon models with a full frame sensor size of 36mm by 24mm.
The smaller APS-C sensor size found in most entry-level and many mirror-less cameras feature half the area size of a full frame sensor. Images captured by these types of cameras have a different focal length which appears closer due to a cropping factor.
Low light environments
Not all digital cameras are equal in performance. You may have to consider a slower shutter speed to capture more light if you're shooting in low-light environments. However, to reduce motion blur, you have to check if the model features image stabilization.
A faster shutter speed with a wide aperture lens will allow more light into the sensor and a lower ISO. A high ISO increases the camera's sensitivity to light; however, this increases random variation of the image density. The NR technique reduces the visibility of noise by smoothing the image though it can obscure low contrast detail. A big sensor is capable of accumulating more available light making full frame cameras an excellent choice for low light conditions.
Battery Life
As with any electronic device, a camera that offers longer battery life will help you shoot for longer without worrying if it dies on you. Most DSLRs can make it through a day and allow you to photograph more than 1,100 photos on a single charge as they can work without LCD screens or an electronic viewfinder.
Unfortunately, most mirrorless cameras suffer a shorter battery life, but the good news is that both types feature removable batteries; therefore, you can carry a spare.
Autofocus
DSLRs mainly use phase detection autofocus since they lack shutters and reflex mirrors. The AF optical system uses a sensor, a control system and a motor that enables it to focus automatically or manually.
On the other hand, mirrorless cameras feature hybrid AF systems that combine phase-detection technology and contrast AF making them quick and accurate in locking focus on a moving object. Hybrid AF systems are the best for capturing moving animals, and sports.
Since most AF sensors depend on several sensors to regulate a precise focus, this makes autofocusing speedier and more precise. AF seen through a viewfinder is better when paired with other accessories such as focusing magnifiers.
Size and Weight
DSLRs are big and bulky, unlike their mirrorless counterparts that feature no mirrors giving them a smaller size and less weight benefit. However, some lenses on a mirrorless  camera tend to be big negating the lightweight characteristic.
A mirrorless camera which features a lightweight design is very beneficial to those photographers who travel often. Though size may give a mirrorless portability advantage, many users desire larger grips for comfort.
Viewfinder
DSLRs feature an optical viewfinder while mirrorless cameras feature an electronic viewfinder (EVF) which offers an essential benefit over its optical counterpart since it can display more information. Furthermore, EVF can stimulate the captured image, unlike a DSLR which can end with an undesired final result like blurred images.
Though the two types of cameras may vary in some aspects, it's not a battle of which camera is better than the other but a matter of choice. Here are our top ten picks for the best entry-level DSLRs for beginners that will offer you good image quality.
Comparison Table
Here is a comparison table of the best DSLRs for beginners from Nikon and Canon brands available for entry-level users with selected features.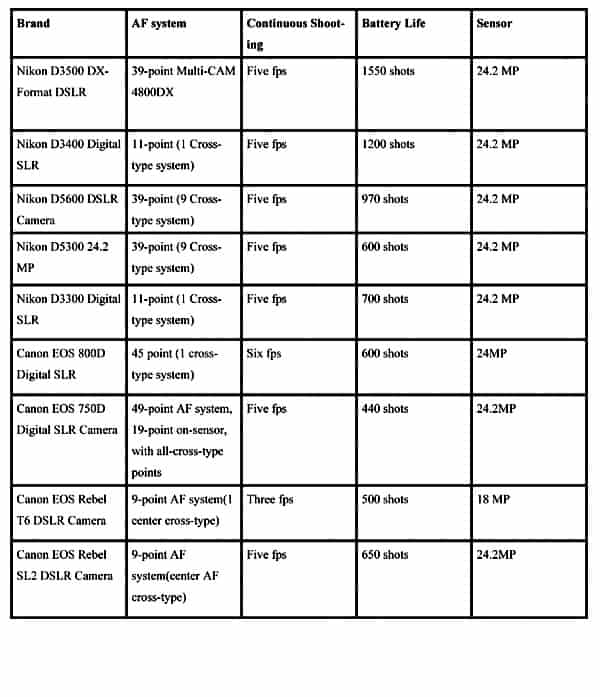 Top 5 best DSLR Nikon Cameras for beginners: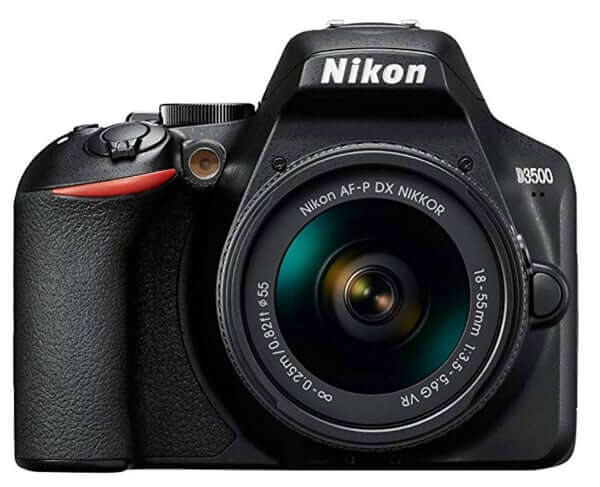 Why we like it: The D3500 is Nikon's latest entry-level DSLR which is an upgrade from the D3400 with similar specs but with a much cozier handgrip, a modified control layout at the rear and a portable design making it an excellent choice for traveling and shooting special events.
Responsive
The D3500 features a blend of easy handling with easy to use controls, reliable performance and image quality. Also, while the camera comes with a standard 18-55mm kits lens, you can quickly change the lenses to suit your needs.
Handy Guide Mode
The D3500 is hard to beat entry-level camera since the auto mode offers astounding images and helps you learn as you shoot with the Guide mode On which allows simple on-screen guidance. Also, the 24.2 MP sensor on this latest model provides excellent levels of details 15x larger than those used in smartphones offering sharper, more explicit images.
Bluetooth Connectivity
Just like its predecessor the D3400, the D3500 doesn't feature WI-Fi connectivity t you get a Bluetooth function. This Wi-Fi feature helps to transfer images through the SnapBridge app to your tablet or smartphone for backup or for sharing with friends and family.
Comfortable
The D3500 is lightweight and balanced providing you with a comfy grip on your hands even with a telephoto lens attached. All buttons feature a simple and intuitive menu system. In addition to this feature, the camera is compact enough to carry around with two travel lenses and a durable design to withstand hard usage.
Pros
Excellent image quality

Easy to use

Budget buy

Shooting is more comfortable with intuitive buttons

Lighter in weight than its successor

Remarkable kit lenses for basic usage
Cons
No touch-screen functionality

No Wi-fi connectivity feature

No remote shutter control
Click here to read more about the features of the Nikon D3500.
Click here to buy at B&H.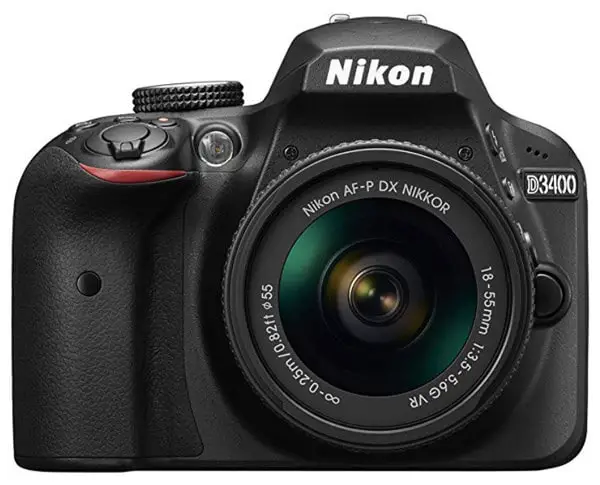 Why we like it: Just like the D3500, the older version D3400 features the same active 24.2 MP pixel with a sensitivity range of 100-25. This DSLR has been refurbished to look and work like new and comes with a 90-day supplier backed warranty if it doesn't work as expected an excellent budget buy under $400 for entry-level users.
Great Value
Slapped with a new coat of paint to look and work like original, the D3400 features no significant enhancements but retains the same sturdy build with perfect photo and video quality. But its the weak Wi-Fi function that's disappointing and leaves you wondering how you're going to back up your photos or even share via a smartphone with family and friends.
Dual Lenses Kit
There are two kits in the D3400 with 18-55mm VR lens and a non-VR version of 70-300mm lenses. The feature makes it a complicated configuration for a novice photographer. However, the stepper motors in this model still offer smoother and quieter focus Live view.
Sharp Image and Video Quality
Though refurbished, the D3400 still delivers good photo and video quality maintaining the same resolution without an anti-aliasing filter. This DSLR is capable of providing sharp images in low light conditions but doesn't seem to have a better tonal range in shadows.
The automatic white balance in the D3400 is not that great either though this issue is common with most DSLRs. Nonetheless, the Jpeg processing is still excellent, but you can improve highlight details in higher ISO – sensitivity shots.
Sufficient Fast Focusing and Shooting
The D3400 has maintained the fast focus and shooting function including continuous shooting suitable for travel photography, kids and wildlife. However, it can 'under' or 'overexpose' fast-moving subjects depending on the first shot in the burst.
Pros
Remarkable image quality

Helpful guide mode

Outstanding price for a refurbished DSLR

90-day warranty
Cons
Doesn't come with an SD card

Click here to read more about the features of the Nikon D3400.
Click here to buy at B&H.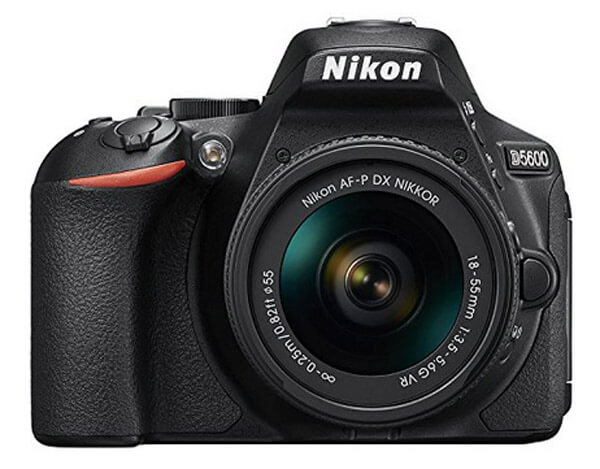 Why we like it: Nikon's D5600 features a high-resolution 24.2 MP APS-C size sensor, a compact design and additional hardware tweaks that make it deliver noticeably better than the D3400 and D3500, an excellent DSLR camera for beginners with greater creative control.
Performance and Image Quality
With 5fps burst shooting, this Nikon series may not be as fast as the mirrorless rivals, while it's a substantial number it may give you pause for thought. However, the D5600 matrix metering system handles well a variety of lighting conditions although it may require a negative exposure compensation in high-contrast views. Additionally, the Active D-Lighting system is useful in such situations.
The white balance system in this series also executes well in a range of lighting conditions giving you natural-looking images.
Enhanced Video Features
The video attribute in the D5600 is unquestionably better than-adequate for general movie capture with full HD footage for smooth and accurate videos.
The D5600 also features vivid colors with photo-like sharpness and near-silent autofocus that offers excellent audio fidelity.
Build and Handling
Nikon included a sturdy polycarbonate construction in this model with a virtually identical design to D5500 for better durability. Nikon has also reduced the number of parts in this series managing to keep the weight down for more portability.
Furthermore, the handgrip is well-proportioned with a narrow portion between the grip and the lens mount that makes the camera fit snugly in hand. The buttons are placed intuitively with a switch to activate Live view for a quick and easy flick on and off.
Touchscreen Interface
The D5600 notably features a touchscreen functionality with multi-directional D-Pad for navigating the menus and settings.
In addition to this feature, is the AF point selector with a remarkable continuous shooting performance. Nikon included a 39-point Multi-CAM 4800DX autofocus system which is fast and accurate and locks on with ease on both static and moving objects.
Pros
Excellent photo quality with detailed images

Remarkable performance

Lightweight

Decent AF system

Touchscreen interface
Cons
The SnapBridge lacks in quality

The price tag is higher compared to rivals

Turns off the self-timer after every shot
Click here to read more about the features of the Nikon D5600.
Click here to buy at B&H.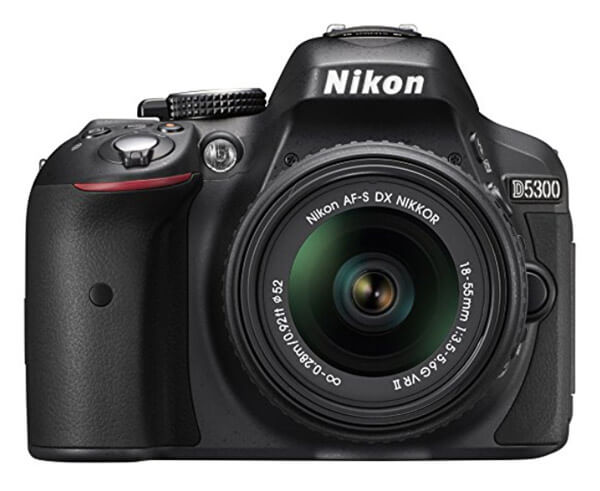 Why we like it: This is a 24.2 MP digital camera with a 3.2-inch LCD screen, and a 39-point autofocus system with Vari-angle screen and effect modes that support the user to shoot in Live view mode delivering high-quality images.
Performance
The Active D-lighting system in this model is useful and practical when shooting high-contrast subjects and copes remarkably well in most situations producing images with mid-tones that are a tad bright.
The automatic white balance also performs exceptionally well in various lighting conditions for more natural-looking images. The screen is bright and light with vivid colors and doesn't suffer from reflections.
Image Quality
The D5300 notably features a fast, consistent shooting speed of 5fps for low-light conditions with a sensitivity that produces detailed outstanding images with vibrant colors inspiring enthusiastic entry-level photographers.
Also, the D5300 feature a lower signal-to-noise ratio than the D5200.
Build and Handling
The Nikon series D5300 features a seamless polycarbonate construction that offers durability and sturdiness. Also, the camera is solid with a slightly glossy finish and well-made with a weight of 480g making it somewhat lighter than the D5200.
It's also worth to note that the D5300 features relatively few control and settings buttons that come with a conspicuously larger screen and a rubberized area for thumb rest. However, 14 adjustable attributes enable you to select desired options like Focus Mode, Picture Control and Metering Mode.
Auto Focus
The AF on this Nikon series features a remarkable screen with a contrast detection system that encourages Live view mode. But it's the 39-point phase detection AF system that makes D5300 fast and accurate.
The camera captures sharp images in normal outdoor daylight, but the case is not the same in lower light conditions.
Pros
Excellent build quality

Decent continuous shooting rate

Great performing sensor

High-resolution vari-angle screen

No anti-aliasing filter
Cons
Disappointing Wi-Fi app performance

The kit lens is lacking

The Live view preview is lacking
Click here to read more about the features of the Nikon D5300.
Click here to buy at B&H.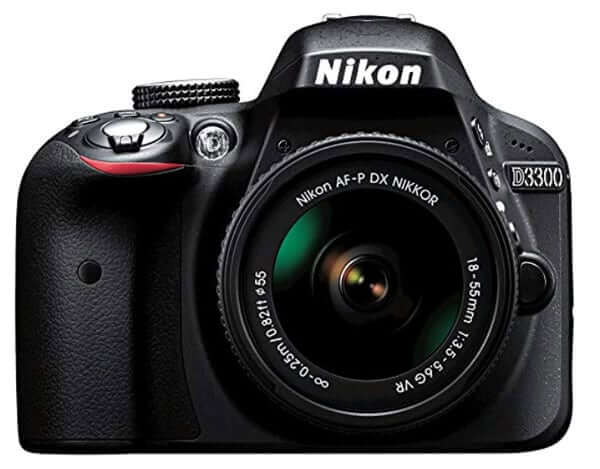 Why we like it: The D3300 camera features a compact beginner friendly design and easy to use HD-SLR that sits at the bottom level of popular Nikon entry-level DSLRs. The camera has a powerful 24.2 MP APS-C sensor and five fps continuous shooting providing sharply detailed images.
Performance
Nikon's D3300's technology has quickly passed from the realm of a pro to the amateur. The camera was gear designed for use by professionals but maintains a powerful high-resolution 24.4MP APS-C sensor.
The only disappointing thing that Nikon removed in this series is the optical anti-aliasing filter that supposed to minimize occurrences in optical abbreviations and unwanted artifacts that appear on images.
For this reason, the D3300 model lost image sharpness.
Image Quality
D3300 notably features Expeed 4 Image processing with an impressive sensitivity of 25,600 and a remarkable shooting rate of 5 fps best for entry-level photographers. The camera shoots images in JPEG. The files can be stored in memory cards.
This model also features 1080/60 p full HD video recording with vivid colors and softly blurred backgrounds. However, it's annoying that Nikon didn't include a built-in Wi-fi and GPS especially because the rival in its category – Canon has more specs to offer at a lower price range.
Build and Handling
The camera features an ergonomic  construction a little heavier than D3400 with a thick, textured surface and comfortable grip giving a secure feeling in the hand. There's a press button on the lens barrel that attaches the kit lens and takes up a lot of time to fix if you want a quick start.
This relatively older version doesn't have many buttons, and the menu isn't customizable, but for this old version entry-level camera, its expected.
Auto Focus
The AF system in the D3300 features an 11-point (1 cross type) which is fast and accurate. The single point mode in this camera is sufficient for still subjects and moving objects and works well in almost every situation.
The AF system in this model can focus and lock a subject though you must hold the shutter down halfway then the camera shoots with a fast speed when you press the shutter, great for shooting sports.
Pros
Excellent value

Remarkable battery life

High resolution at an affordable price

High performance for entry-level users
Cons
Lacks Wi-Fi

Awkward manual focusing
Click here to read more about the features of the Nikon D3300.
Top 5 best DSLR Canon Cameras for beginners: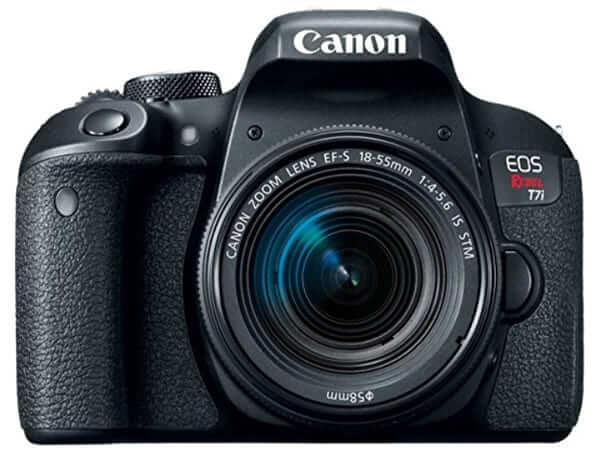 Why we like it: Canon EOS 800D features a 45-point AF system with a remarkable Live view mode, a graphical interface, a well-rounded and easy to use beginner camera with excellent image quality.
Performance
EOS 800D features a continuous shooting speed of 6 fps in the T7i, a modest improvement from the T6is 5 fps. However, mirrorless rivals offer faster burst shooting and better performance than this Canon series.
The battery life has a 600 shot capacity on a single charge lagging behind its closest rival , Nikon D5600. Also, this Canon model features a remarkable grip and a graphical interface just like the graphical mode for creative images in Nikon's D3300.
Image Quality
The EOS 800D features a fast and accurate 24MP APS-C sensor with optimal performance. The images delivered by this Canon series are clean. The Camera can edit Raw files in Adobe giving the photos a sharp look even at ISO6400 though there's a grain-like noise.
The dynamic range in EOS 800D for raw files is a tad better than what Nikon's D5600 offers but the 18-55mm kit lens features less sharpness and more pronounced image distortion.
Build and Handling
Canon included a sturdy and seamless aluminum polycarbonate construction in T7i 800D making it a durable choice for the entry-level user. However, it's the matt plastic exterior finish that doesn't feel comfy to the touch.
Nonetheless, the camera features a compact design, a solidly textured handgrip that offers a firm grip in your hand which can be troubling for most mirrorless rivals. The control and settings buttons are intuitively placed around the camera while the vari-angle display is next to the viewfinder on the left-hand side.
Auto Focus
The Rebel T7i 800D features 45-point AF all cross type for sharp and more accurate images. The sensors are sensitive in both horizontal and vertical planes and shouldn't give you any issues in low light conditions.
If you're planning to use a moderately slow lens, 27 of the autofocus points are sensitive to wider apertures down to f/8.
Pros
Excellent touchscreen control

Fast performance across the board

Impressive image quality

Sophisticated AF

User-friendly interface
Cons
No 4K video

Automatic exposure settings are lacking

The Finish could be better
Click here to read more about the features of the Canon EOS 800D.
Click here to buy at B&H.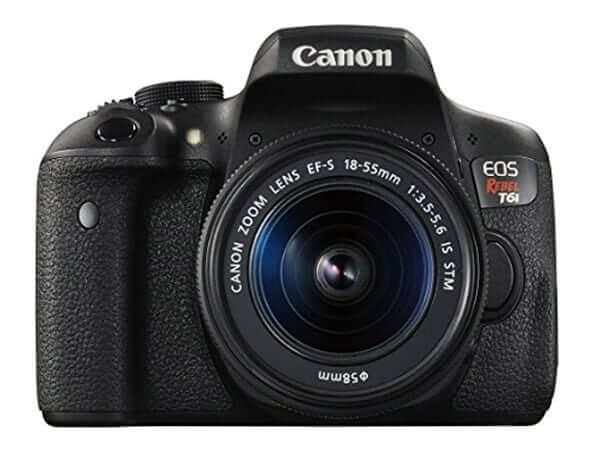 Why we like it: The 750D is an excellent pick for beginners on a stringent budget with 24.2MP APS-C sensor. This digital camera features solid autofocus coupled with handy features that give it remarkable image quality and a helpful secondary LCD.
Performance
Despite the increased pixel levels in this model, Canon's 750D has a remarkable pixel sensor which captures more excellent details, but the downside is the increased risk of noise. However, Canon has done an excellent job of balancing this series to offer outstanding performance and higher image quality for the price range.
There's also a sensitivity expansion setting in 750D best for using when images are limited to 7 x 5 inches. But generally, the colors are well saturated and vivid while the white balance handles well with a range of lighting conditions.
Image Quality
Unlike Nikon D5500 which features a touchscreen, Canon 750D has no AA filter over the sensor. Additionally, the JPEG resolution in the Canon series captures more details but lags a tad behind the Nikon brand. Besides, the Auto Lighting Optimizer mode can help improve the dynamic range in the JPEGs.
The shutter speed range is 1/4000 of a second while the ISO range is 100-12800 that are quite noisy for raw files.
Build and Handling
This 750D features a jaw-dropping, dynamic design and a classic Canon digital cameras look with a chunky black body. Canon incorporated polycarbonate material rather than magnesium alloy found in high-end models, a slightly lower-end construction that makes it lightweight somewhat.
There's also an LCD screen on the top plate of this digital camera which shows relevant information like battery level, ISO sensitivity, shutter speed, aperture, and exposure level. It comes in handy when the camera is on low battery.
Auto Focus
The autofocus system in the 750D features a 19-point on the APS-C sensor with all-cross-type points while the on-sensor detection is best for Live view mode. There are no flashy extras in this model, but the solid everyday speed is good enough in this DSLR camera for beginners.
The processor in this model lets you shoot at five fps up to 940 JPEGs in burst – this may be  best for sport or action photography of what may be a relatively fast-moving subject.
Pros
Affordable DSLR for beginners

Full articulating touch-sensitive screen

Control combination

24MP APS-C format sensor

Wi-Fi and NFC built-in
Cons
Viewfinder covers only 95% of the subject

A slow route to setting autofocus point

No 4K video

Click here to read more about the features of the Canon EOS 750D.
Click here to buy at B&H.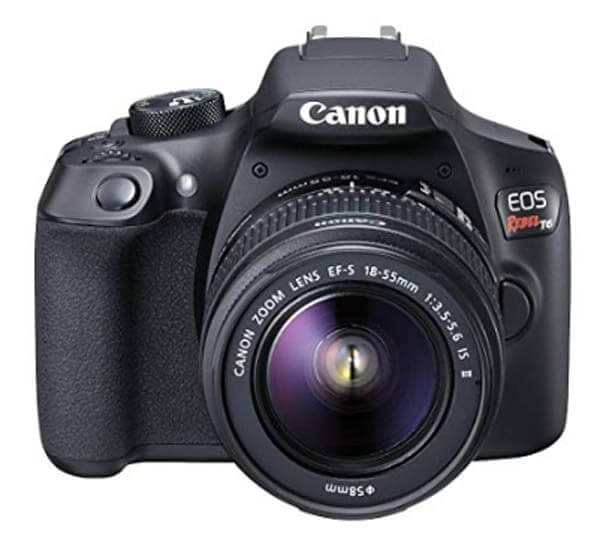 Why we like it: The Canon T6 camera is a DSLR that entices those looking for an entry-level with performance comparable to the EOS Rebel T5 with eye-catching features and solid image quality at a reasonable price range.
Performance
Like the T5, the metering system in the T6 does an excellent job in delivering accurate exposures although your subject can turn out to be too bright or too dark skewing the overall exposure reading.
Furthermore, the auto white balance in the T6 copes well in a variety of lighting condition, but for maximum accuracy in low light, we strongly advise to switch to the Fluorescent mode to get sharper, more explicit images.
Image Quality
Canon used the same sensor they used in T5 and include it in the T6 but with a slightly better DIGIC 6 processor giving it better performance than the T5, improved light sensitivity, full resolution and high-speed continuous still shooting.
The JPEG image quality is pretty good with a level of warmth and saturation while the Raw images have less contrast giving you room to process the files based on your taste.
Build and Handling
The overall design in this model is much like the one in T5 with a chunky front grip and a nicely contoured textured coating, and a thumb rest that gives you a secure feel when shooting. The dedicated buttons are easy to understand that help you to quickly access the menu and settings for better adjustment when shooting various scenes.
The T6 does not feature a touchscreen, so all the adjustment need to be made through the physical buttons.
Autofocus
This Canon model enables you to switch to AI Servo AF mode to track moving objects, but that doesn't make it the camera for action and sports enthusiasts.
That said, T6 is quick and accurate in bright light but slows down in dim conditions, but generally, it will get the job done with 9-point AF 1 cross-type autofocus point.
Pros
Affordable

Wi-Fi and NFC connectivity

High-resolution screen

Easy to use
Cons
No touchscreen control

Slow focus in Live view mode

Only 18-megapixel resolution
Click here to read more about the features of the Canon EOS Rebel T6.
Click here to buy at B&H.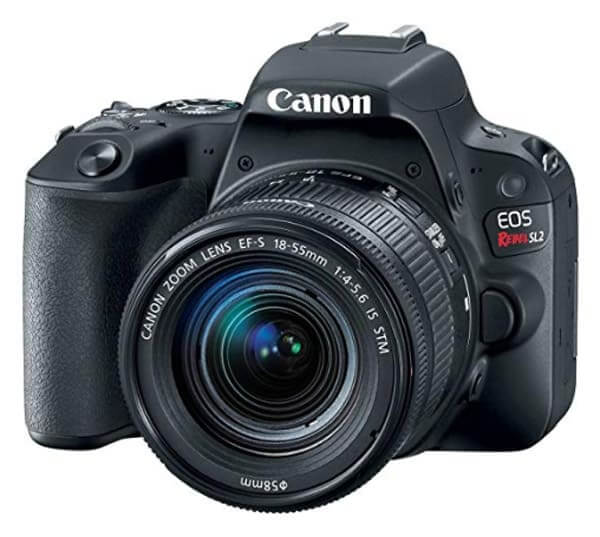 Why we like it: Canon made several improvements in the EOS Rebel SL2 from the original series SL1. Canon included articulating monitor, a refined touchscreen control, wireless connectivity, a new sensor not forgetting the guided user interface an excellent option for entry-level users.
Performance
Canon stretched the bursting shooting speed in the SL2 from 4 fps to 5 fps which is what we'd expect in most DSLR cameras for beginners at this price point. But if you're looking for a model that will give you a fast burst of shots, then we'd recommend a mirrorless version.
The SL2 notably features a graphical user interface with the Guide Mode On just like in Nikon's D3300, an improvement that entry-level Canon users will appreciate.
Image Quality
The 24 megapixel APS-C CMOS sensor performs incredibly well offering great details at sensitivities up to ISO1600. At low light conditions, SL2 handles well displaying vivid colors while the images seem to be noise-free up to ISO3200.
The sensitivity settings are perfect while the dynamic range is ok but can't quite match Nikon's D3400.
Build and Handling
The Rebel SL2 is the world smallest compact DSLR that features a lightweight design making it portable for frequent travelers. Although Canon included a vari-angle display in this model, its an incredibly dense construction with battery and card fitted.
Round the back of the camera, there buttons are intuitively featured identical to that of SL1. There's a new control that gives the user quick access to movie recording.
Autofocus
The 9-point autofocus system in the Rebel SL2 is reasonably well spread across the frame in a modest diamond formation with just one cross-type AF. These cross-type sensors are sensitive in both horizontal and vertical planes.
The SL2 uses a phase-detect AF for accuracy and faster-focusing speed in live view mode. Besides, the focus is smooth and swift giving mirrorless rivals stiff competition – this is particularly useful for video.
Pros
Easy to use

Compact size

Articulating touchscreen

Fast Live view focus

Excellent image quality
Cons
The 9-point AF system is a bit basic when using the viewfinder

No 4K video

Plastic-like finish
Click here to read more about the features of the Canon EOS Rebel SL2.
To buy the newer SL3 at B&H click here.
Bottom Line
If you're not sure which camera you should buy, this complete guide of the ten best DSLRs for beginners is handy and points out the features you need to look out for before purchasing a digital camera.
Entry-level DSLRs are a considerable step in image quality over smartphones and compact cameras. They are feature-packed and come at relatively budget-friendly prices, unlike their mirrorless rivals which are more expensive though with excellent performance, intuitive controls and offer remarkable image quality.
The critical advantage of DSLRs is that you can add additional lenses for more flexibility and get a wide angle of whatever photography you're undertaking.  As for the old Canon Vs Nikon debate, it turns out when you are a beginner it does not matter too much where you start.  Both brands make great beginner cameras so there is no single clear winner.  You should look at the subtle (or not so subtle) differences in features listed above to decide what camera is best for you. More advanced users usually have their preference, such as the tank like build of the old 1980s metal Nikon lenses.  However, as manufacturing costs change, lens construction becomes more and more similar today.

One thing to keep in mind is whether you already own or have access to lenses.  As you get better and upgrade your camera bodies, your life will be much easier if you stick to one brand, since you will not need to buy new lenses or accessories.  Dont forget, adapters that convert from Nikon to Canon lenses and vice versa often do not fully transmit all the data such as focus or exposure, and can even degrade the image by adding more glass (or plastic) in the path.

Good luck.
For  information about cameras for hiking, click here.