Action cameras have become more common in the past few years, and for a good reason. Originally created by GoPro, many big brands have also jumped in the action camera space. As the action camera space grew, there came along a lot of cheap copycats. With multiple brands and tens of models to choose from, it has become difficult to choose the right action camera, especially if you also take the price into account.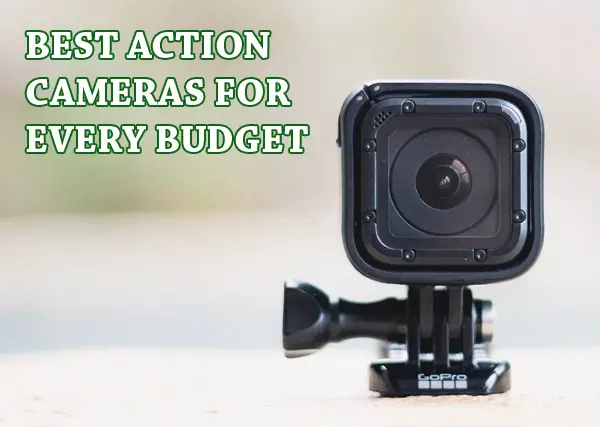 The big question is, which are the best action cameras for every budget? As it is with any product recommendation, there is no single answer. But, we've tried to compare some of the best action cameras at various price points.
1. GoPro Hero8 Black – Expensive, But Worth It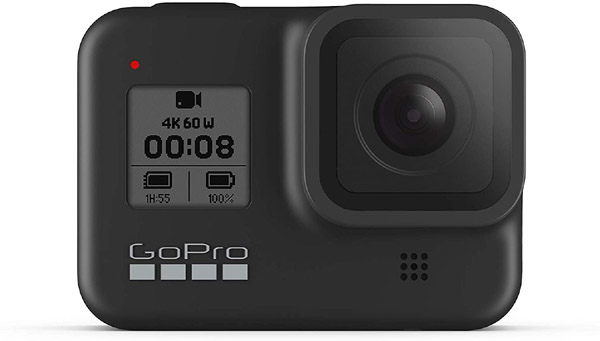 GoPro has become a household name in the action camera world since they started making action cameras in 2005. Changing direction a bit, the GoPro Hero8 has a bit of a redesign, and now it includes a built-in mount, which so many people have loved. It is definitely expensive, but it does justify its price with its features.
It shoots 4K/60 at an impressive 100Mbps bit rate, and you can also shoot 240fps in FHD for slow motion. The quality of the video is a bit better than the GoPro Hero7 due to the higher bit rate, but not by a large margin. For pictures, the Hero8 still captures 12MP images.
However, the Hero8 far exceeds the Hero7 in stabilization (HyperSmooth 2.0). It also has a better dynamic range in pictures, lower ghosting issues, and some other smaller features, like the automatic horizon leveling, which makes the camera experience better.
But, in my opinion, the one thing that sets the Hero8 apart from other action cameras (including other GoPro cameras) is the new mods that they announced. The option of having a small light, a flip-up display, a microphone, an HDMI port, and the ability of plug-in external microphones makes the Hero8 much more versatile than other cameras.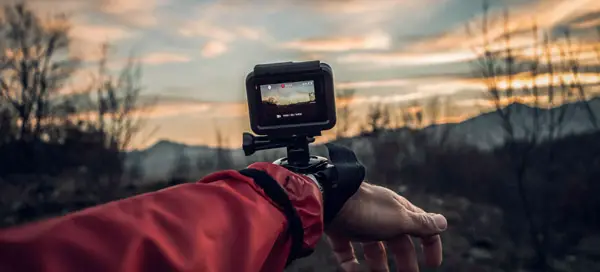 Even with action cameras, you're not always shooting action. Sometimes, you want to take a short video with your family before you head down the ski-path. The flip-up screen and microphone will make your life much easier in that case. Obviously, GoPro will release more mods in the future, adding more functionality to the already great Hero8. Do factor in the cost of the media mod into the overall price if you decide to purchase it.
Overall, the GoPro Hero8 provides value that is hard to beat with any action camera, although at a slight premium.
GoPro Hero8 Relative Price
Price – 2/5 (higher is better)
GoPro Hero8 Strengths
Usability (Mobile app and on camera)
Stabilization
Accessory support
Ecosystem
GoPro Hero8 Weaknesses
No front display
A bit pricey
Click HERE for current price and more info.
2. Insta360 One R – A Versatile Option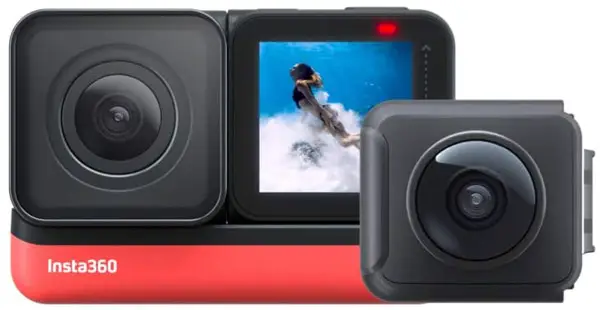 Buying a 360 camera alone doesn't always justify the price against their limited use case. However, the Insta360 One R is an exception with a modular design, making it a hybrid action camera rather than a simple 360 camera.
By modular design, we mean that you can swap out components (mainly lenses) from the camera and change to other ones, making the use case more versatile. It is similar to changing lenses on a DSLR, but here, you don't get to choose between different focal lengths and apertures.
The battery base and the touchscreen are the core components and can't be changed (right now, at least). The lens component is swappable, and currently, there are 3 options to choose from.
A 5.7k 360 module
A 4K wide-angle module
A 1-inch sensor module from Leica
On the first impression, the swappable lenses on an action camera may sound like a gimmick, but it is actually well thought of. Once you experience it, you will understand how versatile and feature-rich it makes the camera.
The 4K wide has a 12 MP sensor with an aperture of f/2.8. In video mode, you can utilize the full sensor to capture video at a 4000 x 3000 pixels at 30fps or crop to UHD and record at 60fps. You can also record slow-motion at 200fps in FHD.
The 360 lens has an 18.4MP pixels, but the pixels will be spread out, resulting in lower pixel density. But, the lens is one stop brighter at an f/2.
With both lenses, photo and video performance are fantastic. The colors, the dynamic range all looks good. The colors are punchy after processing in the Color Plus app, but it does improve the image quite a lot. But, there is some noticeable shutter lag when taking pictures. It is just enough to be annoying, and you might miss a few moments because of it.
When using the Leica 1 inch sensor mod, the image quality definitely goes up—in both photos and videos. The lens has a 14mm equivalent view, so expect some distortion. In videos, you can shoot 5k 30fps or 4k60fps, and the results are excellent, even when in low light.
Coming to the stabilization, it is excellent with all 3 mods, and you will rarely face any issues with the app or the camera itself. Combining all these features with HDR, color grading options in the app, remote shooting, support for accessories, and night mode make the Insta360 a hell of an offering to beat.
Pricing is a bit tricky for the One R as it has a few different bundles. Here is a simple reference guide.
Insta 360 One R Relative Pricing
1-2/5 (depending on the model your pick) (higher is better)
Insta 360 One Strengths
Only camera with a modular design
Option to choose a higher quality image sensor
Excellent video and photo quality
Insta 360 One R Weaknesses
Expensive, especially with the different modules
Noticeable shutter lag when clicking pictures
Choosing Between Hero8 and Insta360 One R
Since both the Hero8 and the One R are similarly priced, it is hard to decide which action camera you should buy. Just as an action camera, the Hero8 does have the edge over the One R. However, the One R is more versatile and offers many features that you won't find in a GoPro. Ultimately, it is your call on which camera you would prefer to shoot with.
3. DJI Osmo Action – A GoPro Clone with some differences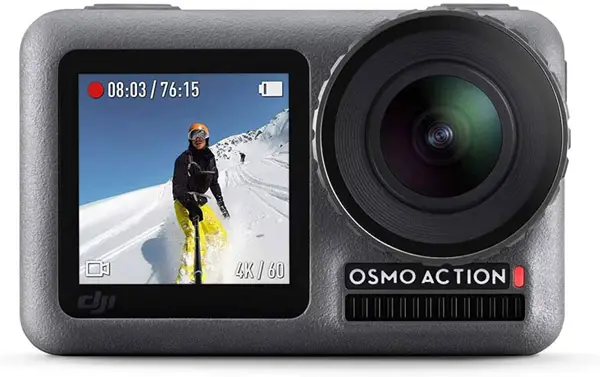 When DJI, the famous drone maker, launched its first action camera, the Osmo Action, it created much fanfare. However, after people got their hands on it, excitement quickly faded.
Not because the DJI Osmo is a bad action camera. In fact, it is a pretty good action camera. But, the expectations of the people were such that they expected it to blow GoPro out of the water. However, the Osmo managed to create just a small splash.
On the physical front, the Osmo Action sports a twin display. The back display is touch-sensitive and generally better than the GoPro. The front screen is not touch-sensitive and has a square aspect ratio. The output at full width is letterboxed, but it does help a lot in framing.
Specs-wise, the camera stands with the best. It is waterproof upto 30 feet without a case, and the interface is also quite easy to use.
In terms of resolution, you can shoot in 4k 60 FPS and 240 FPS in FHD. The Osmo Action also supports HDR, which claims to add 3 stops of dynamic range. However, you will be limited to 4k 40FPS in that mode, and you won't be able to use the Electronic Image Stabilization.
The EIS is on the Osmo Action is called RockSteady, similar to how GoPro calls its stabilization HyperSmooth. The stabilization is actually amazing on this camera, and you'll be able to smoothen out the jerkiest movements easily. However, there is a catch.
If you enable the in-camera distortion adjustment (de-warping) and also enable EIS (Rocksteady), the 4K video will lose a lot of sharpness, especially in the shadows. It won't be evident on small screens easily, but you will definitely notice it on bigger screens. The camera also has a small lag when RockSteady is on, and that can become a bit distracting, especially in fast-moving scenarios.
An excellent thing about the Osmo Action cameras is that the lens supports filters out of the box, unlike other cameras. You can choose from ND filters, polarizers, and even underwater filters. DJI also made the screw mount an open-standard, so 3rd party options can be used as well. But, you won't be able to use filters you got for your DJI drones if you're wondering.
The experience with the Mimo app is less than satisfactory. It's a bit clunky, rough around the edges, and doesn't work well. That is not a deal-breaker, but for many use cases, you need to connect your camera to the app—even though it seems that it doesn't need to. Overall, the app experience is not the best, but I hope that improves in the future.
On the pricing front, it is cheaper compared to the GoPro Hero8 and the Insta360 ONE R (depending on the bundle), which makes it a great value. Most of the issues with the Osmo Action are software related, and they can be fixed in future updates.
DJI Osmo Action Relative Pricing
3/5 (higher is better)
DJI Osmo Action Strengths
Twin display
Excellent features
Easy to use camera interface
DJI Osmo Action Weaknesses
Less than ideal app experience
Soft 4k video with stabilization and anti-distortion
Click HERE for current price and more info.
4. GoPro Hero7 Silver – Light on the Pocket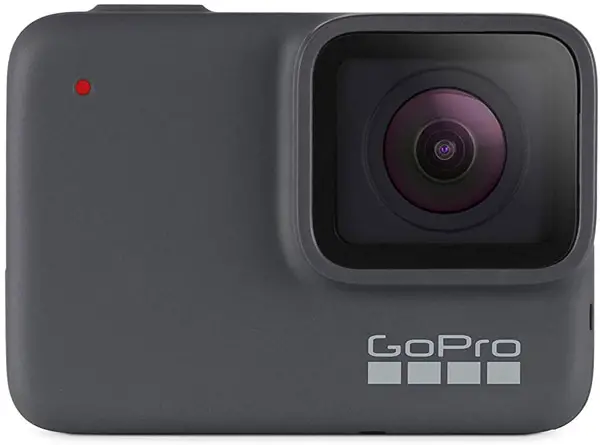 For people who don't want the latest and greatest camera and are happily saving a few bucks, then the GoPro Hero7 Silver is still a fantastic action camera. Priced even lower compared to the DJI Osmo Action, the Hero7 Silver has all the features that a hobbyist might need.
You get a body similar to the Hero7 Black (without the front screen), similar waterproofing, and a slightly lower max video specs at 4k 30 FPS due to the last-gen processor.
You also lose the HDMI out (compared to the Black), but that's all that you lose. You still retain the amazing build quality, excellent stabilization, host of optional accessories, and the easy-to-use app interface. And the discounted price easily makes up for the small compromises.  Overall, it is still an excellent action camera, especially if you're buying one for the first time.
PS: If you don't mind paying $50 – $70 extra, the GoPro Hero7 Black is also great value. However, we do think the Silver has a better value for the money.
GoPro Hero7 Silver Relative Pricing
5/5 (higher is better)
GoPro Hero7 Silver Strengths
Excellent performance for the price
All the GoPro's amazing features
GoPro Hero7 Silver Weaknesses
Click HERE for current price and more info.
Honorable Mentions
One of the cameras that we considered adding to the list was the Olympus Tough TG-6. Instead of having a regular action camera type body, it has a body of a point and shoot camera with rugged armor. Although it is pricey, it does offer some features that other action cameras don't.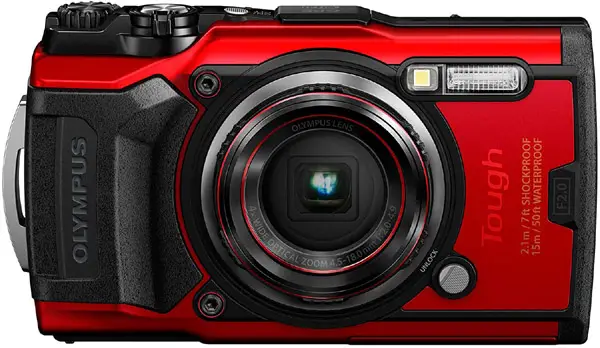 It has a much larger sensor than other action cameras, has a 4x optical zoom, is freeze proof, crushproof, has IBIS (not exactly, but something similar), has GPS, WiFi, macro modes, 4k video, and even RAW photos. That's a lot, even at premium pricing.
Sadly, Olympus decided to sell its camera business. With this decision, the support and development of its products remain in question. Hence, not on the list. But, you are free to check the interesting camera out using the link below.
Olympus Tough TG-6 Relative Pricing
Olympus Tough TG-6 Strengths
Rugged than most action cameras
Crushproof, freezeproof
Built-in GPS and Macro mode
Bigger sensor than other action cameras
RAW photos
Olympus Tough TG-6 Weaknesses
Uncertain future
Price
The form factor might not be ideal for true action-based photo/video
Why We Don't Recommend "Budget" Action Cameras
If you search on Amazon, you'll find hundreds, even thousands of "cheap" action cameras close to 1/5th the price of one of the action cameras we recommended. Something similar to this.
We don't recommend that you buy them in most cases.
That's because cheap cameras are, well, cheap! You can't expect a $50 camera to produce images and videos comparable to a professional camera. But, that's exactly some of these off-brands have tried to promote. For a throwaway price, they offer 4K60 fps video, 12 MP stills, slow-motion, the bells, and the whistles.
Technically, they do what they say they do—just not very well. The features these cheaper alternatives have are designed to impress non-photographers into purchasing these cameras, and it works too. Some of these cameras have thousands of reviews.
But, photographers understand that resolution and frame rate are not the only things one needs to look at to judge a camera. You have to look at low light performance, the bit rate, dynamic range, sharpness, etc. And that is where these cameras fail.
When the lighting conditions are fantastic, they will do a decent job of taking videos and photos. But in challenging conditions, not so much. They are terrible in low light, miss details in shadows, capture in-accurate skin tones, and have terrible bit rates in video. In fact, you could arguably take better photos and videos with your smartphone in those conditions. The only value that these cheap cameras provide is that you won't lose your sleep if you break the camera in action.
There is nothing wrong with buying these cameras. If you don't want to spend a lot of money, or you don't care about the image quality as much as a photographer does, sure, go ahead and buy one. But, you should understand their limitations first—which the manufacturers conveniently leave out. Since this article is about the best action cameras, we don't think they fit well here. Therefore, we haven't included them in our list.
Below is a video comparing one of these cheap action cameras to a GoPro, pretty interesting results:
Final Words
Action cameras are a fun and easy way to capture memories when using your phone or a DSLR type camera isn't the best choice. However, choosing the right action camera isn't very easy, especially with so many options around. Hopefully, this video has given you some clarity on what features to look for in an action camera and find out which is the best action camera for your budget.
If you enjoyed this article, make sure to read this article on how to mount action cameras for the best shots, and some other action photography related articles linked below.