Winter is an amazing time of the year, especially if you live in a region that produces tons of snow. Don't hibernate even if there is no snow outside since winter is the best season for outdoor photography. Cold weather is not an excuse for sitting at home. Warm, comfortable clothes and special, cropped gloves could help you easily overcome coldness.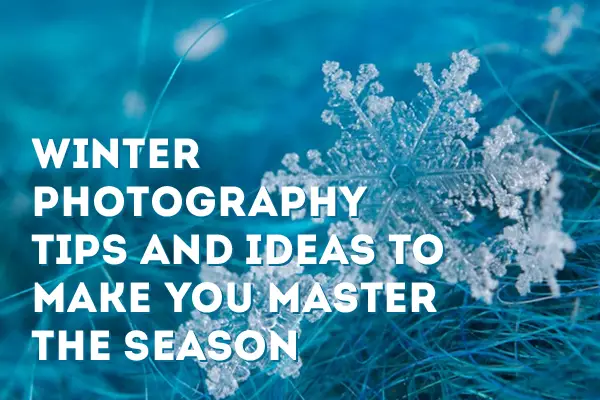 Keep in mind that snow creates some problems that are hard to figure out, especially for newbies. Before you go winter shooting, you should learn to use snow to your advantage, find which time of the day to photograph and understand how to end up with well-exposed, colorful pictures. In this post, I'm going to tell you all the basic things about winter photography and give you a few, fresh ideas for your next winter photo shoot.
1. Protect Your Equipment
Snow and constantly changing temperature conditions affect your camera very much. Coming back to a warm house after spending time outdoors can really damage your camera, and there are a few ways to prevent it. When you come back home for a break, don't take the camera with you. Leave it in some place that's warmer than outside, but not that warm as the temperature at home. For example, put your equipment in storage or the garage to prevent it from fogging up.
The second way is putting your camera inside a zipped bag. It will keep away the condensation, letting the camera adjust to the temperature changes slowly. For more tips on how to keep your equipment safe this winter, read our previous post.
2. Make a Plan
First things first: Remember that days in winter are much shorter than any other time of the year. Thus, you have just a few hours per day of potential, perfect light to take pictures. Winter days can be challenging, and time flies by really fast.
Plan your day properly: You need some time to review the location, so it's better to come there before the shoot and get ready. Don't forget about warm clothes, hot drinks and food. It's critically important in winter. Check out your mobile battery. It should be fully charged, as cold temperature eats up the battery really fast.
Winter days are short, but sunrises and sunsets last longer than when it's warm. Sunrise and sunset are the best time for shooting: Long winter shadows and bright sky dilute the boring, gray winter scenes and add some dynamics to the frame.
3. Remember White Balance
I hope you have already read our article about white balance, and you completely understand how it works. For most of the year your white-balance settings can be set to auto, but in winter, you should forget about it since snow and auto white balance can play tricks on your photos.
Snow could come out more bluish or grayish than the white of your pictures. Play around with settings and take a few photos in a row to find out the best white-balance settings for a certain location and lighting.
4. Add Colors
Shooting in winter photos might come out dull and lack contrast. Increase the saturation and contrast, but don't overdo the details. Try your best to get more of gray winter scenes. Over-saturation could be a bad idea for any other occasion, but for winter timing, it's one of the best options.
Other colors, except white, that appear in a winter capture are admirable and vivid. Add some colorful piece of clothing–a hat or a scarf–to liven up an image. Experiment with clothes and accessories, and soon you'll find that it's so much fun to change the mood of the entire picture with one, tiny detail.
5. It's a Perfect Time for HDR
Unrealistic HDR colors are one of the best ways to get rid of white-snow dullness. Also, it works great with black-and-white shots. Sometimes, snow can lack texture and depth; that's why HDR will be great for adding some contact. Look at the roundup of HDR video tutorials we previously published.
Don't forget to increase your ISO to help offset the darker ambiance.
I offer you more winter photography examples to give you further ideas and inspiration.
Winter mood by Елена Серебрякова
Laekvere pine by Meelis Riisenberg
The house stands, the lights are on by Alexander Nerozya
Giant Snow Flake by crimsonpenguin
Winter by Rudolf Vlcek
Winter's fairytale by karinephoto
Winter istanbul by Mustafa Celebi
Blue Season by Philippe Sainte-Laudy
Dog Snowflakes Winter by HZR PICTURE
Leaving winter by Trichardsen
colors in winter by ssuunnddeeww
Rising Sun and Reflection by MIYAMOTO Y
Winter Wonderland by Maria Smola
Winter Foliage by Rudolf Vlcek
On a cold winter's day by quadratiges
Winter Night Swimming by Pajunen
Winter people by Anka Zhuravleva
Winter Lights by Raphael Dupertuis
Familiar winter II by WinterWood91
Winter Wonderland by Peter From
The winter sunrise by Elena Shumilova
Russian Post in Village by Denis Belyaev
Winter Wonderland 28 by doruoprisan
Winter at Finland by Rebekka85
The last of winter by Sandrita-87
winter's Tale in Moscow by Irina Mastalyarchuk
Blitzwinter in Zurich by Adde Adesokan
One magic night by Caras Ionut
One winter night by Elena Shumilova
Just like every year by Melanie Miedler
Last Word
Winter photography does not mean snow. If you live in a region where snow is a surprise event, go outside and shoot anyway. Besides snow, there are so many things you can try to shoot during winter.
Streets, people, birds, animals, trees, winter decorations and landscapes are also great things to photograph and play around with. Don't forget the bright sunrises and sunsets that could be a memorable experience during the dull, long winter months. Short days make every minute of light more valuable, so don't waste your time, grab your camera and start taking photos!