Tumblr is a magic land of GIFs, memes and photography. If you step into this world, you should know in advance that there is no looking back. Browsing through the images can take you hours, so you may even forget to feed your pet!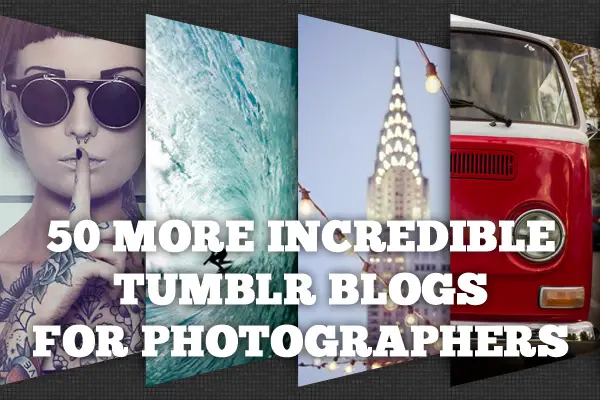 But no worries: Tumblr will help you go through it – there are tons of cute cat pictures that can even cause you to forget your own cat.
Along with brilliant shots of famous photographers, you may find lots of substandard photos. Thus, we don't want you to waste countless hours looking for Tumblr blogs for photographers worthy of following. We've found you 50 really good examples! Lots of them are blogs by professional photographers who feature 99-percent unique images or their own works; the other ones are the blogs with good, "reblogged" photos by enthusiasts and photography lovers. Just scroll down and enjoy!
Chris is a freelance photographer who worked with huge brands such as Nike, PayPal, Johnnie Walker. Often he is traveling throughout the world to help strengthen these brands' visual identities through his images.
The owner of this Tumblr blog walks the streets of San Francisco with a 35mm compact camera. His snapshots focus on America's dream metropolis — in all of its splendor, filth, and variety.
This is Helena Price's Tumblr blog. She is a recovering ex-techie, these days a full-time photographer, mostly based in San Francisco. She works with lots of clients, including Dropbox, Path, Nike, Photojojo, Samsung, and others. This is where she documents her life.
Face It a Andrew Catellier's Tumblr blog that features mostly his own photography. He is Boulder, Colorado based photographer.
Adrienne Pitts is an award-winning art director, designer and photographer from sunny New Zealand. She has worked as both a graphic designer and photographer in a number of roles around the world and is currently based in London. She has a weakness for puppies and coffee.
This is a photographer Bryan Schutmaat's blog. In the News section you'll find announcements about his work – exhibitions, publications, awards, press, etc – as well as new photos that typically haven't been shown on the net before. The Inspiration section contains other people's work that he likes and wants to remember.
It's a scrapbook by CULT. It's an online publication about contemporary photography and filmmaking based in Germany.
Geordie Wood is a Brooklyn based photographer. Currently he's working as a photo editor of The FADER print magazine.
Thomas Prior is a photographer based in New York.
Stephanie Gonot is a Los Angeles-based photographer and curator.
Ali Bosworth is photographer who does not just look at the surroundings. Relying on his curious mind and practiced vision to reveal and imbue his subjects with qualities most people would neither see nor even imagine when experiencing them first-hand.
12. Mark Wickens
Mark Wickens is a photographer and designer from San Francisco. He has a Master Degree in Architecture from Tulane University. His works were featured in a number of digital and print publications.
The Great Leap Sideways is a blog focused on photography, politics, and poetry.
Alex Cretey is fine art and editorial photographer from Paris.
Foam Magazine is our award-winning, international photography quarterly. The magazine is a platform for every aspect of photography from documentary to fashion, from contemporary to historical, and from world famous photographers to young talents.
16. Van Robinson
Van Robinson is a photographer based in Los Angeles.
Daniel Augschöll is a photographer and editor at Ahorn Magazine who likes sare things on Tumblr.
Here a series of web based interviews with contemporary innovative photographers are featured. You can be a part of this project.
Jan Postma is a photographer from Rotterdam, The Netherlands.
Landscape Stories is an independent and free online magazine that features photographic works.
It's Ashlyn's Tumblr blog where collected all the photos, ideas, and themes that inspire.
Olav Stubberrud is a photographer from Norway. He focuses on portraits and active sport photography.
23. Streets of Berlin
This blog features Berlin street photos by Klara Yoon using traditional black and white film.
Paul Pride is a curator of this lovely blog. As the tagline says: "My photographic journey with film".
Nick Gerber is a portrait, landscape, and event photographer from New York. His unique style was developed by travelling around the globe.
26. James Chororos
James Chororos is a New York based photographer, who studies architecture, painting, graphic design, art history, and engineering. His Tumblr blog is a parade of awesome images.
27. Technicolor Submarine
This blog is full of breathtaking landscape and portrait photography from San Francisco.
Here you'll find interviews with photographers, artist and geniuses in general. Their aim is to showcase emerging contemporary image-makers and have fun while doing.
The best pictures of the week from TIME LightBox you'll see here.
Cody Cobb is a photographer from Seattle, Washington. He features stunning landscape photos on his blog.
This is an often-updated blog by Daniel Diasgranados seventeen years old photographer. All the photos featured here werу took by Daniel.
This is a blog curated by Polish photographer Lukasz Wierzbowski. His photos explores the relationship between model and surroundings.
Inspiring photos from National Geographic archive.
A Tumblr blog curated by 13thWitness shop. It's full of smashing portraits and urban photography.
35. Who Are You New York
Who Are You New York is a Tumblr blog by Marc Janks. Here you'll see medium format film portraits of New Yorkers (and more recently Southern Africans). It's photographer's way of using photography to get over some shyness left over from my childhood.
As the tagline says: "walking meditation". Photography by Rinzi Ruiz.
Luke Gram's Tumblr blog that features landscape, travelling, and adventures photos.
Chase O'Leary photographer based in Port Macquarie, Australia. He travels the world as a Professional Bodyboarder. These are the photographs he takes along the journey.
21 year old self taught Photographer & creator of things.
It's a Tumblr blog by Zvonimir Ferina photographer and cinematographer from Croatia.
Jason Perkins' Tumblr blog that features mostly fashion and portrait photography.
Women black and white portraits.
The tagline says – see in a new way. It's official Tumblr blog by Lensbaby.com.
The best landscape Tumblr blog ever! Roads, forests, sea, mountains – it's everything a true nature lover needs.
Robin Nilssen is a portrait and skateboard photographer based out of Stockholm, Sweden. Mostly work around Sweden, Spain, Germany and the rest of Europe.
Tumblr blog by Chris Burkard. Here you'll find lots of inspiring landscape and travelling shots.
Lots of amazing snapshots of summer, sea, travelling, food, and other pleasant life stuff.
Will Bendall is a West Wales based photographer. His blog brings lots of inspiration.
49. Photographers on the Brain
Photographers on the Brain is a blog curated by Bryan Formhals. Here you will see tons of smashing photos of streets, nature, and people.
50. nowhere
Fashion photography Tumblr blog. Everything about style and fashion.
Not Quite Over
Hopefully this collection gives you a few ideas for new pictures. Which blog do you like most and why? Feel free to share your thoughts in the comment field below. Also, check out our previous list of Tumblr blogs we made a few months ago.