More photographers than ever are signing up to Tumblr with its minimalist, sleek design and a plenty of themes which allow you to show off your images in appealing way that other services can offer. But it's a challenge to find really good Tumblr blogs for photographers worth to follow.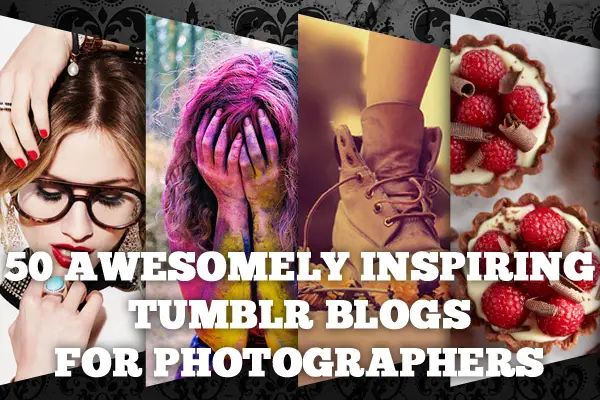 To help you along I've got together 50 really awesome photography Tumblr blogs. Some of them are personal photographers' projects, some are creative magazines, and online scrapbooks. I was not limited to one style, here you'll find fashion, architecture, landscape, portraiture, traveling, food photography and many many more. But the one thing they have in common – is the ability to inspire and motivate.
Photography Week is a new weekly magazine curated by DigitalCameraWorld blog. It hosts a big community of photographers from all around the planet. Photography Week updates once a day and showcases stunning high-quality photography.
Film cameras and red glare on the edge of photos are in the trend these days. Lomography is the official Tumblr Home of Lomographic Society. Follow this blog to enjoy fresh lomography snapshots or submit your own works.
iSee Tumblr blog was created by Benjamin Lowy while travelling as a professional photojournalist. This blog contains lots of digital camera and iPhone photography for your inspiration.
Sabino is an inspirational blog curated by 24-years old Sabino Aguad. It features amauter and professional photographers from all over the Web. You can also submit your works here.
5. Photojojo
This is an awesome Tumblr blog by Photojojo online store. Apart from creative products for photographers, here you'll find lots of intriguing facts about photography, smashing showcases and photo news.
Tons of amazing pictures that were taken by skillful photographers will help you to open your eyes and see the true beauty around. Blog is curated by India-based Karishma and USA-based Julie. These two women created this blog in 2009, so here you'll find almost endless stream of eye-candy.
Reportage by Getty Images is amazingly good blog. Really inspiring photojournalism from archives together with stories behind them will surely make you to look at the world in other way. Here you'll see iconic photography from both award-winning photographers and emerging talents.
If You Leave is a huge collection of the works of over 250 different photographers. They capture beauty that is a silent idiom of faces, subjects, and landscapes and shows their true personal and intimate worlds inside.
The aim of Photographers Directory is to project photographers on Tumblr to the global stage. Here you can submit your photo, tell a story about it and share a link with their vast audience to your personal page or website.
10. Not Content
One more Tumblr blog where photographers across the globe can showcase their works and stories behind them. It's full of experimental and non-ordinary shots, but unfortunately Not Content is updated just once a month.
The Daily Chessum is Tumblr blog curated by portrait photographer Jake Chessum. He knows for sure what makes a good portrait. The blog is full of everyday shots, professional photography from Jake's various projects and other creative artworks.
Light Travelers is a group of photographers dedicated to share travel photography in different forms: portraits, wildlife, street photos and landscapes. This blog aims to give you daily inspiration and, of course promote their main website.
T Magazine is New York Times' culture and style magazine that covers glam high-quality photos of models and celebrities. Horacio Silva, T Magazine's online director said: "It's a great way of bringing to the surface a lot of these great visuals that for any reason may have been overlooked. We take a very curatorial approach to the editorial decisions we make. I think that aspect lends itself perfectly to Tumblr." And it's definitely true!
Original Photographers was made for amauter and pro photography alike and for those who have passion to photography itself. It's a great way to bring your works to light and, who knows, maybe one day fame will knock at your door!
Based on anonymous submissions, this blog will tell you how much (or how little) websites, magazines and newspapers pay to photographers. Who Pays Photographers talks about editorial, advertising, entertainment and commercial issues, so all the price rates are located in one place.
Camera Obscura Magazine is a Tumblr blog curated by co-mag.net. This collective blog is published in five languages with accurate in-depth articles dedicated to modern photography and art.
Megan McIsaac's Tumblr photo journal. She is a photographer from California. Her blog is full of everyday snapshots, portraits, subjects in high resolution.
This is a lovely girly blog, created by 18-years old girl from Brazil. Time Flies Today contains lots of nice, pastel colors photos of streets, food, cats, and other everyday stuff that inspires.
The title of this blog is very descriptive. Lots of people's photography in public transport are collected here.
Want to know all breaking news from all over the globe? LIFE on Tumblr will help you with it. This blog is an additional outlet for life.com editors to show off the freshest and best photos and even more – unpublished pictures you've never seen.
Sound That is an awesome English sharing photography blog. Also. it's a great platform for other photographers to share their works.
When you're upset or just bored, come to this lovely life-asserting Tumblr blog to get inspired! It has flat design, so images are loaded while scrolling.
Leslie Seuffert runs this Tumblr blog. She works in Social Media for nutritionists in the NYC area. If you're looking for any type of creative inspiration, visit It's Complicated without hesitation. Here you'll find everything: from fantastic double exposures to cityscape photography.
One more Tumblr project running by Leslie Seuffert. It was made specially for highly visually inspired people. There are plenty of black and white photos on black backgrounds that makes them even more impressive.
All of the photos you see on this blog were taken with the Hipstamatic app. It's unexpected, isn't it? Stunning photography with fairytale photo effects in creative frames inspires.
'We believe people matter' is a slogan of this blog. Created back in 2008, I Can Read is full of motivational posters and photos with quotes. And I really hope this Tumblr blog could help you with whatever struggle you currently face.
Art, design and photography inspiration can be found on this Tumblr blog, created by Sophie Banh. You can choose a section you like best such as DIY crafts, design, photography, food, or typography.
As Buzzfeed said, This Is Not Happiness is one of 'The Best Tumblr Blogs of 2011'. This is an art scrapbook of links more than images.
Lauren Lemon is a creative portrait photographer from Los Angeles, CA. Her Instagram account was also featured on our blog not so long ago. Laura Lemon's Tumblr blog documents her photography and other creative artworks.
This is Tumblr blog by Matt Barnes, a Toronto based photographer who has a great passion for pop culture. On this blog you'll find lots of awesome photography, taken by Matt with interesting stories behind them.
All impressive pictures from American Photo main website have gotten together here! Also, you can submit your photography with a brief description and a few personal links.
Minus Manhattan is a Tumblr blog by Case Turner. He uses this space to share links and stories on photography, politics, art, design, technology, advertising, culture, music and more.
The Tumblr of an Argentine photographer Emiliano Granado living in Brooklyn, mixing his personal work and a nice selection of artworks that inspires him.
Stephanie Gonot is a Los Angeles based photographer. Here you'll see a great mix of contemporary photography focusing on portraiture primarily with his own extraordinary vivid shots.
This is a Tumblr blog via Carl W. Heindl, a self taught photographer, artist and musician living and working in Toronto, Canada. His blog is a steady stream of his personal photos with other ones found all around the web space.
This is a personal Tumblr blog by Rachel Marie Smith. She loves to look at the world through the viewpoint of the lens. It's the things around her that are inspirations for her personal work, as well as the people in her life. She loves films with heart-stopping cinematography, and is a science fiction junkie.
Awesome Photography blog was created by absolute photography lovers! It's a perfect place on Tumblr for those who are interested in photography. Moreover, you can submit your works here with a backlink to your own blog.
One of the best urban photography blog on Tumblr you have ever seen. Flat design makes this blog stylish and modern. Just scroll down the blogroll and beautiful photographs of city scenes will quickly load.
If you're interested in fashion photography or you're a glossy magazine lover, Vogue on Tumblr were made for you. It will tell and show you how we dress, live and socialize; what we eat, listen, and watch. Follow Vogue to be up to date with the latest fashion news.
Polaroid SF is a photography project that stems from a deep-rooted love of San Francisco. Inspired by everyday things and irresistible spirit of the city, this blog is aimed to create an analog love letter to San Francisco.
Black Blog is the Black Dog Represents Blog Site. It represents a group of photographers, both established and emerging every with a strong aesthetic.
A series of web based interviews with innovative contemporary photographers from around the world. You can be a part of this project too.
TIME Light Box is more than just a collection of stunning visuals, it's an opportunity to give you a daily behind-the-scenes look at their photography as well as inspiring new projects. TIME Light Box wants to immerse you in the visual side of the news and highlight photography that pushes boundaries in the art world.
Lucy Hewett is a photographer from Chicago. She shares her own inspiration here. Lots of people, food, streets, and other everyday moments are given in chaotic order on Lucy Hewett's blog.
Noel Barnhurst's blog was created especially for food photography fans. He is a photographer based in the South Park neighborhood of San Francisco, California. Moreover, here you will find a lot of recipes, tips, and news from a professional food photographer.
As Trey Ratcliff says about himself, 'A warm-hearted, old-school gentleman explorer with really cool toys". He loves to take landscape and street photography. His post processing techniques are impressive, as all his photos are like an explosion of colors and emotions.
Kale Thompson is a 21 years old photographer from Chicago. Pretty much all content on this blog was created by him and most pictures are impressive self-portraits.
It's a personal Derek Wood's Tumblr blog that is a perfect mix of beautiful faces, bodies, clothes, and accessories and music.
Ruud Baan is a photographer who loves to take energetic, dynamic, colorful, and fresh shots. Visit his Tumblr blog and you'll see for yourself. He is a portrait, fashion, and sports photographer.
This is Tumblr blog by Nick Wilkinson. He takes photographs on 35mm and medium format film in Nova Scotia Canada, and in other places, while travelling. His projects vary from architecture to landscape and portraiture.
Not Quite Over
Let me know if you feel I've missed some great photography-centric Tumblr blogs. And feel free to share a link to your own blog using a comment field below. Don't miss a chance to become famous 😉