If you're serious about being in the photography business to make money, then you'll definitely want your website to be found easily by the people who are looking for your type of services, which means paying close attention to search engine optimization. SEO for photographers can sometimes be a challenge, but that need not be the case.
When used correctly, SEO can help to bring the right customers straight to your door – people who are searching for exactly what you offer, and who are ready to buy from you.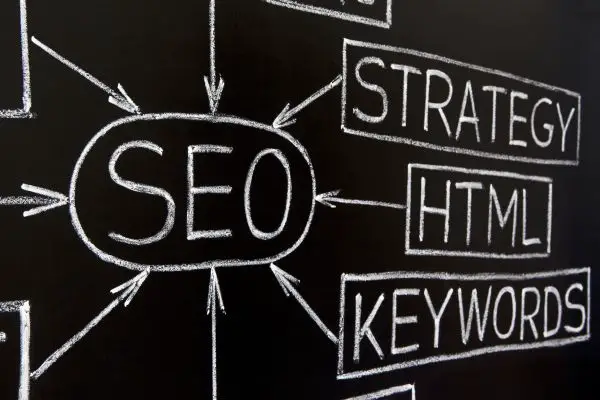 To do that, you must adopt a strategic approach to ensure that every page of your photography website is properly optimized for those keywords important to your business,  and we talked about how to perform keyword research in the previous article in the series (SEO For Photographers Part 1: What Are People Looking For?).
But when you've identified the keywords and phrases you want to rank for, how and where do you deploy them to your website for the best effect?
SEO For Photographers – Keyword Placement
To get you started, here are the 10 most important spots for keyword usage:
The Page Title
In order of importance, the page title has to be at the top of our list. The page title is the text used for the browser window title, and also as the header line of the snippet that shows up in the Google search results.
See (1) in the diagram below:

Ideally, you should limit the page title to 70 characters and try to place your most important keywords at or near the beginning.
The Page URL
The next place to consider is the web page URL, which is often overlooked, but is also a good place to use keywords. Not only is this good for SEO, it also helps the human reader see more clearly what a page is likely to be about.
For example, http://www.yourdomain.com/chicago-wedding-photographer.html gives a clear signal that this is very likely a page about wedding photography in Chicago. You can see the URL in the diagram above as the green link below the title in the Google snippet – highlighted as (2) above.
The Page Description
The description, highlighted as (3) in the example, is usually taken from the meta description for the page. If you use WordPress with one of the popular SEO plugins, for example, you can create a specific, keyword-targeted, meta description for each post or page.
However, the meta description should also be written in a way that persuades the reader to click on the search result, so you must aim for a balance between readability and SEO.
The maximum length for the meta description is 156 characters.
Headings And Sub-Headings
Because Google makes its ranking decisions based on factors such as relative importance, using your keyword phrases in the headings and sub-headings will help to indicate that those words are more likely relevant to the topic of the page.
The most important heading to pay attention to is the one specified in the HTML as "<h1>", so do make sure your keywords are present in that one at the very least.
The Body Copy
The term "body copy" simply refers to the normal text on the page, and this is an obvious place to mention your keyword phrases, but as naturally as possible! Google is very good at sniffing out most forms of keyword manipulation, so I advise you to avoid overusing your keywords or using them in ways that make the text hard for a person to read.
Overusing your keywords can raise a red flag with Google, and is called "keyword stuffing". As a guideline, a suggested usage frequency might be around 3%. So, if your document has 500 words, your keyword should be used around 15 times.
Images
We're photographers, therefore photographs will obviously form much of our website content, but not many people realize we can get some good SEO value by naming our images with keywords in the actual file name.
For example, "children-portrait-florida-beach.jpg" is definitely preferable to "dsc_10280.jpg" for SEO purposes.
HTML also allows two additional attributes for images ("ALT" and "TITLE"), both of which are also useful places to put your keywords to good use.
Image Captions
When you're inserting photographs and other images into your content, especially in WordPress, don't forget to include a textual caption for the image. Not only can you use keywords here, but captions allow Google to get a better understanding of the context of the images.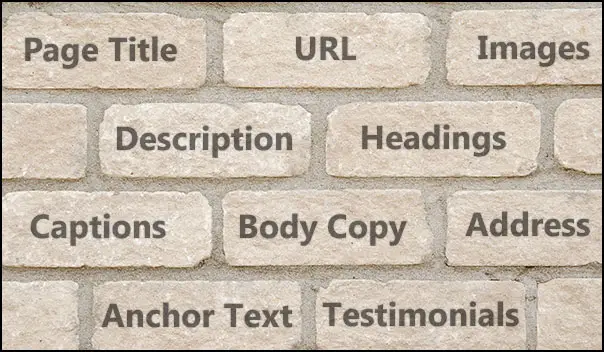 Testimonials
It should go without saying that testimonials provide wonderful and credible social proof for your photographic work, but they're also excellent places for keywords,  and especially those keywords that are related to your geographical area, such as your city name.
Anchor Text Of Internal Links
One thing that a lot of photographers forget is to create internal links to other relevant content. This is a great strategy to use when appropriate, but be sure to use the keywords for the destination page in the text for the link. For example, a link that says "click here" doesn't tell us anything about the page the user will actually land on if they click it, whereas "Boston wedding photography venues" clearly does.
Your Address
Photographers are mostly looking for local search traffic, so it makes sense to target your SEO efforts towards the local search results. Therefore, include your address on every page of your website. This is the best way to encourage Google to associate you and your photography website with the main keywords in the local search results.
Final Thoughts
With all of these tactics on SEO for photographers, it's important to ensure that all of the content on your website is unique. For example, don't get lazy and use the same "ALT" or "TITLE" text on every photograph. Do make sure that every page on your website has a unique title and meta description, otherwise Google might complain that it's unable to distinguish them when it comes to keyword relevance.
Most importantly, produce your content for humans first and search engines second. The website will then appear to be much more natural, will connect with the audience better, and Google will be more likely to treat it as valuable and relevant, and thus worth promoting in the search results.