"Google hates me!" is something I hear almost every day from photographers who come to me for help with their websites, and especially for the answer to the question, "why can't anyone find me in the search engines?" In short, SEO for photographers is something a lot of people appear to be struggling with!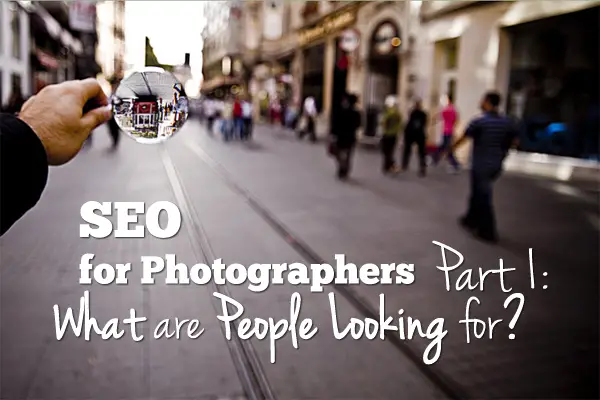 Their concern is very real, and they are by no means alone.
A fact of life in business today is that it doesn't matter what type of photography we aim to sell, Google is the great equalizer, and we're all subject to the same basic rule of online marketing: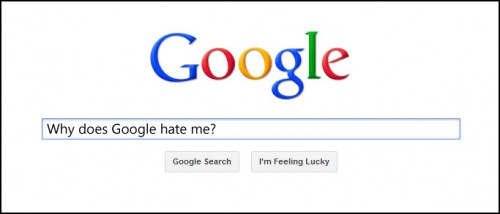 No one can hire you, or buy from you, if they can't find you…
This article is the first in a four-part series to help you get noticed by the search engines, outrank your competition, and make more money as a professional photographer.
And it's a lot easier than you might think…
SEO For Photographers Secret: It's Easier Than You Think!
Search engine optimization is one of those things that many photographers assume to be too difficult or technical for them to do by themselves, but the truth is that anyone can do at least enough SEO to make a big difference to their business.
One of the reasons why so many photographers are doomed to struggle with SEO is that they approach it by trying to answer the wrong question: "what do I want to sell?"
Instead, we should reverse this perspective and ask ourselves the very simple question, "what are people actually looking for that I can provide them with?"
Knowing the answer to that question will lead the way to a more natural approach to SEO that not only attracts more of the right people to your website or blog, but also identifies prospects who are in a buying frame of mind.
I've divided this first part in the series into four distinct phases:
Define Your Goals
Narrow The Field
Think Like Your Client
Keyword Research
Phase 1: Define Your Goals
As with any project, there's little point in starting unless you know where it is you want to go, what you want to achieve, or the outcome you're looking for. We probably wouldn't, for example, expect the pilot to walk onto a plane, fire up the engines, and take off without a flight plan or a destination.
So, before you start to seriously consider your SEO strategies, you should have at least some understanding of what you want you SEO plan achieve for you. For example: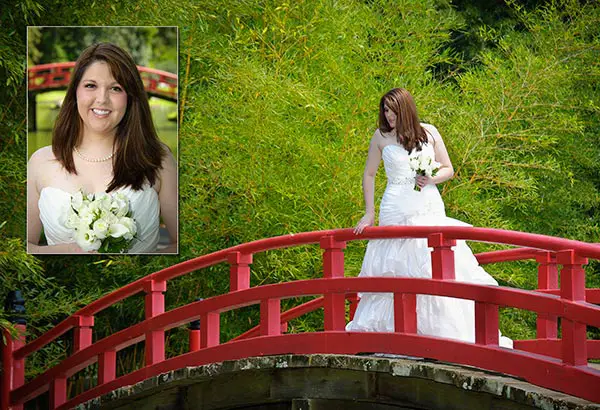 Once you have a good idea of your objective, it's time to start thinking about how to attract the right people to fulfill that goal. By the way, it's okay to have more than one goal here, just attack each of them in turn and don't muddy the waters too much by trying to combine them into one giant task – that's a surefire way to dilute your SEO efforts and hurt your chances of success.
Phase 2: Narrow The Field
With a goal firmly in mind, it's time to get even more specific. The more targeted you can make your objectives, the better off you'll be in the long run. You might not reach quite as large an audience, but the people you do reach will be much more receptive and responsive.
For example, let's say that you specialize in outdoor lifestyle photography in Idaho, and you're looking to license more of your work to magazine editors. In that case, there's little point in trying to optimize purely for "outdoor photography" or even "outdoor lifestyle photography" – those terms are simply too broad and could mean almost anything.
Instead, your ideal target are people looking to purchase "outdoor lifestyle photographs in Wales". You might even want to go one step further and create a range of content that targets specific areas in Wales that you know are of particular interest.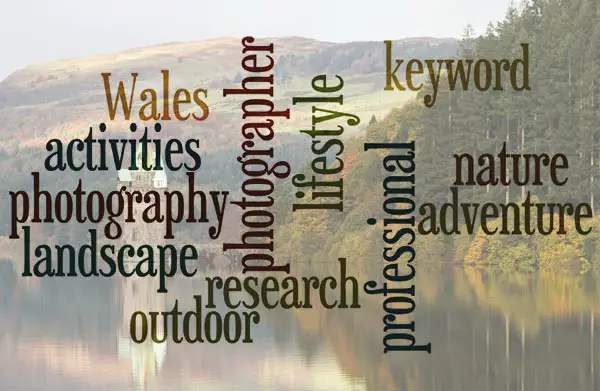 This local-based approach becomes even more important for photographers who sell portraits, weddings, or commercial work, for example, because their clients will typically come from within a certain radius of the photographer's studio or home base.
So, for each goal you've identified, you might end up with a list of very specifically-targeted phrases.
What do you do next?
Phase 3: Think Like Your Client
In this step, you have to get outside of your own head, as it were, and start to think more like your clients. This isn't as easy as it sounds, but is definitely worth the effort, and it does benefit from practice.
Make a list of all the phrases your prospective buyers might type into the search engines when they're looking for the style of photography you're aiming to sell. Include as many variations as you can, and be aware of local colloquialisms. For example, photographers in the Dallas-Fort Worth area of Texas know that the abbreviation "dfw" is a commonly-used word in that region.
But don't stop there.
Ask your friends, family, and existing clients what they would search for.
Go to your Google analytics reports and look for some of the keyword phrases that are already being used to find you, including some of the less commonly used ones.
When you have your list of potential keyword phrases, go through it and pick the ones that are the most targeted, or which indicate that someone using that phrase might be in a buying mode.
Phase 4: Keyword Research
Finally, it's time to do some actual online keyword research to identify which of your keyword phrases are going to be the best ones to target in your content.
There are a lot of ways to do that, but the one I recommend to most people is the free Google Keyword Research Tool that's part of their AdWords program. Intended for use by online advertisers, this great tool allows you to type in search phrases to get an idea of how often that phrase is searched for, plus ideas for alternatives that you might not have previously thought of.
Rather than go into too much detail here, I thought it would be better to demonstrate with a video. This video is actually an excerpt from a special SEO webinar that I hosted for my website members with Matt Hayman, an SEO consultant from the UK, but this section explains how to use the Google Keyword Tool:
At this stage, you should now have a set of keyword phrases that are very specific to your photography, your business, and your target market.
Now, It's Over To You
So that concludes part 1 of this series on SEO for photographers, and I hope it's given you a better idea of how you can get started with your own SEO to attract more clients and make more money as a photographer.
In part 2, we'll look at the best ways to place your chosen keywords into your website content and blog posts, and how to take care of the most important on-page SEO tactics.
If you have any questions about anything in this article, or would like to share your thoughts, please go ahead and leave a comment below – it's always great to hear from you, and I'll do my best to answer any questions.