With so many beautiful and inspirational locations all over the world just waiting to be captured, knowing where to take your camera next can be a battle.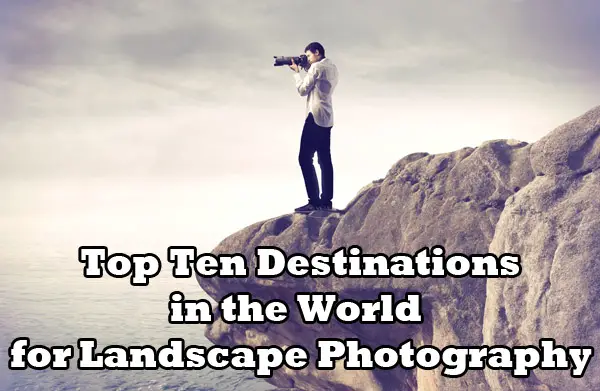 From the breathtaking British Isles to the peaks of the picturesque Peruvian mountains, we've compiled a list of the top ten destinations in the world that every landscape photographer should add to their bucket list.
Ready? Let's roll…

#1 Iceland
Unspoilt landscapes and a small population, coupled with mild and agreeable temperatures makes Iceland a perfect environment for landscape photographers. With incredible panoramic views and an abundance of waterfalls and mountains around every corner, Iceland will be sure to take your breath away (and we're not talking about the cold!)
#2 British Isles
From the enigmatic Scottish Highlands to the awe inspiring Lake District, the British Isles boasts some of the most diverse landscapes in the world. For landscape and wildlife lovers alike, the incredible selection of flora and fauna that can be found in the British Isles is truly astounding.
#3 China
Whether you're hoping to snap some stellar shots of the Great Wall in Bejjing or the booming metropolitan city of Shanghai, China has picture perfect spots everywhere you turn. The scenery in China is to die for with majestic mountains, rambling valleys and steppelike plains. You won't be able to stop pushing that shutter!
#4 Banff
Fed by glaciers, Moraine Lake, situated in Banff National Park is just one of many breathtaking highlights of this wondrous destination. Known for its stunning aquamarine waters it's not hard to see why landscape photographers would want to explore Banff and the surrounding Canadian Rocky Mountains.
#5 Peru
Peru is every photographer's paradise. Apart from the mesmerizing iconic Machu Picchu, there are also a whole host of other exciting photo opportunities just waiting to be discovered. From the awesome sights of the Colca Canyon which is twice as deep as the infamous Grand Canyon, to the citadel walls and temples of the Chan Chan, you certainly won't be disappointed with a trip to this captivating country.
#6 Morocco
Famous for its enchanting aromas, alluring colors and hub of activity, Morocco has plenty to offer photographer's of every kind. If the lush oases and palm groves of the Draa Valley located just south of the High Atlas mountains aren't enough to keep you busy, then the unique 150 meter tall orange colored sands of the Erg Chebbi dunes situated in the stunning Sahara Desert should do the trick.
#7 Pyrenees
Acting as an immense natural barrier between Spain and France, the Pyrenees is home to a variety of picturesque century old villages and towns, leafy valleys and glacial lakes. Countless treasures wait to be uncovered is this remarkable and mysterious alpine landscape.
#8 Bolivia
Often referred to as the Tibet of the Americas, Bolivia is one of the highest and most isolated countries on earth. The unworldly expanse of the salt flats of Uyuni acts as the world's biggest mirror perfectly reflecting the sky above, and if that's not enough to tempt you then how about checking out Lake Titicaca and its neighbouring ancient city of Tiwanaku.
#9 Tasmania
Consisting of one third National Parks and Wildlife Reserves, the Australian island of Tasmania is natural beauty at its best. If you're looking to capture dramatic landscapes consisting of rainforests, coastlines and turquoise seas, and you don't mind indulging in a spot of hiking at the same time then Tasmania is the place for you. Your eye will be glued to the viewfinder every step of the way!
#10 Yosemite
Despite receiving a flood of tourists every year, Yosemite upholds a magical serenity and tranquility that is unrivalled. Filled with spectacular granite cliffs, geysers and hot springs, and Giant Sequoia groves, a trip to Yosemite will provide you with plenty of unforgettable photographic shots.
As you can see, there are too many beautiful spots around Earth, and this list is just an example of how cool the world looks from place to place. So, dream big and travel far – the benefits of a journey spread far beyond photography skills!
What would be your next destination? How much of these places have you already visited? What other picturesque spots can you suggest? Please leave us a comment!