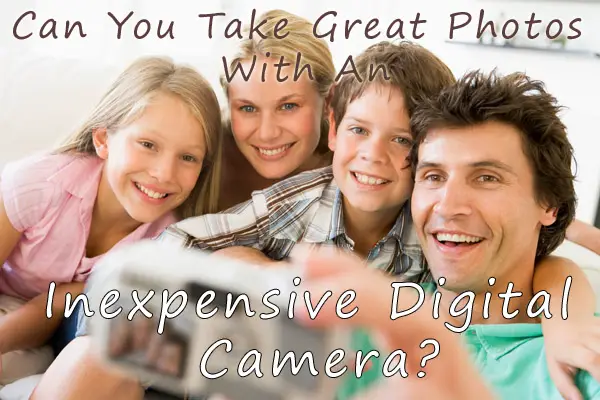 There's a myth out there, in the real world, that says "to take great photos, you have to have a great (read expensive) camera". This has been a subject of debate for years amongst the gear heads and elitists in the world of photography. The bottom line: it's simply not true. Anyone, anywhere, can make solid photos with just about anything that qualifies as a camera so long as you understand and apply the fundamentals of photography. If this wasn't true, why is the iPhone the top camera used for photos submitted to Flickr?

 What Kind Of Camera Do I Need?
Let's start by defining what I would consider a basic digital camera. From Dictionary.com: "a camera that records images in digital form by means of a device that converts the optical image to an electrical signal". For our purposes, let's focus on an inexpensive digital camera in the $70-100 range. What can you get for that small amount of money? Here are three examples, available through Amazon.com that will get you started.
Canon PowerShot A2300, $72.99—Has image stabilization to help you avoid camera shake, 5X zoom lens and a 16 megapixel sensor which is good enough to create nice 11×14 prints. And it records 720p video.
Nikon COOLPIX L26, $99.95—Has a 16 megapixel sensor, 5X zoom lens and shoots 720p video.
Fujifilm FinePix AX550, $69.95—Has a 16 megapixel sensor, 5X zoom lens and shoots 720p video.
It has been said that the best camera is the one you have with you. These 3 suggestions or others like them will give you solid results.
 What's The Secret To Making Great Photos?
There are a few fundamental techniques for taking good photos with an inexpensive digital camera.
Rule of Thirds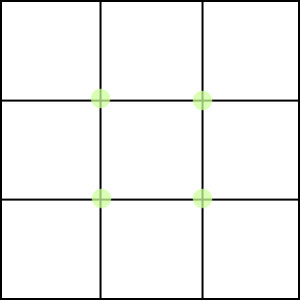 Picture a grid, like the one above; on your camera's rear LCD. Instead of centering your subject, which can result in an ordinary photo, try placing the subject near the intersection of two lines. When you think in terms of thirds you can place the primary subject in the lower, middle or upper third of the LCD whether you're shooting in horizontal or vertical mode. You can also position the subject in the left or right third of the LCD.
Depth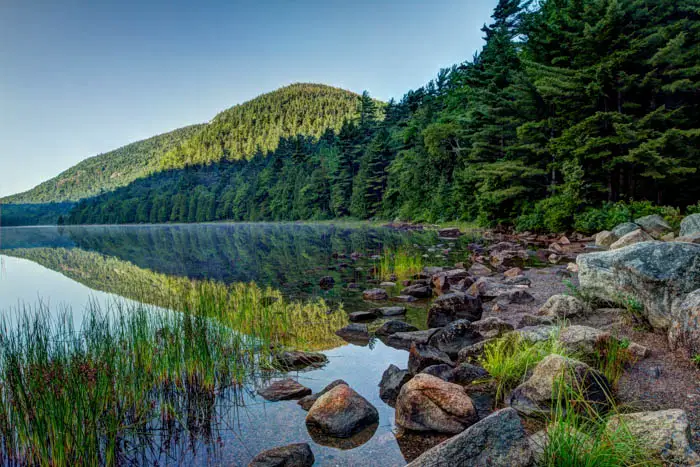 Oftentimes we like to photograph sweeping landscapes. To portray a sense of depth and size in the photo, include something in the foreground. In the photo below, including the larger rocks in the foreground gives the view a sense of size and distance to the mountain in the background.
Get Closer
The great thing about the inexpensive digital cameras that we listed above is that they all have a zoom feature. You have another tool for zooming at your disposal as well; your feet. Where possible, use either or both of these options to get closer to the subject. This removes unnecessary distractions and helps your viewer focus on the primary subject you intended to share in the first place. The photo on the bottom has too much visual clutter. In the top photo, the headstone is clearly the subject.
 Exposure
These inexpensive digital cameras provide you with several automatic settings to assist you in taking great photographs. Proper exposure can be a challenging equation, but these cameras have different modes that can take the guesswork out of trying to create the photo you envisioned. They're labeled with obvious intention. "Landscape" mode will give you greater depth of field, i.e. the photo will be sharper from the front of the image to the back of the image, when taking photos of a landscape scene. On the other hand, "Portrait" mode will give you a blurry background to enhance your subject in the image. There are typically several different exposure modes to explore depending on the camera model you purchase.
Resources for learning the fundamentals
Owners Manual—While this can be rather dry reading, at times, it's still the best initial resource for information on how to operate your camera. "What do all these different modes do?" can easily be found in the manual. Furthermore, most of them are pocket size so it will fit in your pocket or even in a little camera bag or purse.
If you yearn for more than the basic information found in the manual, check out Rick Sammon's book "Confessions of a Compact Camera Shooter: Get Professional Quality Photos with Your Compact Camera".
Now That I've Taken These Photos, What Do I Do With Them?
You've just taken some exciting photos and you want to upload them to your computer and then share them with family and friends.
Each camera comes with software and a cable to connect to your computer so that you can upload images to it. I prefer to use a card reader and connect that to the computer and upload to a folder on my desktop. This way I can upload to any computer without having to worry about whether I brought my cable or if the proper software is installed. From there, you can import the photos from that desktop folder to the viewing software of your choice. On a Mac, you have the excellent iPhoto to use. On a Windows platform, you have Photo Viewer.
But how do I share the photos?
Both iPhoto and Windows Photo Viewer enable you to take images you want to share and upload them to Facebook, Flickr and Twitter or even send them via email.
Conclusion
If you have a strong desire to take photos but you're afraid an inexpensive digital camera isn't "good enough" think again. Any of the cameras we've discussed will give you a tool to take good photos that can be shared, or even printed and framed. Like any tool, it's all about how you use it. I'd love to hear about your results. Please email me or point me to your photo stream on Flickr or Facebook.
About the author: Ken Rowland, aka The F/Stop Guy, is a photographer from Atlanta, GA, USA. He's interested in all things photography especially landscape and black and white images. To see more of Ken's work, visit www.fstopguy.com. You can reach Ken via email at [email protected].