There are plenty of features present in iOS, or Apple devices in general that make the experience "magical," and AirDrop is one of them. First introduced with iOS7, the file-sharing technology has made life so much simpler with regards to sharing files. As a photographer, AirDrop is invaluable! Not having to rely on cables, dongles, or even an Internet connection brings a ton of freedom when you're looking to send hundreds of photos to and from your computer.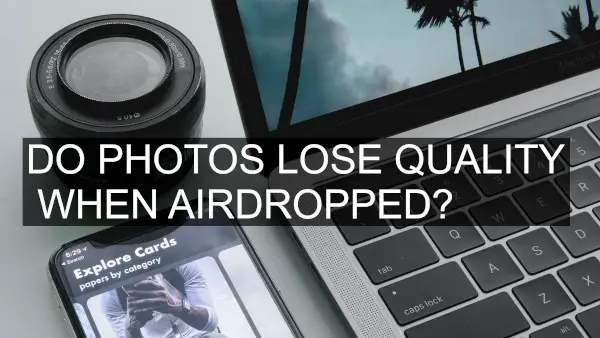 I'll be honest. I've been using AirDrop for quite some time now, but I only recently questioned if there was any sort of compression or resizing happening to the images I was sending. So, I sat down to research to find out if photos lose quality when AirDropped.
The simple answer that I found was, no, AirDrop does not change the image's quality. But, as you can probably tell by the length of this article, the answer is not as simple as that.
How Does AirDrop Work
AirDrop uses a peer-to-peer Wi-Fi connection to connect to other devices and transfer data. Since the connection is peer to peer, there is no cost of bandwidth, and the transfer speeds are quite fast as well. Having no bandwidth limitations also means all images sent through AirDrop can be uncompressed and of the original quality. More on the "can be" part later.
What to Do if AirDrop is Compressing Images?
If you have the latest iPhone, or even one running the latest iOS (iOS 13), you might have noticed a file size difference if you use AirDrop to share your images. That is because, in the recent iOS versions, AirDrop does not share the original image by default. Instead, it removes quite a bit of meta-data, edit history, and a bunch of other information from the images being shared. Also, they don't explicitly say so, but I suspect that they do compress the images as well, even though the resolution remains the same.
If you want to share original quality images, all you have to do is activate a toggle in the settings. To do that, select a few images on your phone, hit the share button, then hit options (it shows just below the number of images selected), and enable the toggle with the heading "Include – All Photos Data." AirDrop will now share original quality images.
My Photos Increase In Size When I Use AirDrop. Why?
Many people report that their images' size increase when they AirDrop it to their computer or another phone. That is totally plausible under certain circumstances, which I will try to explain here. When Apple released iOS11 in 2017, they also ditched the JPG format for a new image format called HEIC, short for High-Efficiency Image Coding. HEIC is also sometimes called High-Efficiency Image File Format, or HEIF — mostly in the context of videos. HEIC is a modern image container developed by the MPEG group, and they claim that HEIC images can contain twice as much information when compared to a JPEG image at the same size.
So, if you have a relatively older iOS device that does not support the HEIC format and you AirDrop an image to it, then the HEIF image will be converted to a regular JPG file, which will be bigger in size. If both devices use the HEIC format, there will be no conversion, and the file size will remain the same. For reference, the following devices are compatible with iOS 11 or macOS High Sierra, which supports the new file format.
iPhone 7 or iPhone 7 Plus or later
iPad (6th generation)
iPad Air (3rd generation)
iPad mini (5th generation)
iPad Pro (10.5 inch)
iPad Pro (11 inch)
iPad Pro 12.9-inch (2nd generation) or later
You can find the complete details on this Apple Support Page.
AirDrop Vs. iCloud
A common alternative to AirDrop is using iCloud, and it is particularly handy when you want to share images with devices that are not in close proximity. The question is, does iCloud also save images in a lossless format? The answer is, no. Here is Apple's official statement from their support page. "iCloud Photos preserves media in its original format, resolution, and frame rate." So, according to Apple, iCloud does retain the resolution and the format, but the statement says nothing about compression. Many users on popular forums like Reddit have done their own tests and concluded that iCloud does compress the images to some degree.
AirDrop vs iMessage
iMessage is another alternative to AirDrop is almost as convenient as well. However, it is not a great choice to share images using iMessage if you care about its quality. Even when using Wi-Fi (the blue messages), the images you send will be compressed a lot. Here is what the iPhone user manual says. "With iMessage or MMS, you can send and receive photos and videos, and send locations, contact info, and voice memos. The size limit of attachments is determined by your service provider—the iPhone may compress photo and video attachments when necessary."
The necessary part is important to note. If your Wi-Fi isn't fast enough, or even if you have a temporary glitch, your images can (and probably will) be compressed before sharing.
AirDrop vs. Google Photos
Google Photos is another convenient option for sharing photos with other people or between devices. If you use Google Photos, you will have 2 options to store your images. The original quality or High Quality. Unfortunately, the images are compressed in both cases. In the high-quality tier, the images are capped at a 16 MP resolution, and there is no such limit with the original quality option, but some compression still takes place.
Just to test how much compression happens, I downloaded a sample image from Unsplash.com, resized it to 16 MP (the limit for free storage), and uploaded it to Google Photos. Then, I downloaded the uploaded file and reuploaded it. Here are the results.

As you can see, some compression is applied every time a file is uploaded.
AirDrop vs. Cloud Storage Services
Cloud storage providers provide an excellent alternative to AirDrop; if you don't mind the file size limitations and have good Internet connectivity. But, do cloud providers compress images? I tested the same image I used in the Google Photos test on Google Drive, Dropbox, and Microsoft OneDrive. Here are the results.

As you see, the resolution and file size remains perfect on all 3 platforms. To be sure that the images were untouched, I also checked the MD5 of all the files. Here are those results.

Untouched MD5 of the images is absolute proof that the images were not altered in any way.
AirDrop Alternatives
We already compared AirDrop with some alternative solutions to share images. But, none of the alternatives work without a dedicated Internet connection. AirDrop is pretty cool, but Windows and Android users take pictures too, and they also will need to transfer pictures to and from their devices. Here are some AirDrop alternatives, many of which don't need an Internet connection to transfer photos.
AirDropping Videos
For the most part, AirDropping videos works the same way as it does for photos. You find devices, you connect, and send. The same restrictions that I mentioned earlier apply to videos as well. Modern iOS devices will record video in HEVC format and even share un-compressed videos on compatible devices (if you have All Photos Data turned on). If you use an older device, then videos will have to be converted to a compatible format (likely h.264), which will take quite some time. Earlier, some users also reported that sending videos with AirDrop transcoded the footage and changed the frame rate, even with the all-data toggle turned on. However, that seemed like a bug that has since been resolved.
Final Thoughts
I hope that after reading this article, you understand how you can use AirDrop to transfer photos and videos to other devices without a loss in quality. AirDrop is not the only option to do so, but it is the most convenient one as it is built into your iPhone. For non-iPhone users, there are plenty of alternatives — some good, some not so good. However, they still get the job done. What method do you use to transfer pictures between devices? Let me know in the comments.
And, if you found this article valuable, then you will also enjoy some iPhone photography tips and some excellent photo apps for iPhones.
Here is a list of cool iPad accessories for photographers.