If you are a photography beginner and want to learn the way famous photographers learned, or if you are new to film photography and want to experience this art form first hand, you will need a good camera to get started.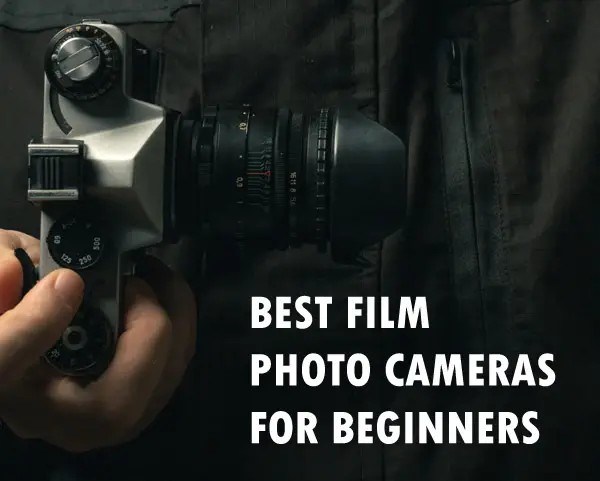 Below you will find a list of the best cameras for film photography and the reasons why we have chosen these particular models.
How do you choose the best film camera?
Film cameras were once the boss, having taken over from rangefinder camera systems. However, they have now been replaced by digital cameras. Film cameras are no longer in vogue and are made in fewer numbers. However, older cameras are being repaired and refurbished and made available for sale at different avenues. Or you could even pick up one of the modern film camera designs that give you the joy of shooting "old-school." You can find a perfectly well-maintained film camera at an online store or your favorite pre-owned store. But you may have to fight for a bargain. Even though these cameras are outdated, they're still prized as collectibles.
If you're ready to take the plunge and explore the wonderful (and I might add demanding) world of film photography, I would ask you to spare a few more minutes here and go through the pros and cons of an SLR vs. a rangefinder, that we have prepared for you. These will help you to identify the camera that best meets your requirements. Towards the second part of this discussion, we have also shared many options (all used) you can buy online and get started. So, let's get started.
Type of 35mm film camera
We can differentiate the world of 35mm film cameras into three broad groups: SLRs, rangefinders, and point shoots. There are other types of cameras as well, like twin lens reflex cameras, medium formats, large formats, instant cameras, and pinhole cameras.
But considering the easy availability of 35mm film, it's recommended that you go for a 35mm film camera.
SLR cameras come with a reflex mirror and an optical viewfinder showing the same image the lens sees. This differs from rangefinder cameras which do not show the view through the lens via the optical viewfinder at the back of the camera.
Both rangefinders and SLRs are interchangeable lens systems. You can swap a lens for another and shoot with a different perspective. Compact cameras don't have this option.
There are a bunch of other differences between the two systems. For example, rangefinder cameras don't have a fast enough shutter speed. Often you would find out that they offer you around 2 to 3 stops slower maximum shutter speed. So, where a rangefinder maxes out at 1/1000 sec, an SLR can easily go more than 1/4000 sec.
Rangefinders tend to be more compact than SLRs. The reason being there are no reflex mirrors inside a rangefinder. Also, because of the absence of the reflex mirror, rangefinder cameras are very quiet. SLRs are bulkier and can be very loud, especially with older cameras where there was no mechanism to slow down the mirror.
The absence of the reflex mirror also means rangefinder cameras are less prone to blurry images even when you're shooting hand-held. The slapping mirror inside the SLR camera is why you sometimes have to use the mirror lock-up option or the "Q mode."
The viewfinder of a rangefinder camera is larger and brighter than an SLR's. You can see more of the scene in front, and it helps you compose better and react more intuitively.
The Cameras
Canon AE-1 / AE-1 Program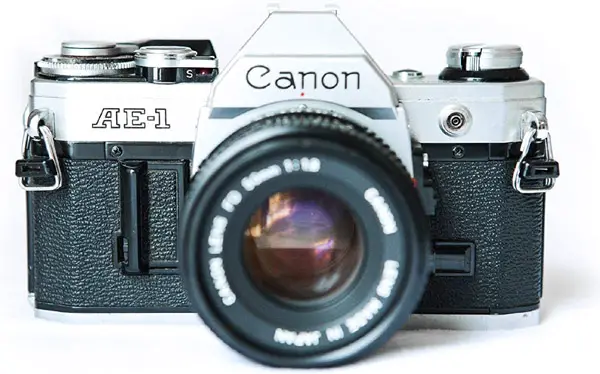 The Canon AE-1 was released back in 1976, and it became one of the most sought-after camera systems straight away. A majorly plastic construction ensured that the overall weight of the camera was less. It was one of those rare cameras that offered a shutter priority option when it was released. This differed from most other cameras that showed aperture priority as the basic auto mode. The AE-1 was easy to operate, and film loading was very easy.
Pros
Electronic shutter control.
The camera has a hot shoe.
One of the more accessible cameras to load film.
Cons
Battery required to operate.
Mostly plastic construction.
Rating – 4.75/5
Nikon FE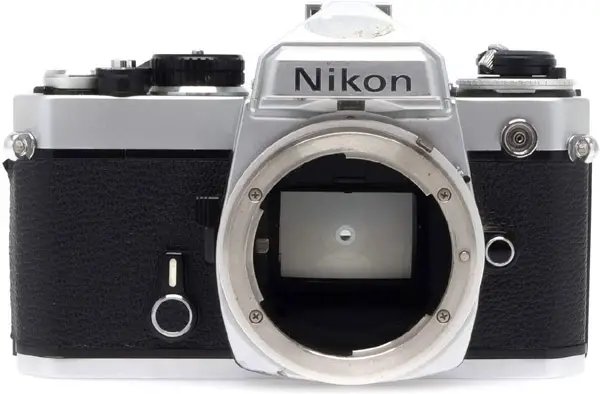 The Nikon FE is another prevalent camera system that gave the Canon AE-1 some stiff competition. But unlike the AE-1, this camera came with an Aperture priority mode which was the standard back then. The camera was launched in 1978. There was also a manual exposure mode for more creative controls. The camera requires a battery to be operated, which could be why many film camera users avoid this. Another thing is the camera had a maximum shutter speed of 1/1000 sec that could be stretched to 8 seconds using the mechanical shutter. Bulb mode was unlimited.
Pros
Bulb mode with unlimited exposure time frame.
Maximum shutter speed of 1/1000 sec.
Cons
Required a battery to work.
Rating – 4.70/5
Nikon F5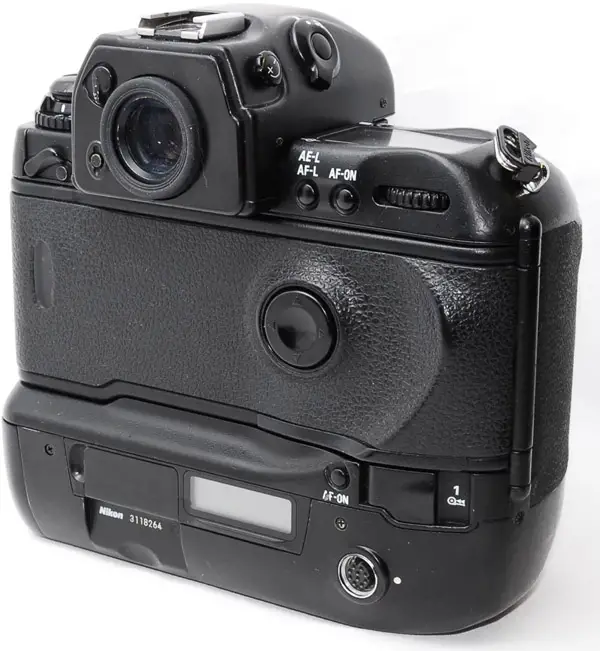 One of Nikon's most popular film cameras ever and one of the last professional SLR models, the Nikon F5 is a fantastic film camera to boot. If you're interested in shooting film photography and looking for an excellent camera to work with, you don't have to look beyond the F5. Announced in 1996, this is a very well-built SLR. The camera features a fully functional autofocusing feature handy when shooting moving subjects. The most significant benefit of using the F5 is it's built extremely well. This is one of those cameras that can take a lot of beating and still perform without issues.
Pros
Fantastic build quality.
Maximum shutter speed of 1/8000 sec.
Features a fully functional autofocusing mechanism.
Cons
Rating – 4.70/5
Nikon F6
How can you keep the Nikon F6 away from this discussion? The upgrade to the Nikon F5, the F6 is a weather-sealed design designed to take on anything that Mother Nature can throw at it. The Nikon F6 gives you the familiar look and feel of a standard Nikon DSLR. The camera has multiple exposure modes, including Programmed Auto, Flexible Program, Shutter priority, Aperture priority, and Manual mode. The camera has a fast maximum shutter speed of 1/8000 sec. The camera used the advanced 3D Color Matrix metering system for accurate metering.
Pros
Extremely well-built camera.
Used the 3D Color Matrix metering system.
Fast shutter speed.
Range of exposure modes.
Cons
Uses the CR123A 3V batteries (2), which are rare.
Rating – 4.80/5
Nikon FM2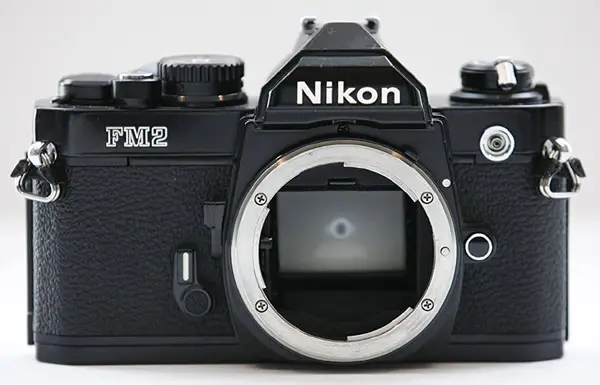 The Nikon FM2 has been a favorite among travel and street photographers worldwide. You may have seen one of the most iconic photographs ever taken with this camera by Steve McCurry – the Afghan Girl. This well-built camera can take a bit of abuse—no wonder this camera was used in one of the most inhospitable places on Earth. The camera has a host of mechanical controls that works without a battery. This is an excellent advantage as you don't have to depend on changing batteries to work with this camera. Do remember, though, that there is no autofocusing on the camera.
Pros
Extremely well-built camera.
Doesn't need a battery to work.
Host of mechanical controls.
Cons
Rating – 4.65/5
Nikon FM-10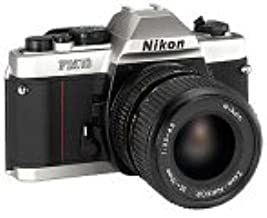 The best thing about SLRs (and DSLRs) is the optical viewfinder that powers them. The Nikon FM-10 does not disappoint in that regard. It has one of the best optical viewfinders in the business. Another thing is the camera does not require a battery to be operated. However, the battery gives you the all-important LED information set that lights up the viewfinder. Having said that, the generous amount of plastic used in constructing the lens makes it feel tacky. But it keeps the weight down, which is important when you're shooting for a considerable amount of time.
Pros
Excellent viewfinder to work with.
Does not need a battery to work.
Cons
Don't like the plastic construction of the camera.
Rating – 4.55/5
Pentax K1000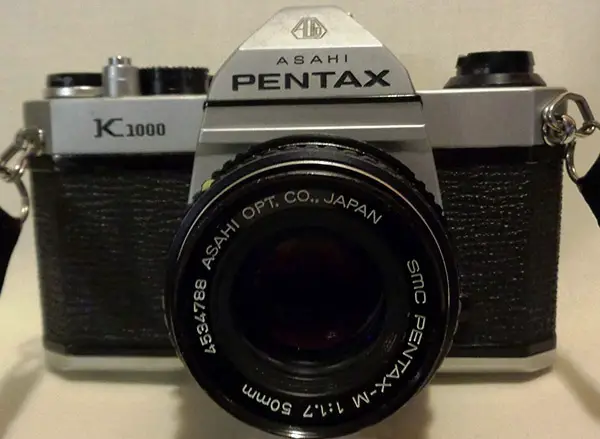 Made by the world-renowned Asahi Optical Co., the Pentax K1000 is a beautiful retro design with buttons and dials. The system is entirely mechanical. This is a manual focusing and a manual exposure-only camera.
The maximum shutter speed of the camera was only 1/1000 sec. So, using high-speed lenses in broad daylight could be problematic without filters. One good thing is that you don't need batteries for this camera to work with. Having said that, with batteries, you get the advantage of the light meter appearing on the viewfinder.
Pros
All metal design.
Mechanical controls.
Doesn't require batteries to operate unless you need the light meter information.
Cons
Maximum shutter speed is only 1/1000 sec.
No autofocusing capabilities.
Rating – 4.55/5
Contax T3
This is one of those rare cameras on this list that are not an SLR. The Contax T3 is a point-and-shoot camera. This is a true snap-happy photographer's camera, complete with a built-in flash and generous auto modes. The compact design makes it easy to take the camera with you practically anywhere you go. The Carl Zeiss 35mm lens, offers excellent photos that are on the money 99% of the time. I also love the retractable design of the lens that makes it easy to tuck the camera into a jacket pocket.
Pros
Compact point-and-shoot design.
Built-in flash.
A series of auto modes.
Cons
Flash fires at eye level.
Rating – 4.75/5
Leica MA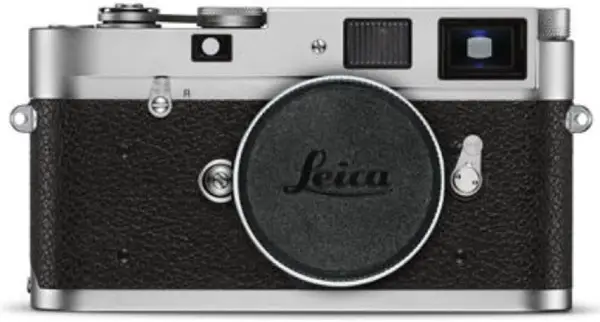 Excellent build quality upholding the genius of German manufacturing, the Leica MA is a film camera with a rangefinder design. Some of the key aspects of the camera are its bright viewfinder, exceptional build quality, and the quality of images that the camera produces. Also, the shutter mechanism is such a joy to work with. It's very quiet. That said, the absence of a light meter in the camera can be an issue for people just beginning in photography.
Pros
Exceptional build quality.
Rangefinder design.
Bright viewfinder.
Excellent shutter mechanism.
Entirely mechanical design.
Cons
At 578 grams, it's a bit heavy.
Rating – 4.50/5
Leica M6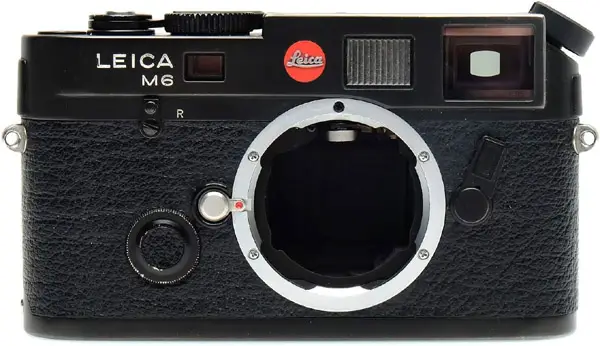 Another marvel of German manufacturing excellence, the Leica M6 has widely been touted as the best film camera. For the years that it was in production from 1984 to 1998, and even after that, the camera was considered a workhorse for those in photojournalism. There are many things to like about the Leica M6. However, the most important things are two. First is the camera's reliability, and the second is the build quality. This is a highly well-built camera that can withstand life's hardships as a photojournalist's main camera. This rangefinder camera was hand-assembled in Germany during the years of its production.
Pros
Excellent build quality.
Excellent image quality.
Through the lens metering.
Hand assembled in Germany.
Cons
Rating – 4.85/5
Leica M4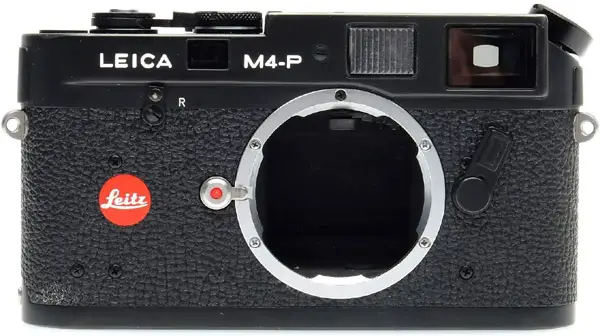 This is a rangefinder camera that shot 35mm film. This was, in many ways, the last of the great Leica cameras hand-assembled in Germany before production was outsourced. There were some significant improvements made in the Leica M4. One of those improvements is frame lines for the 35mm, 50mm, 90mm, and 135mm lenses. Another improvement was the angled film rewind lever, which made life much easier. There was also a very convenient plastic-tipped film advance lever to match that.
Pros
No batteries are required to shoot with this camera.
Frame lines for multiple lenses.
Fantastic image quality.
Decent build quality.
Automatic frame counter reset.
Cons
The viewfinder wasn't the best and the most convenient in terms of use.
Rating – 4.80/5
Pentax ME Super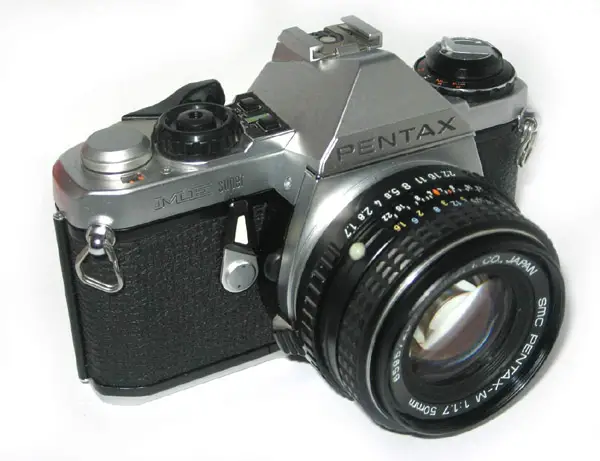 The Pentax ME Super is a neat little camera that combines excellent handling, superb controls, and sharp image quality in an affordable package. The camera features an Aperture priority mode for beginner photographers and a full Manual mode for more creatively reassured users. The camera has a hot shoe that you can use to mount different accessories. The maximum shutter speed of the camera is 1/2000 sec. The camera has a TTL metering system that increases metering convenience and helps dial in the right exposure settings.
Pros
Aperture priority mode.
Full manual mode.
Maximum shutter speed is 1/2000 sec.
TTL Metering.
Cons
Not all the buttons and dials are nice to work with.
Rating – 4.75/5
Conclusion
Film cameras can be an acquired taste for someone who has never shot using film. An entire generation of photographers has never shot a roll of film in their life. This is normal because digital cameras have taken over recently, and these photographers never had the chance to use film.
Film photography will be a challenge and a learning experience for them. However, this will also be a gratifying experience experimenting with a technique that popularized photography and brought it into the hands of the average consumer. Click the following link to learn how to use a film camera.