The current climate is not ideal for many businesses, particularly photographers. Without an outlet for work, it's easy to ruminate on how you're going to weather the storm. Going without work is not an option for many photographers, so what are the alternatives?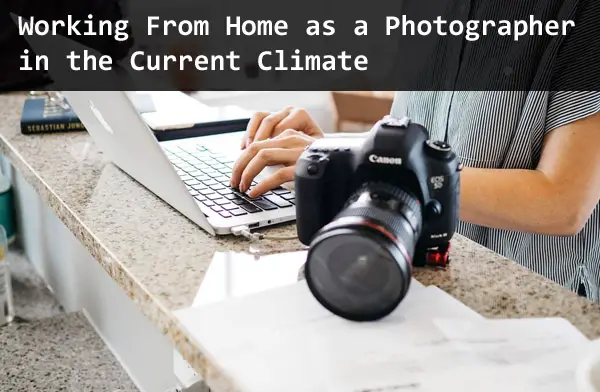 Fortunately, there's plenty you can do to pivot your business and retain your income. For example, increasing your number of income streams can help. You should also look at boosting your marketing efforts to help support your future income.
In this article, we'll discuss the current state of photography work. We'll then look at some ways to earn an income and why marketing is important right now!
The Current State of Photography Work
It's an understatement to say the global situation has not been kind to freelance photographers. While you might have already worked from home from time-to-time, this is practically now the only option available. In the future, this is likely to continue being the norm for the wider freelance and self-employed workforce.
Of course, there's also an impact on the viability of traditional photography work. Given that all types of photography are deemed 'non-essential,' – and travel is no longer possible – the new reality requires you to pivot your approach to business.
However, this doesn't mean you have to change everything about your business. All it entails is to adjust your focus to other aspects that have previously been dedicated less of your time. Updating your website and marketing your business are just two of these tasks.
As such, while it might seem like all hope is lost, right now is one of the best times to focus on other aspects of your business.
How to Integrate New Income Streams Into Your Photography Business
Adding new streams of income to your business is a great way to pivot, and is likely the first problem you'll want to solve.
Of course, this is something you should consider at all times, not just during a crisis. New income streams can always potentially boost your revenue. Let's look at some specifics.
1. Add E-Commerce to Your Website
Adding e-commerce streams is often a no-brainer, and gives you viable potential to earn at any time. Selling products and services can happen concurrently to your other work. It's also easy to automate with the right tools.
We'd argue that e-commerce is also a relatively 'safe' income stream to implement. What's more, the figures related to online shopping are astronomical – there are a projected 227 million online shoppers in America alone.
The first step here is to consider the products you will sell – prints are a simple way of dipping your toe into the water. Branded merchandise such as clothing is also a great idea, especially if there's an image that connects with your audience.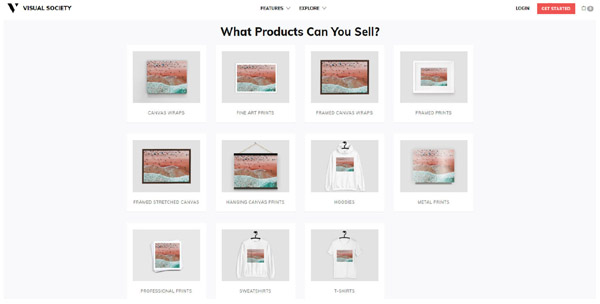 As for setting up an e-commerce solution, WordPress plugins such as WooCommerce are popular. However, you'd need to handle printing and delivery.
Visual Society has full-featured e-commerce functionality, and can also help you print and ship products – perfect for when you need to get up and running yesterday.
2. Earn with Affiliate Marketing
You may not have considered affiliate marketing as a viable income stream, but it's logical and viable, especially if you're a blogger.
For the uninitiated, this is where you use dedicated links to track clicks. When certain actions are completed, you'll receive a commission. Done organically and naturally, you can combine valuable content sprinkled with links to affiliate products.
There are different types of affiliate marketing, and some will work better than others. For example, Pay-Per-Click (PPC) is ideal for links that generate an immense number of clicks. Pay-Per-Lead could work with partners that offer a product or service your readers are interested in, and Pay-Per-Sale is great for fundamental photography purchases.
To choose the right affiliate program, consider your target reader and blog content. For example, if you offer tips on editing photographs, affiliate links to editing software would be more successful. However, if you provide business-centric advice, an affiliate program like the one at Graph Paper Press might offer more return.
3. Create a Stock Photo Business
If you are interested in a more complicated income stream, you could create your own stock photo business. The customer base is wide-ranging, which makes stock photography a solid income stream.
While you could sell your photographs on other stock websites and marketplaces, the control you have is limited. Many dictate the pricing, royalty payments, and marketing of your photographs. You will also be one of thousands of photographers competing for attention.
Setting up your own stock photography business needs the right website layout first of all, along with a dedicated sales platform (as we discussed in the previous section.) Promotion is key for these types of businesses to be successful. Let's quickly take a look at this next.
How to Market and Promote Your Photography Business Without Current Work
Marketing your photography business right now might seem pointless. However, this could be the perfect time to boost your profile, based on the insights of economic and marketing experts. On a basic level, increasing your visibility now could help people remember your business in the future.
If you've been implementing any of the income streams mentioned in this article, now is also a good time to market them!
We're going to have more to say on marketing and promotion on the Visual Society blog over the coming weeks and months. However, consider the following as fundamental to your approach:
Search Engine Optimization. Increase your organic clicks and visitors by tuning your website and its content.
Social media. Getting a 'viral' post on Instagram, Twitter, or Facebook is also going to bring potential new customers your way.
While these will give you a good head start in promoting your site, the right tools to implement them are essential. With these in place, you'll be able to increase engagement, generate interest, and ultimately boost income, all while working from home.
Conclusion
Working as a photographer right now is going to be difficult, without a doubt. You can ease this by integrating new income streams into your business. However, pivoting your focus to marketing and promotion while your 'gigs' are non-existent could pay off big time in the future.
This post has considered both. Getting involved in e-commerce, affiliate marketing, and stock photography can be fruitful. However, there's nothing like getting stuck into your marketing to line up business for the future. You could even combine both facets to maximise your opportunities.
Do you have any questions about working as a photographer in the current climate? Let us know in the comments section below!