Spending time away from home is always an exciting opportunity to experience new things and discover places you've never seen before. This is particularly pertinent to photographers, both amateur and professional. There are hundreds of suggestions about taking photos while you're traveling, so many that it can become overwhelming rather than helpful.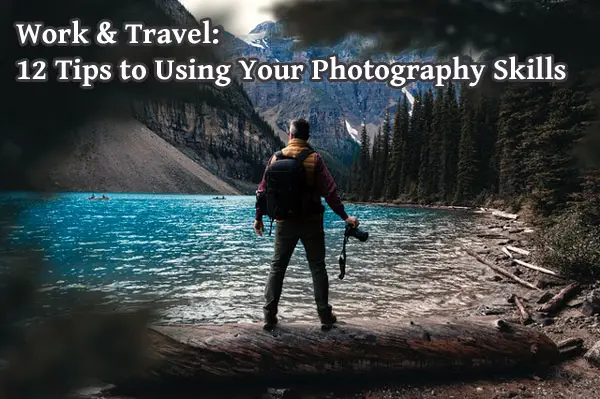 In this article, we're going to provide you with 12 tips to take your photography up a notch the next time you go on an adventure.
Improving your photography skills while traveling requires the right equipment and lenses, research, rules, resisting the urge to rush, and an open mind. Avoiding tourist traps, getting up early, exploring, goal setting, and trying new things are key as well.
Let's dive in!
The Best Advice For Traveling Photographers
There are as many photographic styles as there are photographers, and while advice can be helpful it doesn't necessarily apply across the board. That said, all photographers appreciate the chance to improve their technique.
This article provides all traveling photographers with clear guidelines to make sure they get the most out of their trip—the most impressive images, at least.
How To Improve Your Photographic Skills Away From Home
Capturing the best images while on the road, whether you're close to home or overseas, depends on many factors. Trying new techniques, perfecting old ones, looking at things from a different perspective and stepping out of your comfort zone are just some ways to improve your photography while traveling.
There are also practicalities that you need to take into account if you really want to have a great photographic experience.
1. Pack The Essentials – Cameras
Going on a trip means that you have limited room for all the gear you want to use. It's impossible to know exactly what equipment you'll need for your destination—cameras, lenses, flashes—which means you'll have to give it some thought before packing.
If you're a casual and amateur photographer, you probably don't have a large selection of DSLR cameras to choose from. If you want to improve your skills, however, having limited options isn't a bad thing. Entry-level DSLRs like the Canon EOS Rebel SL3/EOS 250D aren't that advanced, but can encourage you to push past your comfort zone in pursuit of interesting images. This particular Canon camera is light and small, making it perfect for traveling.
Another option, should you have the means, is something like the Nikon D850. This type of camera is suitable for professional photographers.
2. Choose The Right Lens (Or Two)
Apart from a camera, taking your best photos requires a lens or two. On the road there often isn't much room to spare, so go for a couple of versatile lenses that allow you enough of a wide angle to capture landscapes, as well as a zoom function for close-up shots. A 24-70mm lens is a good, all-purpose choice; also known by photographers as a "walk-around lens" that serves a variety of purposes.
The Canon EF 24-70mm f/2.8L II USM Standard Zoom Lens is one example that gives you a nice wide aperture to play with and allows for soft backgrounds. Another good option is the Tamron AF 28-75mm f2.8 SP XR Di LD Aspherical IF for Canon DSLRs, which has good zoom capabilities and weighs less than many other lenses.
3. Do Your Research
If you really want to prepare properly for taking great photographs when you go away, take a (virtual) look at your destination before you get there. There's no need to trawl through dozens of websites or comb the area on Google Maps, but try to get an idea of places you want to photograph: how accessible are they? When do they look their best? Is it safe to carry a camera when you're alone there?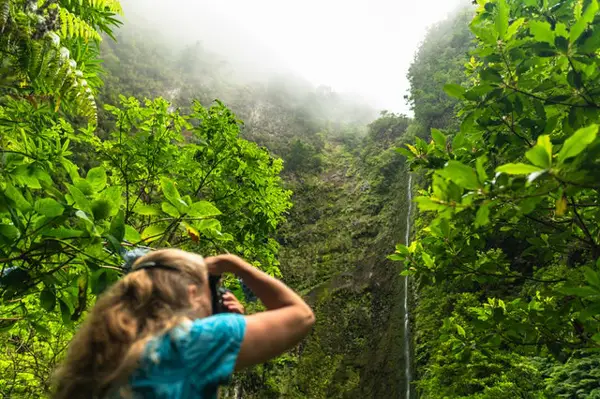 4. Reaching Your Destination: Take Your Time
Once you arrive at your destination, it can be hard to resist the urge to whip out your camera and photograph everything in sight. This can be even more of an issue if you're an amateur looking to improve your skills.
Taking photos compulsively can result in some good shots, purely from a statistical standpoint, but rushing the process means missing out on the learning process. You need time away from your camera to experience your surroundings and make conscious choices, which results in better images.
5. Explore With An Open Mind
Traveling can be unpredictable. If it's the first time you're in a particular place, you may be a bit nervous and lost. Not having familiar faces and landmarks around can be disorienting, not to mention the awkwardness of not speaking the language. While this can be uncomfortable, it is also a huge asset to photographers who want to push past their comfort zone. Photography is technical in terms of understanding camera settings and knowing how to use them, but it also relies on instinct and emotion.
In this video Pulitzer Prize-winning photographer Deanne Fitzmaurice has several suggestions that can help newer photographers capture subjects with a mixture of spontaneity and technical skill:
6. Be Selective
This suggestion goes hand-in-hand with taking your time and being patient. If you're in a place for the first time, it can be tempting to take photos of everything. Every street, building and landscape is new, which can lead to an urgent need to capture it all before you leave.
If you're trying to improve as a photographer, however, a more measured approach is advisable. Your surroundings might be new and exciting, but garden-variety shots of street scenes and tourist attractions aren't going to develop your skills much.
Instead, be conscious of your purpose. Improving as a photographer requires a range of skills—some technical, some less defined. One way of combining sightseeing with learning is to set yourself a goal whenever you go out. If you're visiting a pristinely beautiful forest use some of your time perfecting your low-light skills.
7. Avoid Tourist Traps
Visiting tourist attractions is an integral part of traveling, but many people find that the most famous spots—Times Square, for example, or the Pyramids of Giza—aren't nearly as spectacular as expected. If you really want to improve your photography skills, you need to think outside the box: taking shots of well-known monuments and landmarks often results in mediocre results.
Another option, of course, is to follow the popular tourist trails but make a conscious effort to avoid the stereotypical, postcard-like shots that get churned out by the thousand every day. Look at the sites from a different perspective, literally. If most shots of a famous monument are from a low angle, try to capture the scene in another way.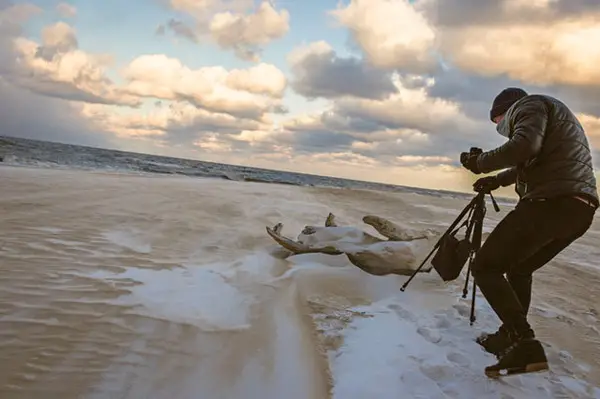 8. Follow The Rules, Then Break Them
They say that rules are made to be broken, but with an art like photography, learning the fundamental theories of light and composition. This holds true for taking photos on your travels.
Before you get adventurous, try to master the basics. Guidelines such as the Rule of Thirds are very helpful when you're first learning about composition. If you divide your frame into nine equally sized segments (making three columns that cross three rows) you can draw the right amount of attention towards your subject/s when placing them along a line or at an intersection, thus achieving an aesthetically pleasing composition.
There are many other photography rules and theories. Taking another look at composition, conventional photography practices say to avoid overly cluttered backgrounds, keep foreground details out of landscape photographs, and use lines and curves to frame subjects.
These guidelines are great for photographers wanting to improve their images. If you're traveling and have the opportunity to spend time practicing your craft, stepping outside these boundaries can result in spectacular and unique shots.
9. Get Up Early
This suggestion might seem ludicrous at first, but trying it just once will make you wonder why you never considered it before.
Sunrise always makes a beautiful subject, or the perfect background if you're photographing something else. On top of the beautiful lighting (The softer, the better. Think "Golden Hour" glow), getting up with the sparrows means you can beat the crowds at touristy spots and have enough time to look around for the best perspectives.
10. Make It A Project – Have A Goal
If you are serious about improving your skills and potentially even selling your photographs, then setting yourself a goal is a great idea. Having a goal encourages you to focus and self-reflect. Let's say that you're traveling to Italy. Italy is home to more UNESCO World Heritage cultural sites than any other nation, including parts of Pompeii, the Historic Centre of Naples, the City of Verona and Villa d'Este in Tivoli.
Each location has its own beauty, character and unique atmosphere, which can be a wonderful inspiration to artists, no matter what medium they choose.
Give some thought to your destinations before you arrive. This can help you come up with a rough plan in terms of the type of photography you want to practice. Having a goal in mind doesn't mean you need to be rigid, but can give you some direction.
If you're visiting Verona, you might want to focus on the ancient architectural attractions. Pay close attention to your composition and take advantage of the columns, arches and towers, which provide beautiful lines and angles. You can also use architecture as a tool to practice framing other subjects. By sticking to one or two photographic objectives, you're more likely to improve specific skills.
11. Explore Street Photography
Traveling isn't just about sightseeing. Being in an unfamiliar place can be freeing when it comes to getting out of your comfort zone and shedding inhibitions. Visiting another country is in itself something of an adventure, so why not push yourself to take a dare or two, photographically, of course.
Photographing people can be hard, especially for the inexperienced and/or shy among us. If you're in a location filled with tourists take the opportunity to practice some street photography. Not only is your setting interesting, but when you're surrounded by people toting their own cameras, it's easier to fit in and snap some candid shots.
There is a caveat, however: don't overstep people's boundaries. Different countries and cities have different laws when it comes to photographing people and buildings without express consent. On the whole, however, it's safe to take pictures in public places, as long as you don't use them for monetary gain. If you're simply trying to improve your skills, that shouldn't be an issue.
Apart from candid street photographs, taking portraits of strangers is a great way to build up confidence. Every street portrait you take will be unique, and being away from home provides you with a huge range of settings to experiment with. You should always respect people's boundaries, however, if they indicate that they're not happy with being photographed. Try to build a rapport with the subjects of your photos, as this is a fundamental skill for every photographer.
12. Let Go – Do What You Can With What You Have
"Letting go" might sound a little vague, but it is an important part of becoming a better photographer. You don't need a lot of gear to practice your photography, which is how it should be. A master musician doesn't need the most expensive instrument to sound good, just as an artist doesn't need the perfect set of pencils or paints.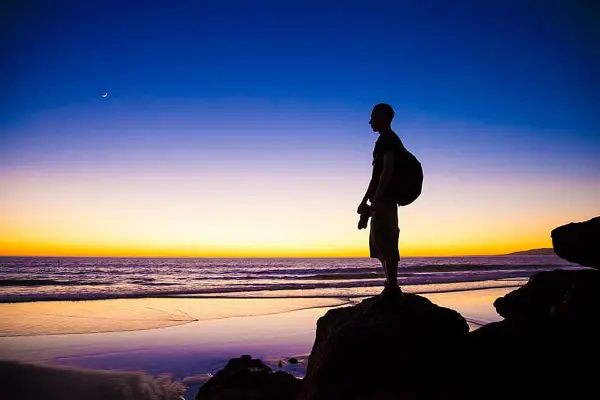 Professional photographers require more gear, such as off-camera flash, tripods, backdrops, and reflectors, but it is actually helpful to learn without relying on extra equipment. The only piece of kit that's non-negotiable is a camera. Keep it on hand at all times and point it towards whatever captures your imagination.
A Journey To Photographic Mastery
It's clear that traveling not only broadens your horizons in the literal sense. If you're a total novice, then you can't expect to return home as a seasoned professional, but consciously taking the time to work on skills is a great step in the right direction. Sit down and evaluate your goals; then work out how to achieve them on your journey, using your destination's attributes and uniqueness.
Have a look at some of these other travel photography tips to get more inspiration. Click on this link if you need more advice about what gear to take on your journey.