In my last post on composition I covered the basics: what composition is, how you can control exactly what appears in a photo (and what doesn't), and some tips to get your started. A photo with impact grabs the viewer's attention right away and doesn't let go. Subject matter certainly contributes to this. But composition is one of the most important factors. Two photographs of exactly the same subject can look completely different and evoke different feelings in the viewer simply by changing the composition. In this second article, I'll talk a little bit about another concept: how lines and curves can make a composition stronger.
Lines and curves are both important aspects of composition. They can separate or connect elements, lead the eye into and through a scene, and add a sense of movement and dynamism. Curves can also guide a viewer to a point of interest and lend a sense of grace. Lines leading to a point of interest, diagonal lines, and lines coming from the corners of the frame are especially strong.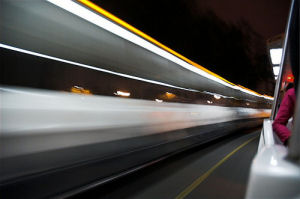 Remember to keep lines subtle. They should be used to enhance your primary subject and are rarely the main focus (except possibly in abstracts like the one above).
Graceful curves can also form a strong compositional element. S-curves, curves that sweep back and forth across a photo, have an almost hypnotic effect on viewers. The human eye seems compelled to follow a meandering curve and they can lend a sense of grace, peacefulness, and tranquility to a photograph.
It takes time to begin noticing lines and curves in the world around you. And it takes a conscious effort and practice to take advantage of them in your viewfinder. But anything can be learned. Just give it a try the next time you are out shooting. Try to be aware of potential lines in your viewfinder, and when you see them, think about how they can be framed to enhance the photo. Don't settle for one idea either. Take lots of photos using the lines in different ways. You may find one version that stands out more than the others when you can examine the shots in detail.