Let's face it, one of the true joys of a professional photographer is to see the fruits of their labor displayed in a physical format, preferably as a large-scale photo print. It just feels like the proper way these photos should be exhibited, the form in which they reach their true potential.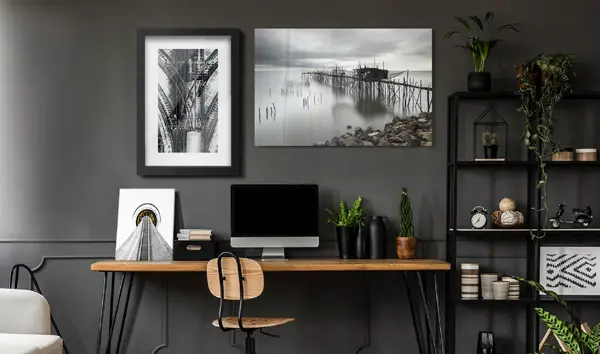 With this in mind, I'm here to talk about what exactly makes large-scale photo printing so appealing and why it's the right choice for professional photographers.
It's Simply Epic
We can all agree that this does not sound like a well-grounded argument. However, the fact that large-scale photo prints immensely add to the impact of the photo cannot be overlooked. Allowing viewers to experience every detail and, perhaps, better understand the narrative and the composition of the photo (think of a large empty field with a tiny human figure in the middle), large-scale photo prints pretty much exploit the same principle that paintings do.
Whether it's a highly detailed Renaissance artwork or massive fields of color in the style of Rothko, part of the impact lies with the size and the presentation. Surely, gallery aficionados might be mumbling under their noses as having the whole exhibition printed on canvas prints is not exactly the bourgeois way of doing things. And yet, it's the age of DIY, and going expensive just for the sake of it really is not in fashion anymore. Also, cheap canvas prints do not necessarily mean low-quality canvas prints, but let me elaborate on that later on.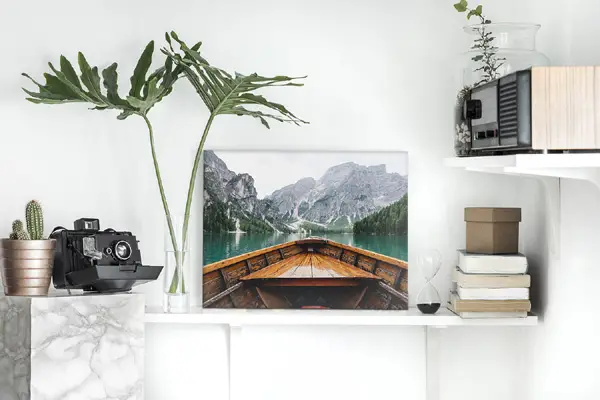 It's Gallery-Ready
Now, we generally tend to view canvas prints as something that one would most likely display only in a home environment or any setting that does not see a lot of crowd activity. However, this notion couldn't be further from the truth. With formats such as framed canvas, aluminum prints, and photos on passe-partout, professional photography has finally acquired the premium-looking framework it deserves.
Mimicking the widely-used gallery format and large format, passe-partout turns every photo into an artistic statement of its own. This really makes sense since the white inner frame is usually made from an actual museum cardstock. Meanwhile, large-format aluminum prints are true stunners in any setting. The glossy surface and the elegant composite panel provides the modern lean look that perfectly complements ultra-modern interiors. Large-scale monochromatic shots are the greatest benefactors in this case. The special printing technique gives photos a pronounced depth-of-field and a true-to-life saturation while the UV-resistant foil both protects and visually enhances the image. If your field is minimalist B&W fine art photography, aluminum prints definitely could do justice to your portfolio!
It's Convenient
Although today, more so than ever, art photography can also be lo-fi polaroid shots the size of a palm,  galleries are still dominated by high-resolution snaps, photos that are impressive both in their physical and digital size. This is where the DPI (dots per inch) format joins the game.
Printing a DPI format image can often come off as quite a tricky experience. Because some printing services, for reasons of a technical nature, are not able to process images larger than 1GB, the optimization process often significantly damages the original appeal and quality of the photo. This is, however, not always the case. Size reduction is mostly carried out with the forethought to maintain the original appeal all while making it easier for the system to process the image. The author genuinely won't even be able to tell the difference.
Fortunately, most printing services have become largely accustomed to the current trends and have become somewhat wallet-friendly, which is a saving grace for photographers who wish to curate a gallery exhibition without breaking the bank. This means a lot of quickly produced and promptly delivered bulk orders, sparing the photographer from using high-end specialized services.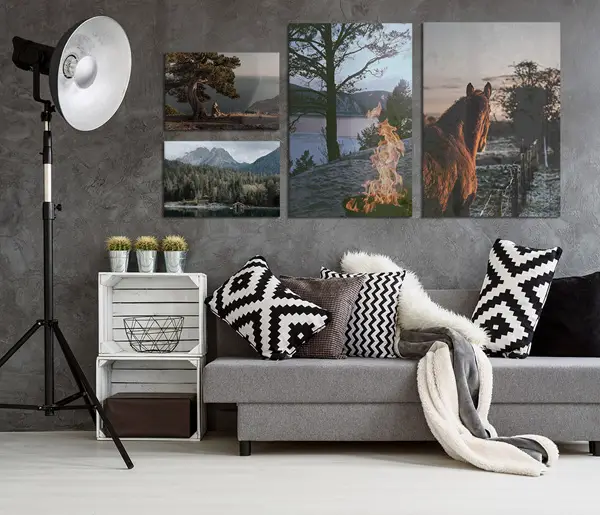 It Spares You from the Clutter
One of the most obvious perks of printing large-scale photos is that the whole logistic clutter is completely off your shoulders. If you're a professional photographer, you surely know the true value of time. Organizing the whole process by yourself can really take its toll, while a simple, few-click process that effectively erases any worries on your part buys you time to continue your artistic affairs.
Processed, produced, packed, and delivered by a reliable service, your large-scale photo(s) arrive just like any other product ordered via a quality web-based vendor would. The difference is that these can be either your future exhibition pieces or a commissioned art piece bought by an admirer of your talent. All that's left for you is to unpack the pieces and ponder on their beauty.
It's an Entirely Different Sensation
Let's turn our sights on less pragmatic aspects. There is no way one can compare a portable easel-back version of an aerial photo with a large-format version of the very same photo. In many ways, and just like it's sister medium of cinema, photography was meant to be viewed on a big screen.
Once again, returning to the painting analogy, it's worth noting that during the 19th century, photography was actually considered a predatory villain that would eventually sweep the painting medium out of existence. Although history shows that this prophecy was nothing more than a widespread overreaction, it's an obvious reminder how closely the two mediums were originally perceived premise-wise.
Now, for sure, there are numerous world-famous small-format artworks (think William Blake's Ghost of a Flea). With that said, the majority of all-time classics are of enormous size. Likewise, photography often strikes the best when it gets up close and personal.
People are simply more likely to be affected by something that makes them feel slightly uneasy because of its proportions. Sure, a good photo will remain excellent on a medium-sized canvas, but it will definitely become more effective on a large-scale canvas. We're basically talking about pure optic trickery here. The more of it you see, the more of it you get.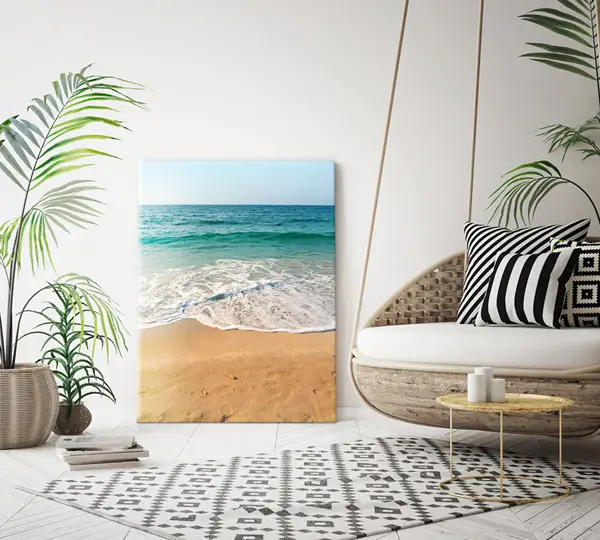 Digital Memories Are More Vulnerable Than You Think
Indeed, they are, and particularly so if the only copy of that special photo you own is located in a folder within a folder within a folder which practically guarantees that you will forget about it at some point. Having an archival (e.g. built to last for decades) print of your most precious photos is not just a way to pay proper homage to the memory itself. Digital photos are simply stored, not dedicatedly maintained, and will be overlooked and unable to reach generations upon future generations.
Largely depending on a technical glitch-free future and the stamina of your computer, digital photos exist as numbers that are translated into images. It's more of a tech-age mindset to think of these photos as ever-present, while in reality, they only exist within the threshold of your device.
Conservative as it may be, photo canvas prints are an actual, tangible unit present on the physical plane. More than just a mere combination of numbers in a Cloud, it's a physical object and a part of your everyday life, interior, and space around you. Although at times just barely perceptible, it actually affects you on a daily basis. Now, think of the most inspiring photo you've ever taken or have seen. And now, imagine having a powerhouse of good energy like that right on your wall, next to your bed!
Things to Keep in Mind When Going for a Large-Scale Photo Print
Although we often think that the photo we're the fondest of will also be the most fitting for canvas, this couldn't be further from the truth. The image you'd like to see as your new wall decor must have a solid default resolution as even the smallest available format won't make the low resolution less apparent. Images that do not exceed 2 megapixels will fare good enough on canvases that do not exceed 36" x 24" in size. However, they will require significant optimization when it comes to larger formats.
The best compromise one can make in a situation like this is to pick a photo that's at least 7 megapixels big as this size tends to perform decently on most canvas sizes available on the B2C market. Meanwhile, 10-megapixel photos are known to look excellent on practically all commercially available canvas formats. With that said, you shouldn't spend days looking for a perfectly flawless photo (if there ever was one). There is a lot of visual optimization that takes place just before the actual printing process with professional designers working to bring out the best in your photos!
Printing Large-Scale Canvas Prints for Incredibly Low Prices
So, why should you choose CanvasDiscount.com as the company to print your large-scale photo? As the name already indicates, the products sold from their store are at discount prices. Sure, it is natural to immediately be tempted to think that cheap canvas prints also mean cheap materials and faulty production practices. Even more, who knows what the end result might look like once it arrives if it does at all? Luckily, CanvasDiscount.com really debunks the notion that discount canvas prints are a sign of discount business ethics.
With products that can often cost 5 times less than their regular market counterparts, items sold on their shop basically disrupt the myth of luxury decor items. The same premium quality is right there, while the price range seems to be lowered to the bare minimum. More than anything, the word discount seems to indicate a properly priced product rather than a distance between price and quality.
For more on printing photographs, take a look at this article.
Sponsored Content