The long awaited Nikon D850 is here, so is it worth the price tag?  There are the features we have been expecting along with more than a few surprises.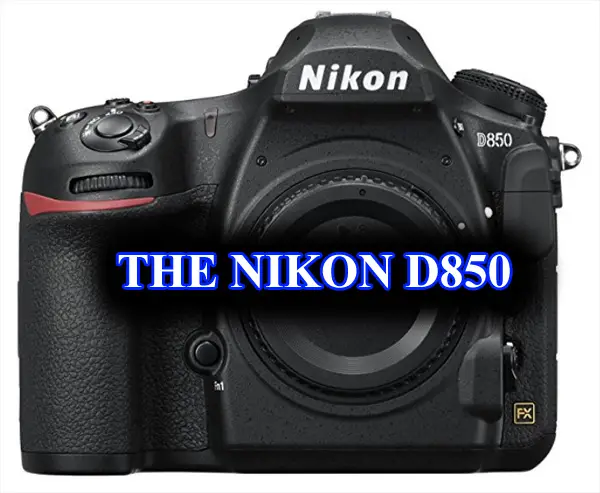 Let's dive in and discuss the pros and cons of this 46- megapixel full frame shooting machine…
The Nikon D850 replaces Nikon's D810, but it does much more than that.
Some of the impressive features include:
45.7 Megapixel back-side illuminated (BSI) FX-format full-frame CMOS image sensor
7 FPS Continuous Shooting Speed (9 FPS when used with MB-D18 Battery Grip & EN-EL18b/a Battery)
153 Point AF System
Full Frame 16:9 4K Ultra HD (3840×2160)
120 fps Slow-Motion
8K time-lapse ability
Focus Peaking
Focus Stacking
Silent Front Curtain Shutter mode
Wifi
Illuminated buttons
Silent Photography
More about these features and others below:
One of the surprises is that the Nikon D850 is one of the fastest shooting Nikon DSLRs with a 7fps continuous shooting speed, up to 9 fps when using the optional battery grip.
The LCD screen is another surprise.  It not only tilts helping you shoot from the hip or unusual angles but it's also a touch screen.  Its almost like using your phone which everyone is used to.  You can play images and movies back, go through menus, zoom in or out in live view and control focus points.
The Silent Front Curtain Shutter mode makes cable releases unnecessary.  This is great for long exposures off a tripod.
The increased dynamic range of the Nikon D850 allows it to theoretically compete with medium format cameras.
In terms of high quality time lapses, the camera can be used to shoot full resolution images.  These can later be assembled into 8k+ movies.
The Nikon D850 has a silent mode when you use the live view.  You can shoot continuous photos with no vibration or sound, which can be helpful in any circumstances where sound would interfere, such as wildlife, meetings, or wedding photography.
The full ISO capability of this camera is in the 32 to 102,400 range.  The ISO64/32 mode (lower ISO than the standard 100), should help you in really bright conditions if you are not using an ND filter.  Lower iso also increases the dynamic range of the camera. At the other end of the spectrum, the camera shoots very clean photos at very high iso settings in the thousands.
Nikon has introduced light up buttons on this camera which are very handy when shooting at night, in addition to the normal light up top info screen.
Focus peaking highlights your in focus objects in a selected color when you manually focus.  Blown out highlights can be visually shown on the screen with three selectable Zebra Stripes highlight detection patterns.
Focus stacking on the other hand uses the Focus Shift Mode to automatically collect up to hundreds of photos at different focus distances which can later be combined into an image with extraordinary depth of field.  You can learn more about it here.
The Nikon D850, like the D800E, has no optical low-pass filter in front of the imaging sensor that blurs the image very slightly, giving as a result increased sharpness and resolution.
The Nikon D850 has an in-camera AF motor and is compatible with AF and AF-S Nikon lenses as well as manual focus lenses such as those from the 1970s.  It will also work with your DX lenses, but don't forget that the image will be cropped as with other FX cameras.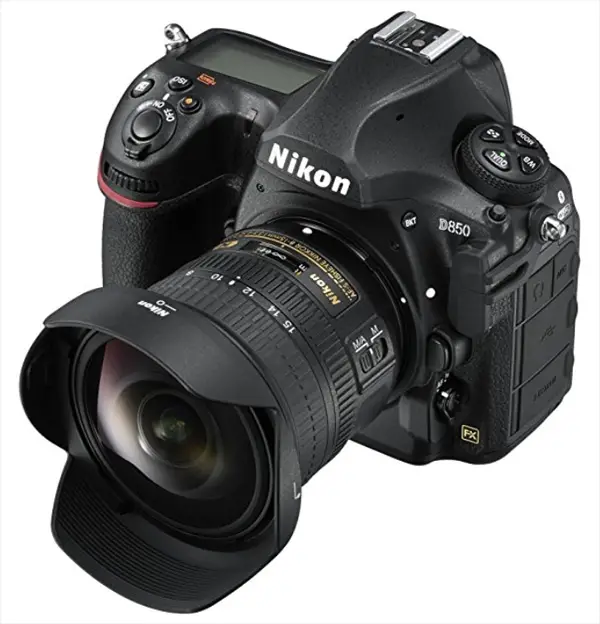 RAW mode  (12 or 14 bit) as well as JPG are possible, as well as a mode that saves both image formats simultaneously.  The D850 can write to both SD cards as well as XQD, which optimizes handling of the large files shot at full resolution.  These are sealed from the elements such as dust and weather, and so is the rest of the D850, so you can take it on your next extreme shoot.
You can wirelessly transfer your photos using a low energy Bluetooth connection to a tablet or even a smartphone.  But don't worry, the D850 battery will not run out for a long time.  You can shoot over 1800 full res photos on one charge, not to mention 70 minutes of video (7500 shots with extra battery grip).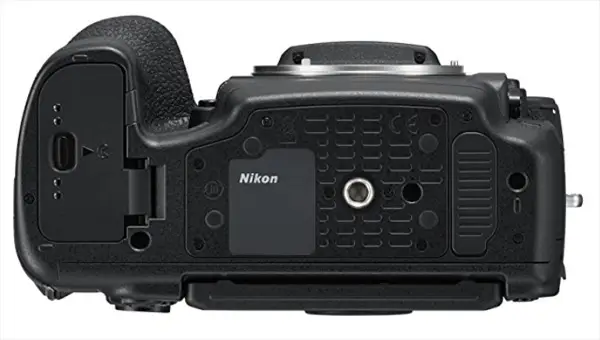 Ports include standard 3.5mm mic and headphone jacks, Mini-HDMI, micro USB 3, and accessory ports.
There are not many cons to this camera.  One to note, and depending on your type or work it may not even matter, is the lack of a built in flash to use as a fill.  There are ways around that of course.
Here are a few thousand sample images from the Nikon D850 to give you a better idea of image quality: http://www.pbase.com/cameras/nikon/d850
Is this a camera for you?
It is an amazing camera for landscapes and portraits as well as long exposures due to the vibration-less shutter. The price tag is hefty although nowhere near the price of a Nikon D5.  It also depends on what you need to purchase considering your lenses may work with it.  The Nikon D850 can be purchased as a body only, a series of kits (seen in the Amazon link below), as well as a complete filmmaker's kit.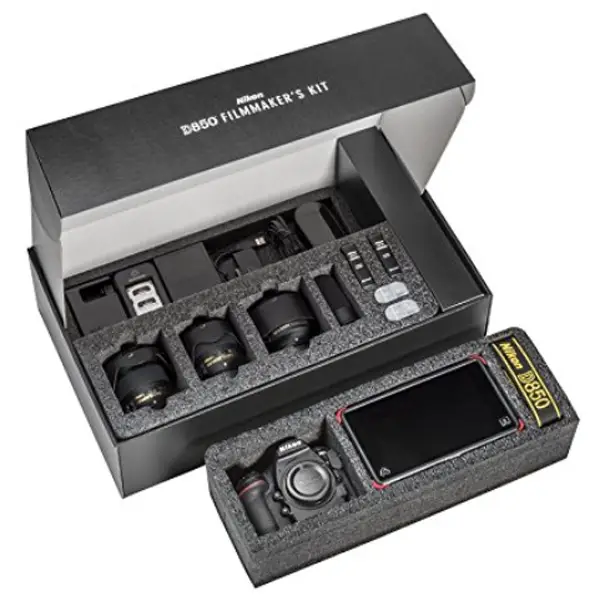 You can buy the Nikon D850 at the links below.  They are all approved dealers and offer a money back.  Most of the time they are out of stock due to their popularity so you need to preorder to get yours. It is worth the wait.
Links:
Adorama
Here is the optional Nikon MB-D18 Battery Grip for D850 for more shots.
I hope this quick review will help you in making a decision.  If you end up getting this great camera let me know your experiences with it.
To be continued when I get more use out of it…
Cheers,
Nicholas