When planning a maternity photo session, selecting the perfect outfit is essential to capturing precious moments. In this comprehensive guide on what to wear to a maternity photo session, we will explore various factors that contribute to creating stunning images while ensuring comfort and confidence for the expecting mother.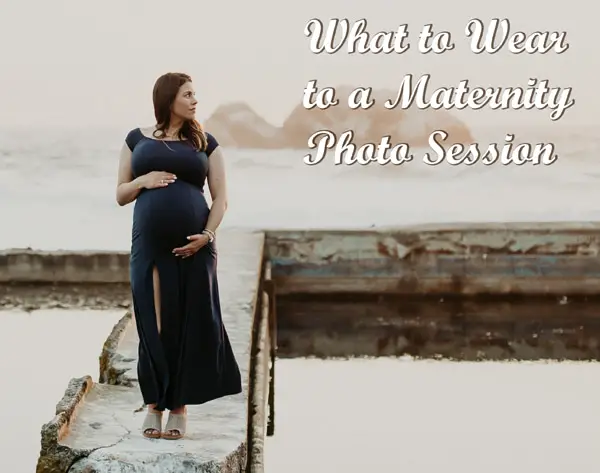 We will discuss suitable clothing options such as snug-fitting tops or dresses that accentuate your baby bump, and discuss the importance of choosing soft fabrics like cotton, silk, or jersey. Additionally, we'll cover weather considerations for outdoor shoots and offer guidance on shapewear and support during your photoshoot.
For those contemplating renting versus buying maternity clothes tailored specifically towards photography purposes, we'll provide insights on popular rental websites and cost comparisons. Furthermore, you'll learn about studio-based sessions with simple color palettes & coordinating outfits among family members as well as preparing ahead of time by packing essentials & pampering yourself before the big day.
Last but not least, our expert advice includes timing your maternity photo session optimally within 28-34 weeks gestation period along with popular outfit choices like maxi dresses. We also touch upon color coordination within photographs & adding fun elements through mixing textures and fabrics in outfits while incorporating creative ideas for personal touches.
Choosing the Right Outfit for Your Maternity Photo Session
When picking an outfit for a maternity photo session, comfort, style, weather and how it coordinates with other family members should all be taken into account. Dresses or tops that fit snugly around the upper body but flare out just above the belly can accentuate your pregnant shape while still being comfortable and stylish.
Factors to Consider When Choosing an Outfit
Comfort: Opt for clothing that allows you to move freely and feel at ease during your maternity photoshoot. Avoid tight or restrictive garments that may cause discomfort.
Style: Choose outfits that showcase your personality and make you feel beautiful. Consider options like maxi dresses, lace dresses, or chunky knit sweaters to highlight your adorable baby bump.
Weather Conditions: Dress appropriately based on the temperature if you're planning an outdoor shoot. Layer up in colder months with items like scarves or cardigans so you remain comfortable throughout the session.
Family Coordination: Coordinate everyone's outfits by selecting complementary colors and styles; avoid overly matching ensembles which can look unnatural in photographs.
Popular Dress Styles for Maternity Photoshoots
The following are some popular dress styles often seen in maternity photo shoots:
A flowing maxi skirt paired with a plain shirt: This combination creates a flattering silhouette while showcasing your growing bump beautifully.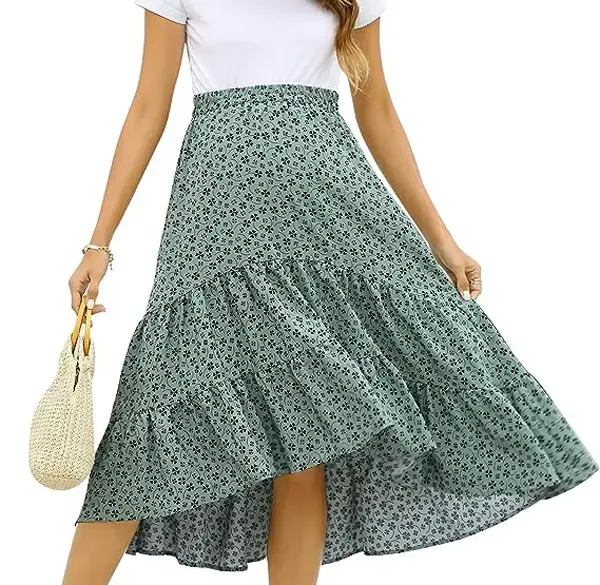 A body-con dress: This form-fitting option hugs your pregnant body, emphasizing your baby bump and creating a stunning look.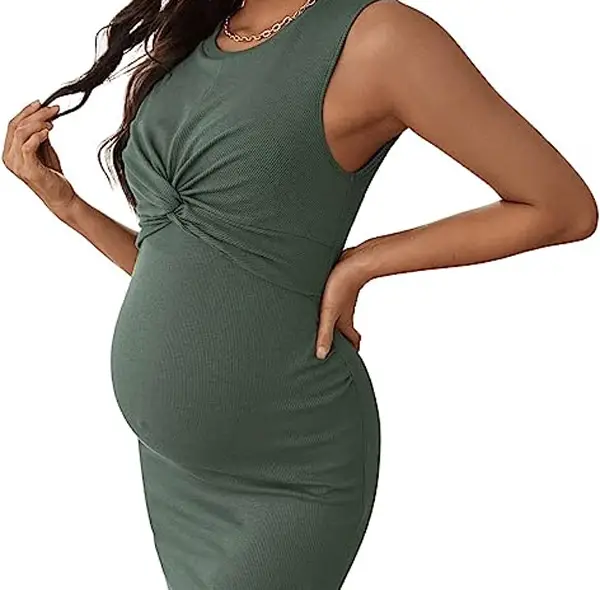 A maxi dress: An excellent choice for its flowing design that accommodates growing bumps with ease. Maxi dresses are comfortable and versatile, making them ideal for both casual and formal maternity photo sessions.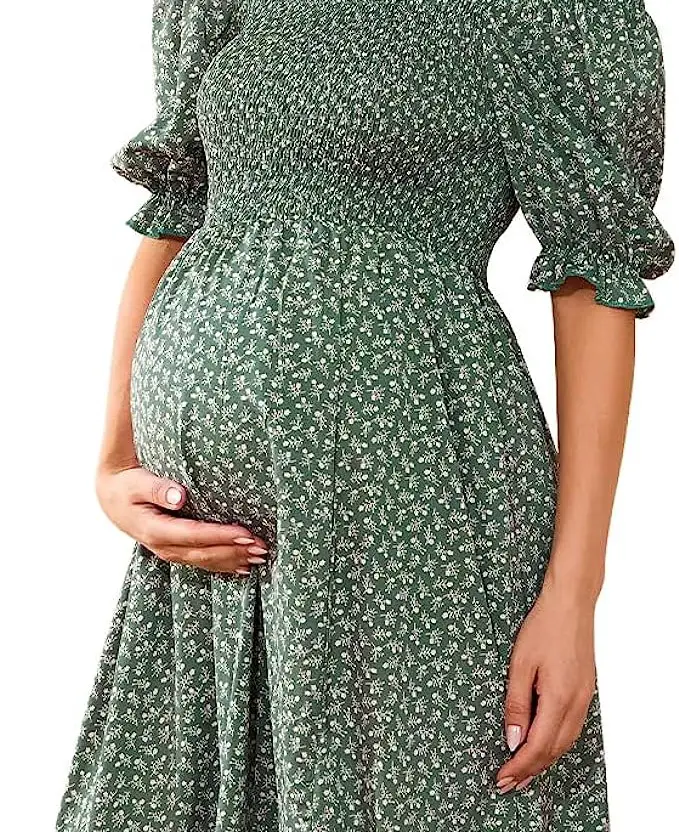 Remember to also consider the color palette of your outfits when planning your session. Aim for colors that complement each other without being overly matchy-matchy. If you're wearing jeans, opt for pre-pregnancy jeans unbuttoned or maternity jeans in a similar style to what you typically wear.
Don't be scared to don something luxurious or a glamorous dress if that's what gives you a confidence boost. Just make sure you feel comfortable and confident in whatever you choose to wear. After all, the goal is to capture this special time in your life while feeling your best.
Fabrics and Materials That Complement Your Bump
Selecting the perfect material for your maternity photoshoot can be key to achieving a stunning look that complements your beautiful bump. Soft materials like lace, velvet, or silk are ideal choices because they drape well over your curves without causing discomfort. Let's dive into the best fabrics for showcasing your baby bump and how they affect your overall appearance.
Ideal Fabrics for Showcasing Your Baby Bump
Lace: Lace dresses add elegance to any maternity photoshoot while providing excellent stretchability around the belly area. It's perfect for both indoor studio sessions and outdoor shoots.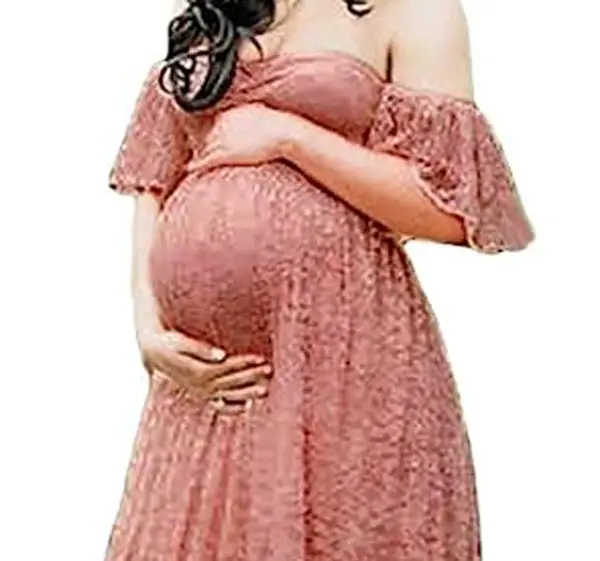 Velvet: Velvet is another luxurious material that looks stunning in photographs due to its rich texture. This fabric is soft against the skin and provides enough stretch to accommodate your growing bump comfortably.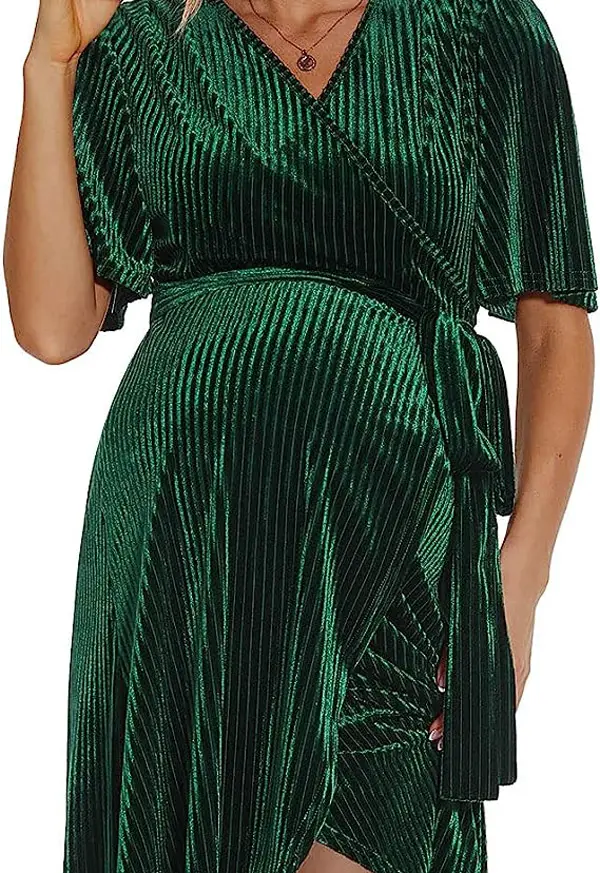 Silk: Silk offers a smooth finish with just enough sheen to catch light beautifully during pregnancy photos. Its lightweight nature allows it to flow gracefully over your pregnant body while still highlighting your shape.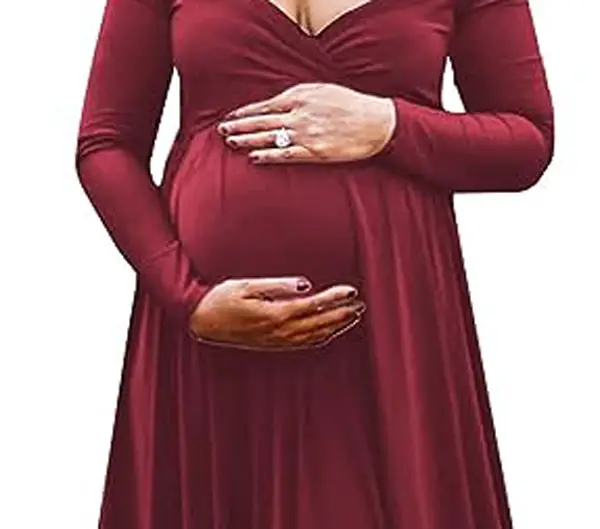 Cotton blends: Cotton blend fabrics such as jersey or rayon provide comfort and breathability throughout the shoot, making them great options for casual outfit choices like maxi dresses or chunky knit sweaters.
How Different Materials Affect Overall Appearance
Different types of fabrics have varying effects on how they showcase your growing belly during a maternity photo session:
A body-con dress made from thicker material such as scuba or neoprene helps create a flattering silhouette by smoothing out any lumps or bumps.
Flowing maxi skirts or dresses made from lightweight materials like chiffon or tulle add a whimsical, romantic touch to your maternity photos while allowing for easy movement and comfort during the shoot.
For a more casual look, consider wearing jeans with an open-buttoned shirt or a plain shirt paired with pre-pregnancy jeans unbuttoned. This combination showcases your baby bump in a relaxed yet stylish manner.
In addition to choosing the right fabric, it's essential to select colors that complement both your skin tone and the overall color palette of everyone's outfits involved in the session. Try hues that are not just the typical neutrals like beige, cream, gray or pastels; don't hesitate to make a bold statement with more vibrant colors if they flatter you.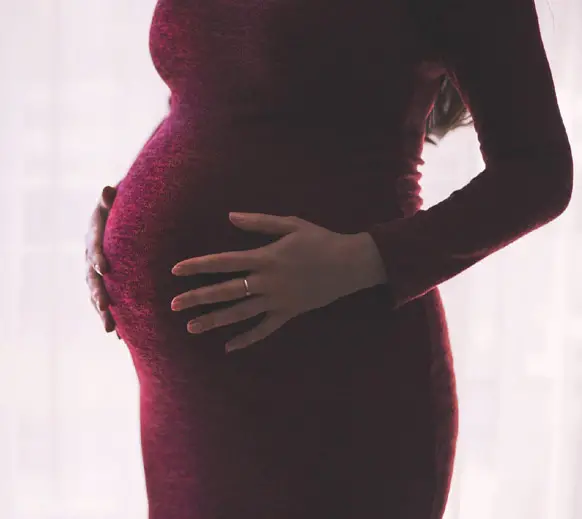 Remember to prioritize comfort when deciding what you're wearing so that you can focus on capturing stunning images of this special time in life.
Weather Considerations During Outdoor Sessions
When planning an outdoor maternity photo session, it's essential to dress appropriately for the weather so that you remain comfortable throughout the shoot. The weather can be unpredictable, so it's best to be prepared with layering options and suitable clothing items. Let's discuss how to dress based on temperature and layering options during fluctuating weather.
Dressing for the Temperature
Depending on the season and location of your maternity photoshoot, temperatures can vary significantly. Choose outfits that will keep you warm or cool enough while still looking stylish for your photos:
Cold Weather: Cozy knit sweaters, long-sleeve tops, or a fashionable coat paired with leggings or maternity jeans are perfect. Don't forget accessories like scarves and hats if needed.
Mild Weather: A maxi dress or blouse with maternity pants or skirts is ideal for mild temperatures.
Warm Weather: Light fabrics such as cotton are perfect when it's hot outside. Choose flowing dresses, skirts, shorts paired with airy blouses – anything that allows air circulation around your pregnant body.
Layering Options for Fluctuating Weather
In case of unexpected changes in weather during your outdoor session, consider these layering options to stay comfortable while maintaining a flattering silhouette:
Cardigans and Shawls: These versatile pieces can be draped over your shoulders or wrapped around you for added warmth, while still showcasing your adorable baby bump.
Denim or Leather Jackets: A stylish jacket adds an edgy touch to your outfit and provides extra protection against the elements. Choose one that complements the color palette of everyone's outfits in the session.
Kimonos and Dusters: Long, flowing outerwear like kimonos or dusters add elegance to any maternity ensemble while offering additional coverage if needed.
Remember to wear comfortable shoes suitable for walking on various terrains during outdoor sessions. Stay hydrated throughout the shoot – bring along water bottles and snacks as necessary.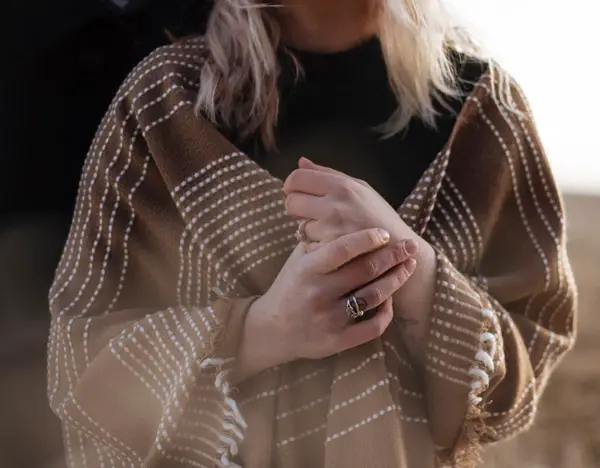 To sum up, being prepared with appropriate clothing options based on temperature is crucial when planning an outdoor maternity photo session. Layering options such as cardigans, jackets, and kimonos provide flexibility during fluctuating weather conditions without compromising style. By taking these factors into account, you'll ensure a successful photoshoot capturing this special time in your life beautifully.
Shapewear Options Underneath Your Chosen Outfit
Wearing shapewear underneath your chosen outfit can help smooth lines and provide additional support during a maternity photo session. It is imperative to select the right kind of shapewear that fits your body type, guaranteeing you feel comfortable and secure during the photo session. In this section, we'll explore various brands offering beautiful dresses specifically designed with built-in shapewear features tailored towards photography purposes.
Benefits of Wearing Shapewear Under Outfits
Smooths lines: Shapewear helps create a more flattering silhouette by smoothing out any bumps or bulges, allowing your maternity dress to drape beautifully over your pregnant body.
Provides support: Pregnancy can put extra strain on your back and abdomen; wearing supportive shapewear can alleviate some of this pressure while still showcasing your adorable baby bump.
Increase confidence: Feeling secure in what you're wearing will allow you to relax and enjoy the experience of capturing stunning images during this unique stage in life.
Brands Offering Built-In Shapewear Designs
If you prefer not to wear separate pieces, consider investing in a maternity dress with built-in shaper features. Some popular brands include:
Spanx Maternity: This well-known brand offers several styles of maternity jeans with built-in shaping panels for added comfort and support without compromising style.
Ingrid & Isabel: Known for their maternity body-con dress, this brand features a built-in shapewear layer to smooth and support your pregnant figure.
Seraphine: This luxury maternity wear brand offers dresses with integrated shaping panels designed specifically for pregnancy photoshoots, ensuring you feel beautiful and comfortable throughout the session.
In addition to these brands, consider browsing online retailers like ASOS Maternity, which offer a wide range of stylish options that cater to various body shapes and sizes. Remember always to prioritize comfort when selecting shapewear – if it's too tight or uncomfortable, it will show in your photographs.
Tips for Wearing Shapewear During Your Maternity Photo Session
Choose the right size: Ensure you select the correct size of shapewear based on pre-pregnancy measurements as well as current weight gain during pregnancy.
Select appropriate styles: Opt for seamless designs that won't create visible lines under your chosen outfit; also consider high-waisted options if wearing a form-fitting dress or skirt.
Prioritize comfort over compression: Your main goal should be feeling supported without being restricted; choose pieces with gentle compression rather than overly tight garments that may cause discomfort during your shoot.
Finding the perfect balance between style and comfort is essential when choosing what to wear underneath your maternity photo shoot outfits. By considering factors such as fabric type, fit, and design elements like built-in shaper features from reputable brands mentioned above can help ensure you look stunning while still feeling at ease during your maternity session.
Maternity Photoshoot Outfits: Renting vs Buying
Why spend a fortune on maternity clothes you'll only wear once? For those who wish to make the most of their maternity photoshoot, renting designer gowns can be an economical solution while still allowing access to stylish pieces. However, buying gives you full control over customization options and adds sentimental value by keeping an item worn during a special moment in life. Let's weigh the pros and cons of renting versus buying outfits for your maternity photo session.
Pros and Cons of Renting vs Buying
Renting:

Cost-effective option as you only pay a fraction of the retail price.
Allows access to designer gowns without breaking the bank.
Ideal if you don't plan on wearing the outfit again after your photoshoot.
Limited availability may mean not finding your desired style or size in time for your shoot.

Buying:

Makes it possible to wear an outfit multiple times during pregnancy or even postpartum.
Gives full control over customization options such as color palette, fabric choice, etc.
Adds sentimental value by keeping an item worn during a special moment in life.
Cons include higher upfront cost compared to renting.
Popular Brands and Shops
Studio Maternity Photo Shoot: Outfit Coordination and Color Palettes
Planning a studio maternity photo shoot involves considering outfit coordination and color palettes to create visually appealing and polished images. The right colors can enhance your baby bump and create harmony in your photos.
Choosing the Perfect Color Palette
For studio sessions, selecting one or two complementary colors per outfit is ideal. This keeps things simple yet visually appealing. Soft pastels, earth tones, and bold jewel tones are popular choices. Canva's color palette generator is an excellent tool for inspiration.
Coordinating Outfits with Other Participants
Coordinating outfits is crucial when including family members or friends in your maternity photo session. Here are some tips:
Solid Colors: Avoid patterns or garments featuring words or pictures as they might distract from capturing stunning images during this unique stage of life.
Mix & Match Styles: Try mixing different styles that complement each other within the chosen color palette.
Baby Bump Highlighting: Ensure at least one person wears an outfit that accentuates the adorable baby bump by choosing a body-con dress or a flowing maxi skirt paired with a plain shirt tucked in.
Comfort: Make sure everyone feels comfortable and confident in what they're wearing, as this will translate into more relaxed and natural-looking photos.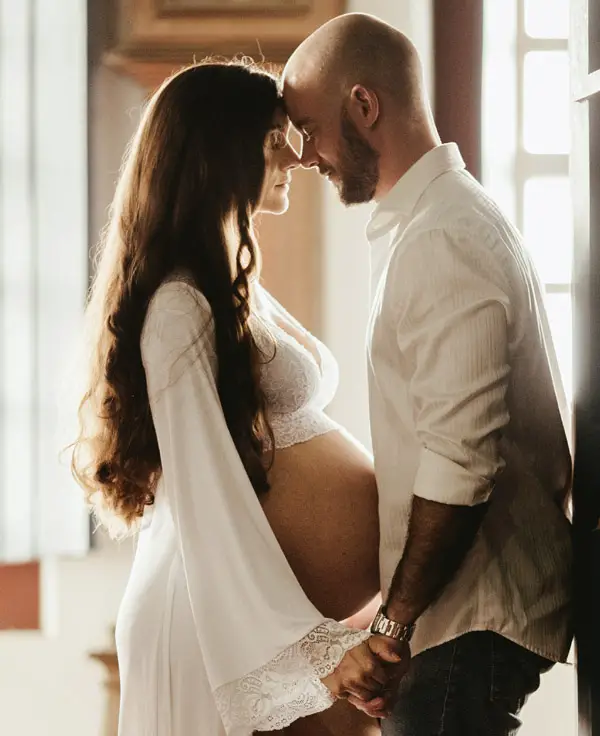 Discuss any specific poses or props you'd like to include with your photographer. This way, they can help guide you on the best ways to showcase your pregnant body while ensuring a flattering silhouette for all participants involved.
A well-planned studio maternity photo shoot allows for greater control over lighting conditions and color coordination compared to outdoor sessions. By selecting complementary colors within a simple palette and coordinating outfits among participants, you'll create stunning images that capture the beauty of pregnancy while showcasing each person's unique style. Don't forget – feeling beautiful and comfortable is key during these special moments.
Preparing Your Wardrobe Ahead of Time
When it comes to your maternity photo session, preparation is key. Ensuring that everything you need has been prepared a few days before the actual event can help alleviate stress and ensure a smooth photoshoot experience. In this section, we will discuss essential wardrobe items to pack and the importance of prepping clothes beforehand.
Packing Essential Wardrobe Items
Plain underwear/bandeau bras: Choose plain undergarments suitable for use beneath various types of clothing during your maternity photo shoot outfits. This ensures no visible lines or patterns distract from your adorable baby bump in the final images.
Comfortable shoes: While some poses may be done barefoot, having comfortable footwear on hand allows you to move around easily between shots without discomfort.
Lingerie (optional): If you plan on including more intimate shots during your pregnancy photos, consider packing some tasteful lingerie that makes you feel beautiful and confident while showcasing your pregnant body.
A change of clothes: Bring an extra casual outfit as backup in case any accidents occur with your primary attire or if weather conditions require a quick change during outdoor sessions.
The Importance of Prepping Clothes Beforehand
Taking time to properly prepare all chosen garments before arriving at the studio or location can make a significant difference in how well they photograph. Follow these tips for best results:
Irons/steamers: To remove wrinkles from dresses, tops, maxi dresses, or even chunky knit sweaters prior to wearing them for pictures, ironing/steaming should be done carefully so as not to damage delicate fabrics.
Lint rollers: Remove any pet hair or lint from clothing, especially if you're wearing dark colors that easily show debris. This will help keep your outfits looking clean and polished in photos.
Dry cleaning: If necessary, have formal dresses or other special garments professionally cleaned before the shoot to ensure they are in pristine condition for your maternity portraits.
In addition to preparing your wardrobe items ahead of time, consider treating yourself to a pampering session before the shoot. A relaxing massage, manicure/pedicure, or even a professional makeup application can help boost confidence and make you feel more relaxed during your maternity photo session. Remember that feeling comfortable and confident is essential for capturing stunning images that celebrate this unique stage in life.
To sum up, taking time to pack essentials like plain underwear/bandeau bras suitable for use beneath various types of clothing and ensuring chosen garments have been ironed/steamed helps create an enjoyable experience during your maternity photo shoot. Don't forget about self-care treatments as well – feeling beautiful inside and out contributes greatly towards successful photography sessions.
Timing Your Maternity Photo Session
Scheduling your maternity photo session at the right time is crucial for capturing stunning images of your growing baby bump. The ideal timeframe to book a session is around 28-34 weeks into pregnancy, as this is typically when the belly has reached an optimal roundness while still allowing expectant mothers to feel comfortable moving around.
Ideal Time Frame for Scheduling Sessions
Early Pregnancy (before 28 weeks): While it's possible to have a maternity photoshoot during early pregnancy, the baby bump may not be as prominent, and you might not achieve the desired look in your photos.
Late Pregnancy (after 34 weeks): Although some women choose to schedule their sessions later in pregnancy, it can become increasingly uncomfortable and challenging to move or pose. Moreover, there's always a risk that the baby could come before anticipated.
To ensure you capture beautiful maternity photos, consider booking multiple sessions throughout your pregnancy journey. This way, you'll have images showcasing various stages of growth and development.
Benefits of Choosing a Maxi Dress
A maxi dress can be an excellent choice for expectant mothers due to its flowing design that accommodates growing bumps with ease. Not only do maxi dresses provide comfort and style during maternity photo shoots but they also offer several advantages:
Versatility: Maxi dresses come in various styles and colors suitable for both casual outdoor settings or more formal studio-based sessions.
Flattering Silhouette: The long, flowing design of a maxi dress creates an elongated and elegant look that flatters the pregnant body shape.
Easy Coordination: Maxi dresses can be easily coordinated with your partner's outfit or other family members' attire for cohesive photos. You may even opt for matching maternity dresses.
In addition to maxi dresses, consider exploring other options such as lace dresses, chunky knit sweaters, or open-buttoned shirts paired with pre-pregnancy jeans unbuttoned to accommodate your adorable baby bump. Ultimately, choose outfits that make you feel beautiful and comfortable during this special time in your life.
No matter what type of maternity photo shoot you're planning, whether it's a casual outdoor session or a more formal studio-based shoot, timing is key. Schedule your session around 28-34 weeks into pregnancy to ensure optimal results while still feeling comfortable and at ease throughout the process.
FAQs
What to Wear for a Maternity Photoshoot?
Choose snug-fitting tops or dresses that accentuate your belly and opt for soft fabrics that drape comfortably over curves, and don't forget to dress in layers to accommodate changing temperatures.
Soft pastels, neutral tones, and earthy shades often work well for the best colors in maternity pictures.
Your partner should wear clothing that complements your outfit in terms of color palette and style.
Choose comfortable shoes that match the overall aesthetic of your outfits, and consider going barefoot during outdoor sessions on grassy areas or sandy beaches.
Conclusion
Choosing the perfect outfit for your maternity photo session is essential, so opt for snug-fitting tops or dresses with a flare above the belly and soft fabrics that drape comfortably over curves.
Consider the weather, shapewear and support options, and timing your shoot during optimal pregnancy stages to ensure you look and feel your best.
Creating harmony through complementary colors and incorporating diverse textures/materials can help make your photos even more beautiful, so don't be afraid to mix and match.
Remember to pack essential undergarments and steam or iron clothes prior to the shoot to ensure everything runs smoothly on the day of.
Whether you're renting or buying maternity clothes, multiple outfit options are always great for added variety, so have fun with it! Click the following link to learn about pregnancy photography trends.