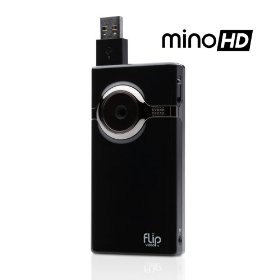 I really like the Flip video cameras. I reviewed the original Flip Mino back in June and recommended it for anyone who wanted to shoot more than a couple of minutes of video at a time or who wanted to reserve the space on their camera's memory card just for pictures. The Flip Mino is a handy, compact, easy to use video recorder. And the Flip Mino HD (Amazon) is virtually identical in every way except one—it records 720p HD video.
Everything I liked about the Flip Mino I like about the Flip Mino HD. The body and controls are identical. You can't even tell them apart visually except for the "HD" logo on the back. They operate exactly the same and feel exactly the same in my hand. Everything I wrote in my earlier review about the Flip Mino applies to the HD version. So let's get on to video quality.
The video and sound quality are quite good. Video is recorded in H.264 format at 30 frames per second. Audio is recorded in AAC format at 44.1 kHz. The average bitrate is about 9 Mbps which lets the Flip store about 60 minutes of video on its internal 4 GB memory.