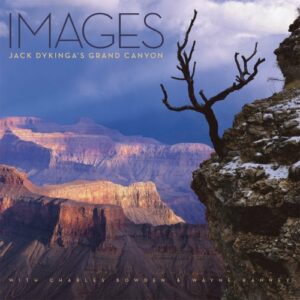 Images: Jack Dykinga's Grand Canyon is another photography book in a series from Arizona Highways. Unlike the Arizona Highways Photography Guide (reviewed here) which is instructional, this book is a work of art.
This 11-inch square book begins and ends with essays by non-fiction writer Charles Bowden and geologist and author Wayne Ranney, respectively.
Bowden's opening essay describes the canyon with an almost holy reverence. It's a beautiful tribute to a place the author describes as timeless. A place not for worship but for exploration and meditation that nourish the soul.
The closing essay by Ranney gives us a geologist's view of the Canyon. It's less poetic than Bowden's but no less interesting (at least to me) as he shares insights into the formation of the canyon that made me marvel at the time and energy, virtually beyond human comprehension, required to form it.
And in between these short essays the book is filled with beautiful color photographs of the canyon by Jack Dykinga. From snow-covered plateaus, storms,
… Continue reading Review: Images: Jack Dykinga's Grand Canyon