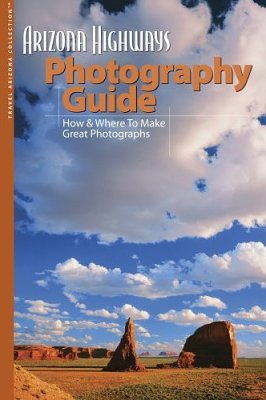 The Arizona Highways Photography Guide was written by the editors and contributors to Arizona Highways magazine. It's broken down into three parts of about 100 pages each: The Basics, Types of Photography, and Places for Photography. Read on for a short review and how you can get a free copy.
This book covers a broad range of photography topics and, while it doesn't go very deeply into any of them, it does provide a lot of very practical information. Every single page is filled with beautiful color photos that are used to illustrate a point and are each accompanied by a useful tip.
For example, page 40 includes this tip under a photo of a fast-moving motorcyle rider: "By using a slow enough shutter speed and panning with the motocross rider's movement, the photographer was able to blur the background to heighten the sense of speed," and it includes the shutter speed, ISO, and aperture settings.
Page 78 discusses depth of field and hyperfocal distances with helpful and clear diagrams. The tip on page 138 explains how color plays an important role in the composition of a photo of a bobcat at the top of the page.
The last third of the book is arguably the real "meat" and is comprised of photo essays that guide potential photographers through a number of interesting locations around Arizona. Each location is described in detail with accompanying photographs and plenty of tips for shooting features specific to that area. The Places for Photography section covers the Grand Canyon, Colorado Plateau, Navajoland, Red Rock Country, Mountain Country, Sonoran Desert, and Sky Islands. It also includes driving directions and websites for many of the places discussed in the essays.
The book is definitely geared more towards beginning and new-to-digital photographers and photographers who are interested in capturing the beauty of some of Arizona's scenic landmarks. The breadth of subjects in the first 2/3 of the book serves as a brief introduction to a number of interesting topics but doesn't cover any of them in enough depth to be particularly useful to intermediate or advanced photographers (the section on composition, for example, is mostly photos with just 2 pages of text). If I were writing a guide book I'd probably leave the basics of photography section out.
I'd recommend this book to anyone looking for tips on photographing the locations mentioned above. But there are many other books that do a better job introducing basic and intermediate photography (my favorite is Understanding Exposure by Bryan Peterson).
If you're interested in buying this book, please consider supporting Photodoto.com by purchasing it through our Amazon affiliate links on this page.
Have you read this book? Share your opinion in the comments below.
I'm giving away my slightly used review copy. If you think you can put the information in the guide to good use, leave a comment with your answer to this question: what is the length of the Grand Canyon? I'll contact the respondent with the first correct answer to arrange shipping.
This book was provided to Photodoto free of charge for review.