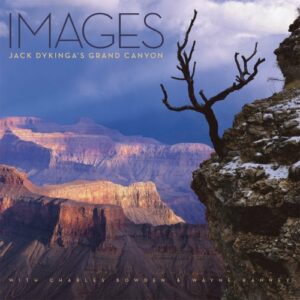 Images: Jack Dykinga's Grand Canyon is another photography book in a series from Arizona Highways. Unlike the Arizona Highways Photography Guide (reviewed here) which is instructional, this book is a work of art.
This 11-inch square book begins and ends with essays by non-fiction writer Charles Bowden and geologist and author Wayne Ranney, respectively.
Bowden's opening essay describes the canyon with an almost holy reverence. It's a beautiful tribute to a place the author describes as timeless. A place not for worship but for exploration and meditation that nourish the soul.
The closing essay by Ranney gives us a geologist's view of the Canyon. It's less poetic than Bowden's but no less interesting (at least to me) as he shares insights into the formation of the canyon that made me marvel at the time and energy, virtually beyond human comprehension, required to form it.
And in between these short essays the book is filled with beautiful color photographs of the canyon by Jack Dykinga. From snow-covered plateaus, storms, and sunrise vistas, to gorgeous sunsets casting bright orange and red hues onto ancient canyon walls, Dykinga shows that he is an accomplished artist who has spent years absorbing the essence of the canyon. The matte-like finish and thick pages present the photos well—my only quibble is that I wish the book was larger. The two-page spreads are 22×11″ but many of the photos demand to be seen much larger. But, as suggested by the authors, perhaps it's not possible to truly capture the Grand Canyon in any form as humble as a book, regardless of size.
Have you read this book? Share your opinion in the comments below.
I have two copies to give away (one used for the review) courtesy of Arizona Highways. Please leave a comment if you'd like one. I'll choose two commenters at random this weekend to receive them. Leave a valid email address so that I can contact you.
This book was provided to Photodoto free of charge for review.