If you are a fan of photography or videography like me, in addition to the device you use, your SD card is your best friend. Whether you are a professional or a hobbyist, it is clear that you want to save time and money when purchasing this item.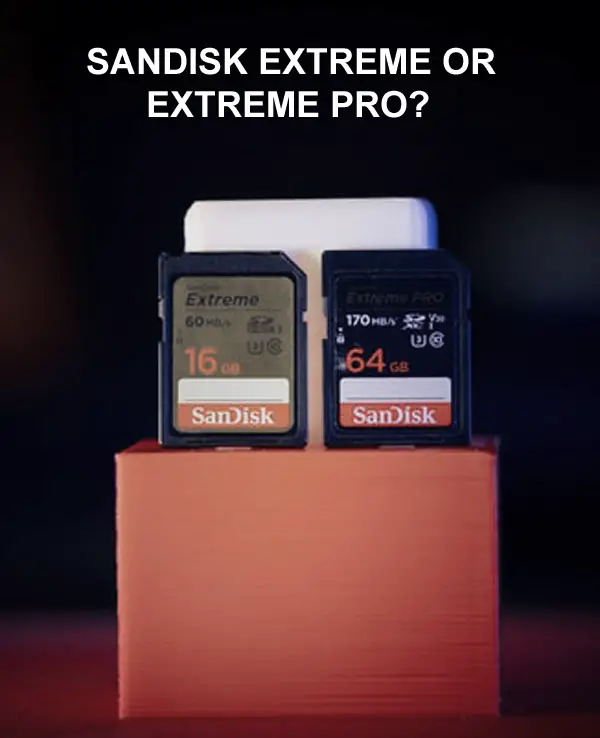 So it is understandable that you are in a dilemma about which one you should choose from a variety of memory cards with different specifications. Together with Samsung and Toshiba, SanDisk is a leading company in the production of memory cards. SanDisk offers two excellent memory cards today: 
SanDisk Extreme SD card and
SanDisk Extreme Pro memory card
Like many videographers and photographers worldwide, I've been using the SanDisk Ultra, SanDisk Extreme, and SanDisk Extreme Pro memory cards for a long time.
But the question is, which one is better?
To answer this question, let's first look at the main specifications of both memory cards.
SanDisk Extreme UHS-I Memory Card
SanDisk Extreme is an SD card with high performance. It is a great choice and fits perfectly with various devices so that it can meet your professional or amateur needs.
You won't go wrong with a SanDisk Extreme memory card if you need it for your smartphone or action camera, or even a drone. SanDisk Extreme SD card can store 4K video, full HD video, and high-resolution photos.
The SanDisk Extreme series of memory cards take the write and read speeds to the next level. The SanDisk Extreme SDXC card UHS-I memory card is designed for high-end digital cameras and camcorders and is ideal for 4K and 3D real-time video recording.
Data can be recorded on this storage device and deleted whenever it suits you, with write speeds of up to 70 MB/s and a maximum read speed of up to 190 MB/s. It also supports speed class V 30, so the write speed does not fall below 30 MB/s. It is resistant to water, high and low temperatures, and X-rays. It is also shockproof, so you can assure that your shots are safe.
Depending on your needs, you can choose a SanDisk Extreme with different storage capacities of 32 GB, 64 GB, 128 GB, 256 GB, 512 GB, and 1TB. 
But the SanDisk Extreme with a capacity of 32 GB has a sequential read speed up to 100 MB/s, the card with a storage capacity of 64 GB has a sequential read speed up to 170 MB/s, and the cards with 128 and higher card's capacity have a sequential transfer speed performance up to 190 MB/s. While the minimum write speed rating is 30 MB/s, which can go up to 70 MB/s.
SanDisk Extreme memory card is compatible with SDHC, SDXC, SDHC UHS-I, and SDXC UHS-I supporting host devices. It can fit any pocket with dimensions of 2.75 x 0.37 x 3.95 inches. 
SanDisk Extreme PRO UHS-I Memory Card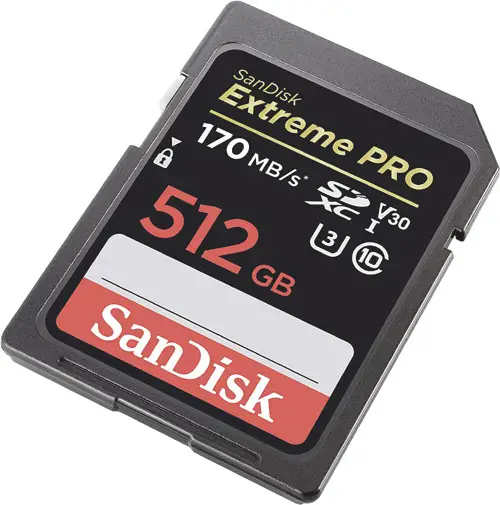 A significant advantage of the SanDisk Extreme Pro card over the SanDisk Extreme is higher write speed and read speed. The SanDisk Extreme Pro sd card is perfect if you want less time transferring numerous images or video recordings in 4k or 8k format from one device to another. 
But of course, this improved version has its price that accompanies progress. 
Extreme SDXC card creators listened to users' needs, and SanDisk decided to improve its writing and transfer speed performance. So if you are into post-production of your videos and want to transfer the material to your computer or laptop to edit it, this SanDisk memory card can be helpful. With the SanDisk Extreme Pro memory card, you will spend significantly less time in the process of transferring files. 
In practice, smaller files, such as photos, are transferred quickly from device to device, whichever sd memory card you use. But the situation is different with FULL HD video and other quality videos, especially in 4k or even 8k format. Therefore the SanDisk Extreme Pro sd memory card is golden for any videography lover. The total file transfer time is significantly reduced with this SanDisk memory card, and for some users, this makes a huge difference. 
During recording, your camera often breaks long shots into several files. You can only notice this when the recording is finished, and only then can you see that there has been a loss of frames, sometimes up to 3 frames. SanDisk Extreme Pro memory card can store much larger segments, which is described by many videographers as very reliable. 
SanDisk Extreme Pro memory card has increased the sequential write speed to as much as 90 MB/s. 
You will have a continuous recording with the SanDisk Extreme Pro memory card and this sequential write speed. You don't have to worry. It will not break the recording so that there is a loss of frames, and you won't miss your valuable, happy moments.
In addition, this model, like the previous version, has a lifetime warranty.
Remember that to get the most out of the SanDisk Extreme Pro memory card; you'll need a suitable device. The write speed and read speed depend on which camera you use. One of the downsides of this modern memory card is that it is not compatible with some older camera models.
SanDisk Extreme Pro SDHC and SDXC UHS-I cards also come with various storage capacities of 32 GB, 64 GB, 128 GB, 256 GB, 512 GB, and a max capacity of 1TB. 
But with that in mind, this is where the difference hits. 
The SanDisk Extreme Pro card with a capacity of 32 GB has a sequential read speed of up to 100 MB/s and a maximum write speed of up to 90 MB/s, which is excellent. Still, the SanDisk Extreme Pro memory cards with 64 GB and 128 GB cards capacity have a sequential read speed up to 200 MB/s and the same write speed up to 90 MB/s.
The SanDisk Extreme Pro memory cards with 256 GB, 512 GB, and 1 TB storage capacity have even better maximum read speed up to 200 MB/s and the write speed up to 140 MB/s.
The SanDisk Extreme Pro version is compatible with SDXC and SDXC UHS-I-enabled host devices. It is a tiny memory card with dimensions of 4.34 x 2.26 x 0.4 inches. 
As you can see, some of the main features are identical on both products. But there are some significant differences too. For that reason, below, I noted the fundamental similarities and distinctions between these two memory cards to make your decision easier.
Similarities Between SanDisk Extreme and SanDisk Extreme Pro Memory Cards
Since it is the same manufacturer, it is logical that some performances are the same. These features are identical on both SD cards:
Storage capacity
Durability
Speed class 10 MB/s
Ultra-high-speed class 3 
Video speed class 30
Lifetime warranty
Rescue software
Size
Storage Capacity
The higher storage capacity of your memory card allows you to store more files. You can opt for one with a smaller capacity if you don't have many images or films in greater resolutions. But if you need extra storage capacity, the SanDisk Extreme and SanDisk Extreme Pro both come with a card capacity of 32 GB, 64 GB, 128 GB, 256 GB, 512 GB, and a maximum capacity of 1 TB.
Below you can see how many digital data you can store in which memory card format:
32GB 2,000 photos + 28 minutes of video
64GB 4,000 photos + 56 minutes of video
128GB 8,000 photos + 112 minutes of video
256GB 16,000 photos + 224 minutes of video
512GB 32,000 photos + 448 minutes of video
1TB 64,000 photos + 896 minutes of video
Durability
The manufacturer's specification for these SanDisk sd cards states that both models are shock proof, temperature-proof, waterproof, and X-ray proof so that you can enjoy your outdoor activities carefreely. 
SanDisk sd card's temperature-proof specification means that it can work at an operating temperature from 32°F to +161.6°F and can handle storage temperatures from -13°F to +185°F. 
The X-ray proof specification means that the SanDisk card is resistant to airport security x-rays.
Speed Class 10 MB/s
Both of these sd cards have the highest write speed class. Almost all the sd cards rate their speed with this mark. It is shown on the card as the number 10 inside a circle. It represents the minimum write speed, meaning that the minimum speed this card can write is at 10 MB/s minimum. Write speed at 10 mb/s is excellent for photography, and the standard frame rate of 1080p video. But remember that you can achieve faster write speeds with SanDisk cards. 
Ultra-High-Speed Class 3 
UHS speed class and the number 3 inside the letter U on the SanDisk memory cards mark represent the sd card's write speeds, which means that SanDisk memory cards write at 30 MB / s. SanDisk Cards with this rating are faster. It is an excellent choice for making videos, especially in 4k format. UHS speed class on both cards is the same.
Video Speed Class 30
SanDisk Extreme and SanDisk Extreme Pro cards have a video speed class of 30 MB / s (V 30) for high resolution and high frame rate videos. On SanDisk memory cards, mark V 30 is located in the right corner of the cards. It is also good to know that these sd cards are due to the same data write speed suitable for recording video in full HD, 4k, and 8k resolutions.
Lifetime Warranty
You get a lifetime limited warranty if you buy SanDisk memory cards in the USA. 
Rescue Software
Another fantastic advantage of these extreme cards is the ability to recover your files no matter how many photos you accidentally deleted or how many videos are missing from your SD cards.
In this case, SanDisk recommends using the free download RescuePro and ResquePro Deluxe data recovery software. In addition to these, there are many other applications that you can download for free from the Internet. So with these SD cards, nothing is irretrievably lost. Quickly recover all images, videos, and digital data in just a few hours. 
Size
SanDisk UHS – I cards can come in a microformat or regular size. SanDisk Extreme and Extreme pro microSD cards come with an adapter, so the MicroSD cards can also be used as an SD cards in a standard size.
The specifications are the same for both SD and MicroSD cards, so you can choose freely the size that suits your device.
Dissimilarities Between SanDisk Extreme and SanDisk Extreme Pro Memory Cards
The differences between these two SD cards are more important than the similarities in their standard features. There are differences in the specifications, but they are also visible in practice. The main differences are:
Write speed
Read speed and, of course 
Price
Write Speed
Undeniably, you can store many photos and videos in different resolutions with both memory cards. But if you compare these two cards with, for example, a storage capacity of 64 GB, you can notice that SanDisk Extreme Pro write speed dominates the SanDisk Extreme.
SanDisk's Extreme Pro maximum write speed of up to 90 MB/s compared to the respectable maximum write speed of up to 70 MB/s of the Extreme version indicates that you will find it easier to take consecutive photos if you allocate a little extra money. However, you will be delighted with the SanDisk Extreme performance if you do not have such needs.
Read Speed
If you, like me, after taking photos and videos, can't wait to transfer the files from a camera buffer to your computer for a little touch-up, then the SanDisk Extreme Pro SD card is a better option. Waiting for 4,000 photos to transfer to your computer can be tiring. Also, if you have made the video files of 50 minutes in length in 4K resolution and want to edit them today, better start uploading earlier that day. Transferring can take hours. 
It is an essential feature for most users, so pay attention to the maximum transfer speed on your SanDisk Extreme sd card. 
Comparing these two SanDisk memory cards with a storage capacity of 64 GB, we can easily see that the SanDisk Extreme Pro sd card can save you hours and hours because the Extreme card has a slower speed.
The read speed on this more expensive sd card goes up to an incredible 200 mb/s. Significant progress has indeed been made in this feature as well. Meanwhile, the read speed on the SanDisk Extreme card is 170 mb/s. If you opt for the SanDisk Extreme card, you will have to wait longer for file uploads on other devices.
Remember that loading files depend on your memory card's read speed. But transfer speeds can also be affected by how many actions are started on your device. Also, this process depends on how your operating system works.
Price
Although prices vary constantly, the progress made on the pro version of the memory card has led to it being a bit more expensive on the market than the other model. It is up to you to decide whether the improved performances are worth that extra money according to your needs. 
FAQ
What does the higher write speed mean?
Write speed indicates how fast your still camera can take a photo in burst mode. If you are into photographing action, this option interests you. In addition, if you record videos in 4k format or RAW files, it can be helpful to have a faster sd card with a quick shot speed that can process data quickly, such as Extreme Pro. 
If you have a dilemma, SanDisk extreme vs. extreme pro, pay attention to the write speeds of these sd memory cards. When you compare SanDisk Extreme vs. Extreme Pro memory card specifications, you see that the Extreme pro memory card with a maximum capacity of 1TB has a faster maximum write speed. The writing speed on this SanDisk sd card is 140 MB/s. But the actual write speed can be different in practice. Writing speed depends primarily on the device you are using.
What's the difference between SanDisk Extreme VS. Extreme pro?
The main differences are the writing and maximum transfer speed. The Extreme Pro is a faster sd card, but that can be significant only if you make photographs in a burst mode or create long videos in 4k or 8k resolution.
Also, if you transfer loads of data from one device to another, the transfer/read speed Extreme pro sd card is faster and can be a better option. Because of this, the main difference is the price. 
What are the best sd cards for photography and 4K video?
SanDisk is the leader in flash memory storage solutions. So you can't go wrong with Extreme or Extreme Pro sd card, and both of these products can store a lot of photography and minutes of your 4k videos. But the Extreme Pro has faster write speed and read speed. 
Which is better, Uhs – I card or Uhs – II memory card?
The Uhs speed class II is better. But pay attention when buying sd memory cards and compare the specifications of the memory card with the specifications of your device. You don't want to waste money and buy a digital memory card that your device can't keep up with.
If you have a camera with a UHS – I speeds from 100 to 110 MB / s and buy a SanDisk Extreme Pro Uhs speed class – II with a storage capacity of 128 GB that has a transfer speeds of up to 300 MB / s and a write speed of up to 260 Mb / s you will not be able to feel these benefits. 
In addition, keep in mind that the reading speed also depends on which device reads your sd memory cards. If you have an Uhs – II card, you also need a UHS-II card reader with the same performance.
To learn more about these two types of cards or check the latest prices online, click here:
Here is a video on how camera memory cards are made:
Conclusion
Since I use multiple cards, I can say from experience that both will perfectly meet your basic needs. The writing and transfer speeds do not differ much in practice if you do not take consecutive photos and do not record long videos. In that case, from my point of view, it is better to choose a SanDisk Extreme card.
But if you create a lot of content daily and you want to transfer photos from a camera's buffer to a storage device in a short period, you need a reliable and fast SanDisk memory card. In a SanDisk Extreme VS Extreme pro battle, the winner is the Extreme Pro card. 
Click the following link to learn how to backup photos while traveling without a computer.