(Video content may not be visible in feed readers/email. Click through to view.)
Girls think it's cute but don't count on it getting you any phone numbers on walks in the park. It's cheap and easy but not a tramp. Give up? I'm talking about the Canon Selphy CP760 compact photo printer, of course.
I purchased the Selphy Sunday evening and through the miracles of the internet and a global transportation infrastructure it arrived on my doorstep Wednesday. And I'm so glad I did. It's a fun little printer.
Despite it's tiny size, the CP760 leans more toward the non-portable end of the spectrum than, say, the CP770 which comes in a plastic bucket or the ES30 which has an integrated handle and optional wireless and can run on batteries. No, this guy is intended to sit on a desk or table unobtrusively and quietly until needed. Although, technically, it's small enough and light enough to move about if necessary and doesn't require a connection to a computer to operate.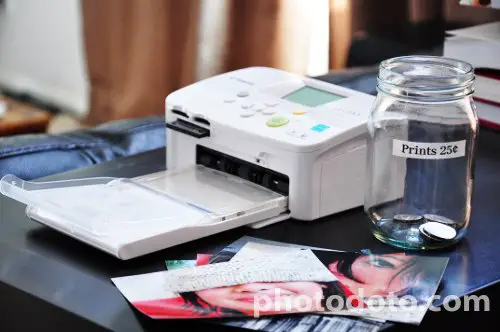 Color reproduction is very good at the default settings although reds are a little oversaturated for my taste. Skin tones look natural and fine details are rendered nicely. Colors are accurate without any trace of dithering which is especially nice in lightly colored areas compared to inkjet prints. Overall, as good or better than your local 1-hour lab. Prints are dry and ready to handle in just a few seconds.
Black and white prints are nothing to write home about—I'd call them "really dark gray" and white prints—but there are no colored pixels in them at all which is nice.
The Selphy came with a 4-print sample pack that made exactly 4 prints—no more, no less.
You must use Canon paper and dye packs designed for this printer although in the 108-print bundle the prints are reasonable at $0.27 each. The paper has perforated tabs that are easily removed but leave a barely perceptible ragged edge.
Prints are almost but not quite 4×6. Image cropping for full edge-to-edge printing is minimal and acceptable. Because of the paper path, the Selphy needs about 7.5×15 inches of total desk space. It's not overly noisy and the included power cord is very long with an integrated velcro tie.
I've taught my kids how to use it and put a jar next to the printer. They are to deposit $0.25 each time they print something. What do you want to bet I'll only have about $2.39 in loose change when it's time to buy more supplies?
Time per print: 75 seconds (a little longer for the first one)
Actual final print size: 3.9×5.8 inches (100×147 mm)
Edge bleed: 0.1 inches (2.5 mm) on each long edge, 0.2 inches (5 mm) on the short edges
Cost: $119.99 at Amazon.com
Related posts: