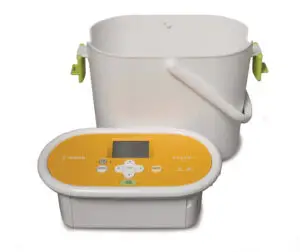 In a what?
It's so weird, I don't know how I missed it when it came out. I was out buying ink today when I stumbled across the Selphy. Somehow, those wacky guys over at Canon had the brilliant idea that portable photo printers ought to come in bucket form.
The Selphy CP770 (Amazon) is a playful little 4×6 dye-sublimation photo printer that comes in a plastic bucket big enough for its accessories, paper, and cables. The printer itself becomes the "lid" of the bucket and latches on with two large green plastic clamps. And you carry it around by the handle. On the bucket.
CNET Editors gives it a "very good" rating citing excellent photo quality, fast printing, and ease of use.
I'm still a little boggled. And yet I am intrigued. Would you dare bring this to a corporate or any other kind of "serious" environment? You'd have a hard time getting anyone to take you seriously. But, whip out this fruit tart of a photo printer at a child's birthday party or family social gathering and fire off some 4×6's at grandma and I predict you'd be the hero of the moment.
If you're lucky enough to live in Japan, you can pick up an extra-special Hello Kitty version, naturally.