I hate printing photos at home. Every time I do it I've got to fiddle with printer settings, change the paper, do a test print, yadda yadda. It's always been a pain in the neck. But, at least partly, I think that's been because I've never owned a dedicated photo printer. I've always had my main document printer do double duty. Not only was it a pain, the results weren't all that great anyway. Which is why I think I was so fascinated when I discovered compact photo printers.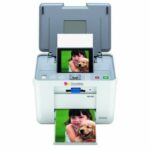 I'd heard of them before, of course. Maybe it's the price. Maybe it's the new form factor. But something about this latest generation just clicked with me. Here is a class of printers dedicated to doing one thing and one thing only: print 4×6 snapshots. No fussing with loading the right paper. No worrying about running out of ink for your documents. No connectivity to a computer required.
I narrowed my final selection down to four: the Epson PictureMate Dash PM260 ($139), Canon Selphy CP760 ($77), HP A636 ($116), and the Canon Selphy ES30 ($136).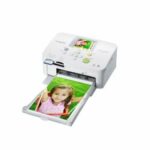 All of these printers are under $150. There are more advanced compact photo printers on the market but usually all you get are more effects and storage space, not better print quality. For example, the Canon Selphy ES3 is identical to the ES30 but comes with more built-in effects (frames and stamps to put on your photos) and 1 GB internal memory for photo storage. It costs $169.
The Epson and HP printers use inkjet technology. Canon is unique in its decision to use dye-sublimation print technology. If you have a printer it is probably an inkjet. These printers spray ink in microscopic droplets onto paper through hundreds of tiny nozzles.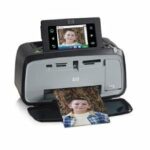 Dye-sublimation on the other hand uses heat to transfer dye from a ribbon. Inkjets spray all of the necessary colors simultaneously in a single pass over the paper. Dye-sub printers make multiple passes over the paper, one for each color plus a protective top-coat.
The primary advantage of dye-sub over inkjet for photo printing is the wider color gamut. Inkjets simulate multiple colors by dithering dots of ink in patterns. But these dye-sub printers can actually generate 256 levels of each color per dot (at 300 dpi) for a gamut of about 16.8 million colors without dithering.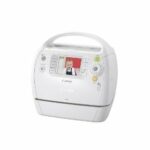 Another advantage which I found compelling is the cost per print. A common complaint with inkjet printers, and with the Epson and HP above in particular, is that the ink never lasts for as many prints as it is rated for (according to reviews by owners). Compounding the problem is the fact that the manufacturers have opted to sell paper and ink together in packs. The result is that one is always left with extra paper once the ink is gone and the cost per print is higher than expected.
Like HP and Epson, Canon also sells ink and paper together in packs. However, dye-sublimation technology always uses exactly one color ribbon per page. So when you buy a pack of dye-sub ink/paper for 50 prints, you will get exactly 50 prints before you need to buy more supplies. The cost/print is a fixed and predictable quantity (and about $0.27 per print if you buy the 108 print packs).
So I purchased the Canon Selphy CP760 last night from Amazon. It's not only the cheapest of the lot at just $77, I think it looks the best, too. I was tempted by the ES30 but I decided I didn't need any of their built-in clipart or borders at almost twice the price. All I really want is a big green button on the front that says "Print."
I'll write a full review after I receive it on Wednesday.