It might be the redheaded stepchild of photography, the gum under your shoe, the backwash left in the glass when you think you're drinking champagne, but posing is one of the most important parts of any photograph.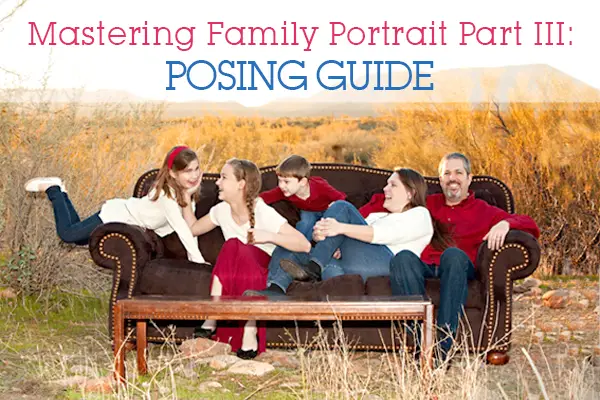 I am not a traditional poser, so I'm not going to get into thumbs in or out of pockets, or serious or smiley, or even all looking at the camera or away from the camera discussion, although I do personally think that seven people all staring out into space is kind of 1970's-esque spaced out druggy weird. Not that I have a strong opinion on that.
The most important thing is to make sure that you're shooting your families the way they see themselves. Not sure how they see themselves? Ask them. Everyone in their heart of hearts knows exactly what they want to look like in their pictures, and it's your job to extricate that information any way you can. If they can't tell you, throw everything you can at them, casual, formal, crazy, loving, austere… go for it, this is your time to shine. Also make sure to do close-ups and long shots, and, please avoid my biggest pet peeve; cutting off limbs. Don't do it. It looks weird and people get mad.
Cheese? What Kind of Cheese? Limburger?
Ok, back to posing. The most important thing is that people have natural expressions on their faces. I always take a good look at them after the first shot, especially the kids in the ten year old range, babies, and big brothers, ok, everyone. It isn't natural, that whole looking into a black hole and smiling thing, so distract them. Have them play games, say stupid things to make them laugh, have them make the meanest, ugliest faces that they can at each other and at you, and then be sure to shoot the after part, when they're laughing about it.
That's the best shot, the in between moments, the reaction shots, the moments when they show their quirkiness and uniqueness. There was a point in time, a few years ago, where everyone wanted a shot of themselves just standing and staring into space with no expression on their faces, uh, BOR-ing!! so I thought I'd do a sample of my girls doing that same pose for potential clients to see. Well, Zoe, who was ten at the time, was old enough to just stand there and do what I said, but that little Tenley, who was only five at the time, kept tweaking her neck to the side to be funny. And there I was, yelling at her to just stand there, and she kept tweaking her little head to the side and laughing, and all of a sudden, it hit me, this is what it's all about.
I don't want to be in a box, doing what other people do, I want to be as far away from the box as I can possibly get, taking photos of real relationships as they are. And that's when my career really started taking off. So when I tell you "rules" they are not set in stone… except for these: make sure that no one is standing with their shoulders square on to the camera, and make as many triangles happen in the picture as possible.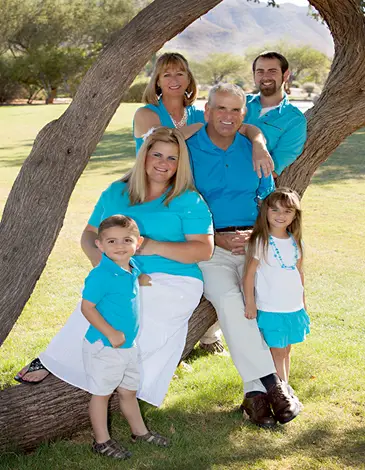 The above shot of the family in turquoise and white is a great example of both of these rules… If you can see, everyone is turned just a little bit, so that they look smaller. They're not big people to start out with, but the smallest turn of the shoulders makes a huge difference in how people look in pictures. Of course, if you go the other way, and just make it so that their side of their shoulders are showing, that makes them look too Calista Flockhart "My head is bigger than my body " weird, so just aim for somewhere between those two extremes.
Now let's look at the triangles. The grandma's arms are wrapped around the grandpas's neck, making a circle that boings your vision back and forth from him to her. When you r eyes get tired, her down swinging arm points at the little girl's face, then down her arm, which is clutching grandpa's lower leg, which is bent and leans to Mom's elbow, where your eye can travel up her arm to her face, which is tilted toward dad's face, which is tilted toward's grown up Son's face, which is slightly tilted toward Grandma, now your eye can travel down the daughter's forearm to the little boy,'s face. His head is slightly angled away from the family, so you would look at him camera right eye first, to camera left eye, which tilts down just enough to pull your eye down to his arm, down his elbow to his wrist, which leads your eye in a natural circle toward grandpa's legs and the little girl's legs. Of course the trees that full on circle them totally helping to keep your tye in the picture, and what you want is to have is a picture where your eye is compelled to bounce around from person to person, which this does. Here's a little illustration for you: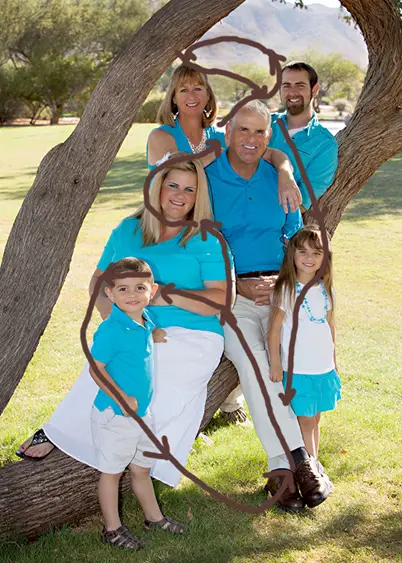 See the way the movement in the picture moves your eyes around? Cool, right?
Get the Bends
Here is another one that's more subtle: Mom is looking at dad, who's looking down at that beautiful baby girl. She's holding his bent arm, so if your eye starts traveling up his arm, it gets to his bent elbow, travels up his arm, to his head, his hair goes to the Big Girl's darling little face, beaming so happily, and if you can leave that little gorgeous face, it goes down to her arm, which points back to mommy's face. Remember, Bendy is good.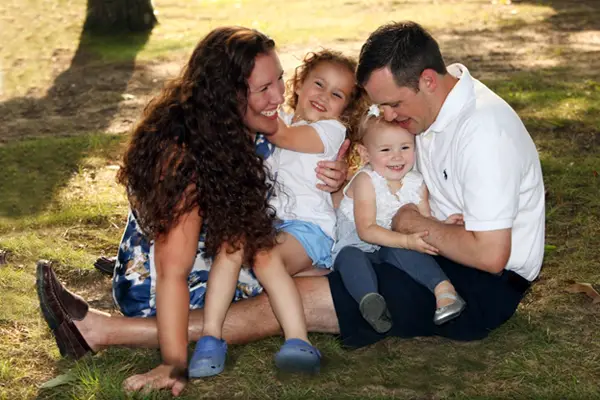 Take Charge
A couple more things for you to think about: try to keep the showing of the bottom of people's feet to a minimum. Bottoms of feet are ugly, unless they're the bottoms of baby girl's feet, in which case they're beautiful. Avoid letting people pose themselves. They don't know what they look like in the camera, they're just in a comfortable position that they always take pictures in, the position that makes them think that they don't photograph well. Show them how well they do photograph.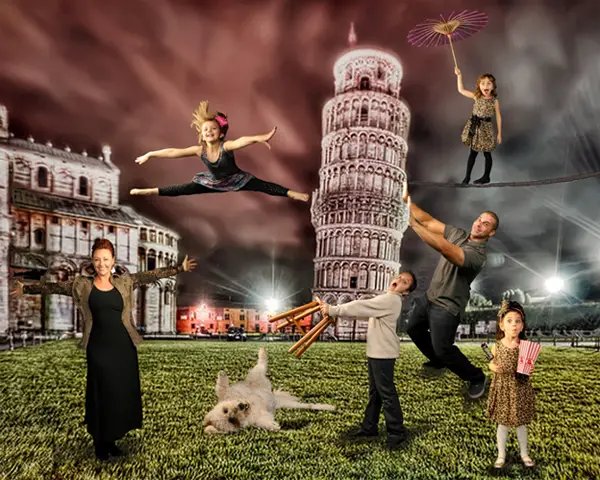 If they look weird when they're posing, tell them that it looks great, take the shot, make a mental note to delete it, and put them in the position that they look good in. Try taking shots of them standing, sitting, and laying. They are all different forms of casual to formal. Do NOT put them in front of a tree… It will look like some crazy appendage coming out of their heads. You can put them by trees, just not directly in front. And if people want to get crazy and have fun, go with it!! That's the beauty of shooting families…every day is a whole new world of memories that you're helping to create, just for them, the families. Because, after all, that's what life is all about, right?