The iPhone 14's camera is a great choice for photographers of all levels, with its promised improvements and innovative features. With rumors of upgraded hardware and enhanced computational photography capabilities, the device aims to raise the bar in mobile photography.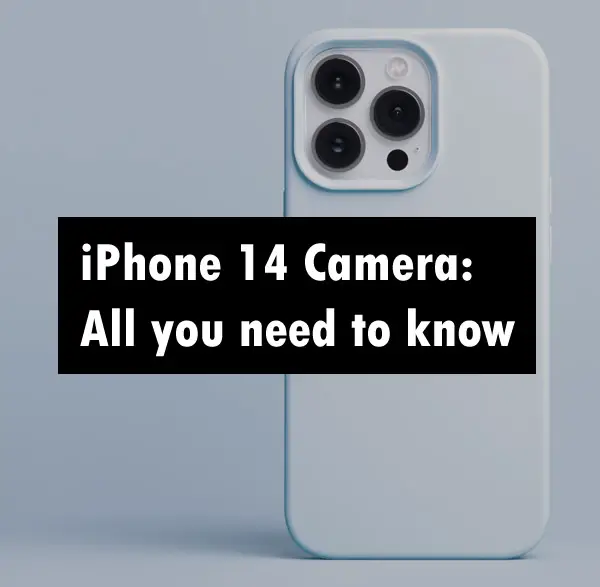 In this comprehensive blog post, we will delve into the various aspects of the iPhone 14's main camera system. We'll discuss its photo quality, video capabilities as well as compare it with previous models like the iPhone 13 Pro. Moreover, we'll share some expert advice on maximizing the iPhone 14 camera's potential.
By examining these aspects, you can gain a better comprehension of the distinguishing features of this new-age phone camera compared to its antecedents. So stay tuned for valuable insights that can help elevate your photography skills using Apple's latest innovation.
Overview of iPhone 14 Camera
The iPhone 14 camera is a game-changer in the world of smartphone photography, offering improved specifications and features over its predecessors. With an emphasis on delivering high-quality images and videos, Apple has made significant upgrades to the camera system in their latest flagship device.
The iPhone 14 features a two-camera system on the rear, combining a wide-angle lens with large pixels for improved low-light results and an ultra-wide angle module to capture breathtaking vistas or group shots. Additionally, it includes advanced computational photography features such as Smart HDR 4 and Deep Fusion that help produce vibrant colors and detailed textures even in challenging lighting conditions.
In addition to these improvements, the front-facing camera now supports Night mode selfies, allowing users to capture well-lit self-portraits even in dimly lit environments. Furthermore, video recording capabilities have also been enhanced with support for Cinematic mode, which adds depth-of-field effects similar to those found in professional cameras – making your videos look more cinematic than ever before.
To fully understand what sets this new generation apart from previous models like the iPhone 13 series, let's dive deeper into its specs and features in the following sections.
Types of Cameras on iPhone 14
The iPhone 14 features significant upgrades in its camera system, offering users an enhanced photography experience. In this part, we'll take a look at the number and varieties of cameras on the iPhone 14.
The main rear camera setup on the iPhone 14 consists of a configuration which includes:
A wide-angle lens for capturing stunning landscapes and group shots.
An ultra-wide-angle lens that allows users to capture more expansive scenes without distortion.
A telephoto lens for zooming in on distant subjects with clarity and precision (Pro)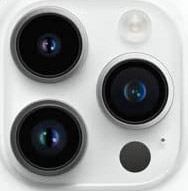 This triple-lens setup enables features such as Night mode, Deep Fusion, Smart HDR, Photographic Styles, ProRAW support (for advanced editing), and improved low-light performance. The OIS system is included to counteract any blurring that could be caused by unsteady hands or movement during photo-taking.
Moving onto the front-facing camera – also known as the selfie camera – Apple has equipped the iPhone 14 with a powerful TrueDepth sensor. This sophisticated technology allows for high-quality selfies with excellent detail even in challenging lighting conditions. It also supports Portrait mode with advanced bokeh effects and depth control options that give your selfies a professional touch. Furthermore, Face ID authentication relies heavily on this TrueDepth sensor for secure access to your device.
In comparison to previous models like the iPhone 13 series, Apple continues to push the boundaries of mobile photography with its iPhone 14 camera system, providing users with an unparalleled experience in capturing stunning images and videos.
The iPhone 14 offers a comprehensive range of lenses for photographers, from ultra-wide to zoom capabilities. With such impressive camera specs on board, let's take a closer look at how these features affect photo quality in our next heading.
Photo Quality
The iPhone 14 camera boasts significant improvements in photo quality compared to its predecessors. With advanced features such as Smart HDR 4, Deep Fusion, and Night mode available on all lenses, users can expect vibrant colors, improved low-light performance, and enhanced details in their photos.
The iPhone 14 rear cameras feature a dual-lens setup with a primary wide-angle lens of 12 MP (f/1.6) and an ultra-wide-angle lens of 12 MP (f/2.4). The 12 MP (f/2.2) TrueDepth camera provides users with clear, sharp selfies and video calls.
In addition to these impressive specs, the iPhone 14 offers several other enhancements that contribute to better photo quality:
Photographic Styles: This new feature allows users to customize the look of their photos by adjusting tone mapping and color preferences without affecting image quality.
Sensor-shift optical image stabilization: Available on the wide-angle lens for both stills and videos, this technology helps reduce blur caused by shaky hands or movement during capture.
Night mode Time-lapse: Capture stunning time-lapse videos even in low light conditions with this unique feature exclusive to iPhone devices.
All these advancements result in an overall superior photography experience for beginners, amateurs, and professional photographers alike when using the iPhone 14 camera.
The iPhone 14's image quality is notably better than its predecessors, affording photographers the opportunity to snap remarkable pictures. Moving on, let's take a look at its video capabilities which promise to be even more impressive.
Video Capabilities
The iPhone 14 camera boasts impressive video capabilities, making it an ideal choice for both amateur and professional videographers alike. One of the standout features is its ability to record in stunning 4K resolution at up to 60 frames per second (fps), ensuring smooth and high-quality footage. You can even record in 24 fps, giving you a cinematic feel.
The iPhone 14 offers users flexibility, with the choice to record in 4K resolution at up to 60 frames per second (fps), Full HD (1080p) and HD (720p). The device's advanced image stabilization technology helps reduce camera shake during recording, resulting in smoother videos even when shooting handheld or in challenging conditions.
Dolby Vision HDR Support
A major enhancement over previous models is the inclusion of Dolby Vision HDR support. This feature allows you to capture more vibrant colors and improved contrast ratios compared to standard dynamic range content. With Dolby Vision, you can record videos with stunningly realistic colors and contrast – making those special moments look their absolute best.
Cinematic Mode
An exciting addition to the iPhone 14 series is Cinematic mode. This innovative feature enables users to create professional-looking depth-of-field effects by automatically adjusting focus between foreground and background elements within a scene – similar to what you'd see in Hollywood films. To make the most of this feature, be sure to experiment with different subjects and compositions for a truly cinematic experience.
Video capabilities on the iPhone 14 offer a range of features that make it easy to capture amazing videos. Now, let's explore how the Pro Camera Mode can assist you in obtaining superior results from your video recordings.
Pro Camera Mode
The iPhone 14 does not specifically have a Pro Camera Mode. Rather, there are settings in the camera app that can be considered as more advanced in the Pro version of the phone (iPhone 14 Pro). These include Apple ProRaw higher quality photo option that uses the full 48 megapixels, Apple ProRes which gives you higher quality video. You can adjust the video resolution all the way up to 4K and 60 fps which is considered a pro feature. Photographic styles allow you to adjust preset tones for photography.
iPhone 14 vs iPhone 14 Pro Camera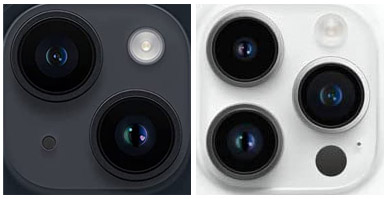 The iPhone 14 and iPhone 14 Pro cameras share several features, but there are some key differences that set them apart. This section will assist you in making the right decision for your photography requirements by comparing the camera features of both models.
Main Cameras
The iPhone 14 Pro has an extra telephoto lens that gives it enhanced zoom and improved low-light performance compared to the standard model. This extra lens on the Pro model allows for better zoom capabilities and improved low-light performance compared to its standard counterpart.
Sensor Size & Image Quality
The larger sensor size in the iPhone 14 Pro's main camera results in higher-quality images with less noise and better dynamic range than those captured by the regular iPhone 14. The difference may not be noticeable in well-lit conditions but becomes more apparent when shooting in challenging lighting situations or at night.
Lidar Scanner & Night Mode Portraits
The Lidar scanner of the iPhone 14 Pro not only boosts autofocus speed and accuracy, but also allows users to take remarkable Night mode portraits by accurately measuring depth information. Additionally, it enables users to capture stunning Night mode portraits thanks to its ability to accurately measure depth information.
Tips:
If you're primarily interested in casual photography or don't require advanced features like telephoto lenses or Lidar scanners, consider sticking with the standard iPhone 13 model.
If you're a photography enthusiast or a professional who wants to take advantage of the best camera features available, consider investing in the iPhone 14 Pro.
Utilizing the proper camera settings can help you maximize your photographic output. By comparing these settings to those on the iPhone 14 Pro Camera, we can explore how this new device may change our photographic journey.
Review of the iPhone 14 Camera
The iPhone 14 camera has been met with high expectations, and it certainly delivers on many fronts. With its improved specifications and features, this camera offers a significant upgrade over previous models. The iPhone 14 produces pictures of remarkable clarity, color saturation, and sharpness. The dual-camera system allows for stunning portrait shots with professional-looking depth-of-field effects.
Video capabilities have also seen a considerable boost in performance. The ability to record in Dolby Vision HDR is an impressive addition that provides enhanced dynamic range and color accuracy in videos. Additionally, users can now capture footage at up to 4K resolution at various frame rates for smooth playback or slow-motion effects.
In comparison to the iPhone 14 Pro camera model, there are some differences worth noting – mainly concerning additional lenses available on the Pro version (telephoto lens) which enable even greater versatility when shooting photos or videos.
A few issues have been reported by users regarding blurriness due to refocusing problems or flickering under certain lighting conditions; however, these concerns seem relatively minor considering all other improvements made within this iteration's camera technology overall.
The comprehensive assessment of the camera's characteristics and potential demonstrated why this gadget is one of the top-rated in its class. With these tips & tricks for using an iPhone 14 Camera, you can get even more out of your photography experience.
10 Common Issues with iPhone 14 Camera
While the iPhone 14 camera boasts impressive features and capabilities, some users have reported issues that may affect their photography experience. In this section, we will explore common issues such as blurriness, camera refocusing and flickering that some iPhone 14 users have reported.
Blurriness
A common issue faced by iPhone 14 users is blurry photos. This can be caused by a variety of factors like dirty lenses or shaky hands while taking pictures. To avoid blurry images, ensure your lens is clean before shooting and use a steady hand or tripod for stabilization. Additionally, you can try using the Burst mode, which takes multiple shots in quick succession to help capture clear images.
Camera Refocusing
The iPhone 14's autofocus system might occasionally struggle to lock onto subjects accurately resulting in constantly refocusing during photo or video capture sessions. To overcome this problem, try tapping on your subject within the frame to manually focus on it before pressing the shutter button (Focus Lock feature). If you're still experiencing issues with focusing even after trying these tips, consider updating your device's software as Apple often releases fixes for known bugs through updates.
Flickering in Videos
Flickering in videos recorded using an iPhone 14 could be due to artificial lighting sources like LED lights or fluorescent bulbs interfering with the camera's auto-exposure settings. A solution to this issue is adjusting your exposure settings manually by sliding up/down on-screen when recording video. Alternatively, try shooting in natural light or using a third-party app that offers flicker reduction features.
By addressing these common issues with the iPhone 14 camera, you can enhance your photography experience and capture stunning images and videos effortlessly.
7 Tips & Tricks for Using an iPhone 14 Camera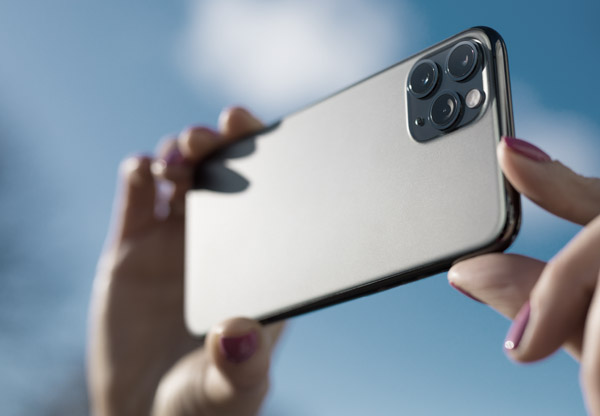 Maximizing your photography skills with the iPhone 14 camera is easier than ever with these helpful tips and tricks. For the seasoned photographer, these techniques will help to elevate their artistry.
1. Use Gridlines for Better Composition
To improve the composition of your photos, enable gridlines in the settings menu. This feature divides your screen into nine equal parts using two horizontal and two vertical lines, helping you apply the rule of thirds to create more balanced images.
2. Utilize Burst Mode for Action Shots
Capture fast-moving subjects by holding down the shutter button to activate burst mode. This function takes multiple shots per second, ensuring that you don't miss any crucial moments during action-packed scenes.
3. Experiment with Portrait Mode Lighting Effects
The iPhone 14 camera features various lighting effects in Portrait mode, such as natural light, studio light, contour light, stage light mono, and high-key mono. Experimenting with these options can add depth and drama to your portraits.
Tips:
Natural Light: Ideal for outdoor shoots or well-lit environments where soft shadows are desired.
Studio Light: Creates even illumination across faces while maintaining some shadow detail.
Contour Light: Enhances facial features by adding more dramatic shadows and highlights.
4. Take Advantage of Night Mode for Low-Light Photography
The iPhone 14 camera's Night mode automatically activates in low-light situations, allowing you to capture stunning images without using flash. Experiment with different exposure times to find the perfect balance between brightness and noise reduction.
5. Use Live Photos for Dynamic Images
Live Photos captures a few seconds of video before and after your shot, creating a dynamic image that can be viewed in your photo library or shared on social media platforms like Instagram or Facebook.
Overall, the iPhone 14 Pro Camera is a great option for those looking to upgrade their photography game. Its features are definitely worth considering when compared with other camera models on the market.
Conclusion
Its photo and video capabilities are top-notch, especially in low light situations thanks to computational photography. The iPhone 14 lineup includes the iPhone 14 Pro, which boasts an even more advanced camera system.
The iPhone 14 Pro's main camera is equipped with a telephoto lens, an ultra-wide camera, and a front-facing camera. The camera hardware is top-of-the-line, and the camera app allows for even more control over settings for professional photographers. The Pro Camera Mode is especially useful for those who want to fine-tune their shots.
Compared to the iPhone 13 and iPhone 13 Pro, the iPhone 14 camera has improved image quality and Apple calls its new feature, Cinematic mode, a game-changer. The camera system also includes Smart HDR, which enhances the dynamic range of photos.
If you're looking to up your photography game, the iPhone 14 camera is definitely worth considering. Click the following link to learn how to take long exposure photos with an iPhone.