When it comes to photography software, the most common names that come up are Adobe Lightroom, which is often used to work with RAW images, and Adobe Photoshop, which is often used to perform retouching tasks like smoothing out skin, removing blemishes, and fixing exposure. While these programs are fantastic for the editing process, photographers tend to be left to their own devices when they need to create a portfolio, do a consultation one-on-one with a prospective client, or convince clients to make a purchase.
One way of addressing these areas of need is by using a video collage maker for PC like SmartSHOW 3D, to create a stunning yet powerful presentation of your work.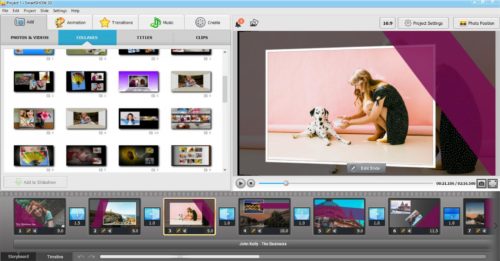 Why Is a Video Collage Maker Useful to a Photographer's Toolset?
It is one thing to have a gorgeous portfolio of stunning images that tell an emotional and unforgettable story, and it is another to showcase the images in a that your clients can connect with them. A lot of the time, photographers will become so focused on the editing and perfecting process, that there isn't a lot of time that goes into the thought behind, "how do I want to actually present this image to a client?" and as such, photographers tend to be stuck presenting a photo book rather than an experience. Video collage software can take how you present your images and flip it on its head with the appropriate music, transitions, and clips.
Where can video collages be used in the photography workplace? At photography conventions, at art fairs, in photography showcases, in one-on-one consultations with clients, on your business website, and even in capturing leads for new & upcoming business-oriented projects.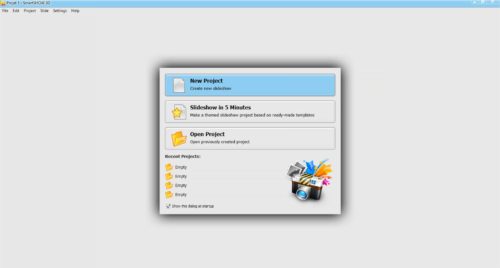 How Do You Make a Video Collage on Your Computer With SmartSHOW 3D?
Making a video collage may seem a bit daunting at first, especially if you are new to video collage software, but SmartSHOW 3D is quite easy to use even for beginners. This is primarily because it uses a tab interface, so it's easy to know where you are within the program at all times. Plus, it has a drag and drop feature, so you can pull animations, effects, and transitions, down and into your presentation at any time. The following steps will help you learn how to make a video collage, and includes a step on making a video collage with music too!
If you are in a rush, you can use SmartSHOW 3D's wizard to help you create a slideshow presentation in a few minutes with the templates that they have available. You simply choose the style type that you want, such as travel, wedding, or business and then customize the template to your needs. You can upload your own images this way, choose a solid background or even a video clip if you want. There are over a hundred templates to choose from, each coming with appropriate animation effects, so you don't have to worry about a templated presentation not flowing.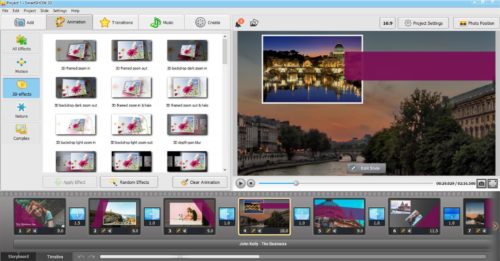 If you are not in a rush and have some time to sit down with the software, try creating a project from scratch. This gives you full customization over everything that goes into your storyboard, from the 350+ transitions/animations, music, and images to the background and photo positions. It is highly recommended that if you go with a project from scratch, keep the rule of six in mind – no more than six photos on one slide. This prevents overcrowding. Also, make sure your color scheme is consistent all the way throughout the presentation for a more professional feel.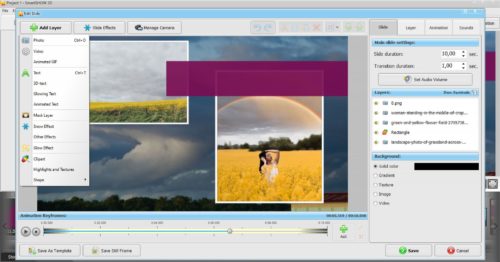 Once you have a template filled out or your photographs all in place, consider adding in a music track. You can either select one (or more) from SmartSHOW's built-in library of tracks which include genres like latin, jazz, classical, folk, rock, blues, electronic, and categories like family, sports, romance, corporate, and travel. Simply click the music tab and either choose to use the 200+ music library or choose the upload option. If you want a dynamic video, use a more upbeat and rhythmic tune and for a more calm and emotional moment, consider a slow or medium-paced tune. You can also add in your own voice comments as well.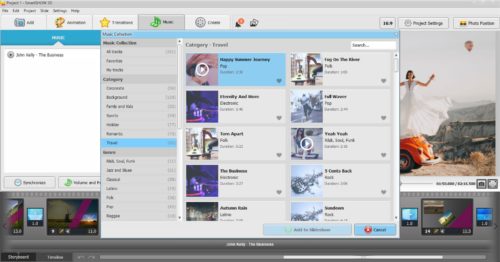 Once you have the music in place, the effects & transitions perfected, and the right images chosen against the perfect background, it's time to create the collage. The create tab across the top will help you with this, giving you the option of which format you want to pick. SmartSHOW 3D provides 30+ popular formats including HD. If you want to upload your presentation to the internet, there are built in options for that as well.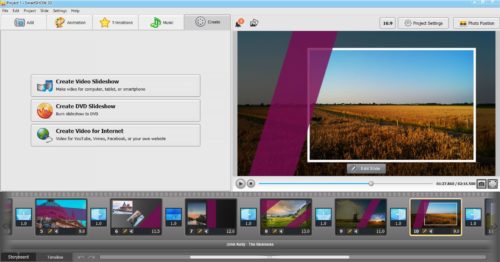 Final Words
Creating a video collage works extremely well if you want a new way of showcasing your images to clients. It allows you to add in an extra layer of emotional value to your story and really help your clients connect to your images. By combining your photography with a few music tracks and effects, you can evoke excitement, humor, or even hope. While it may seem daunting at first, we found that SmartSHOW 3D wasn't that hard to use, even as a beginner.