Storytelling photography for newborn babies is all about capturing the real life memories of the newborn days for families in a beautiful way, and it's quickly becoming the most popular style of photography for capturing the newborn stage of life. Not only does it bring out the personalities of everyone and provide specific memories of what life was like during this time, for sleep deprived parents, it may be some of their only clear memories of their baby's newborn days!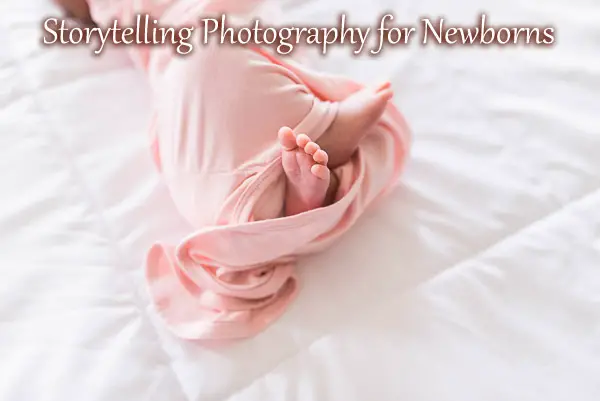 But what exactly is storytelling photography for newborns? And how can you prepare yourself – and your clients – for capturing the meaningful details and connections that fill their baby's newborn stage?
I'm going to walk you step-by-step through everything I do to make each of my storytelling newborn photo sessions successful.
What is Storytelling Newborn Photography?
For some photographers, "storytelling" may mean photographing a family's life at home with a newborn in a purely documentary sense. For me, and for many others, though, "newborn storytelling" is a way of preserving the very best memories of this newborn stage for families to hold onto.
In each session, I blend lifestyle and documentary styles of photography. This means that I may do some guiding in terms of where my clients sit or change their baby, but at the same time I'm looking for the natural, spontaneous moments that occur. I want to capture the way they truly interact with their baby. As a newborn storytelling photographer, I want to reflect the love and joy they feel during this very special part of their lives.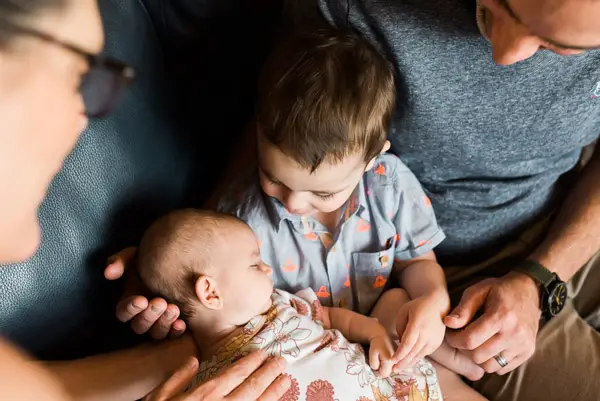 by Stacey M Adams
Storytelling photo sessions can take place at the hospital, just hours after the baby was born, or at home, as families are settling into a new routine with their newborn baby. In either case, the setting is part of the story, and isn't hidden with any sort of backdrop. Families want to see the details that are part of their newborn's life in storytelling newborn photography.
Before the Photo Session
Before the date of the newborn photo session, there are many aspects to consider to prepare your clients and prepare yourself.
Scheduling the Photo Session
Baby's Age
Traditional, posed newborn photographers typically schedule photo sessions to occur when the baby is 7-10 days old. At this age, the baby is still very flexible and in that sleepy newborn stage that's so important for posed newborn photography.
Although the 7-10 day window isn't necessary in Storytelling Newborn photography, I often schedule my lifestyle newborn photo sessions at home during this same time frame. It gives parents time to get to know their baby a bit better and feel more confident in taking care of him or her, but still captures so much of the newness they want to remember.
That said, newborn photo sessions in a storytelling style can be scheduled at any point during the baby's newborn stage – from hours after the baby's birth until around 4-6 weeks, when the newborn stage ends.
Time of Day
I prefer to schedule all of my Storytelling Newborn Photography shoots for mid-day – usually in the 10am to 2pm time frame. This time of day is wonderful for in home photography sessions because the lighting is ideal. At mid-day, the sun is high in the sky, meaning the light filtering through the home's windows where you're shooting is diffuse. That nice, soft light is perfect for photographing the baby and the baby's family without distracting highlights from harsh sunlight coming through the windows.
Scheduling the photo session for mid-day also gives the parents time to get ready without feeling rushed, after what was possibly a long night up with baby. And because babies often become fussier as the afternoon wears on, the mid-day time frame means that soothing the baby throughout the photo session will also be a little easier.
Length of the Photo Session
Because storytelling photography with newborns focuses on everything that is happening while we are with our clients, we are able to get lots of beautiful shots throughout the photo session without breaks to set up props or put the baby to sleep. My newborn photo shoots typically last about an hour.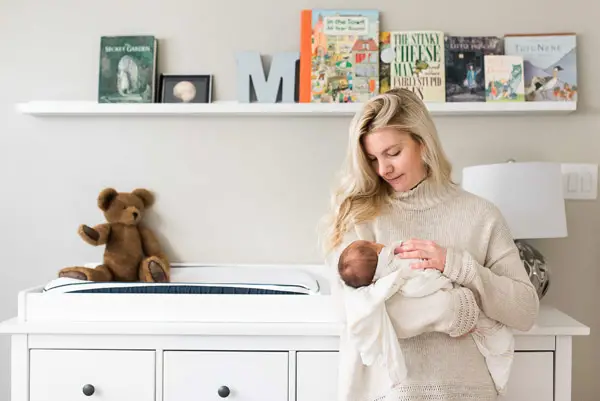 by Stacey M Adams
Preparing Clients
Before the photo session, it's important to prepare our clients as much possible, both so that they can feel confident and so that we can get beautiful shots that will thrill them.
I like to share a Client Guide I created with each family I work with. The client guide runs through what they can expect during the photo session, suggestions on what to wear, and how to prepare their home and their baby before the photo shoot.
I make sure to let them know that their baby may cry, sleep, wake up, get hungry, and need cuddles during the photo shoot – and that all of that is perfect. Their baby does not have to sleep at all during the photo session. I reassure them that simply taking care of their baby will result in gorgeous images.
When our clients feel prepared, they feel more confident and relaxed during the session.
What to Wear
Baby
I always suggest they pull out a few wraps they love for us to look through during the photo session. While I bring a few wraps (generally stretch jersey or knits I pick up at my local fabric shop), I love to use items that belong to the baby. These are items the family will have more memories associated with and will feel more affinity to. I also suggest solids and simple patterns for the baby in a onesie or sleeper. I love to suggest gowns, since baby's feet can easily pop out for photos.
Family
Although I don't micromanage what my clients wear, I find they very much appreciate guidance. After all, everyone wants to look good in their photos, and the time after a baby arrives can be sensitive one. My number one recommendation is that everyone in the family wears clothing without logos or words. From there, I suggest comfortable dresses or wrap sweaters for mom and classic men's clothing, without a lot of pockets, for dad.
Preparing the Home
Although we are shooting in the home, we won't be shooting in every room of the house. The majority of these photo sessions take place in the baby's nursery, the parents' room, and sometimes the living room. I generally suggest my clients concentrate on picking up clutter in these rooms only. I also suggest they open the blinds and curtains in these rooms to let in as much natural light as possible and turn off any overhead lights or lamps.
Because we will be undressing or unwrapping the baby for some of the shots, I always recommend parents turn up the heat in their home a few degrees higher than they would normally keep it. This will keep baby comfortable during the small amount of time they are uncovered, and it will make it easier for me to get detail photos of baby's feet and hands, since they'll be more relaxed.
Preparing Baby
There's not much to do to prepare baby, but if a client does not want to include feeding the baby in the photos, I'll ask that she feed baby about 30-45 minutes before I arrive.
Connecting
In addition to the Client Guide, I also like to have a conversation – either in person (my preference) or on the phone – with each client before their baby's newborn photo shoot. This gives me the chance to connect with my clients and really get to know what they are looking for in their photos. It also gives them the opportunity to get to know me, so that during their shoot, they're feeling much more relaxed and trust me to create beautiful images for them.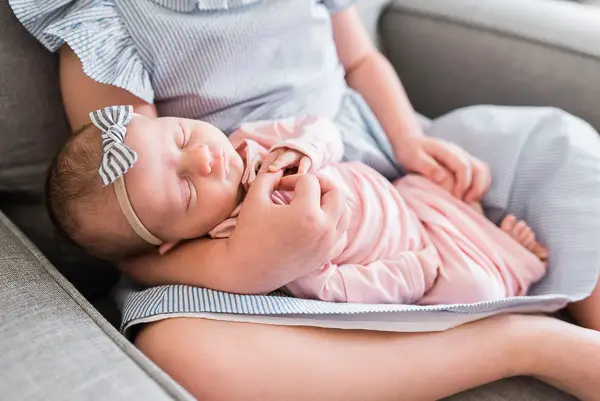 by Stacey M Adams
Preparing My Gear
The evening before the shoot, I pack my camera bag, making sure my camera battery is fully charged and my memory card is clean.
I use the Nikon D750 full-frame camera for all of my in-home and hospital storytelling newborn photo shoots, as it is wonderful for low light environments. I also wipe down my favorite lens for these shoots – the Sigma 35mm f/1.4 ART – and place it on my camera, so I'm ready to go, as soon as I arrive.
I always recommend using a prime lens in these shoots because the wider aperture will allow more light into the lens. While it's also possible to use a 50mm lens during a storytelling newborn photo shoot, the 35mm will give you more space, and you can include more of the room and tell more of the story with a wider angled lens.
I make sure I have a white noise app on my phone, which can help parents to soothe a fussy baby. Although I always continue shooting while a baby is crying – both because crying is a part of the newborn story and because shots of the parents soothing the baby are incredibly sweet and special memories – I understand that everyone also wants photos of their baby as calm and sleeping, as well. The white noise helps make that happen.
As I mentioned before, I like to bring a small selection of wraps to swaddle the baby, just in case the family doesn't have swaddling blankets they already want to use. Swaddling is another wonderful way to help calm a fussy baby.
The last thing I bring to my newborn shoots is a light-weight step stool. This helps me get higher for bird's eye shots into the baby's crib or to peek over dad's shoulder at baby resting in his arms.
Day of the Photo Shoot
Arriving
On the day of the photo shoot, I prepare myself on the drive to my client's home or hospital room by listening to a funny podcast or some of my favorite music. It helps calm any lingering nerves I may have and puts me in a positive and creative frame of mind for the shoot. (Yes, I still get nerves more than 5 years into this work!)
Once I arrive, I make sure to greet each member of the family and introduce myself. If the baby has older siblings, I make a sincere effort to congratulate them on their big brother or big sister status and connect with them. It can be difficult for older children when a baby comes into the picture, and showing siblings I care about them, too, goes a long way in gaining their assistance later for some sweet, candid photos.
I also like to do a quick walk through the house to decide which room to start in. Although the mid-day time is the best time for photos, sometimes there can be lingering harsh light across the floors or walls of a room. When it's possible (more on that later), I'll choose a different room to start in, and we'll make our way back to the other room at the end of the session. I also double check that all blinds are open and turn off any lamps accidentally left on. Then, I finalize my camera settings, and start shooting!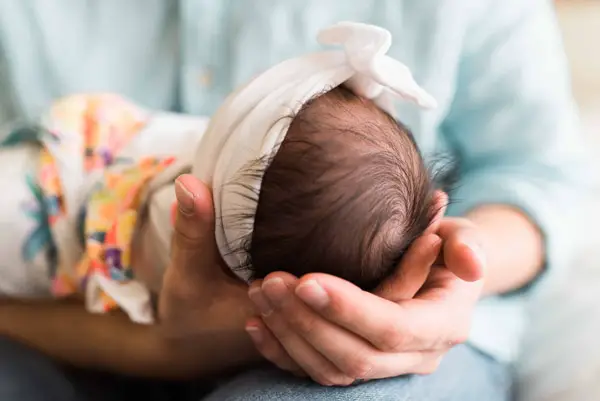 by Stacey M Adams
Camera Settings
I shoot all of my storytelling newborn photo sessions in manual mode, keeping these things in mind as I choose my settings.
Aperture
I shoot the majority of my newborn storytelling photo sessions with a wide aperture. I typically stick to the f/2.0-f/2.8 range for these sessions, going slightly higher for a close up of baby's face, if I want the entire face to be in focus.
Shutter Speed
I like to keep my shutter speed at 1/250 or 1/320 throughout the session, so that I'm able to freeze action on the normal movement of parents taking care of their baby. If a toddler is in the family, I'll increase my shutter speed to 1/500 since they can move so quickly!
ISO
My ISO varies, depending on the room I'm in, and it's the last piece of the puzzle for me in determining my camera settings. Once I've set my aperture and shutter speed, I look at the natural light in the room and decide what my ISO needs to be to balance the other two sides of the exposure triangle. For me, it's usually somewhere between ISO 1600 and 4000.
My goal is proper exposure for the subject of each image. This means I don't worry if the windows are blown out highlights. In fact, they frequently are! I intentionally make this choice as an artist through choosing my ISO for beautiful light on my subject.
Once you've estimated your ISO, choose a focal point to test, check the meter inside your camera, take a test shot, and adjust the ISO, if necessary.
The Storytelling Newborn Session
Going with the Flow
During a storytelling newborn photo session, I'm looking to capture real life, in the most beautiful way possible. As long as the light is soft in the room (and it normally is at mid-day), I typically start the photo session with whatever is happening. For example, if the baby is napping in the bassinet or on dad's chest, I will photograph that first. If she needs a feeding, I'll photograph that first, using the opportunity to get some detail photos of baby's feet and hands, as I do. Taking a few moments to ease everyone into the photo session helps everyone to relax, so that I can photograph authentic moments for them.
From there, I want to follow the natural flow, as much as possible. I encourage parents to take care of their baby in their usual way and respond naturally to what their baby needs in the moment, so that these photos will be as unposed and candid as possible. This is what allows us to create beautiful, meaningful storytelling images of our clients' newborn.
When the natural routine has slowed or if I have a wide variety of shots in one baby care-taking activity, I'll often suggest swaddling the baby or moving near a window. Throughout the photo session, I'm looking for those natural moments of connection to photograph.
For me, the most emotive storytelling photos come with movement. Dad handing the baby over to mom, swaddling a blanket around the baby, or touching the baby's head in love and wonder are all moments I'm looking to photograph. Any guidance I give is just an opportunity to encourage those more candid moments.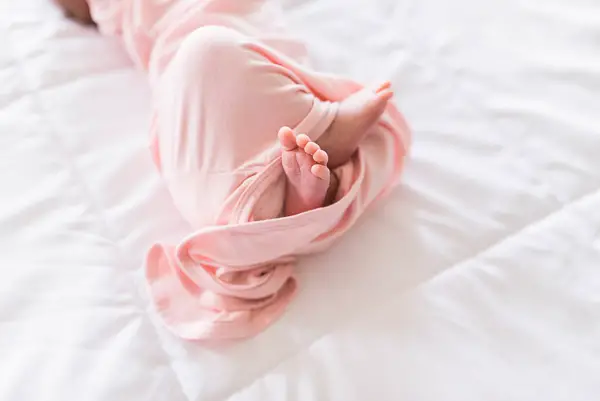 by Stacey M Adams
Keeping a Calm Energy
I want my clients to feel comfortable with me, and so I spend a lot of time talking to my clients throughout the photo session. This allows my clients to continue to relax in my presence and also gives me an opportunity to home in on the details that are most important to them.
We chat about how everything is going, how the night went, and the baby's measurements, just to help take our clients out of the stress of a photo shoot and be more present in the moment. Chatting as I'm shooting has the added benefit of creating more relaxed and authentic photos for my clients.
I also make sure to ask the parents their favorite things about their baby. As they reach out to touch tiny ears or their little one's head of hair, these are cues to photograph these details.
Keeping a calm energy is also helpful when a baby is particularly fussy. Babies will pick up on our energy, and when we are calm, they are more likely to calm quickly.
Shot List for Storytelling Newborn Photography
Because every family is different, there is no official shot list, but there are elements I look to make sure I capture throughout the photo session.
Family Combinations
In addition to taking photos of the baby by him or herself, I always make sure to take photos of:
-the family as a whole
–the baby with siblings – together and individually
-with mom
-with dad
-with both parents
-include pets in a few photos
-detail shots of the baby
These combinations are likely to occur naturally throughout the storytelling newborn photo session, but when they don't, I am never shy to ask for what I'm missing. For example, I might tell a family of 5, "I would really like to get a photo of all of you. Can everyone hop on the bed and talk to the baby while mom holds her?" Or, "I'd really like to get some shots of the baby being swaddled. Let's do that here."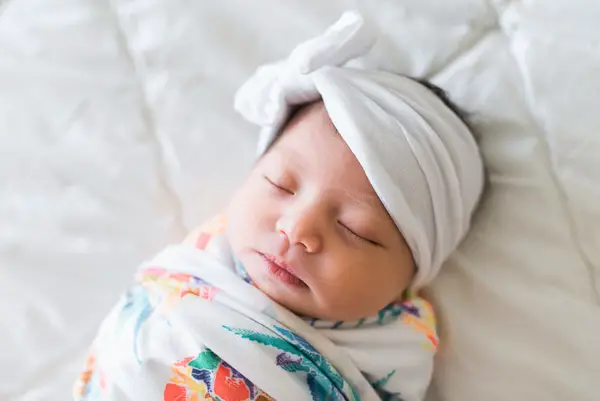 by Stacey M Adams
Baby Storytelling Activities
Although what you actually capture will depend greatly on how the family takes care of the baby while you're there, some things I like to photograph in every session are:
-cuddling with baby
-feeding, burping, and changing baby
-swaddling baby
-sleeping in the bassinet or crib
-siblings talking with baby
-siblings playing separately from baby
It's these daily care-taking routines, photographed in a beautiful way, that help our clients remember how sweet this time is and will bring back such special memories for years to come.
Types of Shots
I like to vary the type of shot between wide angle, mid range, and detail throughout the photo session, so I'm constantly moving. I may back up to take in the whole scene, then get very close for a detail shot, and finish by framing my shot as a traditional portrait.
I want to always use the available space to my advantage, and frequently squeeze myself into tight spaces or climb up on my step stool to change up my compositions and perspectives.
It helps to communicate with my clients as I'm moving. Continuing to talk with them as I grab a shot from the hallway or warning them that I'll be standing very close to them for a detail shot makes them feel much more comfortable with the process, and gives me the shots I need.
Touch
During my time with a family for their storytelling newborn photography session, I want to focus on capturing the emotion of the time. As we begin the photo session, I remind my clients that throughout the photo session, everyone who is in the shot should always be touching someone else in their family, in a way that feels normal.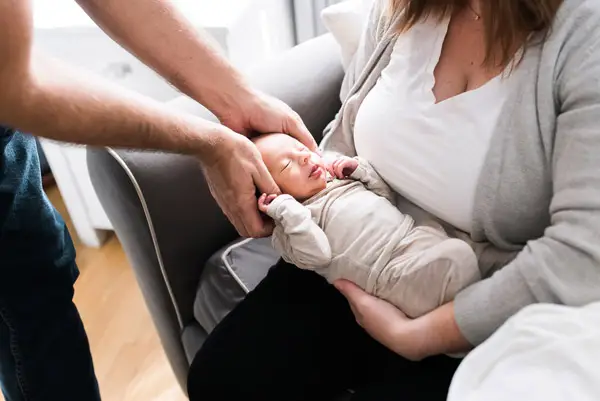 by Stacey M Adams
Although it may not be exactly true to life, asking our clients to touch each other gives each of our photos a deeper connection. Most parents can't stop touching their baby's feet or rubbing their baby's back, so that part is pretty easy, but it also gives the other parent something to do to bring them into the photo. For example, if mom is holding the baby, dad reaching out to put his hand on the baby's back, as well, makes the image even stronger. Because I want my storytelling images to be as natural and like real life as possible, I'll often say something like, "Get in there, Dad," at which point he will reach out to his baby and his family in a way that is natural for him.
Adding Video
To give your clients an even more memorable storytelling experience, consider adding video to your storytelling photo sessions. I shoot short video clips throughout the session, switching between photo and video modes on my DSLR camera, and then edit them together with music to stand alongside of the photos from their newborn session.
You can see from this example how video enhances the storytelling aspect of the newborn photo session.
Depending on your camera, you may be able to create completely separate settings for video than you are using for your photography. My camera settings for video are typically f/2.8-f/3.5. It gives me a larger depth of field, which makes focusing easier, as the video must be focused manually. I am able to use a lower shutter speed and ISO in video, as well.
Storytelling Photography for Newborns is an incredible way to help family's hold onto the sweetness of their baby's newborn days with real memories and beautiful photos.
You may also enjoy   Colorful and Emotional Photos of Children.