Landscape photography cameras have a specific set of features which make them well suited for this field and are often not beginner friendly.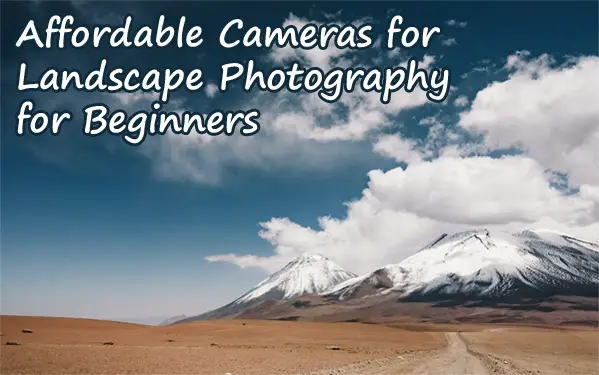 In this article I will explore cameras suitable for landscape photography which are both affordable and meant for beginner landscape photographers with camera features that help take great landscape photos.
Cameras for beginner landscape photography should have adequate resolution, a good image processor, anti-aliasing filter options, stabilization, sharpness, weatherproofing/weather-sealing  and a strong build quality.

Let's dive in deeper.
The best affordable cameras for landscape photography must have a decent amount of resolution to offer. What is a decent amount of resolution? We have considered that a minimum of 24 megapixels is a must-have for a camera to be considered as good for landscape photography.
These five entry-level affordable cameras are good for landscape photography. Here they are :
All these cameras have a minimum of 24-megapixel to offer. All of these are powered by APS-C sensors. Plus, all these cameras come with a range of features to shoot with.
One major criterion we have considered for shortlisting these cameras is that they should not be more than $700 (camera only). Anything more than that and we feel a camera loses the tag of affordability.
That said all of these cameras will require at least a kit lens to shoot images. We recommend a wide-angle zoom lens that will ensure that you can shoot landscape images effectively.
Comparative Analysis of the Best Affordable Cameras for Landscape Photography
| | | | | | |
| --- | --- | --- | --- | --- | --- |
| | SL3 | M50 Mark II | K-70 | T7 | D3500 |
| Sensor size | 22.3 x 14.9mm | 22.3 x 14.9 mm | 23.5 x 15.6 mm | 22.3 x 14.9 mm | 23.5 x 15.6 mm |
| Sensor type | APS-C | APS-C | APS-C | APS-C | APS-C |
| Sensor resolution | 24.1-MP | 24.1-MP | 24.2-MP | 24.1-MP | 24.2-MP |
| Image Processor | DIGIC 8 | DIGIC 8 | PRIME MII | DIGIC 4+ | EXPEED 4 |
| Anti-aliasing filter on or off | Always On | Always On | Selectable | Always On | No Anti-aliasing filter |
| Special features | | | Body-based image stabilization | | |
| | | | Pixel-shift sequential image capture | | |
Buying Guide – Top Features to Keep in Mind When Choosing a Landscape Camera
These are the top features to keep in mind when choosing a landscape camera. we also considered the below parameters when choosing the best affordable cameras for landscape photography.
Image Processor
The latest image processor is handy in more than one way. It offers a better dynamic range and faster and cleaner shots. In that sense, we will recommend the Canon's DIGIC 8 image sensor is the best in that regard. I would put the D3500 EXPEED 4 image processor the next best.
Sharpness
Sharpness is somewhat overrated. Sharpness depends on more than the number of megapixels that a camera sensor possesses. Sharpness depends on the aperture that you are using, it also depends on where you are focusing, whether you are shooting hand-held or using a tripod, and so on.
Sharpness also depends on the quality of the lens that sits in front of the sensor. If the lens suffers from chromatic or other aberrations the image will be less than sharp.
The anti-aliasing filter is used on cameras to counter against the issues of moiré and false colors that high-res sensors tend to suffer from. Some manufacturers tend to completely do away with the anti-aliasing filter in a camera to further boost the sharpness of a camera.
In the above list, only the Pentax K-70 and the Nikon D3500 have the effects of the anti-aliasing filter taken off. As a matter of fact, with the Pentax K-70, you can choose to switch on and off the effect. The D3500 is permanently off.
The result is that with the D3500 and the K-70 your landscape images will be sharper than with the other three cameras.
Sharper images also signify that a bit more details will be captured by the two cameras in question.
Weatherproofing and Weather-Sealing
Entry-level and or budget camera systems rarely have weatherproofing built-in. The Pentax K-70 is an exception. Pentax is known for providing high-quality build even in the budget segment and the K-70 is a testimony to that. It is one of those rare entry-level or budget camera systems that come with dust, freeze, and weather-sealed construction.
Please note there is a difference between weatherproof and weather resistant. The Pentax K-70 is a weather-sealed camera. If you expose the camera to a downpour or snowfall the camera will not have any issues.
The other four cameras are built well but don't have the same build quality as the Pentax K-70. That said, they may still be able to withstand a drizzle or the odd snowfall but we recommend not to test out your brand-new camera to see if it survives a splash or a snowstorm.
For the best results, in inclement weather, we recommend using a C-PL with your Pentax K-70 to ensure that it has the best chances of survivability.
Best Affordable Camera for Landscape Photography (Our Top Choice) – Pentax K-70
The Pentax K-70 would be our top choice because of the unique combination of fantastic build quality and image quality in this price band. Nobody thinks of Pentax when they are looking for a DSLR camera. The first options are usually Canon or Nikon. However, Pentax makes wonderful cameras that are both functional and weatherproof.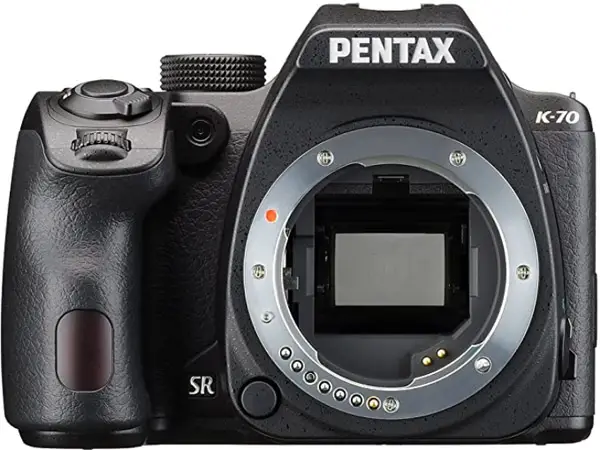 The first thing we like about the Pentax k-70 is the selectable anti-aliasing filter. You can choose whether to use the filter or not depending on the scene you are shooting. In most cases when photographing a landscape scene, it makes sense to switch off the anti-aliasing filter so that you can capture an additional amount of detail in the frame. When shooting other genres of photography, you can switch on the AA filter effect to avoid moiré and false colors.
The second thing we like about the camera is the build quality. It is the only camera in this line-up that has weather sealing. As has already been discussed weather sealing comes in handy when you are shooting in inclement weather conditions.
There is yet another major reason for which we love the K-70 and that is built-in image stabilization. We all know how image stabilization is helpful for the stabilization of a shot, especially when you are hand-holding the camera.
Most DSLRs don't come with a body-based image stabilization system. That means they are dependent on the image stabilization system that is built into the lens. The problem is many wide zoom lenses, the ideal lenses for shooting landscape photos too don't have image stabilization built-in.
Thanks to the body-based (sensor-shift) type image stabilization system of the K-70 any compatible lens system will be stabilized when you mount it on it.
The third reason why we like the Pentax K-70 is the articulating screen. The articulating screen ensures that you don't have to always look through the viewfinder when making your compositions.
There is yet another reason that sets the K-70 apart from the rest of the lot. It is the Pixel-Shift Resolution Technology.
The Pixel-Shift Resolution Technology that directly comes from the sensor-shift mechanism ensures that the camera can make a composite of sequential images to produce a single image with a lot of detail in it.  No other camera on this list has this feature.
The Canon EOS Rebel SL3 is a fantastic camera for the price point at which it has been introduced. Apart from the 24-megapixel resolution, the camera comes with the latest digital image processing engine.
It also has an articulating touchscreen. Unlike the Pentax above with the Canon here you can focus by touch.
The Rebel SL3 comes with an Anti-aliasing filter which does impact the sharpness and amount of detail captured by the camera. But on the flip side, it comes with the DIGIC 8 image processor.
EOS M50 Mark II Is a very versatile camera. it was originally launched for vlogging, but it also serves its purpose as a landscape shooter. A quick read of the specifications of the camera suggests that it comes with the latest DIGIC 8 image processor. This is one of the prime reasons we have listed it ahead of the Nikon D3500.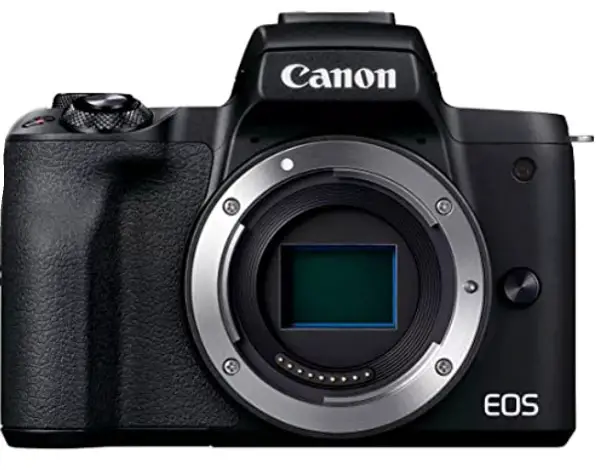 Plus, the EOS M50 Mark II appears well built.
Another advantage of the EOS M50 Mark II is it is the only mirrorless camera on this list. At 387 grams with the memory card and battery in place, it is also the lightest camera on this list.
A lightweight camera is a huge advantage when shooting landscapes. It is easier to lug on long hikes. Because of the lightweight construction, you can use even a lightweight carbon-fiber-made tripod to support it.  This again ensures you have very little weight to lug when hiking.
The EOS M50 Mark II also has an articulating touchscreen LCD screen which ensures that you can easily make a composition without having to look through the viewfinder at all times.
Like the Rebel SL3, the M50 Mark II too comes with the DIGIC 8 image processor but has the anti-aliasing filter.
The Nikon D3500 should have been the second favorite choice except for the dated image processor. It comes with an exploit for image processing engine whereas the Canon SL 3 and the M50 Mark II (discussed above) both come with the DIGIC 8 image processor.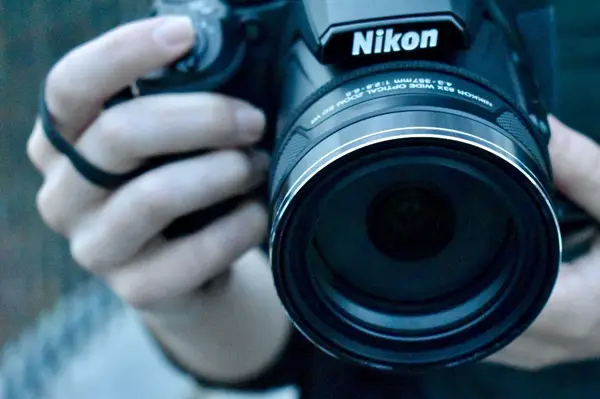 Plus, I'm not too happy with the build quality of the Nikon. It does not have weather sealing built-in. To be fair with the rest of the cameras like the Rebel T7 or the M50 Mark II they too don't have weather sealing built-in. But at least they have the better image processor.
The EOS Rebel T7 comes into this list as the fifth and last item on this list. Make no mistake we like the EOS Rebel T7, it has a comparable 24-MP sensor and captures stunning landscape images. But as has been highlighted in the comparison table above as well as the above paragraphs, the Rebel T7 loses out to the other cameras on this list. And that is why it is the fifth recommended.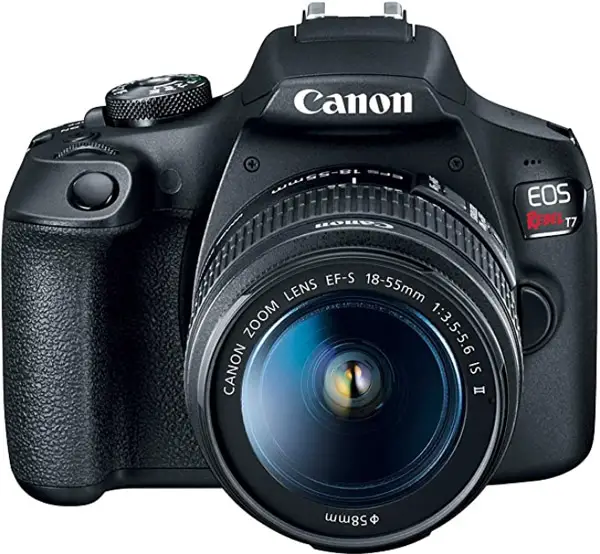 The major reason why we have recommended this camera is that it is the cheapest on this list and if anyone has a very tight budget they can get an APS-C camera body with a kit lens for a price tag that is under half a thousand.
Which Camera Should You Buy?
Best overall – Let's say that you need the absolute best affordable camera for landscape photography. We recommend the Pentax K-70. It is weather-sealed, comes with a selectable AA filter, has a 24.1-MP image sensor, and a built-in image stabilization system. And not to forget the Pixel-Shift Resolution technology that offers a lot of detail. In short, it has everything that we have mentioned in the buying guide and more.
Best Lightweight – That said, if you plan on long hikes, need to lug a tripod along with a camera plus your hiking and the rest of the landscape photography gear for the best vantage points for shooting landscape photography, we recommend the lightest camera you can get. In that respect, the Canon EOS M50 Mark II is the best solution.
The two Canon cameras are best suited for someone who wants to invest in the Canon family. One of the reasons being Canon is the largest photography equipment brand.
They have a range of cameras and lenses to choose from if in the future you want to expand your collection of cameras and lenses. Plus, a lot of compatible third-party accessories are available if you adopt this brand.
Best Nikon – The D3500 is equally recommended if you choose the Nikon platform. Nikon is the third-largest photography company in the world and one that is equally respected as the Canon brand name.
Photographers who prefer not to have the AA filter will find the D3500 to be interesting. It will capture a bit more detail than the other cameras with an AA filter on.
Cheapest – Finally, we recommend the Canon EOS Rebel T7 to anyone who is on a tight budget. As has been explained above you can get a complete lens and camera set-up for a few hundred dollars. Plus, it belongs to the Canon ecosystem and that is always an advantage.
Here is a useful video on the best ladscape photography camera settings from Mark Denney:
I hope this guide has helped you pick a camera for beginner landscape photography.  But wait….
If you are intrigued about landscape photography want to know more on how to get started, check this Complete Guide for Beginners.