Before we all had cameras in our pockets and even before affordable digital, point and shoot cameras, there was the humble disposable camera. A common addition to any holidaymaker's suitcase and often found scattered around the tables at wedding receptions disposable cameras were the everyday persons go-to camera of choice. Despite the dominance of the camera phone and digital photography in general, in the last few years there has been somewhat of a resurgence in the use of disposable cameras.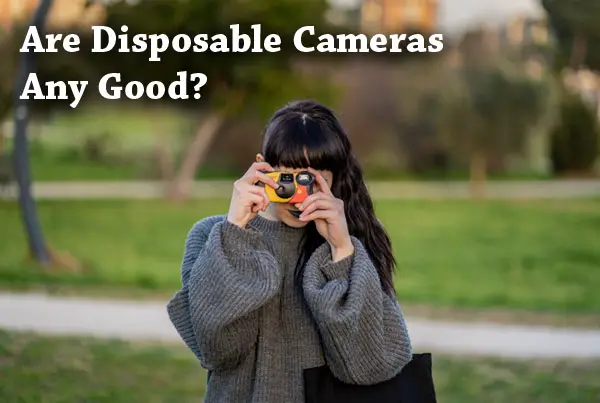 The question is though, are they actually any good?

For anyone, whose childhood came before the camera phone you will most likely remember the thrill of the disposable camera. With a limited amount of shots available to you and the agonising wait to find out if the photo you took was actually any good, each shot became precious. It was almost an unwritten rule that at least one shot was going to be half covered by a finger and don't even get me started on the red eye!
The thing is though, it was often those imperfect shots that are the most treasured. After all life isn't perfect so why should your photography be? Whether you're looking for a nostalgia hit or just fancy trying your hand at film photography there are plenty of reasons why the disposable camera hasn't gone extinct just yet.
How Do Disposable Cameras Work?
In case you have never come across a disposable camera I thought I would take a moment to explain how it works. The disposable camera (or single-use camera) looks a little like a toy point and shoot digital camera except that it uses film.
The film comes pre-loaded into the camera so all you have to do is roll the film to the next frame using the winding gear and then point the camera and click the button to capture the image. Some models come with a flash feature which is handy when shooting indoors. However, unlike a digital camera a disposable camera cannot usually work out for itself if it needs the flash or not.
Once all the film had been used up, the camera would need to be developed. This usually means taking it to a shop that offers this service where you hand over your camera and a little while later, they hand you back the printed photos.
The Digital Disposable Camera
While traditionally the disposable camera is a film-based camera since the early 2000's digital versions have been available in the U.S. Just like your digital point and shoot cameras, they have an LCD screen which allows you to review and delete unwanted photos. This helps stop the anxiety of whether or not you are wasting one of your precious shots and if your photos are going to be good or not because you can simply delete ones that aren't good.
However, they are still disposable in that you still only have a certain amount of storage space for your photos and the only way you can get them off the camera is to take the camera to a film processor who will then download and either give you prints back or digital versions on a DVD or memory stick.
This is most likely why digital disposable cameras aren't are popular because you can get a reusable one for only a little bit more money. Plus, you can download your own photos.
The Waterproof Disposable Camera
While most disposable cameras are well known for being a camera in a cardboard box, some genius decided to give the disposable camera a waterproof plastic box. This meant that no longer were your holiday snaps just of the land, now you could take your camera into the pool and the ocean.
From capturing images during water sports, recording the vibrant underwater life of the oceans while snorkelling or even just taking a few snaps in the hotel pool with your mates, the waterproof disposable camera brought underwater photography to the masses.
When Should I Use A Disposable Camera?
Back in the day disposable cameras were most commonly used during vacations and to capture special events such as weddings and big birthdays. However, due to their simplicity, disposable cameras can really be used in most situations.
They are great for capturing off-the-cuff candid moments that will be forever enshrined in a nostalgic feeling printed photograph (who needs digital filters anyway?). They are also equally great for anyone who is making their first foray into the film photography world.
With the only technical decision being should I use the flash or not, the disposable camera leaves you free to focus on the process of photography as opposed to working under trial and error which digital photography lends itself to.
They are also great for breaking the photography rules (they're more like guidelines anyway) and unleashing your creative side. In the past I always felt more relaxed and playful with a disposable camera in my photography whereas my DSLR brings out the more serious photographer in me.
Learn how you can easily shoot portraits with a disposable camera from Dan Bullman:
Processing your Disposable Cameras Photos
Most people don't have a dark room in their house to process their disposable camera's film and the digital versions of disposable cameras aren't equipped with an easy plug and play option like their reusable counterparts. That means for most people the only way to get your photos off the camera is to pay someone to do it.
Luckily, there are businesses that do offer this service for an affordable price. Some photography shops as well as retailers such as Walmart and Walgreens offer photo processing in their stores. While in the past you may have had to wait several days before your photographs were ready, with the improvements in technology over the years quite a lot of services can offer same day pick-up.
Alternatively, there are some film processing businesses that operate remotely whereby you send them your disposable camera in the post and then they send you the photographs back. Obviously, the turnaround time for these will depend on the location of the film processing and how good your post service is.
Where to Buy Disposable Cameras
Disposable cameras were once everywhere. You could buy them in the supermarket, the pharmacy, photography shops and of course in the airport. While not as obvious, they can still be found in retailers such as Walmart and specialist photography businesses such as Fujifilm and Jessops.
However, like everything these days you can also buy your disposable cameras online. Whether you choose to use the online shops of one of the retailers above, an online only retailer or even search through Amazon you are sure to find the disposable camera that you are after.
Top 10 Best Disposable Cameras
Disposable cameras have been around for decades and as such there are a few that you can choose from. However, just like regular, reusable camera, not all disposable cameras are made equal. So here is a rundown of the top 10 best disposable cameras available right now.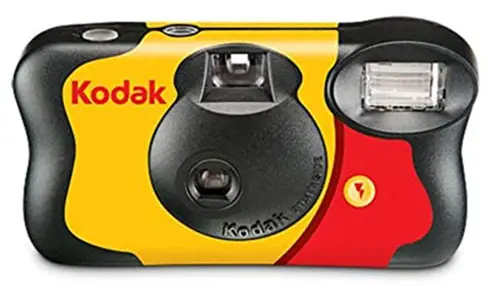 • Easy to use
• Built in flash
• Recyclable
Arguably the classic disposable camera, the Kodak FunSaver uses a 35mm film and each camera come with 27 exposures. So popular is this camera that it is often sold in multipacks meaning even more photos!
The FunSaver uses Kodak's versatile 800 iso colour negative film meaning that you still get great pictures even in very sunny or low light situations. Despite having plastic optics, the resulting images are much sharper than Kodaks other options.
The cameras manual flash enables you to adjust the light intensity given off by the flash. It has a range between 1.2 – 3.5 meters (4 – 11.5 feet) which should give you enough room to adequately light the scene or subject you are capturing.
An added bonus with the FunSaver is that once you take it for processing and the film is removed, Kodak has designed the camera so that it is recyclable. A great win for those concerned with sustainability and environmental issues.
For current pricing click here.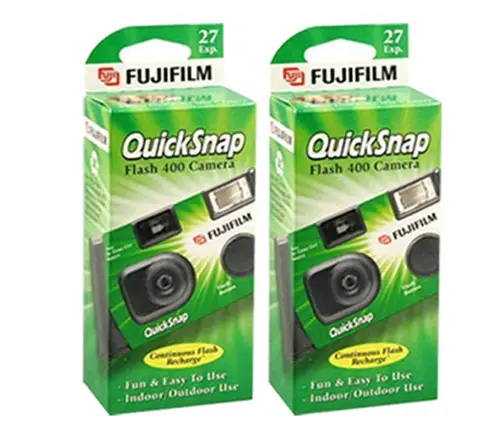 • Small
• Simple to use
• In built flash
• Produces quality shots
• High Price
Not only does the camera look good but its size and shape make it easy to carry yet durable. Weighing in at just under 160g (5.6 ounces) it's definitely not going to weigh your bag down. The Fujifilm Quicksnap 400 is regularly touted as the easiest disposable camera to use most notably because of its simple on/off flash switch.
Loaded with Fujicolor's Seperia X-TRA 400 film which was originally designed to capture fast speed motion enables you to capture images without having to worry about blur. However, the use of the 400 iso film means that you will probably have to turn that flash on in low light situations.
If you're bothered about the colour of your photos, then the Quicksnap has you covered with its quality colour production, especially when used in daylight with no flash. Great news if you're into landscape photography.
Plus, like with the Kodak FunSaver, the Fujifilm Quicksnap 400 is also recyclable following processing.
For current pricing click here.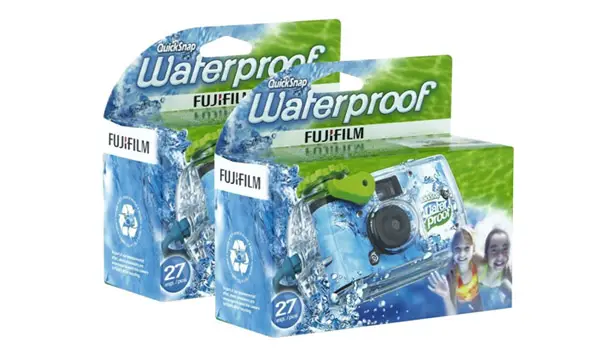 • Waterproof to 5 meters (17 foot)
• Includes hand strap
• Durable
• Doesn't have auto-wind function
The Fujifilm Quicksnap Waterproof camera is arguably the best disposable waterproof camera on the market. It comes loaded with 27 frames of the Fujicolour Superia X-TRA 800 film which is well known for its amazing colour renditions as well as performing well in low light situations. Which is great if you're planning to take it out into the sea.
Because of it sealed nature, the Quicksnap Waterproof camera is also a great option of you are shooting in dusty or sandy conditions such as the desert o the beach as all those small particles won't be able to get into the camera and mess up your shots.
The handy wrist strap gives you that little extra security which is especially helpful when using it in the sea. Afterall the last thing you want to do is to watch your camera slowly sink to the bottom of the sea and out of reach.
While generally more expensive than its non-waterproof counterparts the Quicksnap Waterproof camera doesn't break the bank and just like the other Fujifilm cameras it is also recyclable. So not only can you photograph the turtles, but you can help save them in the process.
For current pricing click here.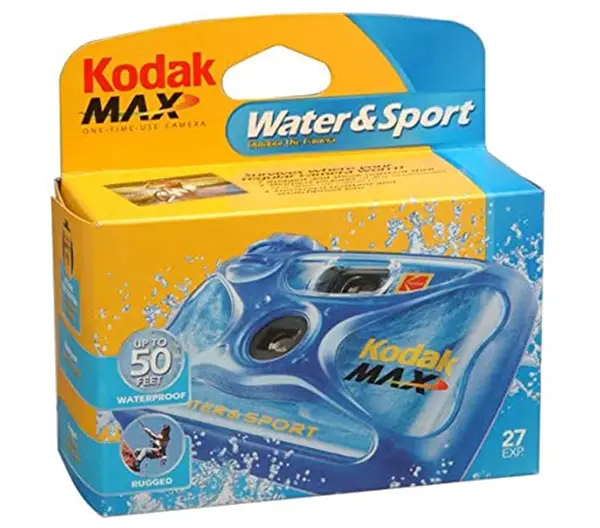 • Waterproof to 15 meters (50 foot)
• High quality and image clarity
• Durable
• Anti-scratch
• Sometimes the images can be blurry
If you're looking for a life proof disposable camera then the Kodak Weekend Water & Sport camera may be for you. The camera's exterior is designed not only to be waterproof but also so that it works great in misty or snowy weather too!
Like most of the other disposable camera's the Kodak Waterproof & Sport comes with 27 exposures but it uses Kodak's Max 800 film giving the camera greater versatility underwater and in low light. Unlike its non-waterproof counterpart, this disposable camera doesn't come with an in-built flash. Although the 800 iso film does mean that in most situations you won't need one anyway.
For current pricing click here.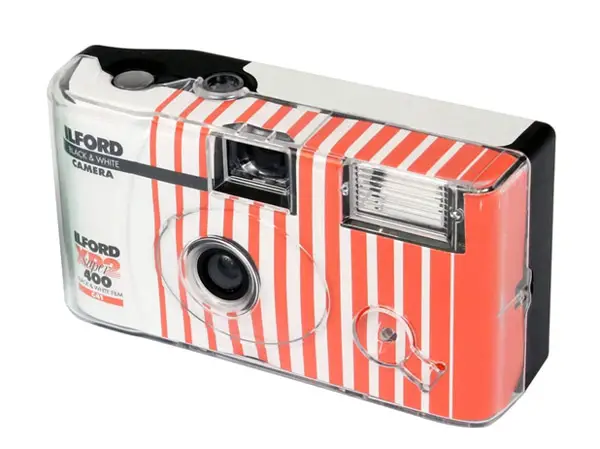 • Wider angle lens than most disposable cameras
• Powerful flash
• Compact size
• Can be difficult to achieve tonality
If you're looking for a disposable camera that caters to a more serious photographer then the Ilford XP2 may just be what you're looking for. Not only can the photos that you take on this camera be processed at any high-speed photo processing booth, but it also gives you the option to choose between black and white and colour toned monochrome prints.
In addition, the XP2 comes with infinity focussing, helping you to keep your subject in focus but everything else in that satisfying out of focus blur. This essentially lets you capture images in the same way you would on a DSLR.
The XP2 is loaded with XP2 Super 400 iso film and when used in conjunction with its flash will make shooting in low light situations a breeze.
This is a disposable camera that steps away from the "playful" tone that most disposables have and takes a stab at enticing the more creative and serious photographer to step into the disposable realm.
For current pricing click here.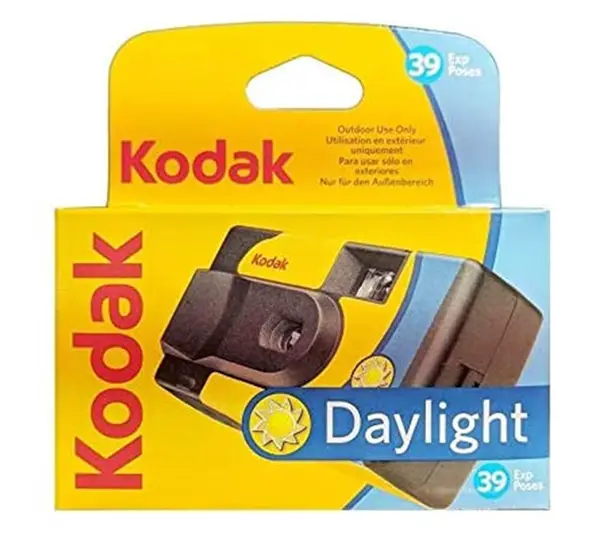 • 39 exposures
• Range of 1m to infinity
• Works great outdoors
• No flash
The majority of disposable cameras come with 27 exposures but the Kodak SUC Daylight smashes that with a whole 39 exposures giving you those extra shots before having to pick up a new camera.
The high iso level (up to 800) and focal length of the SUC Daylight somewhat makes up for the lack of flash although it still may be tricky shooting indoors and at night. It does, as its name suggests, make it great for shooting outdoors in the daylight though.
At just 80g (2.88 ounces) it is one of the lightest disposables available and its bright orange, Kodak branded outer will ensure that its easy to spot in your bag.
For current pricing click here.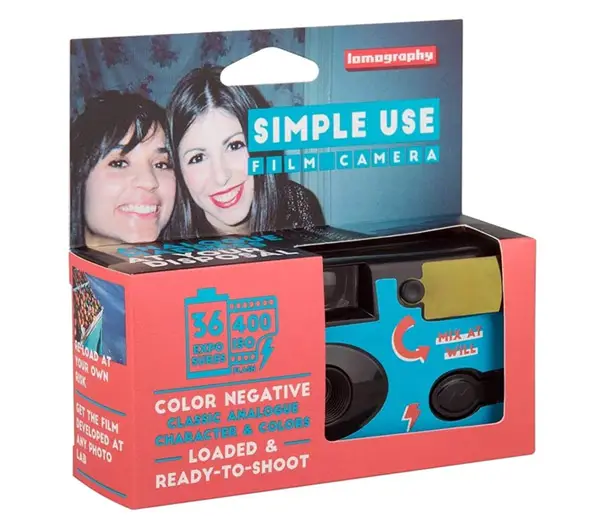 • Small and Light
• Can reload with new film
• Colour gel filters
• 36 exposures
• Easy to get developed
The Lomography 400 Simple Use is a little bit different to the other disposable cameras. The major difference if that they can be reloaded with film and used multiple times despite looking and feeling like a disposable camera.
They also have 36 exposures which means that even though you can load another film, you don't have to do it as often. It comes loaded with Lomography's 400 colour negative film which will produce decent images with good tones and a fine grain.
However, the fun start when you crack out the flash gels which enable you to create a wide range of effects and really get creative with your shots.
While the Lomography 400 Simple Use generally is more expensive than most disposable cameras, if you are planning on just reloading it with new film it will be cheaper in the long run than buying several single use cameras.
For current pricing click here.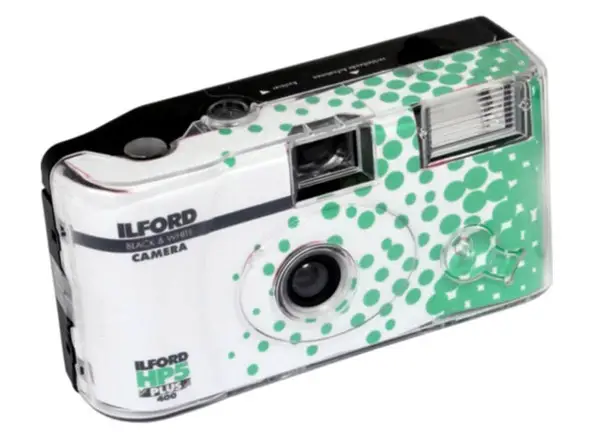 • Monochrome film
• Focus from 1m to infinity
• Flash built in
• Occasionally glares occur
If your photography style is more black and white than colour (or even if you fancy changing it up) then the HP5 will be right up your street. Loaded with a 35mm black and white HP5+ film with a 400 iso you'll be capturing the world in monochrome with ease.
Luckily, this camera also has an in-built flash with a 3-meter range for those times when the natural light isn't quite enough. However, the flash button is a little hidden in the bottom left hand side and requires you to slide and hold until the flash is charged.
For current pricing click here.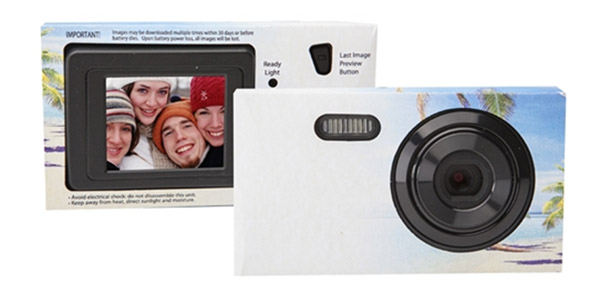 • No battery to load
• No memory card needed
• Plug and play USB connectivity
• LCD preview screen
For those that are looking for for a disposable camera but want to stick with digital then ECamera Films Disposable Digital Camera with Colour LCD is the the disposable camera you are looking for. It comes complete with 1.3 megapixel enhanced phots and can take up to 50 photos!
Unlike regular digital cameras there's no need to worry about loading the battery or buying a memory card for it as both come with the camera with all ready to go. You don't even have to wait for the prints to see what your photo looks like, when you can instead check the LCD screen. Plus, with its plug and play option you can download your images straight onto your computer using the USB cord so no more waiting around to share them with friends and family.
Like many of the disposable cameras this one is also recyclable too!
For current pricing click here.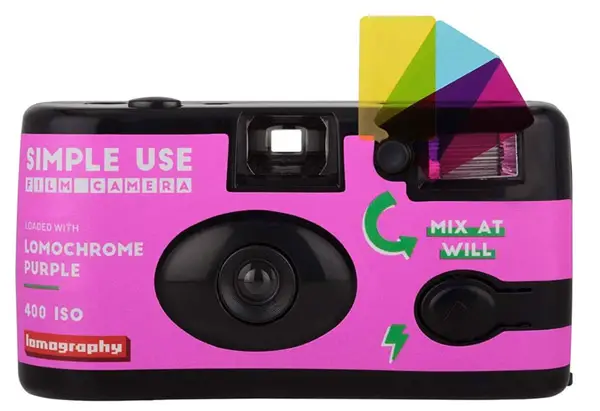 • Purple tinted photos
• Small and light
• Flash in built
• Gel filters
Physically the same as the Lomography Simple Use camera, the LomoChrome is instead loaded with Lomography's LomoChrome Purple 400 film. The film gives your images a cool purple hue for a psychedelic analogue effect.
Plus, when you incorporate the gel filters into your photography you can create some really other-worldly looking images.
For current pricing click here.
Want to learn more about film photography? Check out the starter's guide to film photography.