Have you dreamed of a simple yet feature-rich portable camera? Something that's a step up from compact cameras but still small enough to carry around in your day bag? A camera that will deliver the image quality of an entry-level DSLR without the bulk?
Oh, and still be affordable?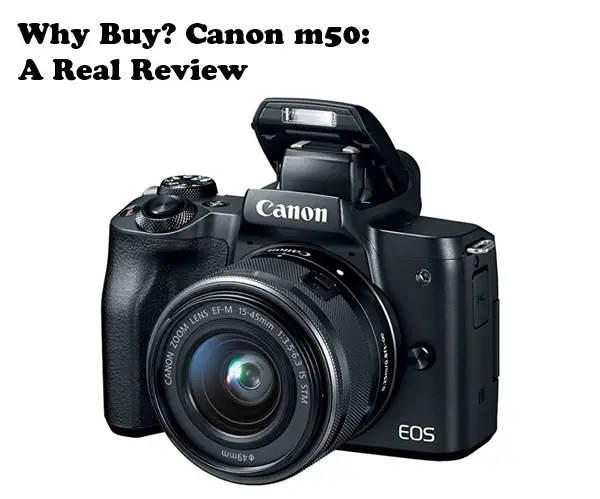 The Canon m50 mirrorless camera just might be your dream come to life. Come along with us as we explore the features and usability of this versatile little camera in this Canon m50 review.
Canon m50 Specs At a Glance
24.1MP APS-C CMOS sensor
ISO: 100-25,600 (expandable to 51,200)
10 fps continuous shooting
2,360k dot electronic viewfinder
Shoot in RAW and JPEG
3" fully articulated LCD touchscreen
4K video shooting (with 1.6x crop)
Built-in wireless
Hot-shoe for external flash
Standing in the Gap
Compact cameras are awesome for their portability. You can slip them in just about anywhere and have a decent camera always at the ready.
However, once you start getting into the realm of serious amateur photography and certainly anything more pro, you may find that their features and image quality become rather limiting.
The trouble is that even entry-level DSLRs can be rather bulky and heavy. They aren't easy to slip in anywhere and you have to be deliberate about when you carry them with you. This isn't always a problem, but for travel photographers or anyone wanting a portable camera, they can be cumbersome.
Canon's m50 steps in to help fill the gap between compact cameras and full-size DSLRs. In shape, the m50 looks a lot like a DSLR, but significantly smaller and lighter at only 116 x 88 x 59mm and 390g (0.86 lbs). For comparison, an entry-level Canon DSLR, the Rebel T6, measures 132 x 101 x 78mm and weighs 565g (1.25 lbs).
24 MP APS-C Sensor
The big reason to move up to an entry-level DSLR from a compact camera is, of course, image quality. The m50 boasts the same 24 MP APS-C sensor that comes on the Rebel T6. You would assume that the image quality would be the same, but don't forget that the lens has much to do with image quality as well.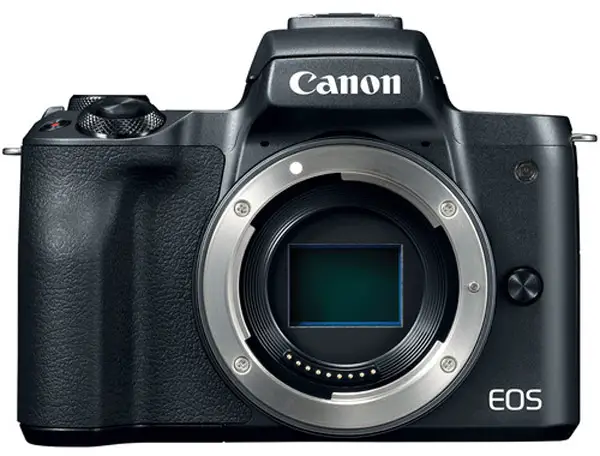 The m50 uses the Canon M-mount which just doesn't have the same range and quality of lenses available for Canon DSLRs. That may change in the future as they expand their mirrorless line but we shall have to wait and see. We should note that you can get an adapter that will allow you to use other Canon lenses on the m50, but your camera will be getting bulkier as you add more hardware.
However, anybody moving up from a smartphone or compact camera will be quite impressed with the image quality, even with the 14-42mm kit lens. The camera can shoot in both JPEG and RAW and offers beautiful true-to-life colors in both.
For its price point, it does a great job in low light situations. You'll start seeing some grain if you push the ISO up into the four-figure range. Somewhere around 3200 it starts getting excessive in the shadows, but this is fairly easy to remove in post when shooting RAW images.
Touchscreen LCD Panel and EVF Viewfinder
Finding a touchscreen LCD panel and EVF viewfinder in the same camera at this price point is like Christmas for photographers. The Sony a6300, a comparable Sony mirrorless camera, offers the EVF viewfinder and an LCD panel, but it is not a touchscreen.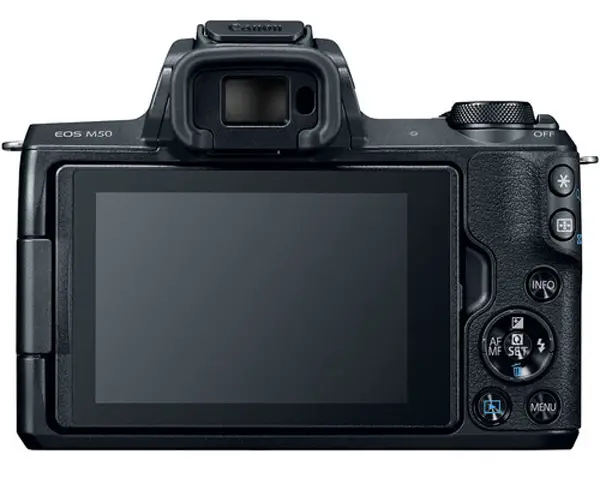 Quickly choosing a focus point becomes immensely easier with a touchscreen, which is perhaps its biggest benefit. However, some users complain that the touchscreen is overly sensitive and they find themselves changing the focus point without meaning to.
A handy technique with the touchscreen is that you can drag your thumb around on the screen to select focus while looking through the viewfinder.
You may wonder why the EVF viewfinder is such a big deal, especially if you're used to taking photographs with a smartphone. We'll just drop a couple of words right here — bright sunlight. You know how difficult it is to see an LCD screen in bright sunlight?
Plus, unless your camera is on a tripod, it's just kind of awkward to take a picture while holding the camera at arm's length.
Whether the electronic viewfinder found on mirrorless cameras is better than the optical viewfinder on DSLRs is basically up to personal preference. However, EVFs do offer the ability to see an accurate preview of exposure and depth-of-field. The 2,360k-dot EVF on the m50 auto-activates when your eye (or anything else) comes near the viewfinder.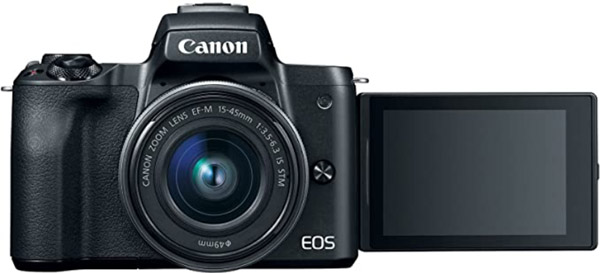 One more bonus for the m50 is the fully articulated screen. Pop that baby out and position it wherever you need to capture the image. You can also store the LCD screen backward against the camera, which helps protect it from scratches when being transported in a bag with other objects.
Usability
The menu system is pretty user-friendly so new users won't have too much difficulty finding what they need. The camera also comes equipped with Canon's Guided UI which helps users unfamiliar with the menu settings find what they're looking for.
Once you become adept at the system you'll probably deactivate the guidance as it adds another layer to your menu selections. However, it is a handy feature for beginners.
There is a nice range of buttons available on the body for quick access to features, enough to give plenty of options without being overwhelming for beginning users. Some are programmable so you can customize the body to your style of shooting.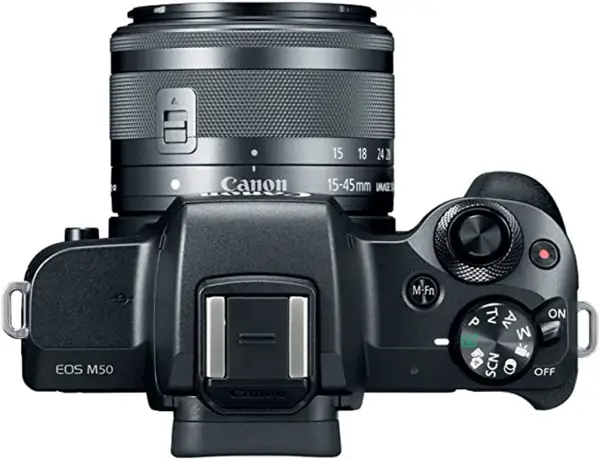 Many comparable mirrorless cameras electronically release the lens for shooting. The m50 has a manual design. The nice thing is that when you turn the camera on and you're not planning to shoot, it doesn't eat up the battery needlessly popping the lens out.
To manually release the lens, you just hit the spring-loaded catch release and the lens jumps into place. For quick shooting, you may fumble to find the button so you'll need to be ready. Once it's out, the manual zoom is a nice feature. Retracting is also kind of a pain but doable.
Autofocus and Speed
The autofocusing system on the m50 offers between 99 and 143 focus points, depending on which lens you're using. That is actually more focus points than are offered on the more expensive Canon M5, which is a nice bonus. In general, the autofocus system is quick and responsive.
For those who enjoy sports and action photography, you'll appreciate the 10 fps, which is twice as fast as Canon's Rebel T6 DSLR at only 5 fps. When using continuous autofocus instead of keeping the focus from the first frame that number drops to 7.4 fps but that's still impressive for this price point.
Video Capabilities
The m50 boasts 4K video capabilities but with a 1.6X crop. Plus, you have to learn to work within the restrictions of the camera to capture video in this format. The sensor data is scanned vertically, causing a considerable rolling-shutter effect (vertical lines start slanting) if you move too quickly.
Additionally, when shooting 4K video, it switches from the camera's impressive Dual Pixel CMOS AF system to regular contrast-detect autofocus. This makes the autofocus seem a bit slow, especially when comparing it to the m50's still image focusing capabilities.
You can avoid this problem by shooting in Full HD Video instead. The rolling-shutter effect is also diminished considerably although you still have to move slowly to avoid it altogether.
The system also includes a microphone input, making this a useful small-size camera for vloggers.
To learn more about the video capabilities of the m50 check out this helpful review by ThinkMedia.
Battery Life
Mirrorless cameras are not known for their amazing battery life and the m50 is no exception. In fact, its performance is rather poor. Canon claims you can get an underwhelming 235 shots or 85 minutes of video per fully charged battery. In short, if you buy this camera, buy extra batteries because you're going to need them.
Should You Buy the Canon m50?
I hope this overview of the Canon m50 has been helpful to you. As always, you should carefully weigh your camera-buying decisions on how you plan to use the camera.  Many believe its the best vlogging camera and for the price, size and features its tough to beat.
To learn more about the Canon m50 and check pricing, click the following links for B&H and Amazon.