Oh, dear! You just remembered you have a Zoom call in 5 minutes! Thankfully, you remembered in time, but unfortunately, your house is a mess.
With everyone home so much lately, the cleanliness of your house has slowly backslid until somehow a certain amount of clutter has become the norm. But, piles of laundry and toys scattered across the floor won't do for this important work call.
The good news is that you've already read this article and learned about the best green screen for video conferencing — our favorite- the Fotodiox collapsible green screen. You've even got it set up and ready to go, all you need to do now is get your face ready and throw on a decent shirt.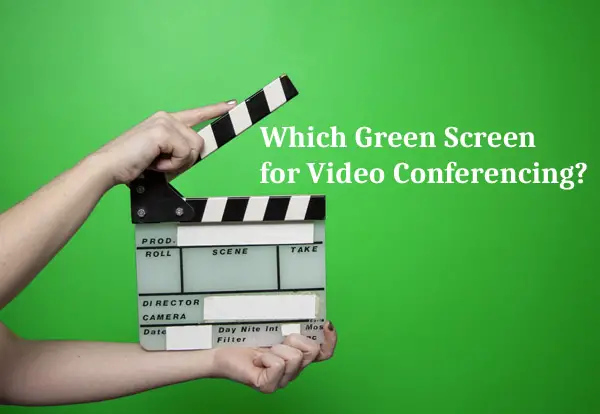 While the Fotodiox is an excellent all-around choice, different screens may work better for you depending on your green screen needs. Read on to learn everything you need to know about choosing a green screen for video conferencing.
Green Screen Vs Blue Screen
Both green and blue screens have been used in video production for decades. They are an effective way to remove the background behind a subject and replace it with a different image or video.
These two colors are used the most because they are the furthest away from skin tones that you can get. Red screens and yellow screens just don't work out well at all as parts of the subject would be turned transparent as well.
Technology has advanced enough now that you can set up a green screen in your own home and change the background behind you in real-time while you're on a video call. In that case, it doesn't matter if there is a pile of laundry behind you or toys scattered on the floor while you're on a Zoom call, you can replace that background with any image you like.
Then arises the question, which color screen should you use for video conferencing. Let's look at the pros and cons of green screens vs blue screens to find out.
Green Screens
Green screens are not made with just any old color green. Instead, it is a bright shade of green called chromakey green. This shade is used because it reflects light well, is easy to key out of the image, and is ugly enough that people aren't likely to be wearing it (although you can have problems with other shades of green turning transparent so watch out).
The green channel in digital cameras is also used for luminance, which means that the camera captures twice the amount of information for green as it does for blue. This makes it easier to key out the green in post-production.
The color bright green also reflects more light than blue, which means you need less light for the shoot. This is particularly helpful for those looking to save money. You'll still need good lighting for your Zoom call. However, you might need a more powerful one if you choose a blue background.
An unfortunate side effect of the brightness of green, however, is that you end up with more color spill on the subject. This can be corrected in post for photos and videos but can be difficult depending on the subject and add additional editing time. It's not too much of a concern for video conferencing
Finally, people tend to wear less green-colored clothing than blue. Blue jeans can easily get lost in a blue background, but green is less likely to have issues.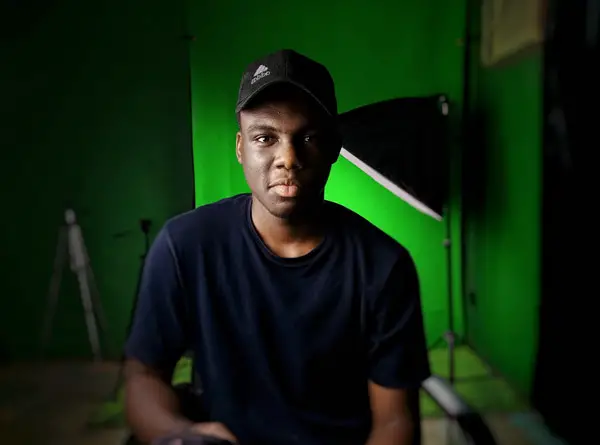 Blue Screens
The main benefit of using a blue screen instead is avoiding the color spill. However, you'll have to invest in more powerful lighting to ensure the subject is well-lit. It is also useful for filming subjects at night because the brightness of the green screen can make subjects too bright and cause them to stand out too much in a night scene.
Neither of these cases is particularly necessary for video conferencing which is why the green screen is the way to go.
Digital Versions of a Green Screen?
Instead of setting up an actual green screen behind you during your video calls, you might wonder if there is a digital equivalent. There is a software you can use as a sort of "digital green screen."
However, at this point for the average consumer it isn't as good as using a physical green screen behind you. The edges won't always be perfect and, depending on your setup, parts of your body may disappear and reappear as you move around. This isn't exactly ideal for professional situations.
It is good to be aware of this option in a pinch. If you need a portable setup this will be easier than hauling around a physical screen.
Best Green Screen for Zoom
In a moment, we'll go over the features and things to look for when choosing a green screen. But to answer your burning question about which is the best screen for you, we'll give you our top pick right here.
We love this Collapsible Portable Backdrop Kit from Fotodiox. For a reasonable price, the reversible screen is chromakey green on one side and blue on the other. While the green screen will probably be the most useful for Zoom calls, it's nice to have the blue option if you need it.
The lightweight 5' by 7' screen is easy to set up on the included floor stand. The fabric is sturdy and stretched on a frame to prevent wrinkles and the pro-grade material ensures that it will hold up well. Fold up the screen and toss it in the included carry bag to take it with you wherever you need to go.
Check out how to set up a collapsible green screen here with these easy instructions from Jargon Free Help.
What to Wear
The most important thing to keep in mind is to not wear anything green. The software is working to remove anything green so if your clothing contains any shade remotely similar to your chromakey green background, that part will disappear as well. A floating head, while it might cause a chuckle among your coworkers, does not give off the most professional impression when talking with clients.
You should also avoid wearing shiny fabrics. Anything reflective can pick up a bit of color spill from the green screen behind you.
Small repeating patterns like chevrons or thin stripes are also good to avoid as they create an effect like they are moving on the screen. It can make it unpleasant to look at you and may be distracting or visually tiring for the viewer.
Stick with bold, rich colors that complement your skin tone and will draw attention to you, but not be overwhelming.
Green Screen Chairs
A rather ingenious and easy way to get a green screen behind you with little fuss and muss is to use a green screen on your chair. This Webaround Big Shot is an affordable version of a green screen chair. The 56" circular green screen is made of sturdy fabric with a spring steel hoop that allows it to collapse down to 21" around for easy storage.
The screen features an attached harness that easily slips over the back of most standard size office, dining room, and gaming-style chairs. Set up happens in a matter of seconds. All you have to do is pop open the spring steel, which pulls the material taut to avoid wrinkles and provide an even background. Then, you slip the harness over the back of the chair and you're ready to chat.
Size
A very important consideration is what size green screen you should choose. There is no one size that is perfect for all video conferencing users, it depends on the type of calls you usually make.
There are three basic sizes you'll want to consider. If all you need is a small screen behind you, just enough for your head and shoulders while you sit, the green screen chair attachment that we just mentioned is perfect. At 56" in diameter, it offers plenty of coverage as long as you won't be standing up or moving around.
However, if you do want to be able to present a full-body view, you'll need a larger screen. Keep in mind that if you want to show your feet you'll need something green on the floor as well or a screen that spills over onto the floor. This 6' by 9' Emart muslin screen is a good choice. Nine feet gives you plenty of space to drape part of the fabric on the floor and still have enough coverage to stand.
Finally, will there be anyone else joining you? If you have two people on your side of the Zoom call, you'll need a wide enough space for both of you to stand (or sit).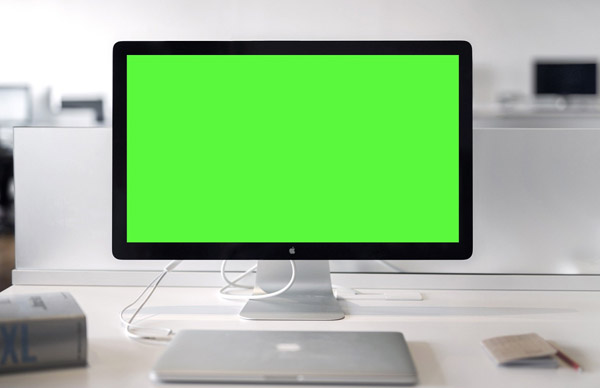 Types of Green Screens
There are various materials you can use for your green screen. Each has its own pluses and minuses when it comes to cost, ease of use, portability, and other factors. Again, which type is right for you will depend on the type of Zoom calls you typically make and where you will be making them.
Paint
If you don't want to mess around with setting up your green screen for calls, you can buy specially-made chromakey green paint.
Some people try to color-match it at the hardware store to save a few dollars but, in reality, using the professional stuff will ensure better results. It will be more reflective and the light will fall more evenly, both crucial for making your green screen effects look more real.
Paint can be a great option for when you need to cover a lot of space. It's also good for someone who makes frequent Zoom calls and has a dedicated space for making them.
The obvious downside is that it is not portable. Plus, you get to look at one office wall that is perhaps the ugliest shade of green known to man. The point, after all, was to choose a color that no one would be wearing!
Muslin Screens
Muslin screens like the one we mentioned earlier are a popular option for people on a budget. They're pretty easy to set up with a background support and can be taped to the wall if necessary.
The cloth can be cumbersome to work with. If it gets too wrinkly, you'll need to iron it to remove the irregularities. Another thing to keep in mind is that it is a piece of cloth that allows light to shine through. If you're planning to use your green screen to block out a window behind you, muslin fabric isn't the way to go.
Seamless Paper
Did your mom ever take you to get Christmas or school pictures at a photography studio? You might have noticed large rolls of paper that could be pulled down to offer different types of backdrops.
You can get the same type of setup for your home office to benefit from that smooth, even light you can get from the paper. It won't wrinkle much like muslin and is more opaque so you can use it over a window, although you may need to double up.
The paper is easy to pull down and it if gets dirty, you can pull it out and tear off that part. These systems are only semi-portable and the roll can get heavy if it is particularly long. This seamless background paper from Savage is 107 inches wide and 37 feet long, offering plenty of coverage and extra length if the paper gets dirty or creased.
Collapsible
Collapsible screens are nice because they hit a lot of the pluses. They're more expensive than muslin, but still very affordable. You can get large collapsible screens that will cover a decent amount of space, yet they easily break down and can be carried around.
They are made using a spring steel frame. When you open the screen, it tends to spring into position so take care that you aren't near something that can be knocked over and broken. The frame also pulls the material taut, which helps avoid wrinkles. Many are reversible, offering a green side and a blue side.
The only thing to watch out for is they tend to let light through.
Popup
These are rolled up screens stored in a metal case. They can either be placed on the floor and pulled up or mounted on the wall and pulled down.
The floor version includes a scissor-style support that goes up with the screen and holds it in place. The wall version pulls down like a window shade.
List of Recommended Green Screens
We've already mentioned a few great green screen options. Which one best fits your needs will depend on your budget, size and portability requirements, and how convenient you want it to be. Here are some of the best screens for video conferencing in different categories. We'll include the ones we've already mentioned as well to have them all in one place.
Fotodiox Collapsible, Reversible Green Screen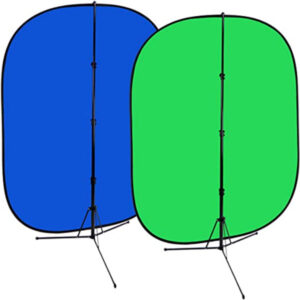 A 5'x7' screen offering blue on one side and chromakey green on the other. Spring steel frame easily folds down for portability and springs into place when you're ready to use it. The fabric pulls taut to avoid wrinkles.
This is our recommended pick for an affordable screen that will work for most video conference users. See above for a more in-depth description.
Webaround Big Shot Green Screen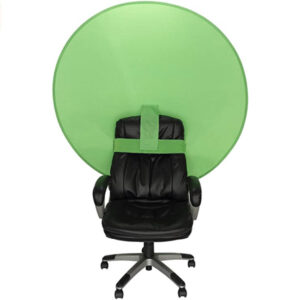 Webaround makes a highly portable circular green screen with a very simple setup. It comes with a harness to attach it to the back of your chair and adjusts so that it fits nearly any size office, dining, or gaming chair.  Perfect for anyone who will remain sitting for the duration of their video conferencing call.
The screens come in three handy sizes: a large 56", medium-sized 52", and a compact 42" circular screen. The spring steel frame stretches the lightweight chromakey green fabric taut to prevent wrinkles. The fabric is too thin to block light so this one won't work well in front of a window or other light source.
The largest one weighs a mere 1.8 pounds and the spring steel frame collapses down to 21" in diameter for easy storage. With no extra setup equipment to haul around with you, this is one of the most portable options.
The obvious disadvantage is that you can only use it while seated in your chair. For many video conference users, however, this is a simple, quick option that makes video conferencing with a green screen a breeze
Emart 6'x9' Muslin Background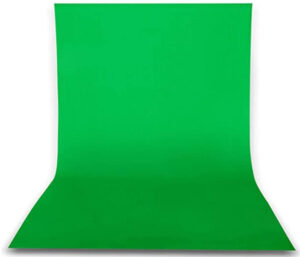 A large, non-reflective soft surface provides an even background. Comes with 4 clips to pull the fabric tight. Inexpensive, but does not come with a stand. This is an excellent option for those on a budget who are looking for lots of coverage.
The screen is thin, so watch out for light sources behind it. A soft, non-reflective surface offers an even tone in the background. Washing and light ironing will ensure a wrinkle-free backdrop.
Chromakey Green Paint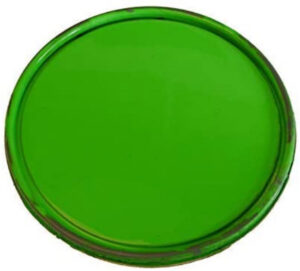 Chromakey Green paint offers a no-fuss, but permanent solution for a green screen. The water-based latex paint is specially formulated paint for use in video production. It offers low reflectivity to allow for high-resolution keying.
Paint a wall where you want to do your video conferencing and you never have to worry about setup or takedown, the wall is always ready for you. Plus, there is no worry about light leakage or wrinkles.
One quart of the paint will cover about 100 square feet and can be applied with a roller, spray gun, or paintbrush. Two coats are recommended for the best results. The paint is quick-drying, takes about 60 minutes at 75 degrees F and 50% relative humidity. The second coat can be applied about 4 hours later.
Savage Seamless Background Paper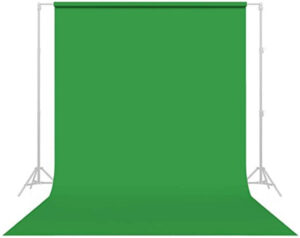 This thick green screen paper will last a long time and provide plenty of coverage. There are several sizes available, 107 inches wide and 36 feet long is the largest. Cost-effective and 100% recyclable, the paper can be pulled out to the exact length you need. As it gets dirty or crinkled, you can simply pull out the paper and tear off the unwanted section.
The paper is thick, but the roll, weighing in at just 11 pounds is light enough to make it portable. Mount the roll on a stand to easily pull the paper down to the desired length.
Neewer 148x180cm Popup Green Screen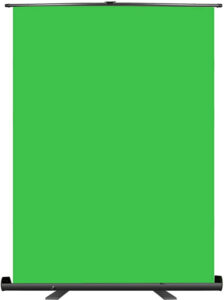 This popup green screen with an easy-lift mechanism covers a large area (58.7"x74") while still allowing a certain amount of portability and users can use this screen for full-body shots. The screen and its mount are heavy duty and sturdy and weigh about 20.5 pounds.
A pneumatic x-frame rises out of the aluminum case as you pull up the screen until it locks into place. The material pulls taut to avoid wrinkles and is specially optimized for chroma keying. When finished, you can easily retract the screen into the case for easy storage or transport. Retracted size equals 64.76"x4.13"x4.53".
Elgato Popup Green Screen
This is another great popup version made from wrinkle-resistant polyester fabric. The 58"x71" screen easily pulls up and snaps into place on the included pneumatic x-mount. It is large enough for a person to stand in front of it and can be hung lengthwise for a wider background.
It easily folds down into the included aluminum hard case, making for a fairly portable solution to your green screen needs. The case's long, slim shape makes it simple to store it away for whenever you need it.
The roll-up design as well as the strong frame that snaps into place help to prevent wrinkles. A strong light source from behind may leave a shadow of the frame on the back of the fabric so be aware of your environment.
All in all, it's an excellent choice for someone looking for something a bit more professional and is willing to spend a little extra.
Limo Studio Seamless Silk Texture Muslin Backdrop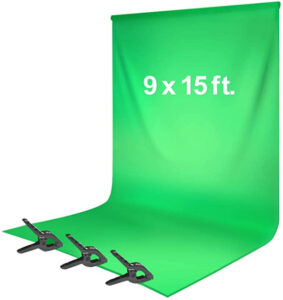 This backdrop is easy on the budget and offers 9'x15' of space, an excellent choice for those who need plenty of coverage but don't want to spend a lot.
It doesn't come with its own stand, but there is a pre-sewn loop at the top that can be used to hang the fabric. There are also three 4.5" photography clamps that you can use to hang the fabric the long way if you prefer.
The fabric is thick enough to block the light well. The finish provides a reflective, but non-glossy surface to offer an even background ideal for chroma keying.
Reviews mentioned the fact that the fabric comes with some wrinkles but washing and ironing reduce the folds. However, it is a large cloth so washing can be a challenge.
Emart 75"x79" Pull Down Green Screen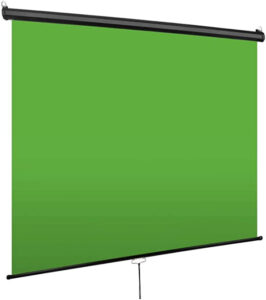 This large green screen easily mounts on the wall and pulls down like a window shade when you're ready to use it. It is made from wrinkle-resistant, thick fabric that avoids light leakage. The auto-locking mechanism allows you to pull it down to various different heights so you can choose the size you need for your purposes. The screen easily rolls back up when you're done by angling the screen forward and letting go.
The solid metal case can be mounted on the wall or ceiling. It is less portable but offers a super quick setup and an easy way to store it out of the way when not in use.
Neewer 5'x7' Collapsible Screen with Support Stand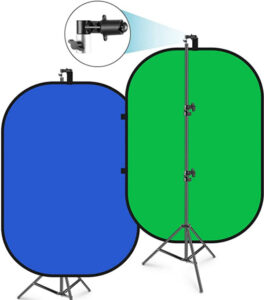 This collapsible spring steel reversible screen offers blue on one side and chromakey green on the other. Lightweight, portable, and easily sets up on the included stand in just a few seconds. It isn't as large as some of the other options, but it is convenient and affordable and works well when your camera will only be a few feet away from the screen.
The sturdy spring steel frame pops open to hole the fabric in shape and avoid any creases or wrinkles. The aluminum alloy support stand offers exceptional strength to hold the screen in place and a backdrop clip easily holds the screen to the support stand.
The frame pops down to a 2.1×2.1×0.1 feet size, making it easy to store and carry around.
Ready for Your Professional Green Screen Video Conferencing Calls?
We hope this information has helped you choose the best green screen option for your video conferencing calls. There is a lot of variety out there to easily fit your needs and budget.
Want to learn about using a green screen for your photography? Read all about it in our post on the Anatomy of a Green Screen Shot.